The Fluke 424D laser distance meter has all the top of the line features you would expect from a professional-grade laser distance meter.
This laser distance meter offers the highest distance measurement and accuracy in Fluke's 400 ranges of distance meters.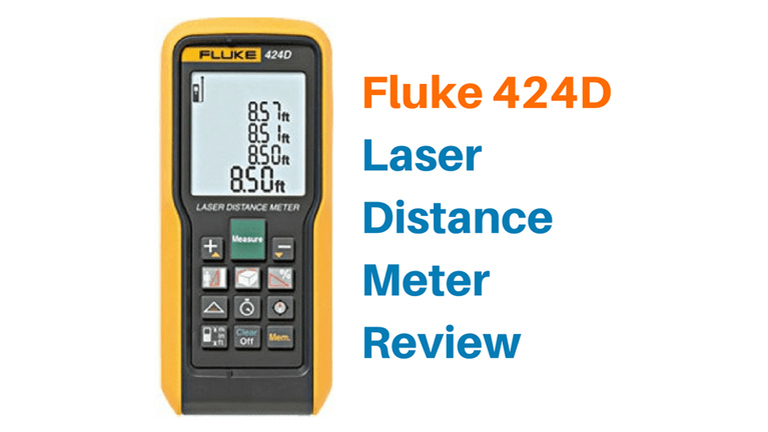 It is an essential tool for people who want an effective and a much easier way of taking measurements in areas that are hard to reach.
Fluke 424D Review Summary
Fluke 424D Laser Distance Meter
Review Summary
Measuring Range: 330-ft. (100 m)
Accuracy: 0.04 inches (1mm)
Protection Rating: IP54
Measuring Mode: Length/distance, area, volume, addition/subtraction, Pythagoras calculation, min/max, stake-out
Memory: Last 20 measurements
Tripod Mounting: 1/4-in thread
Battery Life: up to 5,000 measurements
Warranty: 3-Year Limited Warranty
Special Features:4-line display, corner angle feature, Automated End-piece Correction for measuring from an edge or corner, backlight, audible keypad feedback
Pros & Cons of Fluke 424D Laser Distance Meter
Pros
Higher accuracy (up to ±1mm) with the 330-ft measuring range
Clear and easy to read 4–line display with backlight
Robust housing and strong environmental protection with 3-year warranty
Can be mounted on a tripod to measure long distances
Cons
It's a little expensive
No inbuilt spirit level
Top Features of Fluke 424D Laser Distance Meter
If you are looking for an effective and accurate laser distance measure that is going to last very long and not let you down when you need it most, the Fluke 424D make a great choice.
Let me explain why this is a perfect tool for every weekend warrior planning home improvements and professional contractor.
Fast And Accurate
Ever since I got my hand on the Fluke 424D laser distance measure and tried it out, it never ceases to amaze me. The tool is very fast and accurate, allowing me to take my roof measurements in a blink of an eye.
It claims to have an accuracy up to ±1 mm. Willing to try this out, I measured my kitchen ceramic tile and door with my tape measure to compare the readings. The tape measure indicated a distance of 3.22m and 2.30m.
Tried with the Fluke 424D and it produced instant and consistent readings of 3.221m and 2.299m. Very impressive and falls within the claimed limit.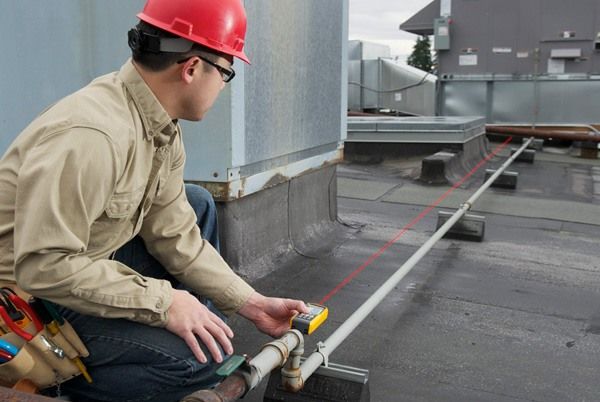 Long Measuring Range
The tool offers an impressive measuring range of 330 feet. This feature is very useful as it would save you the stress of walking long distances to take measurements.
Now you can simply throw away your bulky and time-wasting wind-up tape measure and grab your potable Fluke 424D for fast and easy operation.
Taking measurement is easy with it one button control, simply target your points, shoot the laser, and you are good to go.
One of the important features I liked about this laser distance measure is the tripod mode and support.
With this feature, I can mount and secure the unit on a tripod to measure long distances as it ensures that the dot is not shaken off before I click the button.
It also has a bright laser beam to help target your points easily for a quick measurement. With that, you can take accurate measurements indoor and outdoor in the sun without a glitch.
[su_site_stripe asin="B008ZCS296" linkid="3d2be47979363f94d59ff145ec91776a"]
Multiple Measurement Features
Gone are the days where you have to go about with calculator or perform several mathematical calculations before you can determine your measurement. While that is stressful and time-consuming, you are open to mistakes and a higher risk of errors.
Fluke considered all these and came up with an accurate distance measure to take multiple measurements without forcing you to do complex calculations.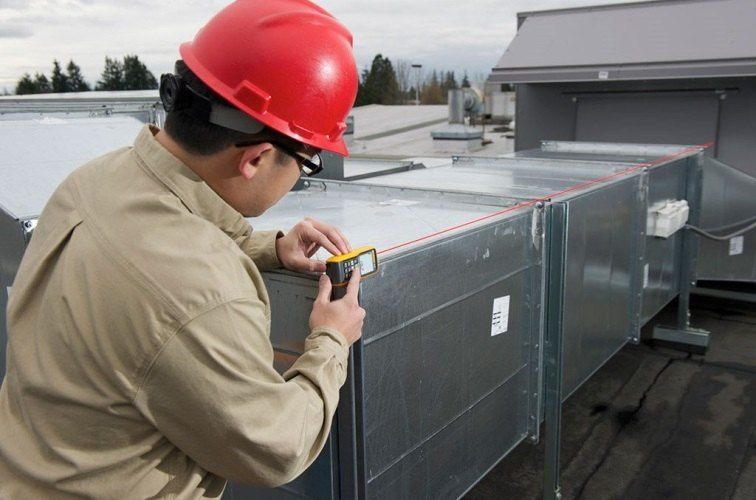 You don't have to be a professional or a mathematician to operate.
You can use the addition and subtraction feature, or find other parameters like the length, distance, area, and volume with the touch of a button.
It has an inbuilt compass, corner angle feature and a full Pythagoras function to determine the angle, level, track and take height measurements.
Its 180ᵒ inclination sensor was very helpful when I need to measure the distance between my bathroom walls without having to remove the obstacle.
It also has audible keypad feedback that can you can turn off when working in quiet places.
Easy To Read Display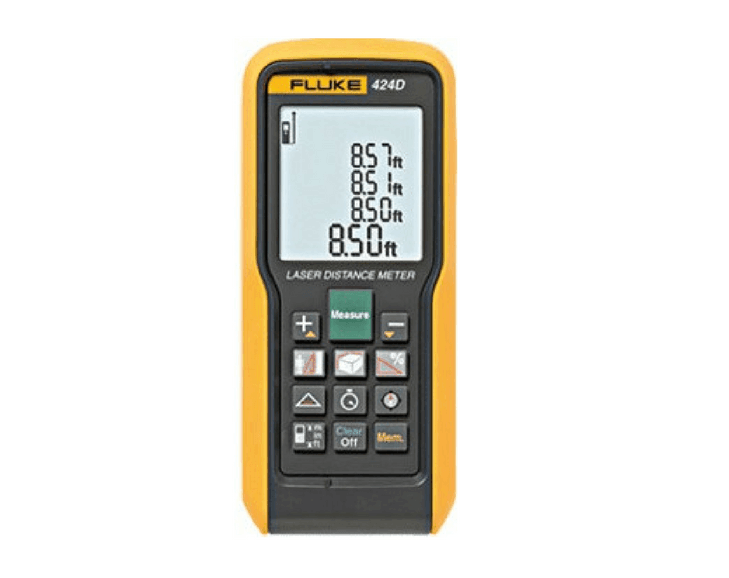 Fluke 424D comes with a big, bold and clear 4-line LCD display to give you a precise and easy measuring experience. The screen comes backlight to improve visibility in all lighting conditions.
The unit stores the last 20 display results by default for quick recall. This means I don't have to keep writing down the readings when I can just navigate the last readings by pressing the "+" or "-" keys.
See also: Bosch vs. Leica Laser Measure - Which is Better?
Robust Housing With Strong Environmental Protection
This Fluke laser distance meter come in a robust housing and also feature a strong IP54 rated environmental protection (dustproof and waterproof) for improved durability. This makes it ready for the occasional bumps and bruises it may encounter on your daily measuring chores.
It also has an improved battery life with auto shut-off feature and can take up to 5000 measurements without changing the battery.
Some Drawbacks
Some of the drawback encountered with this product includes:
Access to the battery compartment is a little tricky
No 360-degree tilt-sensor, Bluetooth compatibility and spirit level
The laser is only visible for a few distances when used in bright sunlight
See also:Best Multimeters For Homeowner
Maintenance and Using Tips For Fluke 424D
Although the unit has a well-built housing with safety from dust and spills, you still have to protect the unit from dust and getting submerged in water.
To maintain accuracy and improve stability while taking measurements, use the tripod support in a well-lit condition to get a better view of your target.
After work, wipe the unit with a clean damp cloth and store in the storage box that comes along with the package.
[su_site_stripe asin="B008ZCS296" linkid="3d2be47979363f94d59ff145ec91776a"]
Verdict
If you are looking for a fast, accurate and versatile laser distance meter that is easy to use without a helper, you've got all the reasons to buy the Fluke 424D.
It has a tested and true accuracy over long distances, exactly what you would expect from a professional laser distance measure. The readings are easy to read and convertible to your suitable unit and functions.
The device offers an accurate measuring solution for difficult areas, and it is recommended for professional contractors and weekend warriors alike.
Read more:Best Laser Measuring Tools 2019