Laying tiles, be it on the floor, wall, or ceiling, requires high-level of accuracy and perfect angles. Angle arrangement is the most common problem that people encounter when installing tiles.
However, this has been made easy by the invention and availability of the best laser level for tile. The lasers are essential in ensuring that your first tile is laid down correctly.
Top 5 Picks for Best Laser Level For Tiles:
Tile lasers improve the visibility and accuracy of tiles by ensuring that you lay down the first tile accurately. They produce a clear laser line that is immediately visible on work surfaces as well as the front of the laser level itself.
A laser layout tool helps you do away with chalk lines, which can be quite messy or string lines during floor installation. The best laser level for tile does the job faster, easier, and more accurately by projecting red or green lines on the floor, wall, or ceiling.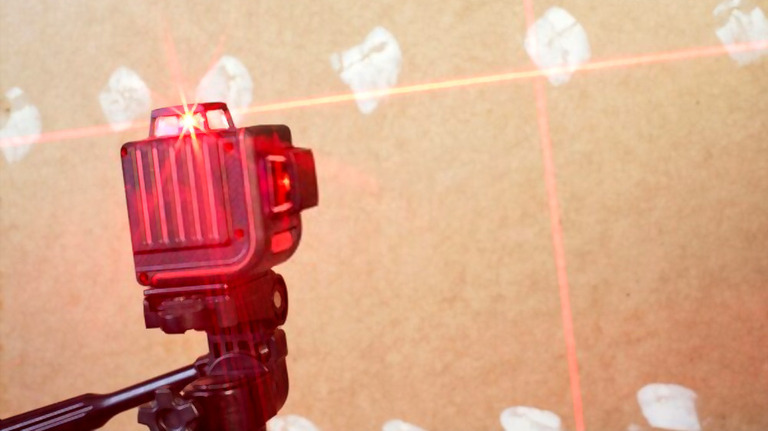 Best Laser Level For Tile Installation
They give accurate measurements, making them the only tool you will need for leveling. Due to their ease of use, you only need to place them on a flat surface, and then check the air bubble to see if the surface is level or not.
Using the best laser level for tile will deliver faster speeds. You can also use it on a broad range of applications, giving you projections on both horizontal and vertical directions.
Best Tile Laser Reviews of 2023
If you are into fixing work and want the best laser levels for tiling floors, ceiling, or walls, you might be wondering which one to go for. The market is full of excellent floor tile laser levels, and you only need to get the best one for your job.
In this article, we look into some of the best tile laser levels that will give you value for money as well. Compare their features and benefits to help you make the right choice.
#1 - Bosch GTL3 Professional Tile Laser
The Bosch GTL3 tile laser is built with a square layout, which increases its precision. It projects 90-degree lines for squaring.
To allow for easy centering and precise adjustments, these laser lines appear in front of the laser base. The laser lines are bright and highly visible, projecting past uneven surfaces and any obstructions.
You can switch these lines to a 45-degree angle to help you attain the correct positioning of square tiles, which are between 0 and 90 degrees.
The Bosch GTL3 tile laser is considered the best laser level for tile due to the strong magnets fixed at the bottom of the tool, which makes it entirely secure.
This attachment is placed on a positioning plate and other metal surfaces to ensure that it does not move when using it. It has a high accuracy level helping you to be more productive.
With an IP54 rating, this tile laser level is quite durable and can withstand harsh job conditions. You don't have to worry about rain or dust destroying your tool.
It also comes with a soft carrying pouch for easier storage and transportation.
#2 - DEWALT DW0802 Laser Square For Tiling
DEWALT DW0802 Laser Square For Tiling
The Dewalt tile laser comes with three integrated mounting pins, which you can use to fix on wall surfaces.
This is one of the most accurate laser levels with an accuracy of ±3/16 at 33 feet. It comes with three bubble vials to help you attain a high degree of accuracy.
With an IP54 rating, you can be sure to have your tool around for several years as it delivers resistance to water and debris, making it quite durable. Its sturdy aluminum base also adds to its durability.
It is lightweight and portable, making it an excellent laser level for floor tiling, wall tiling, and ceiling tiling. For easy and safe storage of DeWalt tile laser, it comes with a tool pouch.
The DeWalt DW0802 laser square uses two red beams to help you achieve a 90-degree angle with a high degree of accuracy.
Red light saves on your battery life while ensuring that you get an accurate right-angled degree. It uses three AA batteries, which last for about 20 hours, the maximum, the most extended battery life in all the DeWalt's Lasers.
#3 - Johnson Level & Tool 40-6624 Tiling Laser
Johnson Level & Tool 40-6624 Tiling Laser
To help you easily layout your job site, the Johnson Level & Tool tiling laser produces a self-leveling laser which crosses on your work surface.
It is a tile layout laser that generates two 90 degrees angled laser lines across your floor or wall to help you make the perfect tile layout. This makes it ideal for use in many different projects.
Starting from a basic crossline, this tile laser square adds a 90-degree beam to help in the alignment of projects. Its laser can project over concrete or wet mastic. It comes with dual vials for leveling surfaces.
This floor tile laser level makes your work more manageable through the build-in protractor, which eases the task of establishing the angles that you need. You can use it for various indoor applications, including the layout of tile, carpet, stone, and hardwood flooring.
To help you work well in bright areas, maximize the beams' visibility by working towards the laser and using a freestanding target. Remember also to wear your laser glasses.
#4 - Bosch GTL2 Laser Level and Square
Bosch GTL2 Laser Level and Square
Make your work easier using the Bosch GTL2 tile laser level. This versatile laser level square uses the Bosch laser technology to help you become more productive and profitable through its accuracy and precision on the job, which is within one inch per 100 feet.
Bosch GTL2 projects both horizontal and vertical lines on a surface up to 30 feet. This will help you to square, align, and attain 90-degree angles.
This is one of the best tile lasers for DIYers due to its ease of use. To power on and off two perpendicular laser lines, which are 90-degreed, you use just a one-button operation.
It comes with an alignment guide for 90-degree layouts, which calculates and converts angles in 5-degree increments. It helps you to be more productive while working smart.
It comes with two mounting adhesives to enable you to mount it on the wall or ceiling during a tiling job.
Its visible range is 30 feet within half an inch, making it quite helpful even when doing remote work. This makes it perfect for any indoor application.
The drawback of this laser tool is that it only provides square level alignment and projects just two beams. Bosch Laser Level and Square GTL2 cannot be mounted on a tripod; neither can it be used outdoors.
#5 - Bosch GLL 55 Laser Level For Wall Tiling
Bosch GLL 55 Laser Level For Wall Tiling
To help you achieve a wide array of alignment and leveling applications, this laser level comes in different modes, that is, vertical, horizontal, and cross-line. It can also project two lines, either independently or together.
To help you achieve outstanding line visibility when working under standard working conditions, it uses the Bosch-exclusive VisiMax technology.
This technology monitors the laser's temperature to ensure maximum line brightness and protect the laser diodes from overheating.
Bosch Self-Leveling Cross-Line Laser Level GLL 55 is the best laser level for wall tiling, which allows the user to lock the cross line to use the tool at any angle.
It is a smart and secure laser level that comes with a smart pendulum system to help it self-level while indicating the out of level conditions. This helps you have confidence in the accuracy of your measurements, making it the perfect laser level for shower tile.
This cross line laser level is designed to withstand tough job site conditions like rainwater or dust. It is IP54 rated, and it comes with robust and over-molded construction.
The Bosch GLL 55 is constructed with a magnetic L-mount, which has strong magnets to attach to the steel studs, making it quite secure. It is easy to set up and use, and rated as the best value laser level for tiling walls.
#6 - Huepar FL360G Green Floor Laser Level
Huepar FL360G Green Floor Laser Level
With only 1/3 feet from the sea level, this floor laser level from Huepar delivers the shortest distance, enabling you to attain the first true laser level for tile laying. This makes it the best laser level for floor tile alignment although it only works indoors.
This self-leveling laser level, with a perfect setup, projects green laser beams vertically and horizontally, and you can switch the horizontal, vertical, and cross lines easily.
You can also rotate the laser head through 360 degrees for a continuous level taking.
The Huepar FL360G floor tile laser makes alignment of objects quite simple. With a high leveling accuracy of ±1/3 inches at 33 feet, you get two visible laser lines.
The green tile laser comes with a unique, professional, and convenient design, which helps you to save time on continuous leveling as opposed to traditional levels.
Several people can use one Huepar FL360G Floor Laser at the same time to lay tiles in different directions in a room.
To enable you to work on various applications, it comes with a magnetic bracket at the bottom, which can be used with a camera tripod mount.
Why Should You Use a Laser Level for Tiling?
Tiling requires a level of perfection in addition to high accuracy. Laying perfect angles is the basis for any successful tiling work. The only way to achieve this level of precision is through the use of the best laser level for tiling.
A laser level is a tool that projects a red or green beam of light horizontally, vertically or both. Some laser levels are designed for specific jobs, like the layout of tile, carpet, stone, and hardwood flooring. They can also be used for the installation of partition, sprinkler systems, HVAC, and pies.
Tile laser levels give you accurate measurements using the beam on a surface. This ensures that your tiles and other applications are in the right angles.
These tools are easy to use with simple steps like placing the level on a flat surface, then looking at the vial to see if the surface is in level or not. You can achieve results very fast while at the same time marking the measurements.
The self-leveling lasers, also called pendulum lasers, are more advanced, offer greater accuracy, and deliver results faster. They do not depend on a person to alight them; instead, they use a set of laser diodes that are mounted on a pendulum. These laser levels have higher accuracy levels.
Final Verdict
The right tile laser level will make tile installation process easier for you and deliver high level of accuracy, making you more productive.
Depending on your project, you can choose between self-leveling lasers and the manual lasers. The kind of laser you want also depends on whether your job is outdoors or indoors.
According to the top-rated tile laser levels that we have reviewed; we highly recommend the Bosch Professional Tile and Square Layout Laser GTL3.
Besides being strong and durable, it has high precision levels. Its laser lines are bright and highly visible, going past uneven surfaces and obstructions.