Why green laser levels are superior to their red counterparts is purely based on science.
Compared to red, the color green can be detected easily by both the human eye and electrical detectors, which is a significant factor for technicians and construction engineers.
When it comes to alignment and leveling jobs, precision is very important, which can only be ensured if there is good visibility on the site. This becomes more important in daylight.
Top 5 Picks for Best Green Laser Levels: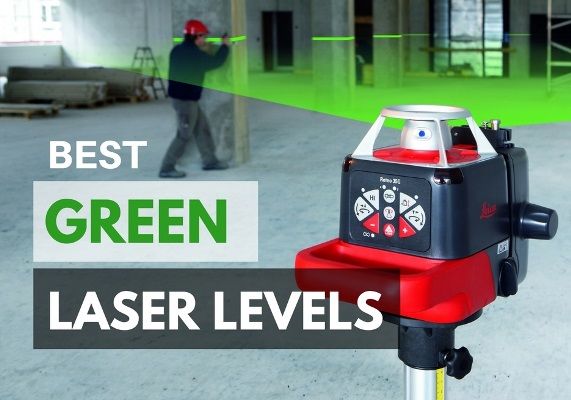 Nowadays, it is imperative that you own a powerful green laser level to go with your construction toolkit. You never know when the need to adjust an alignment or create a level in your house arises. And it pays to be always ready.
So, today we are going to help you choose the best green laser level depending on your specific requirements.
Top 10 Best Green Laser Levels of 2023

Best Quality

Leica LINO L2P5G

Cross line and 4 point lasers
Highest accuracy for detailed tasks
Range: 115 ft/ 35 m
Accuracy: 0.08 in @ 33 ft

Read My Review

Best Value

DEWALT DW089LG

3 x 360° lasers for full room layout
Powerful green beam
Range: 100 ft/ 30 m
Accuracy: 0.125 in @ 30 ft

Read My Review

High Accuracy

Bosch GLL3-330CG

Bright 360° laser lines
Bluetooth connectivity
Range: 200 ft/ 60 m
Accuracy: 3/32 in @ 30 ft

Read My Review

Multiple Uses

DEWALT DW0825LG

Versatile cross line and 5 spot lasers
Accurate and easy to use
Range: 100 ft (dots), 50ft (lines)
Accuracy: 1/8 in @ 30 ft

Read My Review

Most Advanced

DEWALT DW080LGS

Rotary green laser level with Bluetooth
Dual axis slope mode
Range: 2000 ft / 610 m
Accuracy: 1/16 in @ 100 ft

Read My Review

Best Budget

DEWALT DW088LG

Self leveling cross line laser
Compact and easy to use
Visibility: 100 ft / 30 m

Read My Review

Most Compact

PLS 3G 3-Point

3-point green laser level
Pendulum lock for safe transport
Range: 100 ft / 30 m
Accuracy: 1/8 in @ 30 ft

Read My Review

Rugged Design

PLS HV2G Z

Manual slope green rotary laser tool
1m drop test
Range: 1000 ft / 304 m
Accuracy: 3/32 in @ 100 ft

Read My Review

Durable

Spectra Precision LT20G

Rugged crossline laser tool
Wide variety of interior applications
Range: 100 ft / 30 m
Accuracy: 3/16 in @ 50 ft

Read My Review

Good Price

Huepar 3D Green

One 360° horizontal & two 360° vertical planes
Best for home use
Range: 130 ft/ 40 m
Accuracy: 1/9 in @ 33 ft

Read My Review
Top 16 Best Green Laser Levels of 2023
#1 - Leica LINO L2P5G Green Beam Point and Cross Line Laser Level
This is a full package from Leica Geosystems that is known for its beam and point laser leveling.
Coming from the renowned manufacturer of cameras and lenses is the Leica LINO L2P5G which has the brightest points for a laser level on this list so far. The laser planes are also bright enough to work in broad daylight, making it easier for drawing lines and leveling.
It is also one of the most accurate laser level tools that we have come across lately, giving a perfect range for a few hundreds. Even by DeWALT and Bosch standards, this is a great number because when you are talking about, say 300 feet, the lines do slant as you move ahead.
This Leica level also has a solid Lithium-ion charger, one single charge stays for around two days of frequent usage.
What more can you ask for in a professional green laser level?
#2 - DeWALT DW089LG 3 x 360 Green Laser Level
If you need support for 360-degree leveling, you should go for this advanced laser line level. The DeWALT DW089LG is a 3-beam green 360-degree laser level that is best suited for full room layout.
Its defining feature is that it does not shut down automatically, so that you can operate the level for hours without having to switch it ON back again and again (compared to some popular Bosch models).
Other features include a strong magnetic base, clamp style bracket, and a charger that can charge all types of batteries (12V, 20V, etc.).
Trust us, this is as good as it gets.
Pro Tip – We recommend that you keep the receipt of purchase handy so that you can easily get the equipment replaced in case of defects or issues. Also, note that repairs by DeWALT customer care after one year of purchase comes with an additional service charge (as of May 2017).
#3 - Bosch GLL3-330CG 360-Degree Green Beam Laser Level
Get your hands on this 360-degree, three-plane level from Bosch that just keeps on giving with its powerful laser.
One of the biggest issues with modern laser levels is battery drainage. That is where the Bosch GLL3-330CG differs and stands out.
Its Lithium-ion battery along with the Visimax power-saving technology allows for better power efficiency for long-term operation. But that is not all with this advanced Bosch model. You also get to position it anywhere – drywall, ceiling, wood – with its simple setup (using screws).
And perhaps the biggest feature is the 360-degree level with one horizontal and two vertical lasers. Covers an entire area without having to use extra tools.
Last but not the least is the power control feature that lets you operate it through a smartphone from across the room. Pretty handy if you are a contractor and work with laborers.
#4 - DW0825LG 5 Spot + Cross Line Green Laser Level
Other than a rechargeable Lithium-ion battery, locking pendulum, and a steady range of up to 100 feet, this DeWALT 5-point laser level is better than DW089LG in many factors.
Although intended for advanced users and professionals, it can also be used by home users if the requirement is conventional and frequent.
Equipped with enhancement glasses, target card, extended bracket, a ceiling clamp, magnetic base, and a blow mold case, it justifies its price tag.
The green is bright enough for indoor as well as outdoor applications. Based on our survey, the tool works fine even in the afternoon sunlight.
Users should note that this is a hybrid equipment where you get both points and lines for your leveling needs.
#5 - DEWALT 20V Max Green Rotary Laser Level with Bluetooth (DW080LGS)
DeWALT loyalists can rejoice and throw some real power into the mix with this heavy-duty green laser level.
What we love about the DW080LGS is the long, pretty long range that it delivers. The manufacturer claims a range of up to 2,000 feet but in our tests, we were able to operate the level in a vast ranch setting in daylight. It helped us get a good understanding of the area and make the markings properly.
The Bluetooth connectivity and the ability to fully control the machine through the DeWALT Tool Connect app are additional features that we love. All of this makes this model worth the price that you will be paying.
The cost is on the higher side, but then when you get it home-delivered and begin using it, you will start to learn about its charm. It's a real powerhouse.
#6 - DeWALT DW088LG Cross Line Green Laser Level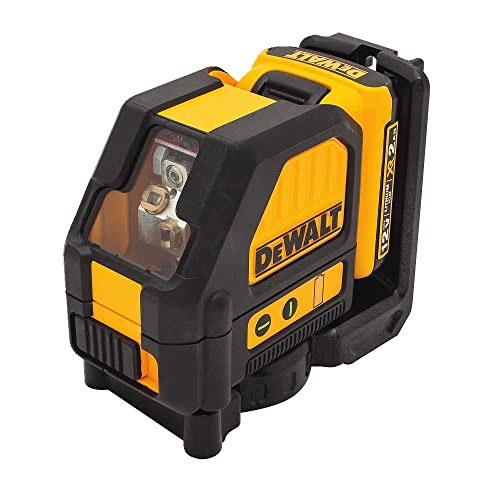 Best Budget Cross Line Green Laser Level: DEWALT DW088LG
Supported by a 12-volt green beam laser and rechargeable Lithium-ion batteries, this self-leveling DeWALT model is one of the best green line laser levels in the market right now.
With a range of up to 100 feet (30 meters) and a complementary target card, it will support users who want to carry out a job in broad daylight on a wide area.
The highlight of this model is that the line sharpness does not decline even at the farthest range, giving you the precise measurement in external jobs.
This DeWALT green laser also has the option of manually switching and selecting either the horizontal or vertical line.
Additional features such as a magnetic bracket for easy mounting, locking pendulum, and laser enhancement glasses will further make it easier for you.
#7 - PLS 3G 3-Point Green Laser Level Tool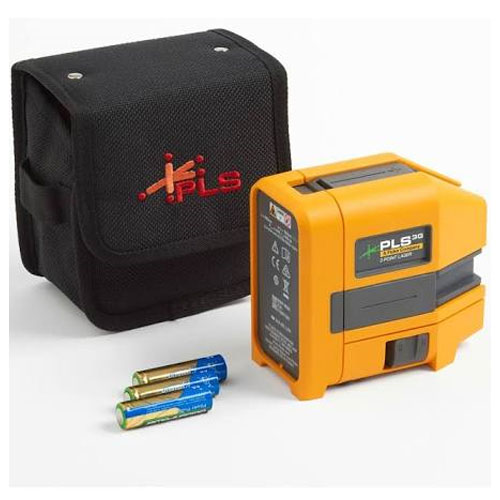 Most Compact Green Laser Level: PLS 3-Point Green
This is a durable laser level that does what is intended of it. One of our top choices for budget green laser levels, the PLS 3G works fine for small tasks such as false ceiling installation and contour framing. Go for heavy-duty tasks and the 3G may not support you enough.
This is an entry-level model that uses AA batteries to run and comes with an IP54-rated dustproof and water-resistant enclosure. Pretty neat for solo engineers and home users.
#8 - PLS HV2G Z Green Rotary Laser Tool
Priced lower the DeWALT DW080LGS model above comes this Pacific Laser Systems (PLS) model that takes an aesthetic approach to leveling.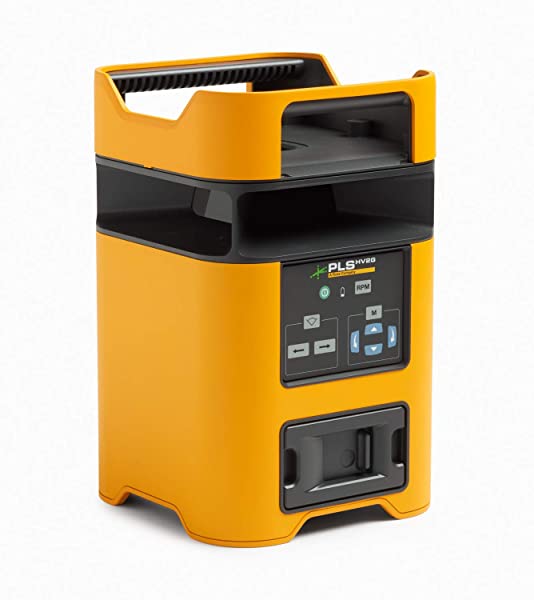 Best Green Laser Level For Professional Builders: PLS HV2G Z Green
The HV2G has a range of up to 1,000 feet which is enough for most construction jobs like concrete pours and contour framing.
In our tests, the one quality of this PLS model that stood out was the proofing. It is dustproof, water-resistant, and drop-tested (up to one meter) – meaning it can be used in all types of environments without fearing for its safety.
The class-2, IP67-rated laser is accurate and strong enough for all your jobs and is going to simplify the way you place level, whether it is a horizontal plane or vertical.
#9 - Spectra Precision LT20G Cross Line Green Laser Level
Everything comes around in this crossline green laser level from Spectra Precision that is known for its rugged design and body.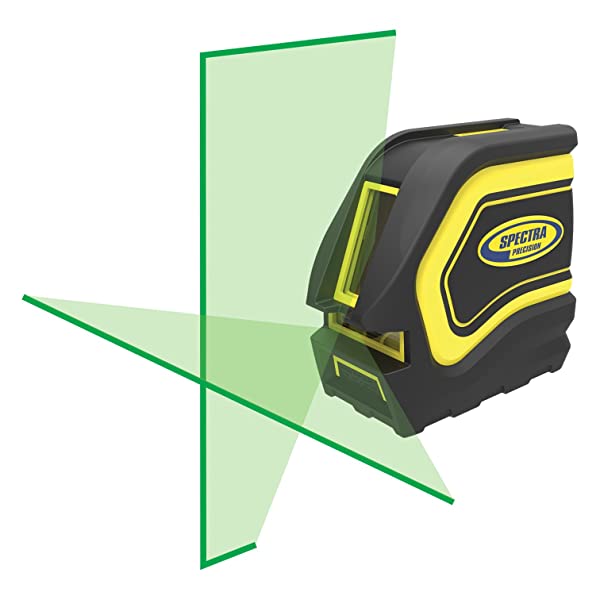 Top Quality Green Laser Level For Contractors: Spectra LT20G
Are you a rough user who is into construction of interiors? Do you find yourself needing a quad laser level for fixing a wall-mount shelf or tiling purposes? Do you prefer green laser because of their higher brightness (than red)? The LT20G is the modern laser level you are looking for.
Its rugged built is suitable for engineers who work in chaotic surroundings. Like building construction when there is ample daylight and the red lines are not helping. The class-2 laser is powerful enough to give you a solid range for larger rooms and surroundings.
This Spectra Precision level comes with several accessories including a green target, a bracket, and a ceiling clamp. A perfect tool for both starters and professionals.
Pro Tip - For this model, invest in two pairs of rechargeable AA batteries.
#10 - Huepar 3D Green Beam Self-Leveling Laser Level
This laser level might be a new name for you but it still packs everything that you will need in a mid-level green laser level.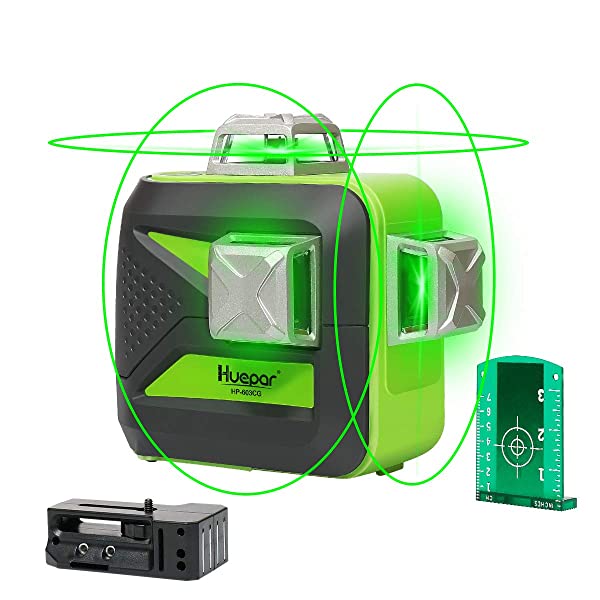 Inexpensive Green Laser Level For Home Owners: Huepar 3D Green
Similar to the Bosch GLL3-330CG model that we reviewed above, this Huepar green laser level provides two vertical lines and one horizontal line with 360-degree support for both planes.
But what makes it a tad better (other than the low price) is that it can run on both Lithium-ion and alkaline batteries. So, if you ever run out of juice, just go get four AA batteries and you are set.
The magnetic pivoting base is also something that should be highlighted as the tool can be fixed on top of anything. You don't have to worry about it tipping over. But, if it does, you may need some extra technician hands as the body is not too strong on this one.
All in all, it's a solid green laser level for beginners and mid-level contractors who need a secondary tool for those quick tasks in a ranch or a small house.
#11 - DeWALT DW079LG Green Rotary Laser Level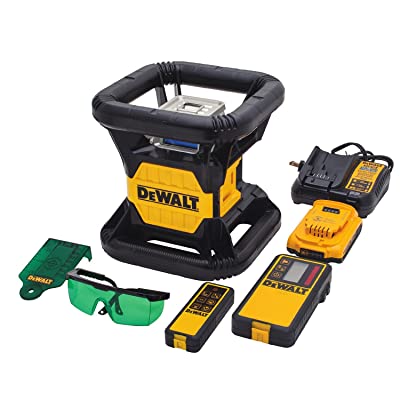 DeWALT DW079LG Green Rotary Laser Level
Looking for a rockstar, all-in-one solution for your leveling and alignment needs that has long range, green beam, and rotary mechanism? Are you a professional who likes to have all things top-class and the best of the best?
Then this DeWALT green beam rotating laser level kit should be your next purchase.
With maximum range support for up to 2000 feet (600 meters), up and down plumb spot, dual axis slope mode, and self-leveling functionality for 360-degree precision, the DW079LG is a robust equipment that can be used in all conditions – indoors as well as outdoors.
It is water and debris resistant, is drop-tested for up to two meters, and comes in a TSTAK storage case that is built like a submarine.
#12 - Firecore Cross Line Green Laser Level F118G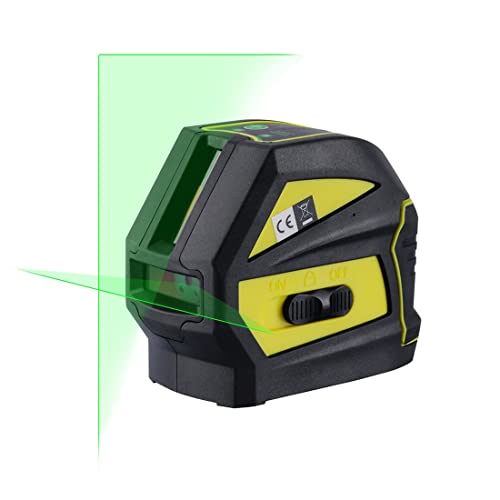 Good Cheap Green Laser Level: Firecore F118G
Don't let the price fool you here because Firecore is one of the top brands in the entry-level construction equipment market.
Known for its simple and inventive design features, this self-leveling green laser helps you project horizontal, vertical, and cross lines on surfaces.
What differentiates this model from others are two things: it has an ingenious tilt function which can be beneficial in certain jobs, and an off-alignment alarm so that you never have to deal with erroneous measurements.
#13 - SKIL Self-Leveling Green Cross Line Laser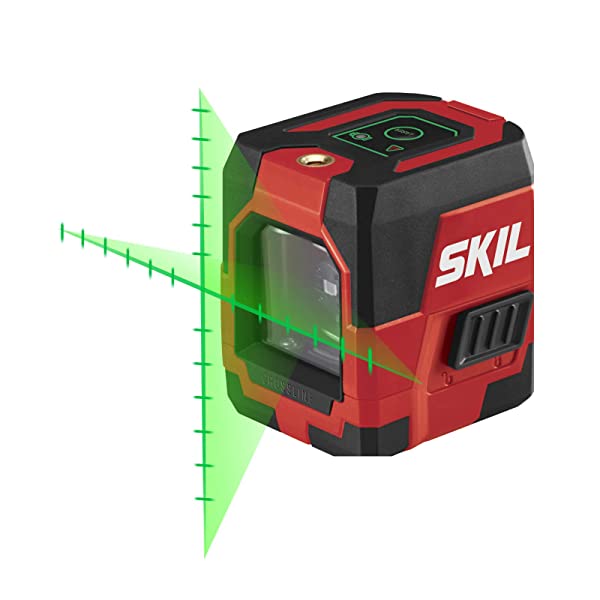 Small Green Beam Laser Level For Home Use: Skil LL932401
Two of the lovable features of this Skil product are: the projected measurement marks and the battery level indicator. What else to do you need in a level that shows you marks with equal space between them and an indicator so that you can wrap up your work faster before the juice runs out?
The Skil LL932401 really shines when it comes to the measurement marks because then it becomes easier to do jobs that require you to place points between equal intervals. Case in point: building a shelf in the kitchen and creating hooks on them.
With this Skil green laser level, your meticulous tasks are done in a jiffy.
Pro Tip - Get an extra pair of Skil batteries if you are going away for a long-term project.
#14 - Johnson Level & Tool 40-6622 Floor Laser with GreenBrite Technology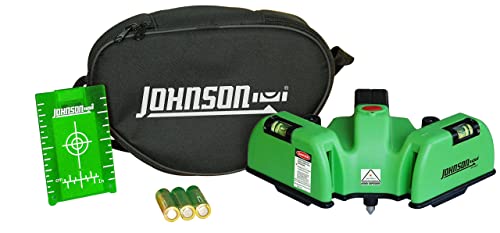 Best Green Laser Level For Floor Tiling: Johnson Level & Tool 40-6622
With this Johnson green laser level, you just have to press one button and the tool does what it does best: projects two green beams at 90-degree angle to each other.
A Class IIIa laser, the Johnson 40-6622 model also boasts of metal feet and 3 years of manufacturer's warranty.
It is powered by three AA alkaline batteries, which means it would be better to keep an extra set handy.
#15 - PLS 180G Cross Line Green Laser Level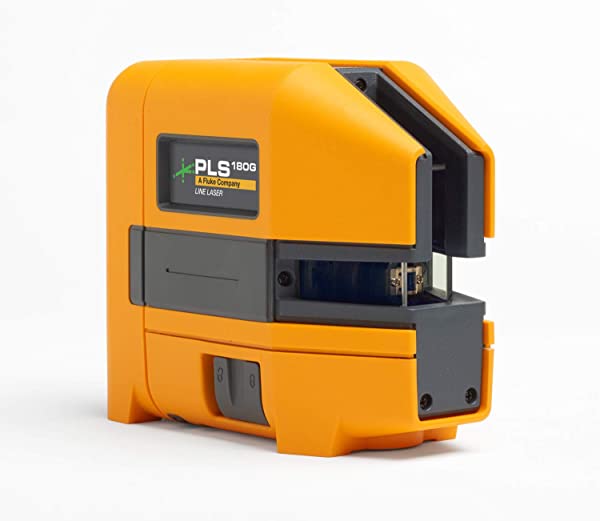 PLS 180G Cross Line Green Laser Level
As a green beam version of the versatile PLS180, the PLS180 green cross line laser level is ideal for short and mid-range interior layout tasks.
Its outstanding feature is that this PLS green laser level is self-leveling within ±6 degrees, that makes the design or construction body more accurate.
This green laser level features two 180-degree fan angles which project green beams from wall to wall or from ceiling to floor.
#16 - Bosch Self-Leveling Green Rotary Laser with Layout Beam GRL300HVG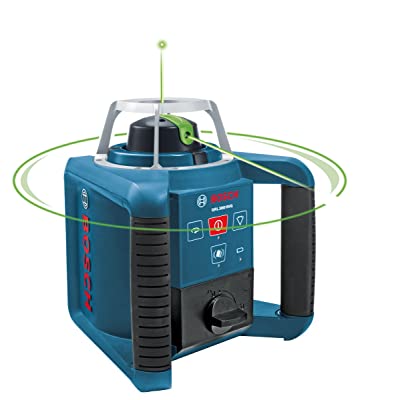 Bosch GRL300HVG Self-Leveling Green Rotary Laser
There are two main types of construction engineers in the world: one who prefers all their electrical and mechanical tools from Bosch and other who do not really care about brands.
There is a certain fan following for Bosch, and with this green rotary laser level model, it does not seem much surprising.
A Class III laser with an accuracy of 1/8 inches at 100 feet, the Bosch GRL300HVG green rotary laser is perfect for all types of jobsites.
It is self-leveling, projects a 90-degree plumb, uses smart laser technology that controls luminosity during rotation, and comes with full-function remote control.
Praised by both home users and professionals for its ruggedness and simplicity, you can consider this Bosch model if you are looking for a new one and are a fan.
Pro Tip – Since this set does not come with detectors, users are suggested that they make sure they have or order a Bosch detector along with the equipment.
Best Green Laser Levels By Types
Best Green Line Laser Levels
Following are the best green line laser levels we have picked for you.
The need for a line laser level arises when you want to achieve a level of the same length both vertically and horizontally on a surface.
Suited for indoor applications like installing a chair rail or a kitchen cabinet and outdoor applications like building a backyard deck or digging a trench, the cross line laser level makes the task of leveling a one-man job.
No need for extra assistance, as you can fire up the laser level and get a level around the room singlehandedly. Most line lasers have a single 180-degree beam of light that is projected vertically and horizontally.
Additional features include more lines (beams), cross-line, and 360-degree support.
Pro Tip – For outdoor applications, we recommend that you invest in a good laser detector. It will make your job easier.
Best Green Rotary Laser Levels
Following are three of the best green rotary laser levels that you can consider buying. Note that we have featured different brands so that you can go with your favorite.
The basic difference between a line level and a rotary level is that the latter projects a laser beam through a rotating source around an area horizontally.
One can select the rotary speed and can also select two points for the beam to hit between, thus making it easier to understand the level and plumb requirements. A rotary level is the most customizable type.
Pouring concrete, trench digging, and installing fences are some of the most common applications of a rotary laser level.
One of the biggest advantages of using a top-level rotary laser level is that you can operate it using a remote control.
Best Green Beam Point Laser Levels
Following are two of the best plumb laser levels, green beam:
Also known as a dot laser level, this type has a simple mechanism and is easier to use than other types. That being said, its applications are limited.
It projects one or more points or dots on a surface, which can then be transferred to another surface – vertical or horizontal.
This type is usually used by DIY-ers who need it for occasional, specific purposes. Most common applications are tiling, installing pipes, layout of electrical outlets, lights, and switches, wiring, leveling cabinets, and small indoor fences.
Best Green Laser Square Level For Tiling
Here is the top-rated green beam, laser square level for tiling floors:
One other type of laser level which has a limited number of applications is the laser square, also known as tile lasers. As the name suggests, it aids in the tiling of a floor or a wall by projecting two beams at 90-degree angle to each other.
This way, one can align the tiles in a proper way without wrecking the layout. Some square lasers also have a third beam at a 45-degree angle between the two beams, for better precision.
Some of the most common applications of a laser square are tile installation, wall wiring, installation of frames and brackets, acoustic ceiling installation, and cabinet fixing.
There are very few models available in the market, and most users prefer to go with Johnson.
Best Cheap Green Laser Level for Home Use
Here is the best cheap green laser levels for every use:
If you are a DIY enthusiast or a passionate interior designer with tons of ideas in your mind, then it is undeniable how helpful a line laser level would be.
Implementing those ideas will need you to don the cap of a civil engineer because getting the alignment right is not an easy task.
Keeping in mind the requirements of a home decorator and the willingness to splurge on power tools, we have picked this green beam line laser level that is absolutely fantastic for home users.
These models are easy to use and will not bore a hole in your pocket, and you can actually spend the monies on the raw materials you require to execute those wonderful ideas.
Have a cool idea to hang your family photos in a non-traditional, stylish manner in your living room? Stop waiting, get one of these laser levels, and get to work!
A Brief Overview of Laser Levels
What is a Laser Level?
As a builder or a DIY person, you already know what a laser level is. But, for the uninitiated, it is a control tool that helps you create a level (straight line) on a vertical or horizontal surface by emitting light onto it.
It is used for alignment, leveling, layout, and plumbing purposes on a wide range of indoor and outdoor applications.
For example, you can use a laser level to install a wall cabinet in your kitchen with excellent precision and which aligns with the horizontality of both your floor and ceiling.
Types of Laser Levels
Although they are available in different models, sizes, and with additional features, there are basically three types of laser levels, namely –
Each of these three is meant for different purposes. Hybrid laser levels are also available.
In starter packs, laser levels usually use red light to project dots or lines on a surface. As noted above, equipment that uses green laser diode is far more accurate, reliable, and convenient for the operator.
There are reasons why you should invest in a green beam laser instead of on a red one, if you are a frequent user and if you work outdoors.
Why Should You Choose a Green Laser Level Over Red?
Following are the top reasons why we think you should spend a little more and purchase a laser level with the green light:
Green is the brightest color (compared to red, blue, and violet) when it comes to industry-grade construction equipment and leveling power tools
Can be detected 4x better by the human eye and by electrical detectors
Transmits over long distances by using more power
Due to its long range, tasks that cover a large area can be handled easily and in one go
Simply put, your choice should be based on your requirements. Since green provides greater visibility and longer range, it is preferred by construction and civil engineers.
They are, however, intended for large-scale interior and exterior jobs such as round construction, drywalling, and ceiling work.
Cost Difference
One another thing to note here is the cost difference between red and green laser levels. It is obvious that the latter would be slightly more expensive than its entry-level counterpart.
As per our in-house experts, the cost is often due to the use of green laser diodes that add 20-25% more to the total cost.
Since green laser diodes consume more energy, most green laser levels use rechargeable Lithium-ion batteries.
Best Laser Level Brands
Once you have made up your mind, you can check out our list and go through the green laser level reviews to pick your choice.
DeWALT is often considered the number one brand of power tools and equipment. Engaged in business for close to a century now, the Maryland-based manufacturer is known for its design, sturdiness, and cutting-edge technology.
Bosch is another top brand, from Germany, known for its electronic circuitry and a huge fan base among seasoned professionals.
Leica Geosystems, not to be confused with the legendary German camera manufacturer, is an underdog that exclusively focuses on laser levels.
Johnson is another American company and a fairly reputable manufacturer.
Other brands that we have featured on our lists are Spectra Precision, PLS, Firecore, and Skil.
Each of these brands has its own special characteristics, which we have explored in detail above.
Final Verdict
We are sure that by now you have obtained enough information to help you make a wise choice about your next laser level purchase.
We stress on green beam not only because it is 3x brighter than red color, but also because it is high time that we do away with inferior quality tools that only provide fragmentary assistance.
At a time when automation and technology have reached a level where they have started threatening man's existence, it does not make sense to settle for the mediocre.
Hence, we created this guide of the best line, point, and rotary laser levels available in the commercial market that give you full support in all your leveling, alignment, and plumbing tasks.
Whether you are a DIY-er or a professional builder, choosing the right laser level greatly affects the success of your jobs.
We assure you that the featured products will aid in your construction jobs, because we have spent hours and days surveying their performance, skimming through online and offline reviews, and understanding mechanisms and user experience.
The best way to make your selection is to read the reviews, weigh the pros and cons, and then narrow it down per your individualistic requirements. We know what Bosch sentimentalists will go for, but it is recommended that you consider other brands as well.
We hope that this comprehensive green beam laser level review has helped you make a solid addition to your power tool kit.
And don't hesitate to share with us your experience when using these modern leveling tools in the comment section below.