Every homeowner and DIYer occasionally need a tool to check up on their electronics to see if they are functioning properly, or even to install some new wiring.
The tool for such a job is a multimeter, and there are a lot of different kinds of them out there for sale in many different price ranges.
Top Picks of Best Multimeter For Hobbyists: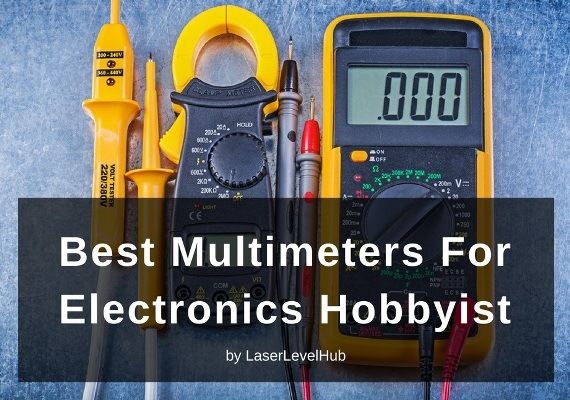 The best multimeter for electronics hobbyists and home users depends largely on what they want to use it for, but the following multimeter reviews can help to make the decision less difficult.
It's helpful to know which multimeters are designed for major industrial use as opposed to just here and there for house projects. There are also varying levels of complexity versus simplicity between the different models and designs of multimeters.
Below are some of our favorite multimeters for the infrequent user, beginner, homeowner and hobbyist.
Best Multimeter For Home Use & Hobbyists 2023

Best Overall

Amprobe AM-510

Measures voltage up to 600V AC/DC
Non-contact voltage detection
Large backlit LCD, built-in LED flashlight
Durable, easy to use

Read My Review

Reliable

Proster Multimeter 6000

Measures voltage up to 600V AC/DC
Comes with advanced features
Built-in support stand for hand free use
Big LCD display

Read My Review

Good Value

Innova 3320

Measures voltage up to 600V AC/DC
Good quality for the price
Easy to read display, well-built
Hands-free testing

Read My Review

Basic Multimeter

Neoteck 8233D PRO

Measures voltage up to 200V AC/DC
Simple and easy to use
Lightweight, nice display

Read My Review
How We Picked
These top multimeters are selected based on customer satisfaction, price, and overall quality for their intended use. They are basic, easy to use multimeters that come at a very reasonable price.
These meters properly don't come with ultra-high accuracy and extra features like top performing meters for electricians but they are usable and great value for electronics hobbyists.
By doing a little comparing of these reviews, it should help the buyer choose the multimeter that is the best fit for their situation.
Best Multimeter For Electronics Hobbyists
1 - Amprobe AM-510 Commercial/Residential Multimeter
Best Multimeter For Hobbyists - Amprobe AM-510 Multimeter
Pros
Well-built, sturdy
It has lots of features
Nice backlight, built-in LED flashlight
Cons
The NCV function is not good
The probes are not durable
This Amprobe multimeter is a perfect selection for electricians, homeowners, and hobbyist based on its easy-to-use functions and multiple features.
Some of its key components include this product's ability to keep a reading on the display even after the meter has been disconnected and an auto-power saving mode that turns off the multimeter after half an hour of being idle.
In addition to that, this pick can also function as an auto-ranging multimeter, has non-contact voltage detection, audible continuity, and diode testing.
Customers highly rate this affordable multimeter because the quality and durability of this item are incredible for its low price range.
However, a challenging component of this multimeter is that some users found it to run slow.
2 - TekPower TP9605BT Digital True RMS Multimeter
Best Multimeter For Electronics Hobbyist - TekPower Multimeter
Pros
Convenient Bluetooth connection to phone
It has lots of advanced features
Good value for the money
The TekPower Auto Ranging Digital Multimeter is rated as one of the best multimeters for beginners. One of the features that customers love the most is the fact that it is the world's first cellphone connected multimeter that is associated with a free app to use in conjunction with your readings.
In addition to that, it comes with test leads, an optical USB cable, and a K-Type thermo probe to enhance your measuring experience. For the average hobbyist that is very technical savvy, this auto-ranging multimeter has the ability to a real-time data stream to a PC.
As far as its physical features go, the TekPower multimeter has a nice big screen with easy to read numbers, and a dial that makes it simple and effortless to read.
However, some customers have commented that it doesn't feel as sturdily built as other multimeter models.
3 - Proster Auto-Ranging Digital Multimeter
Proster Auto-Ranging Digital Multimeter
Pros
It comes with advanced features
Accurate and easy to use
Big screen
Cons
The instruction is not clear
It does not have a backlight
This pick is a good multimeter for electronics hobbyists based on the fact that it has auto-ranging capabilities, and for its ability for measuring AC/DC current and voltage as well as frequency, duty cycle, temperature, and resistance.
In addition to that, this product gives the buyer a lot of bang for their buck given that it comes with a number of accessories, including a temperature probe and carry bag.
Customers love this Proster multimeter for all the features that come with it, as it is simple enough to use for occasional projects but not entirely limiting either.
While there are plenty of good things to say about this digital multimeter, the fact that its instruction booklet is a bit confusing to read can be difficult for some people.
4 - INNOVA 3320 Auto-Ranging Digital Multimeter
Best Cheap Multimeter - INNOVA 3320 Multimeter
Pros
Useful auto-ranging function
Wide and easy to read digits
It has an arm trap for easier use
The Innova 3320 auto-ranging digital multimeter is a UL certified product that is designed to troubleshoot all kinds of automotive and household electrical problems accurately and safely.
It has a very easy to read display screen with large numbers to read and single setting resistance functions for AC and DC voltage.
In addition to that, this Innova multimeter has a rubber casing that covers the corners from any damage that might occur if it were to be dropped.
The only small setback with this model is that the continuity beep does work, but it isn't instant. The user has to wait for a second or two to hear a beep after the leads are held together.
5 - Mastech MS8268 Series Digital Multimeter
Best Multimeter For Home Use - Mastech MS8268
Pros
It has a wide range of functions
Easy to use
Reasonable price
Cons
The backlight doesn't stay on continuously
This Mastech digital multimeter was selected based on its high customer ratings, precision, and accuracy. It has a nice, large display with easy to read numbers and an auto-power off feature to save battery life.
But for having 10 different features, the price is fantastic and can be used for many household or automotive items. One of the other great features about this multimeter is the fact that gives off a sound warning with incorrect jacks are used.
It truly is one of the best multimeters for home use that is on the market right now and is perfect for the occasional hobbyist, homeowners or DIY project worker. Customers are very satisfied with this Mastech multimeter because it has proven to be very capable of performing lots of different jobs, despite being on the cheaper side.
The only real downfall is that the backlight doesn't stay on continuously, it only really lasts for about five seconds at a time.
In this multimeter review, we have included some of the best budget multimeters for those who don't have a lot to spend on tools. Here are they:
6 - Neoteck Pocket Digital Multimeter 8233D PRO
Best Inexpensive Multimeter - Neoteck Multimeter
Pros
Good price
Simple and easy to use
Lightweight, nice display
Cons
The manual isn't very descriptive
The Neoteck Pocket Digital Multimeter has enough features to make it a versatile tool, but not so many that the user gets overwhelmed by putting it to work.
The fact that this basic multimeter for beginners is easy to operate with a dial and minimal buttons means that it isn't too confusing for those who are unfamiliar with multimeters, yet it has enough functions to get the job done.
This particular model has an auto power-off feature to save you on the battery if it's been idle for a while and has a backlight on the screen which makes the numbers easy to read. In addition to that, this pocket multimeter is small enough to carry anywhere and doesn't take up too much storage space when you're done with it.
It also comes with a set of alligator clips, which are very handy.
One of the only downfalls with this inexpensive multimeter is the fact that its manual isn't very descriptive.
7 - Etekcity MSR-R500 Digital Multimeter
Best Multimeter For Beginner - Etekcity MSR-R500
Pros
Simple, basic functions for home use
Good price
Cons
Plastic case seems low quality
This Etekcity multimeter is a great cheap multimeter for beginners because it has a nice data hold and large numbers on its backlit screen for easy reading. This pick also simply and accurately measures current, diode, resistance, and voltage without much of a hassle.
This product also comes with many other useful features such as a rubber sleeve to protect it from any damage, a low battery indicator, overload protection and even removable test lead extension caps.
It's an ideal model for anyone that needs a basic multimeter for occasional use, or even for electrical students. According to customer feedback, the Etekcity MSR-R500 Digital Multimeter functions quite well for a cheap multimeter but its plastic casing makes it appear to be low quality.
Best Multimeter For Home Use Comparison
Conclusion
In conclusion, you don't need to spend a lot of money to get a decent multimeter. There are many different models in varying affordable price ranges that work perfectly for the casual users, home owners or hobbyists.
By comparing what's available on the market, buyers can find the best budget multimeter for their current and future projects around the home.
Of all the above reviews for multimeter designs and models, it should be easy to find many ideal multimeters for electronics hobbyists, homeowners and for beginners as well.