If you are looking for an outdoor laser measuring device for fast and accurate distance measurement, then the Leica DISTO S910 might be all you need.
The Leica DISTO S910 is arguably the best Leica laser distance measurer and probably the best laser tape measure you would find on the market today.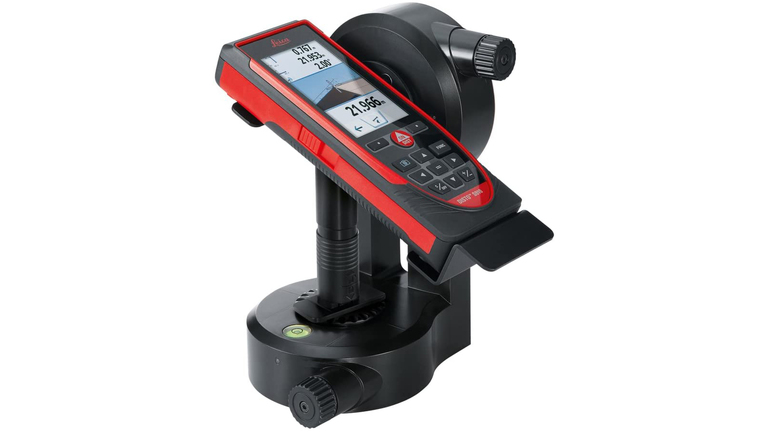 It is a distance measuring tool that uses a laser beam to figure out the distance between the tool and a certain point.
You might be wondering, what makes the DISTO S910 from Leica stand out of its competition or why you need to consider adding one to your toolkit?
In this review, I am going to show you its features, as well as its benefits and share with you my experience, and honest review of this tool.
Leica DISTO S910 Review Summary
Leica Disto S910 Laser Measure with Bluetooth
Review Summary
Measuring Range: 0.5 up to 300m (984 feet)
Accuracy: 0.04 inches (1mm)
Protection Rating: IP54
Measuring Mode: integrated calculator, area/volume calculations, Pythagoras, stake out, triangle area, delay timer,height tracking, indirect height, profile measurement
Memory: Last 50 measurements
Tripod Mounting: 1/4-in thread
Battery Life: up to 4,000 measurements
Warranty: 2-Year Limited Warranty
Special Features: high visibility 4-line color illuminated display, Li-Ion rechargeable battery, nylon pouch with belt loop, lanyard, quick start guide
Who is It For?
The Leica DISTO S910 laser distance meter is for anyone working on a remodeling or construction project, both amateur and professionals.
But the tool is actually targeted towards professionals and people who want a reliable means of taking accurate measurements. The tool can be used by:
DIY enthusiasts
Real estate appraisers
Architects
Carpentry
Contractors
Interior designers
Electricians
Homeowners
Leica DISTO S910 Measuring Tool Review
When the Leica DISTO S910 was sent to me for a review, I knew instantly that the tool would give other high-end and professional laser tape measure a run for their money when I took it out of the box.
The tool is equipped with several amazing and mouth-watering features that everyone would love to have on their laser distance measure. Some of these features include:
Long Measuring Range With a Great Deal of Accuracy
Leica Disto S910 Laser Measure with Bluetooth
The Leica DISTO S910 offers a long range of outdoor and indoor distance measurement (up to 1000 feet) with a high straight line accuracy of ± 1mm (1/16 inches) and 1mm/m on P2P.
This is made possible by the module it is connected to and its big receiver lens that detects laser dots both indoor and outdoor even at a very long distance.
The tool has an ISO 16331-1 certified rating, so you can rely on its accuracy.
Point Finder Camera and P2P Function
This is one of the features I love about this tool. It has an inbuilt digital Point-finder camera that features a 4x digital zoom and On-screen Targeting Cross Hair.
With this feature, you can see where the laser dot is, even when it is invisible to your naked eyes to quickly select the target for accurate P2P measurement.
The P2P (Point to point) function allows you to measure the distance between two points even if your target is hundreds of feet away from you.
With this feature, I measured and instantly got the distance between my kitchen countertop and the ceiling when planning to replace my kitchen backsplash.
The device also has the trapezium function which I found amazing when finding the slope and the total area covered by my roof.
Design Software With Digital Documentation Support
This feature makes the Leica DISTO S910 absolutely the best laser measuring tool for architects, professional interior designers, and real estate appraisers.
Not only does it come with an inbuilt camera with dual lenses, WLAN, USB and Bluetooth 4.0 interface, it also supports Windows, iOS and Android software and stores up to 30 images and measurements for quick recall.
With these features, you can quickly take or overlay measurements on images, save your results in DXF, JPG, TXT, CSV, and DWG format and export them to your PC CAD programs or smartphone via USB, WiFi, or Bluetooth to create detailed plans on a site. These features will not only make your work more efficient but also help to save time.
Multiple Measurements Feature
Say goodbye to complex measurement calculations with the Leica DISTO S910 laser distance measure.
The tool has multiple mathematical functions such as the addition and subtraction, area, volume, diameter, smart area trapezium, Pythagoras, height tracking, painter and the min and max functions.
From the large variety of functions the tool offers, you can quickly select the corresponding functions and complete your slope, height, area or distance measurement within a few seconds.
It has an inbuilt compass and 360ᵒ tilt sensors that help to take accurate indirect measurements and height tracking.
The smart area function is really amazing; I can just capture the corners of my floor, walls, roof or any other polygon to calculate their area without any stress or wasting of time.
The smart horizontal feature also allows you to shoot the laser over an obstacle to determine the level horizontal distance from your target. This means that you don't have to worry about moving heavy obstacles out of your way to get an accurate horizontal level distance.
Easy to Read Display
Leica Disto S910 Laser Measure with Bluetooth
This Leica S910 Laser Distance Measurer comes with a big, clear and easy to read display for an easy measuring experience.
The best part of this is its touchscreen display feature that allows you to use the familiar pinch and expand motion for accurate point selection while making switching between the functions offered by the tool a breeze.
Strong Battery Life
The unit comes with a rechargeable Li-ion battery that can to take up to 4000 measurements per charge.
The battery offers up to 8 hours of use, so you can rest assured that the tool's battery won't run flat easily when you need it the most on the job site.
Durable and Strong Protection Class:
The unit has an operating temperature of -10 to 50 ᵒC and has a strong IP54 rated protection against dust and water splashes.
This means that the unit can withstand the occasional bruises, the dust, water splashes and temperature that it may encounter at the job site.
Tripod Support
The unit comes with an adapter and tripod that help to provide support and a stable base for extremely high accuracy and target control when measuring P2P from long distances or remote locations.
It has an integrated smart base that makes the distance, angle and inclination measurement between two points (using the P2P function) a breeze. It also comes with a hard case to transport or store all its components.
The Drawbacks
It is hard to fault the Leica DISTO S910 laser measuring tool. However, some of the drawbacks and the things I felt were lacking after using the product over 6 months includes:
No spirit level. This is actually not a problem since it has an inbuilt compass and 360ᵒ tilt sensor for smart horizontal distance measurement.

The tripod supplied with the tool is not very sturdy, and professional outdoor users might love to have something better.

Another issue is the camera. Of course, the camera feature works perfectly with its 4x zoom function, but when it comes to taking precise measurements at a very long distance, the resolution of the camera might be bad. When the resolution is bad, taking accurate measurements at longer distances might be a challenge.
How to Use the Tool
The Leica DISTO S910 laser distance meter is easy to use. Just make sure the tool if fully charged, mount the adapter on a tripod, and the tool on the adapter and turn on the device.
You can now aim the laser dot on your target using the targeting control along with the 4x digital zoom and On-screen Targeting Cross Hair function as well as the touchscreen feature to quickly capture and display the readings.
Note:
Read the tool's manual carefully and understand how it works before you operate it (especially the advanced functions and features).

Do not operate the tool outside its normal working temperature range.

Do not submerge the tool in water or any sort of liquid.

After use, clean the tool with a clean, damp cloth and store in the box that comes with the tool.
Customer Support and Warranty
Leica, the company behind the Leica DISTO S910, is one of the most popular brands you can rely on when it comes to finding a high-quality laser distance measurer.
Apart from being innovative, the company takes time to test all their products and ensure they meet the requirement for quality before they are released into the market.
The company offers 2-year replacement warranty coverage against manufacturer defects and quality related issues. You can even extend the warranty to 3 years if you register the tool within 8 weeks of purchase.
Conclusion
Pros
Long range (up to 984 ft) with high accuracy (±0.04 in)
Easy to read display with touchscreen feature and a good battery life
Tripod support with an integrated smart base for accurate distance measurements
WLAN, Bluetooth and USB compatibility with support for Windows, iOS, and Android
If you are looking for a versatile professional grade distance measuring tool that is fast, accurate and has a very long coverage range, thenyou've got all the reasons to buy the Leica DISTO S910 laser distance meter.
This tool comes with several features that make it the best Leica laser distance measurer and probably the best outdoor laser measuring device available on the market today.
What are you still waiting for? Buy the Leica DISTO S910 laser distance meter now and enjoy faster and smarter professional working experiences.