Using the construction laser level will eliminate the time and effort on leveling job, thus the laser level is now preferred for handling the heavy work.
While most cross line laser levels are built for indoor use, the rotary laser levels are highly powerful and ideal for outdoor work.
If you still have the old water bubble level, maybe it is time to make an upgrade. Then the below best rotary laser levels are the ones you should consider first.
Top 5 Picks for Best Rotary Laser Levels: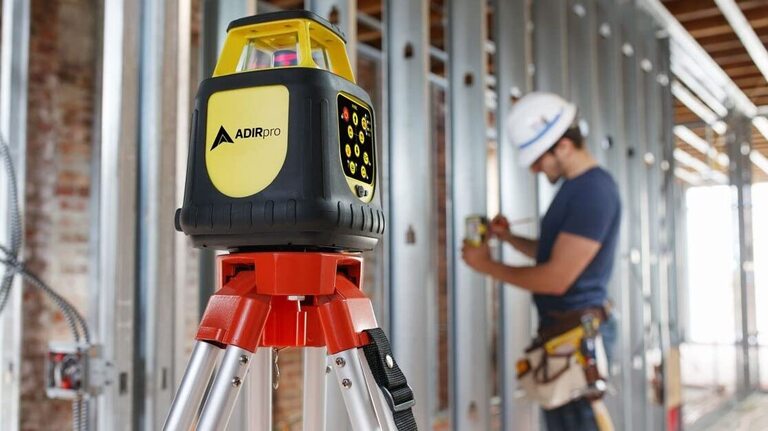 Whether you want a new rotary laser level for excavation or an inexpensive one for occasional home use, this short guide will help you find what you're looking for.
Best Rotary Laser Levels of 2023

Best Overall

Topcon RL-H5A

Working range up to 2,600 ft (800 m)
Very accurate and well-built
Extra-long battery life up to 100 hours

Read My Review

Best Quality

Leica Rugby 680

Working range up to 2,950 ft (900 m)
Dial-in grade in dual axis
Very accurate performance

Read My Review

Best Value

CST/berger RL25HVCK

Working range up to 2,000 feet (600m)
Horizontal and vertical self leveling
Durable housing design, easy to carry

Read My Review

Single Slope

Topcon RL-SV1S

Working range up to 2,600 ft (800 m)
Best for single slope applications
Full function radio remote

Read My Review

Bluetooth

DEWALT DW080LRS

Working range up to 2,000 ft (600 m)
Bluetooth connectivity for tool tracking
Dual axis slope mode

Read My Review

User-Friendly

Leica Rugby 620

Working range up to 2,600 ft (800 m)
Simple and quick slopes
Tough design

Read My Review

Most Durable

Spectra Precision LL300

Working range up to 1,650 ft (500 m)
Highly durable construction, full weather and dust proofing
Useful RC601 remote control (optional)

Read My Review

Bright Laser

PLS HV2R

Working range up to 1,000 ft (300 m)
Horizontal/vertical with manual slope
Bright, easy to see laser

Read My Review

Multiple Uses

Johnson Level & Tool 99-027K

Working range up to 2,000 ft (600 m)
Self leveling rotary lasers with 90º split beam
Useful visual and audible alarms

Read My Review

Best Budget

Johnson Level & Tool 99-006K

Working range up to 800 ft (240m)
Both vertical and horizontal use
Good quality, easy to setup and use

Read My Review

Good Price

AdirPro HV8RL

Working range up to 1,650 ft (500 m)
Vertical and horizontal alignments
Remote control

Read My Review

Under $300

Huepar RL200HR

Working range up to 1,600 ft (480 m)
Easy one-button operation
Good value kit with accessories

Read My Review
The 12 Best Rotary Laser Levels of 2023
#1 - Topcon RL-H5A Self Leveling Horizontal Rotary Laser Level
Topcon Corporation is a Japanese conglomerate (with its US headquarters in California) and one of the largest manufacturers of optical surveying equipment. Which is another reason why one of its bestsellers is taking up #1 position in our list of the best rotary laser levels.
Best For
Advanced users.
General outdoor and indoor construction, surveying, excavation, and grading. Suitable for day-night applications in all types of weather. Best in class product.
A deserving successor to the legendary Topcon rotary laser level – the RL-H4C – this self-leveling beast is capable of shooting laser up to 2600 feet (800 meters) with an industry best 0.005-degree accuracy i.e. about 1/16 of an inch at 100 feet.
Its weatherproof, sturdy built will ensure that it plays anywhere you put it regardless of the climate.
Especially intended for outdoor construction applications, the Topcon RL-H5A has an extraordinary 100 hours of battery life, which further makes it one of the best tools in the market.
There is nothing else that you need to depend on when you have this Topcon model plus some additional accessories like a tripod. According to our experts, it is even qualified for measurements at night provided you make apt use of the complementary receivers/reflectors.
#2 - Leica Rugby 680 Rotating Laser
One of the most powerful laser levels for construction, this Leica rotating laser level is known for its built and reliability.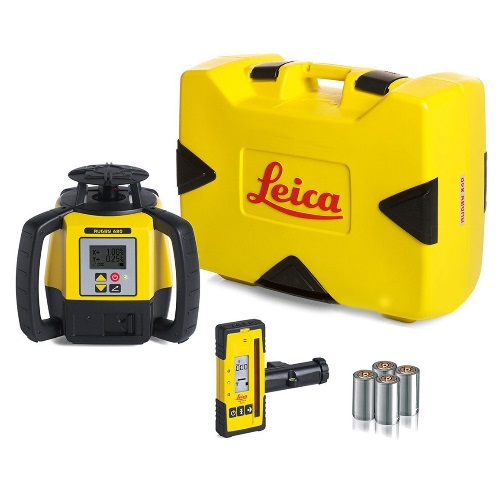 Best Rotary Laser Level For Contractors: Leica Rugby 680
Coming from the house of Leica is the Rugby 680 that has a range of over 2,000 feet even in broad daylight. It's a fine model even if you compare it with the 601 series above.
The IP67-rated protection from dust and water is another highlight, making it easily portable (about 10 pounds) and usable in difficult work environments. But more than what we love about this laser level is the grading function that allows you to operate it beyond the fundamental usage of leveling.
The only downside is that it uses 4 D alkaline batteries (included with the model). They power for about 60 hours of continuous usage, but we would have preferred rechargeable ones to avoid overhead costs. It is the best laser level for grading.
Tips
You can use any 5/8" tripod to match this model.
#3 - CST/berger RL25HVCK Horizontal/Vertical Rotary Laser Level Kit
CST/Berger is a partnership company with a history dating back to the nineteenth century and is now owned by the popular German conglomerate Bosch, which in itself is a testament to this tool's high quality and precision.
Best Value Rotary Laser Level Kit: CST/berger RL25HVCK
Best For
DIYers and house owners with large projects. Best value for money.
If you are looking for a complete package and a mix of the above Topcon and Spectra Precision models, look no further.
The CST/Berger RL25HVCK comes with a remote control, RD1 detector with bracket, laser glasses, and aluminum tripod (39 inches), and 8-feet leveling rod.
This rotary laser tool is perfect for large projects, is an all-in-one tool, and gives you total value for money.
This modern self-leveling rotary laser level has features where you can vary the speed (150, 300, 600 RPM) as well as the scan angles (10, 25, 50 degrees), which is a boon to engineers who struggle with a fixed angle.
The 85 hours of runtime is less compared to Topcon, but it does come with an indicator (battery level gauge) to notify you that it's running low on juice.
The class enclosing top further gives it a better tactile proofing from dust, debris, and heavy rainfall.
We also particularly love the hibernate mode which saves a lot of battery power when you are out taking a break with your colleagues at the site.
#4 - Topcon RL-SV1S Self Leveling Single Slope Rotary Laser
Topcon is a pioneering Japanese optical and surveying brand (established 1932) and one of the finest producers of rotary laser levels as will be evident from this model. Known for its usage on slopes.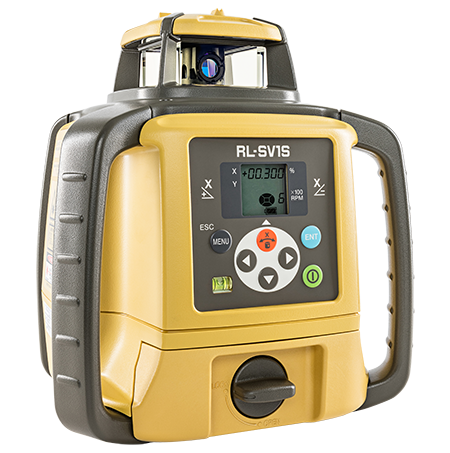 Best Rotary Laser Level For Grading: Topcon RL-SV1S
Topcon is one of the leaders when it comes to slope-based surveying and excavation. Want to form a compound grade hatched on a slope?
The RL-SV1S will do the job as it is intended for single-slope applications. This can be building a garden or fencing on a sloped roadway. The self-leveling will take care of the difference and asymmetry involved.
In such single-slope applications, the laser level minimizes errors and gives out perfect reading that is sometimes even manually not possible or tedious to calculate.
Ever felt like owning a single slope laser level rotary laser level that is well-equipped for excavating, grading, and other miscellaneous construction projects? Then Topcon should be your first choice.
It has the usual frills like high accuracy, IP66 rating (that even protects from torrential rainfall), an LS-80L receiver, and an RC-50 remote control.
Add to that the ability to cover a diameter of more than 2,500 feet dual battery support, you have yourself a machine that can work tirelessly for several projects for years and years to come.
The RL-SV1S can run for about 120 hours on alkaline batteries and around 65 hours on the complementary Ni-MH rechargeable battery. The luxury of dual battery is something that professionals can understand, especially when projects come in non-stop.
Tips
Topcon recommends calibrating its tools at least once a year. Here are the guidelines.
#5 - DEWALT Rotary Laser Level with Bluetooth DW080LRS
One of the leaders in the field of surveying technology, DeWALT is known for its Made in America mark, trust, and long-running dependence of the American workforce.
Best DeWalt Rotary Laser with Bluetooth
The highlight of this red rotary laser level is its Bluetooth capability. You can connect the machine to the Bluetooth app on your smartphone and do a flurry of operations.
These include tool tracking, indications about fall or drop or bump, and changes in slope and line direction. When you think about it, it is a crucial feature to have when you have multiple other jobs to take care of.
It is also built like a heavy-duty machine yet weighs only 6 pounds. Therefore, the DW080LRS will also make for a fantastic portable tool for all your surveying and excavation projects.
#6 - Leica Rugby 620 Self Leveling Rotating Laser Kit
Another Leica model on this list, the Rugby 620 is its cheapest model on this list known for its high brightness. Best as a construction laser level for general contractors.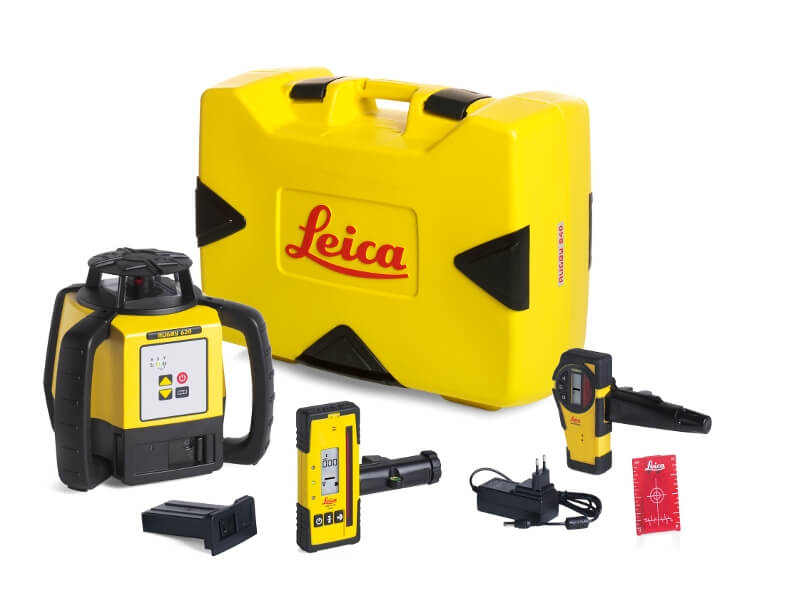 The Most Simple and Reliable Rotary Laser: Leica Rugby 620
The problem with working in broad daylight is that sometimes the laser is missed by the naked eye. But not with the Rugby 620 which also has an additional Rod Eye 140 receiver that helps in the process.
With a range of up to 2,600 feet, it is also capable of dealing with all types of jobs including concrete forming and dirt work. The IP67 rating should be noted because even though it is a default amongst modern rotary laser levels days, it is a critical component to consider while buying.
It runs on D cell alkaline batteries, which may be a drawback. So, get an extra pair if you are anticipating a long-term, continuous work.
#7 - Trimble Spectra Precision LL300 Self-leveling Rotary Laser Level
Another export from the East in this list is Spectra Precision, a subsidiary of the Japan-based Nikon-Trimble Company Limited, known for its high-quality surveying and construction tools.
Best Rotary Laser Level For Concrete Applications: Spectra LL300
Best For
Beginners; general construction with low range and rugged requirements.
What sets Spectra Precision apart from other brands is not its 5-year full on-site warranty but its claim of full weather and dust proofing. We actually tested this out in harsh conditions of snow and rainfall, and were surprised to find that the accuracy matched with the claim.
The optional RC601 remote control will come in handy if you deal with slopes while excavation or grading.
The Spectra Precision Laser LL300 also offers single cross-axis manual slope mode with cross-axis self-leveling, providing more accurate grade measurements. Which is a boon to civil engineers who usually struggle and end up spending more time in measuring areas with slopes.
Compared to the Topcon model, this one has just one drawback of having a low range (up to 1650 feet compared to 2500 feet). It's slightly heavier at 20 pounds, which limits its portability unless you own a vehicle.
#8 - PLS HV2R Red Rotary Laser Kit
Anyone who has ever used a PLS tool keeps coming back. Not because of its superb design and precision qualities, but because of the sheer reliability.
Most Durable Rotary Laser Level: PLS HV2R
Easy to set up and use right after you unbox it, the PLS HV2R is everyman's tool. More than anything, it is the convenience that you will find difficult to resist in this PLS kit which comes with a sturdy elevating tripod and a 16-foot grade rod.
Of course, accessories can be bought separately, but when they are complementary with the tool, it calls for extra joy.
Drop-tested for up to one meter, it is also rated with IP54 for dust and water protection. Use it at any work environment and it will work for you without giving any problems.
All in all, it is a fine surveying and leveling tool for most projects. Tagged with the reliability promised by PLS.
#9 - Johnson Level & Tool 99-027K Self-Leveling Rotary Laser Level System
Johnson is an American company and believes in the marketing itself as "Made in the USA".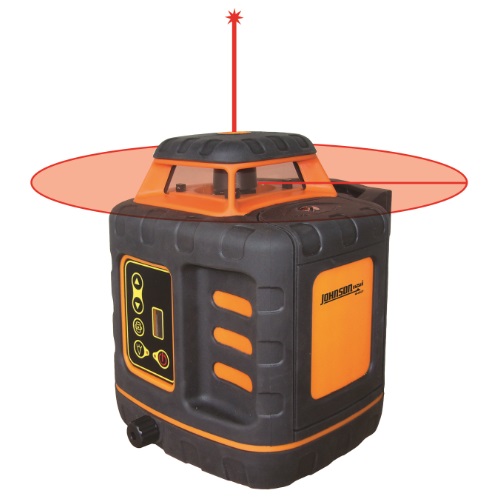 Best Self-Leveling Rotary Laser Level: Johnson 99-027K
Best For
Advanced users. Large job site excavations, as well as indoor projects like drop ceilings.
Johnson's "Made in the USA" products are known for their versatility and tough build (IP66 rating). This self-leveling rotary laser level is no different. With a locking mechanism that protects the pendulum, you can transport it between sites without the tension of breaking the plumb.
The visual and audible alarms provide you notification about the range as well as battery levels, which again makes it a direct competitor of the CST/Berger model reviewed above.
It is dustproof and can withstand light shower on all weathers, making it suitable for external uses as well.
The range is around 2000 feet that can cover large construction sites without the need of any external support. However, this Johnson 99-027K kit still comes with a 13-foot grading rod, clamp detector, tinted glasses, and a magnetic target.
#10 - Johnson Level & Tool 99-006K Self Leveling Rotary Laser Level Kit
Another Johnson model on this list, it is a combination of economic and powerful.
Johnson 99-006K: Best Budget Rotary Laser Level
Best For
Beginners handling low-cost projects.
This is one of the lowest-priced rotary laser levels on this list. A dumbed-down version of the 99-027K, this economic model is known for its self-leveling capabilities and a range of up to 800 feet.
External usage is limited but it still boasts of a high accuracy ratio compared to other models in this price range.
We also found that the red beam is clearly visible up to 100 feet in broad daylight, which should take care of most applications for beginners.
The Johnson 99-006K kit comes with complimentary soft carrying case, a 13-foot grading rod, LED one-sided detector, a contractor-grade tripod, freestanding target, a drop-ceiling bracket, and laser glasses.
All of this in a single package at a steal price makes it the #1 choice for beginner engineers and homeowners.
#11 - AdirPro HV8RL Rotary Laser
AdirPro is known for its affordable pricing, beginner-friendly tools that can be best categorized as an entry- or intermediate-level rotary laser levels.
Best Rotary Laser Level For Home Use: AdirPro HV8RL
Equipped with almost everything that a modern rotary laser level should have, the HV8RL from AdirPro is a solid tool for most types of engineering activities.
Whether it is surveying an uneven land or leveling a patio in the backyard, this tool will give you the critical data as you proceed to build.
With a range of up to 1,650 feet, a remote control, and an LD-8 laser detector for detection in daylight, it ticks all the elements of the essential checklist. Owning an AdirPro also gives you confidence about your leveling skills, which may not be the case when you splurge on a higher-end tool.
Moreover, this is a complete package that comes with everything that you will need, including a target and a mount wall bracket. A perfect candidate as an affordable laser level for concrete work and other construction activities.
#12 - Huepar RL200HR Electronic Self-Leveling Rotary Laser Level
Last on the list is this best cheap rotary laser level model from Huepar that is a complete package for beginners (DIY) and intermediate users alike.
Best Rotary Laser Level Under $300: Huepar RL200HR
Looking for a good cheap rotary laser level but one that evinces promise? This Huepar is model is perfect for you. It comes with everything that you need, is easy to set up and use, and does most surveying and leveling work easily without a strain.
It's also a very portable tool that can be used both indoors and outdoors without the fear damaging it. The IP54 rating will take care of the dust and water.
While the red laser beam has been reported to be dim by some users, we found that the detector is a handy addition in such cases. The alkaline battery is a drawback but not something that can be controlled with an extra pair.
For the price, the RL200HR exceeds its expectations.
Now that we are done with all the rotary laser level reviews, it is time to help you choose the product for your specific needs.
Go through the helpful guide below to get a grasp of the factors that you need to count in while choosing the right rotary laser level.
If you have already selected your pick, use this guide to ensure that it will live up to your project expectations. If you are a beginner user, don't forget to check out the tips and FAQs at the latter part of this article.
Which Is The Best Rotary Laser Level To Buy?
Every user is different. And every user has their own set of requirements. A house owner may need an inexpensive rotary laser level for indoor works and small outdoor projects like fence construction.
On the other hand, an advanced user – a civil engineer – will need a robust rotary laser level for excavation, grading, landscaping and similar heavy-duty construction/surveying projects.
Bosch GRL400HCK - Best Indoor Outdoor Rotary Laser Level
And not all rotary laser levels are capable of everything. As noted in the reviews above, some models provide a long-range (the Topcon RL-H5A provides the long range at 2600 feet) whereas some provide resistance from weather conditions like dust and water.
Therefore, it is important to identify the type of needs you want to be accomplished with your rotary laser level.
Top 4 Rotary Laser Level Parameters
The best way to choose the right product is to go through these top laser level parameters and then select your pick.
Range
If you deal with sites that are long and wide in terms of area, then a rotary laser level that can cover a few hundred meters will fall short. You will struggle with your laser level and might need to borrow a long-range one. To avoid such issues, it is always a good idea to base your selection on your required range.
If you are a DIYer and only work with small projects, a rotary laser level with small range will be enough. The Johnson 99-006K offers a range of up to 800 feet, which will be sufficient for your basic needs.
If your requirements are large, then consider the Topcon RL-H5A model we have reviewed above.
Accuracy
Almost all the models reviewed here offer very good accuracy with low error quotients. Typically, errors enter your calculations when long ranges are involved. For shorter projects, all the six rotary laser levels we reviewed above will provide highly accurate results and plumbs.
According to our experts, the Leica Rugby 680 is the best rotary laser level for accuracy.
Durability
In an ideal scenario, you want to take your rotary laser level in any type of environment. Especially if you work outdoors, having a tool that can withstand debris, continuous dust, and occasional rainfall is necessary. Otherwise, a big investment like this will go down the drain.
Although most of these brands offer years-long warranty, damage from external elements is usually not covered. Therefore, it is wise to select a level that is fully waterproof and weatherproof.
Both the Topcon RL-H5A and Spectra Precision LL300 are the best tools for external, all-weather use.
[su_site_stripe asin="B00AFIMFZA" linkid="f80682c5365204c3ce9ff0b329c9d2e9"]
Battery Life
Most of these precision instruments work on alkaline batteries. The concept of Lithium-ion has not yet been introduced here, even though we have used customized tools that work on 5V charging.
More than the total running time that you get from a single charge, you must look at supporting features such as hibernation mode and automatic shutdown. These will ensure that your rotary laser level does not waste precious power and the whole unit lasts longer.
Now that you know the four main factors to judge your potential buy, here are expert recommendations for the two most common types of users.
Best Rotary Laser Level For Professionals
Here are our top picks of best rotary laser level for builders and professional contractors:
Professional contractors will need a device that can deliver a lot of features for both interior and exterior applications. You will need to look for high performance, long working range, durability, warranty, battery life and many other superior features.
For people who are willing to make extra investment to get the best laser leveling tools, here are top choices for you.
The Topcon RL-H5A has an impressive range (with detector) of 2500+ feet (800 meters). You can use it for larger projects (both indoor and outdoor) than other common laser levels on the market.
The Spectra Precision L300 has the optional remote control for large site surveying and excavations. From a durability point of view, it even fares better than Topcon.
The CST/Berger RL25HVCK laser level does not fail to impress either in terms of range it can offer or the durability. With an extended range of 2000 feet (600 meters), it is among the best rotary laser level kits you need today for a large project.
Best Rotary Laser Level For Home Use
Top choices of the best rotary laser level for homeowners:
As an avid DIYer, sometimes you will need to use the rotary laser levels to handle a number of home improvement projects like hanging cabinets or building a backyard deck. In this case, we recommend you to invest in an affordable rotary laser level for home use.
If you are looking for an inexpensive rotary laser level, then either of the Johnson models above is great. They have good ranges at a very good price and are built like a stone that will take some hard hitting to break.
These models are also great as budget-friendly options.
Tips To Choose The Ideal Rotary Laser Level
These are some additional tips to help you buy better:
Go for complete packages than laser level-only ones to save money on accessories like glasses and tripods
Always check out the company website before making the final purchase. Critical information about warranty and product registration will help you maintain your product in the long run
Invest on a tripod if you choose to get a standalone rotary laser level. It will make outdoor projections easier
Check out additional features like hibernate mode and battery indicator if you are torn between two models
Trust a brand that you have previous experience with (e.g. Bosch and Spectra Precision are widely known international brands)
Frequently Asked Questions About Rotary Laser Levels
Some of the most frequently asked questions and their answers about rotary laser levels:
Safety Tips While Using A Rotary Laser Level
These are some critical tips to follow while using your rotary laser level to avoid accidents:
Always switch off or pause the laser level when not in use, especially during outdoor usage
If your laser level does not have pendulum lock-in, take extra care during transportation. If the pendulum breaks, the self-leveling functionality will be lost
Always carry an extra set of batteries
If your laser level is not being used for a long period, remove the batteries and keep them separately to avoid leakage
Always keep the laser level in the hard/soft casing it came with
Conclusion
According to our experts, the best rotary laser level in the market today is the one by Topcon. The versatility and scope of applications as well as the affordable price that the RL-H5A boasts of make it a true companion of civil engineers and household DIYers alike.
The models by Leica, DeWalt, Spectra Precision, and Johnson are equally good with their own set of pros and cons. When you make your choice, base your decision on their individual characteristics and cross-check them with our buying guide.
We hope our expert guide on which is the best rotary laser level for builders and homeowners has helped you make a wise decision. If you have any more points to add, do let us know in the comments below.