Let's face it, measuring long distances, say a quarter a mile, using a measuring tape is simply impractical. In today's era of increased dependence on automated machines, it was quite thoughtful of innovators to come up with a way of ensuring accurate long-distance measurements.
And as much as it is an ages-old innovation, the distance measuring wheel, (also called hodometer or surveyor's wheel) is still a necessity rather than a luxury for professionals in the fields of quantity survey, civil engineering, construction, ground landscaping, and maintenance, and crime scene investigators among others.
Best Distance Measuring Wheels in 2023:
To make it easy for you whenever you need to buy one, we took time to sift through the crowded market, tested the finalists, and carried out broad research on the best measuring wheel available. Join us as we present to you the test winners.
Best Distance Measuring Wheel Reviews 2023
To help you make the right decisions, here we've selected top-rated measuring wheels and categorized them into 6 sections as following:
Electronic digital measuring wheels which have multiple units of measurements (product #1, #2, and #3)
Small measuring wheels suitable for quick measurements and indoor uses (product #4, #5)
Medium measuring wheels suitable for both indoor and outdoor measurements (product #6, #7, and #8)
Large measuring wheel for large-scale land surveying (product #9)
Meter measuring wheels which take measurements in metric units (product #10 and #11)
Measuring wheel with paint maker which is handy for measuring and marking at the same time (product #12)
For more information about which type of measuring wheels to choose, read our detailed guides at the Buyer's Guide section.
Best Electronic Digital Measuring Wheels
#1 - DuraWheel DIGI-PRO Digital Distance Measuring Wheel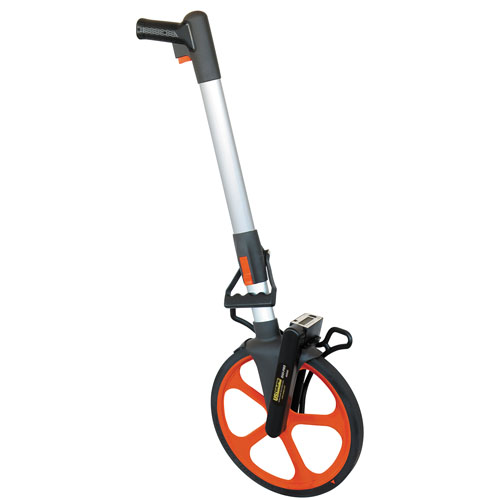 DuraWheel DIGI-PRO - Best Digital Distance Measuring Wheel
DuraWheel is a name that needs no introduction in the measuring wheel world. The company is known for its top-in-class equipment, and the DIGI-PRO Digital wheel is no different.
Expect a lifetime of accurate measurements all thanks to the heavy-duty aluminum tube chassis which still keeps the weight on the low. The smooth and flawless motion you will enjoy is a result of sealed roller bearings. The 12.5-inch-diameter Hi-traction tire will make a joke of the roughest and most uneven of surfaces. Did I mention that there is a debris scraper to keep off mud and loose debris?
Another feature worth mentioning is the spring-loaded quick stand for propping up the measuring gear when you need to pause. The company also made it foldable with a click-lock joint so that you can carry it with ease and store it without eating up much space.
The measuring wheel relies on a flawless belt-driven counter mechanism to record the measurements. Onboard the accurate digital distance measuring wheel is a digital counter with an LCD screen to showcase your measurements.
DuraWheel DIGI-PRO Digital Distance Measuring Wheel
Worry not if you often calculate mixed measurements. The digital scale can convert to multiple different US and metric units including feet, inches, yards, tenths, and decimeters. Should you wish to reset the counter, use the buttons on the counter unit, and to subtract numbers simply roll the wheel backward.
What's more. The textured pistol grip ensures secure yet comfortable handling. I was awed by how the brakes quickly bite into the dirt when you pull the conveniently positioned trigger on the grip. Another reason why it is pants down the best electronic measuring wheel is the automatic shut-off feature, meant to save battery when the measuring tool is not in use.
#2 - Calculated Industries DigiRoller Plus III Electronic Distance Measuring Wheel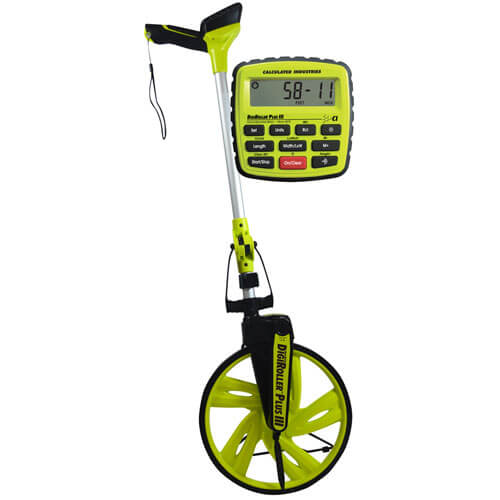 Calculated Industries DigiRoller Plus III Electronic Distance Measuring Wheel
Whether you throw it on smooth paved or tarred surfaces or decide to take it for a spin on more difficult sandy, grassy, muddy, or gravel surfaces, the DigiRoller Plus III will still loyally answer the call of duty.
The makers are well aware of the rigors of outdoor projects. So, they used a sturdy metal shaft that can stand up to the severity. Besides, the company included several functional features such as the reinforced handle and protective bumpers to add to the durability of the unit. The heavy-duty 12.5-inch diameter rolling measuring wheel will keep to the ground most of the time and provide much-needed stability.
Furthermore, the foldable design makes it easy to slip it into tight spaces when on the move or during storage. The makers also included a built-in carrying handle so carrying it around will not be a challenge.
Convenient is a quality this piece boasts in abundance. If you have a preference for a measuring wheel with a digital display as much as we do, then look no further. There is a bright LCD screen that vividly displays the recorded measurements. You will also be delighted to note that the display is backlit so you can take readings from poorly lit environments.
DigiRoller Plus III Electronic Distance Measuring Wheel
The device displays readings in both standard US and Metric units up to a maximum reading of 9,999,999. You are free to convert the readings to Feet, Inches, Meters, or Yards. Another plus is the ability of the electronic unit to accurately calculate linear distance, area and volume calculations, circular measurements, acres and hectares
Inside the box, you will also find a backpack carrying case for convenient transportation and storage.
Also, there is a 9V battery for powering the LCD, reflective tape for safety, a wrist lanyard to secure the equipment to your hand, and a plumb pointer. Also accompanying the measuring tool is a backpack carrying case for easy transportation and storage.
#3 - AdirPro Digital Distance Measuring Wheel
AdirPro - Best Digital Distance Measuring Wheel Under $50
Who said that people on a tight budget can't enjoy making accurate and convenient measurements of large spaces? You get much more than your money's worth with the AdirPro Digital Distance Measuring Wheel. At a small fraction of the price of its premium competitors, you still get the same precise and simplified distance-measuring experience with this inexpensive electronic measuring wheel
One feature that caught our attention here is the telescopic handle that can be adjusted to a height of between 27 – 44 inches to match the user's height and for convenient storage.
You will also find a solid brake and kickstand for secure anchoring the measuring tool in place when to need to pause.
The ergonomic grip handle is fitted with a backlit digital LCD screen that gives you easy access to the readings. As you'd expect the counter can convert and display the measurements in both standard Us and metric units up to a max of 9,99.9 feet, inches, or meters.
Better yet, the device features a memory function that can store and showcase up to five values. The auto power-off feature is also included to save battery power should you forget to turn it off. You will get 2 AAA batteries to power on this thing. You will get a free black zippered carrying and storage bag with this purchase.
Best surveyors measuring wheel under $50
Best Small Measuring Wheels for Quick Measurements
#4 - Komelon ML1212 Meter-Man 4-Inch Measuring Wheel
Komelon ML1212 Meter-Man: Best Small Measuring Wheel
Who wouldn't want such a compact, budget-friendly, and superbly built, trail distance measuring machine? The Komelon ML1212 Meter-Man 4-Inch Measuring Wheel is another worthy investment as far as indoor measuring wheels go. It is compact, within easy reach in terms of price, and still performs like a champ on even ground.
Do not be discouraged by the minimalist 4-inch diameter measuring wheel. This is to your advantage. It makes this unit the most compact measuring wheel when folded and a good cheap measuring wheel for indoor use. Along with that, the telescopic handle allows you to fold it for simple storage. Not to forget the lock handle with an adjustable twist that is designed for comfort and secure grip.
You can count on a gear-driven counter to give you're the most accurate results you can get. It comes with a push reset button. You need no more than the 10,000-foot maximum measurement that the 5-digit counter can read. Moreover, the builders included a magnifying lens to make the screen more readable.
The corrosion-resistant ABS used for the wheels will hold up to years upon years of daily use. And if you intend to use it on finished floors and slippery indoors surface, the manufacturer must have had you in mind with Polyvinyl tread for added traction.
#5 - DuraWheel DW-500 Distance Measuring Wheel
DuraWheel DW-500 Distance Measuring Wheel 6" Diameter 68920
It is DuraWheel again with the DW-500 6-inch Distance Measuring Wheel! Save for the smaller wheel diameter, which means unmatched accuracy, most of the features present in its earlier sibling we discussed still live on with the DW-500.
The small wheel limits you to smooth surfaces and indoor use. The price is still reasonable and qualifies this pick to rank among the best measuring wheel for the money.
The small measuring wheel works by a belt-driven counter mechanism that promises fluid functioning and longevity. Also, it features a balanced In-Line design that adds to the stability and control during use.
Not just that. The tri-fold handle makes for easy transportation and storage whereas the pistol grip ensures firm and comfortable handling. The tube is a heavy-duty aluminum tube that is lightweight yet sturdy enough to withstand intense daily use.
Other features worth pointing out are the sealed roller bearings for smoother operation and a hi-traction tire which lends to added stability on slippery and loose surfaces.
Like other measuring wheels of its class, the mechanical counter also comes with an easy to see analog counter near the wheel for showing the measurements. More than that, the numbers are large and easy on the eye when reading the values.
One area the manufacturer slacked on is the single unit measuring scale. The measuring wheel only gives readings in feet, inches, and tenths of an inch giving you the difficult job of converting every time you need measurements in metric units.
Best Medium Measuring Wheels for Indoors and Outdoors
#6 - Milwaukee 48-22-5012 12 in. Measuring Wheel
Milwaukee 48-22-5012 12 in. Measuring Wheel
This is the kind of heavy-duty measuring wheel you need to bring with you on your next excursion if you need an incredibly robust unit that is almost over-equipped for rugged terrains. The makers of the Milwaukee 48-22-5012 12-inch measuring wheel featured numerous enhancements that will give you the resilience and power you need to handle irregular sections and rough surfaces.
The sturdy locking pivot points will let you fold the measuring tool into a compact unit for convenient transportation and storage. The reinforced kickstand will secure the equipment in an upright position and allow you to stop and take care of other businesses. How clever of the manufacturer to also include a wheel flap to clear up debris and ensure no build-up of dirt and grime that may cause jamming of the wheel.
Apart from that, there is a pistol grip handle that promises a firm and secure hold. You will also find a brake lever on the handle, helpful in 'locking' the wheel in place when reading the values, leading to increased accuracy. The counter reset button for the clear function is also found on the handle.
#7 - Calculated Industries Wheel Master Pro 12" Model 6540
Calculated Industries Wheel Master Pro - Best Medium Measuring Wheel
Calculated Industries makes a comeback to our shortlist with the Calculated Industries Wheel Master Pro 12. The Wheel Master Pro 12" is another good quality rolling measuring wheel for the money that we found worth mentioning.
As you'd wish, the handle folds into two giving you the convenience of storing and transporting even when you have space constraints. You will also find a built-in carrying handle that lets you carry the unit around with ease. The company also featured the center-line design so you have the balance, control, and accuracy you need when taking measurements.
The makers want to make it easy for you to read the measurements, so they positioned the counter at the center of the handle near the pistol grip so you won't have to bend to read the values. And you need no more than the 9,999 feet, 11 inches' maximum measurement that the scale can record. Talking about the pistol grip handle, it is intended to make it comfortable and secure to handle the measuring equipment.
The manufacturer understands that a measuring wheel with a brake means much more accuracy. So they included a hand brake on the pistol grip adds to the accuracy of the measuring appliance. Moreover, the kickstand gives you the freedom of supporting the wheel in an upright position whenever you need to stop briefly.
#8 - TR Industrial Measuring Wheels (FX Series)
TR Industrial FX Series - Best Indoor/Outdoor Measuring Wheel
TR Industrial may not be as recognizable a name as some of the other brands on this shortlist. Still, the FX Series Measuring Wheels are quite remarkable in one specific regard: the accuracy and convenience are unmatched and the price tag is cut-rate and pocket friendly.
The makers promise uninterrupted functioning whichever surface you throw the 1-foot-diameter landscape measuring wheel on, from finished floors to gravel, dirt, and grass. The 2 feet and 9-inch handle of the collapsible measuring wheel can reduce to a mere 1 foot and 4 inches making for convenient storage and transportation.
Courtesy of the kickstand, you can prop up the unit in an upright position without falling over when you need to take a break. Additionally, you will enjoy comfortable and secure handling thanks to the ergonomic grip on the handle. Also, there is a reset button to make it a breeze whenever you need to start over.
Best Large Measuring Wheels for Land Surveying
#9 - Rolatape RT66 25-Inch Measuring Wheel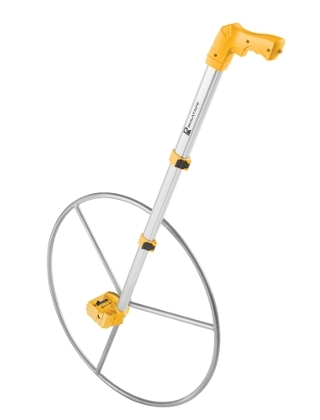 Rolatape RT66 - Best Distance Measuring Wheel For Professionals
Next up, we bring you the Rolatape RT66 25-Inch Measuring Wheel from BOSCH. The Average Joe may not need such an enormous piece and will probably shun away from this heavy-duty measuring wheel for construction. Even so, this expansive design strikes a real note as far as long distances go.
One key thing you will appreciate about this piece is the large wheel which makes it practical if you intend to measure very long distances. The large wheel is also efficient in smooth out rough surfaces making this contractor's measuring wheel perfect for whichever terrain you have in mind. The metallic wheel lends to increase accuracy
The aluminum handle is telescopic and lightweight and can collapse for easy storage. Also added is an ergonomic pistol handle to make it comfortable in your palms. The maximum distance you can measure is a reasonable 10,000-feet making this one of the best measuring wheels for surveyors.
One downside here is that the equipment only counts wheel revolutions. It is upon you to multiply by the circumference (6.6 feet) to equate the range in feet.
Best Meter Measuring Wheels
#10 - Keson MP301M Metal Frame Measuring Wheel with Spoked Wheel
Keson MP301M - Best Meter Measuring Wheel
Meet the Salsa Keson MP301M Metal Frame Measuring Wheel with Spoked Wheel. Another best in class pro survey heel that brags of the ability to conquer the most irregular and rugged terrains you can think of.
Holding it all together is a rugged frame made of 3/4-inch steel that delivers the resilience and support you need when cruising over bumpy terrain. The frame folds into two so you will not need much space to store the equipment.
In addition, spoked wheels are usually stellar at bending and flexing to absorb impact. So, expect nothing less than smooth and easy tackling of rough terrains courtesy of the spoked wheels. The builders saw it wise to protect the critical counter from dirt and debris using a metal shelf. These useful features make it a good measuring wheel for pavement and bare ground alike.
This is arguably one of the best measuring wheels in meters with both metric and US standard scales for meters, decimeters, feet, continuous inches, and 10ths. Fret not if you have less than perfect eyesight since the huge numbers on the counter are easily visible without straining.
#11 - DuraWheel DW-1000 Distance Measuring Wheel 12.5" Diameter 68912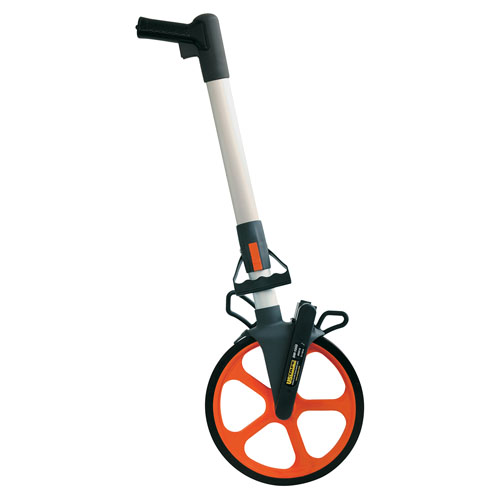 DuraWheel DW-1000 - Best Meter Distance Measuring Wheel
We could not resist adding another high-quality distance measuring wheel from DuraWheel. The company usually builds its products to present the best balance between reliability, affordability, and durability, and the DuraWheel DW-1000 Distance measuring wheel is another prime example of that.
The aluminum frame is foldable for more economical storage. It relies on a belt-driven counter that provides trouble-free functioning and years of serious abuse. Furthermore, the 12.5-inch Hi-traction tire does not only offer the ground clearance you need for bumpy rides but also offers sufficient traction and grip on loose soil and slippery surfaces.
If you prefer using metric units, then this meter measuring wheel is for you. This measuring rig only displays the measurements in meters and centimeters. And you should be good to go with the 9,999. 9 meters' maximum range.
The makers are aware of how debris and dirt can limit your productivity and accuracy. So, they included a debris scraper to keep mud, debris, and dirt at bay. The sealed roller bearings are kept neat and free from dirt to ensure smooth operation.
What's more, the wide stance folding kickstand ensures that your survey wheel stays upright when you need to pause for a while.
Best Measuring Wheels with Paint Marker
#12 - Komelon MKMM12 Meter-Man Dual Measuring Wheel and Measure Marker
Best measuring wheel with paint maker - Komelon MKMM12 Meter-Man
The Komelon MKMM12 Meter-Man 6-Inch Dual Measuring Wheel and Measure Marker come with a 6-inch tire. There is a 5-digit counter above the wheel that can register up to 10,000 feet. The frame is metal with a pistol grip on top for added comfort and security when handling the measuring rig.
The measure marker puts the cherry on top for this price so to speak. This function allows you to insert a standard inverted aerosol paint can. However, you will need to purchase the paint can differently to use the measuring wheel with a paint marker.
An easy-to-access trigger on the handle delivers the ink instantly while taking the measurement. A great option for marking sports fields, asphalt, and concrete surfaces among others.
Distance Measuring Wheel Buyer's Guide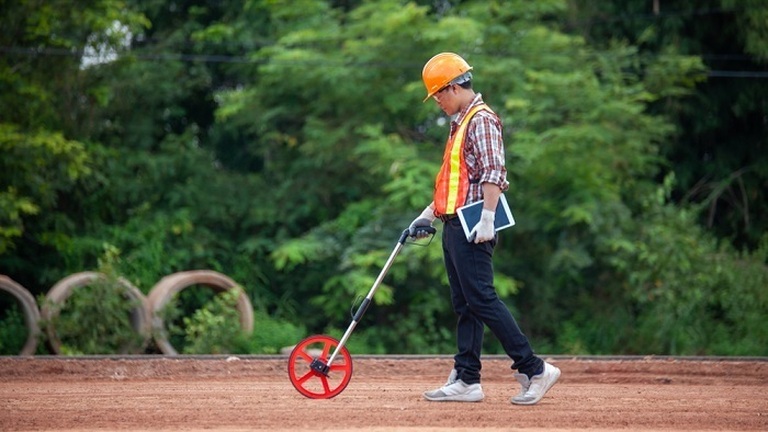 Best Distance Measuring Wheel Reviews
What is a measuring wheel used for?
A distance measuring wheel is a tool used to estimate the length of very long distances. It is fitted with a long handle, a tire of known diameter and circumference, and a counting mechanism.
The equipment works by counting the number of rotations and multiplying by the circumference of the tire to give the distance covered. The values are then displayed on the counter in a diverse measuring unit.
Measuring wheel are used in the following departments;
Quantity survey and land estimation

Civil engineering and general construction

Ground landscaping and maintenance

Crime scene investigations

Farming

Sports and recreation departments, and many more.
How does the measuring wheel work?
You use a measuring wheel by rolling and moving the tire over the ground you intend to measure. As the wheel turns, the counter records the number of rotations and multiplies it with the circumference of the wheel to calculate the distance the wheel covers. The values are then displayed on the counter in a diverse measuring unit.
How accurate is a measuring wheel?
The measurements from a surveyor's wheel are not as accurate as of the tape measure and are more like close estimations. When the conditions are ideal, the measuring wheel can be accurate within 3 inches per 100 feet.
Nevertheless, the accuracy depends on the smoothness of the surface you will be measuring. Deviation from straight lines also compromises accuracy.
What are the different types of measuring wheel?
Ahead are the different types of measuring wheels;
1. Mechanical measuring wheels
They have a single unit of measurements such as feet/inches or feet/tenths but never both. They also do not require a battery.
2. Electronic digital measuring wheels
They usually have multiple units of measurements. They feature display screens that will demand battery power. If you plan on using the digital wheels far away from civilization, you may want to carry extra batteries to save yourself the frustration of the device dying on you in the middle of taking measurements.
3. Small measuring wheels (diameter: 4" or 6")
Small measuring wheels have a diameter of about 4-8 inches. They do not work accurately on rough and uneven ground because the small wheel would dip into the bumps and compromising the accuracy of your measurements.
They are designed to be used on smooth hard surfaces, concrete, and finished floors. These small tools apply to painters, floor specialists, roofing experts, architects, law enforcement, and more.
4. Medium measuring wheels (diameter from 12.5" to 15.5")
Medium measuring wheels have a diameter of about 10 -15.5 inches and are perfect for moderately rugged ground, short lawns, and carpets. They are common in golf courses, fencing, green industries, road engineers
5. Large measuring wheels (diameter: 25" and above)
The large wheel will have a diameter of at least 25 inches and is efficient in leveling out uneven ground. The large wheel size also enables it to roll and register feet clicks faster than the smaller counterparts. They are practical in farming, ranching, quantity survey, city maintenance, and landscaping among others
6. Twin-wheel/Dual measuring wheels
These are measuring wheels that feature two tires. The upside of the dual wheels is that you do not need to guide it much and the chances of deviating from a straight line are much lower. The result is added stability and higher accuracy.
7. Paint marking wheels
A measuring wheel with a paint marker allows you to paint and mark at the same time. They come equipped with paint can sleeves which can accommodate inverted aerosol paint. On the grip, there's usually a trigger that releases the paint when activated.
Factors to Consider When Buying a Distance Measuring Wheel
How to Choose The Best Measuring Wheel
Wheel Size
Identify the type of surface you will be working on before settling on the wheel size. If you intend to work on diverse terrains and are not willing to invest in multiple measuring wheels, the medium size may be a reasonable compromise.
Design
If your work involves a lot of traveling, you will need a handheld measuring wheel or a foldable or collapsible measuring wheel. These units can easily be carried along and stored without demanding a lot of space. Centreline design also adds to stability and precision during measurement.
Measuring Scale
If you are not much of a techy and only need a basic model, simply go for a mechanical measuring wheel. They are easier to use and do not require batteries.
You need to figure out whether you will be using the US standard scale (feet, inches) or the metric scale (meters, centimeters). If your work involves converting between the units, you will want the best electronic measuring wheel that can make conversions and save you time and trouble.
Functional Features
Look out for features such as a kickstand that allows give yourself a break whenever you need it by putting it down as you would with a bicycle. A brake on the handle will ensure an instant stop of counting leading to increased accuracy. You will want to get a model with a reset button whenever you want to start measuring from zero again.
Which Are The Best Measuring Wheel Brands?
Below is a highlight of some of the big names in the world of measuring wheels' manufacturing;
Headquartered in Nevada, US, Calculated Industries or C. It has been producing killer gadgets and tools such as calculators and measuring equipment since 1978.
It'd be unfair not to mention Keson. Also, its main specialty is making measurement and marking tools including some of the best surveyor's wheel.
DuraWheel is a top measuring wheel brand that needs no introduction in this industry. The company has continually served the distance measuring fraternity with efficient, best in class equipment.
Rolatape is a subsidiary of the renowned Robert Bosch tool cooperation. The company boasts over 60 years' experience which it pours into making dependable, state-of-the-art measuring equipment.
Its main interests are machinery, industrial tools, measuring tools such as digital measuring wheel and tape measures as well as chemicals. Komelon is based in South Korea.
Milwaukee Tools has been around for almost a century, enough to cement their dominance in the power tools and measuring equipment niches.
Lufkin is a brand of Apex tool group. The Ohio-based company has specialized in measurement tools such as commercial distance measuring wheel.
Conclusion
Both pros and cons considered, there's no denying that what we have in our shortlist are top-rated measuring wheels. Nonetheless, below are the class leaders in matters of the best rolling measuring wheel;
Best Overall: DuraWheel DIGI-PRO
This pick scored the highest marks in our tests and passed with flying colors. The main highlights here are the foldable frame, Hi-traction tire, digital electronic counter with the display screen, conversion to multiple US standard and metric scale units, spring-loaded kickstand, brake, and debris scraper.
Best Quality: Milwaukee 48-22-5012
At a close second is the Milwaukee 48-22-5012 12 in. Measuring Wheel. Besides the supreme quality, other features that caught our attention are centerline design, protective bumpers digital electronic counter with screen display, 9V battery the LCD, reflective tape for safety, a wrist lanyard, plumb pointer, and a free backpack.
Most Compact: Komelon ML1212 Meter-Man
If you are frequently on the move and are in need of something lightweight and portable, then Komelon ML1212 Meter-Man 4-Inch Measuring Wheel is your best bet. It is compact and foldable making it easy to carry along.