An outdoor laser measuring device is an important companion for builders, engineers, and contractors who find themselves on the field projects that need precision measuring for long distances.
While every manufacturer is trying to come up with the best outdoor laser measure, the following devices stand out due to their operability and versatility in applications.
Best Outdoor Laser Distance Measure:
Here we introduce top 6 laser distance measurers that are highly recommended for outdoor measurements. For more product recommendations, check out the detailed comparison table below.
Top Outdoor Laser Distance Measuring Tools 2020

Most Advanced

Leica DISTO S910

Long range up to 984-ft (300m)
Captures multiple, accurate measurements in 3D
Time-saving measure in picture function
Bluetooth Smart 4.0, large color touch screen

Read My Review

Good Quality

Leica DISTO E7500i

Range: 660-ft (200m)
Outdoor 4x zoom viewfinder
Bluetooth Smart 4.0, 360-degree tilt sensor
Rugged and accurate to 1mm

Read My Review

High Accuracy

Bosch GLR825

Range: 825-ft (240m)
Outdoor 1.6x zoom viewfinder
Fast and accurate measuring
Lightweight, easy to use

Read My Review

Best Value

Leica DISTO X4

Range: 490-ft (150m)
Outdoor 4x zoom viewfinder
Convenient auto-rotate display
Very accurate and well-built

Read My Review

Durable

Hilti PD-E

Range: 656-ft (200m)
Built-in optical viewfinder, 360° tilt sensor
Works great in bright sunlight
Rugged and durable

Read My Review

Best Budget

Bosch GLM400CL Blaze

Range: 400-ft (122m)
Adjustable zoom camera for accurate targeting
Easy-to-read backlit color display
Bluetooth connectivity, good price

Read My Review
Best Outdoor Laser Measure Comparison Table
Before we jump into the detailed outdoor laser measure reviews, here is a list of the top rated laser measurers for outdoor use.
Outdoor laser measuring tools let you measure far distances quickly and in the most flexible way.
These tools stand out for outdoor measuring since they leverage two unique features:
Outdoor viewfinder or point finder camera that helps you zoom and locate the laser dot even in bright sunlight.
Long-range distance measuring of over 400 feet with high precision.
If you are looking for outdoor laser tape measure reviews that compare the top devices and advise you which is the best for surveyors, contractors, and professional builders, then read on.
Best Outdoor Laser Measure Reviews 2020
The following outdoor laser measurers will handle measuring projects in rugged terrains with slopes and hard to measure objects like tall trees.
You can also use them indoors to measure floor plans and remodeling projects.
#1 – Leica DISTO S910 – The Longest Range Outdoor Laser Measure
The Leica DISTO S910 laser measure is what you need to capture multiple, accurate measurements from a single location.
The device uses an integrated smart base technology to measures distances of up to 984 ft with an accuracy of about ± 0.04in.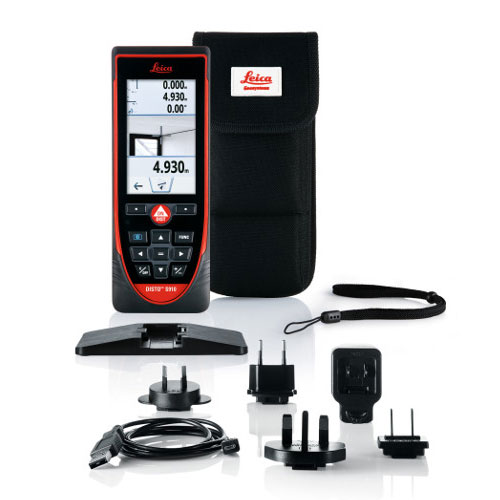 Leica DISTO S910 New Technology Features
Range up to 984 feet (300 meters) indoors or outdoors
Point to Point (P2P) measurement
Touch screen
Measure in picture
Smart Area, Smart Angle

Export DXF files over WiFi

USB port for fast charging and access to the image gallery
Pros
Dust and waterproof for a perfect outdoor experience
The digital outdoor point finder 4X zoom camera ensures you will see the laser point even on sunny days
Very long measuring range both indoors and outdoors
Measures distances between any two points, inclinations, and angles at the same time
Why Should You Buy The Leica DISTO S910?
I have found this Leica laser measure to be a very practical tool for measuring outdoor wall layouts and floor plans. As a professional builder, I do a lot of precision measurements that requires something better than the average laser measure.
Leica has made it possible to document 3D measurements thanks to new technology features; Point to Point (P2P), Smart Angle, Smart Area, and .dxf file formats.
You can leverage the device by saving all your measured points into a DXF file that you will later export to a PC over Wi-Fi. This comes handy if you are in the architectural or reconstruction industry.
This outdoor laser distance measurer generates up to 30 P2P measurements and saves up to 20 .dxf files for your cad program and animation software. Not to mention that you will get 30 photographs that you can make measurements from.
Drawbacks
Photo quality gets worse as you zoom from 1X to 4X. To get quality images, you will want to work within 400' distances.
Verdict
Its ability to measure and map grades and slopes makes the Leica DISTO S910 a worthy investment. You will want to use a tripod stand for more accurate results on the Smart Area, Smart Angle, and P2P functions.
#2 – Leica DISTO E7500i Outdoor Laser Distance Measure
If you are a property assessor, you will need a laser device that can be used both indoors and outdoors.
Leica DISTO E7500i's ability to measure long distance ranges of up to 660ft even in very bright sunlight renders it the best laser measuring tool for appraisers.
Leica DISTO E7500i Features
660 feet (200 meters) range
360° tilt sensor
Bluetooth Smart
IP65 water jet protection and dust-tight
Free App — Leica DISTO sketch
Pros
Flexible and versatile operability with a color display and easy-to-use keypad navigation
Fully sealed against dust and water and can withstand drops up to 1 meter
Performs Area, Volume, and Pythagoras measurements
Cons
A debatable battery capacity
Highlight Features of Leica DISTO E7500i
The Leica DISTO E7500i measures in several modes including meters, yards, feet, decimal feet, inches, and decimal inches. Thus, you can measure in different modes to an accuracy of 1/16th of an inch.
Just like S910, DISTO E7500i features the outdoor point finder digital camera with 4X zoom display. This feature will come handy if you are measuring long distances outdoors. Leica has incorporated a special integrated Long Range (LR) mode in this device for accurate measuring in bright sunlight.
The device has been equipped with a 360-degree tilt sensor, making it possible to measure elevation changes, true horizontal distances, and heights even over an obstruction.
These features come handy when you are measuring a large property like venues or a warehouse during your assessments.
Drawbacks
While Leica claims a 5 hours battery life, I have noticed that the 2 x AA batteries charge gets drained after just a few hours of use.
You might need to carry backup batteries if you intend to do a lot of outdoor measurements.
Verdict
The iPhone App, Bluetooth Smart technology, and the bright LCD screen make Leica DISTO E7500i a complete laser measure device for both indoor and outdoor users. If you are an appraiser trying to keep up with technology, this is the perfect investment. No more tape measures!
#3 – Bosch GLR825 – The Most Accurate Outdoor Laser Measure
The Bosch GLR825 Laser Measure lets you gather long-distance measurement data (up to 825ft) quickly and more accurately.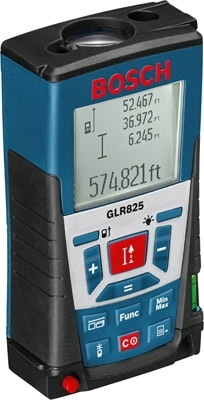 Bosch GRL825 Features
825 feet (250 meters) range
Eleven measuring modes
Multi-surface area mode
Built-in bubble vial for reference when making horizontal measurements
Pros
Lightweight design with easy-to-use control functions
High accuracy of up to 1/25-in at long distances
Comes with a belt pouch and hand strap
A compact design that is dust and water-resistant
Cons
Can't withstand drops - even a few feet.
Bosch GLR825 – Best Bosch Outdoor Laser Measure
This Bosch laser distance measurer features eleven measuring modes that include area, length, continuous measurement, volume, multi-surface area, trapezoid, stake out, min/max, double and single indirect measurement.
GLR825 Laser Measure combines the Bosch precision laser technology and an Integrated 1.6X magnification viewfinder to give contractors and builders a versatile device for both interior and exterior measurements.
With its large backlit display, you are assured that you will get a clear readout of the measurements even in the sunlight. The inbuilt memory storage will help you store up to 30 measurements that you can transfer to your phone or PC.
Drawbacks
While other brands like Leica have succeeded in making almost water and dust-proof laser tools for outdoor measuring, the Bosch's GLR825 Laser Measure is only weatherproof.
That is, it can withstand water splashes and dust. You will need to guard it against rainwater, more so ensuring water doesn't get to the battery compartment.
Verdict
Bosch GLR825 outdoor laser measure combines its accuracy, convenience, and versatility of measuring in eleven modes to create the most ideal device for construction and concrete trades. The inbuilt bubble vial will come handy when measuring long horizontal distances, as it offers for a visual reference.
#4 – Leica DISTO X4 Laser Distance Meter For Outdoors
Leica DISTO X4 Laser Distance Meter packs most of the features in S910 and E7500i, but you should be willing to trade off their compact design and long-range distance measurements.
By far, DISTO X4 is the most affordable laser tape measure for outdoor uses in the market today!
Leica DISTO X4 Features
490 feet (150 meters) range
Point to Point (P2P) measurement
Rotating display
Rugged IP 65 and drop tested up to 6 feet (2 meters)
Pros
A robust design that can withstand drops up to 6 feet
Water jet and dust protected housing and keypad
P2P measurements from one position
Cons
Its rugged body makes it a little bit bulky and heavy.
Leica DISTO X4 – Best Affordable Laser Distance Meter For Outdoor
Leica DISTO X4 features a simple user interface that complements its site-proof design. Powered by its innovative measuring technologies, this laser measurer will give you a powerful 3D capturing station.
Despite the affordable price tag, the DISTO X4 packs the same digital viewfinder with 4X zoom camera that you would get in S910. By adding the smart room and tilt sensor into the mix, Leica ensures that you'll confidently get outdoor measurements with absolute precision even in bright sunlight days.
What is even more of this laser measurer is the rotating display that keeps the measurement in line with the device, making sure that you can get the readings from any angle.
Drawbacks
The two AA Alkaline batteries will only serve you for up to 8 hours or 4,000 measurements as per the manufacturer. However, you will notice that the service time is way less when Bluetooth is turned on.
Well enough, the device comes with batteries, hand loop, and holster to kick-start your measuring experience.
Verdict
The rugged Leica DISTO X4 is a perfect laser measure for the builders who would love a versatile device that can help them get along both outdoors and indoors. It comes with the DISTO Plan App (available for Android and iOS). The app will help you generate realistic, scaled floor plans.
#5 – Hilti PD-E Laser Meter For Outdoors
Taking accurate, long-distance measurements at the construction site or building becomes more fun than a task with the Hilti laser measure.
Hilti PD-E Laser Measure Features
Max measuring distance 656 feet (200 meters)
High accuracy of 1/25" (1 mm)
Built-in optical viewfinder for outdoor measurements
IP 65 dust-tight and water protected
Pros
Easy operability for quick targeting and taking reliable measurements
A rugged design that will withstand extreme job site use
The display can be read even in bright sunlight
Cons
The battery life is debatable
Hilti PD-E Laser Measure – Best Easy-to-Use Laser Measure For Outdoors
This Hilti laser measurer features a high precision technology that can measure distances of up to 656 feet at an accuracy of 1/25th of an inch. It packs a built-in optical viewfinder and 360-degree tilt sensor for various applications while taking your outdoor measurements.
Its data memory will store up to 30 measurements. The fact that this device helps you quickly measure difficult to access places and objects like the length of a tree, makes it one of the best outdoor laser measuring tools.
That's not to say that it's not the perfect laser measure for measuring surface areas for quotations in your home and field renovation work.
Drawbacks
Just like Leica DISTO X4, its battery life is debatable. On one hand, the Hilti claims the 2 x AAA batteries will serve you for up to 5,000 measurements. However, most users claim that you will only manage to get half of the said measurements before the device freezes.
Verdict
If you are a contractor or builder who works alone on tasks ranging from assessing properties to floor plans measurement to kitchen cabinets installation, then this Hilti laser measuring device was made for you. Hilti has included 2 batteries, a carry pouch, and hand strap to help you start off your outdoor measuring experience.
#6 – Bosch GLM400CL Blaze Outdoor Laser Measure with Camera
Bosch might have discovered that people loved the advanced technology features that Leica has incorporated in its tools.
That's why they went on the drawing board to design a versatile Blaze™ laser that is expected to make your outdoor measuring a whole new experience.
Bosch GLM400CL Blaze New Technology Features
400 feet (122 meters) range
Camera viewfinder with adjustable zoom
11 measuring functions
Bluetooth connectivity
Rechargeable battery
Pros
Easy to read backlit color display
Store over 600 images and access the last 50 measurements
Highlight Features of Bosch GLM400CL Blaze
The Blaze Outdoor Technology will help you measure up to 400 feet. Not to mention that you will easily connect your measuring device to your smartphone thanks for the free Bosch MeasureOn app.
While Leica uses a 4X zoom camera point finder, the Bosch Blaze Outdoor Laser Measure packs a 5.0-megapixel camera. It comes with an adjustable zoom to locate the laser spot and document the measurements as you measure in busy backgrounds and rugged terrains.
What is even more of this device is the fact that it comes with a rechargeable 3.6V Lithium-Ion battery. We all understand how removable AA/AAA run out of charge amid measuring time. This laser measure will deliver an all-day runtime.
With this versatile device, you will be able to get 11 different measuring functions including addition/subtraction, volume, indirect measuring, real-time length, area, and length.
Verdict
Bosch GLM400CL Blaze Outdoor Laser Measurer's alluring price tag and advanced features should be enough to get any contractor or builder into ordering it.
Conclusion
Finding the best outdoor laser measure isn't just a black and white undertaking. As a contractor, surveyor, or builder, you will need to first understand the extent that you will use your laser measurer.
If your measuring will just be centered outdoors, then going for the device with the longest measuring distance and high accuracy is a nice approach.
However, the case is different for appraisers and professionals. Users in this category will want a flexible but versatile laser device. Going for a tool that offers more functions will help you get more done in less time.
The bottom line is to go for an ergonomic device but whose compact design doesn't affect the most important functionalities for outdoor measuring.