A laser tape measure is an important tool for people in both construction and real estate industry making the measurement task become easier and faster. Because of their ease of use, both amateur and professionals can use them alike.
The challenge comes in when you have to choose the best laser measure to buy from the many available today on the market.
Top 5 Picks for Best Laser Measures: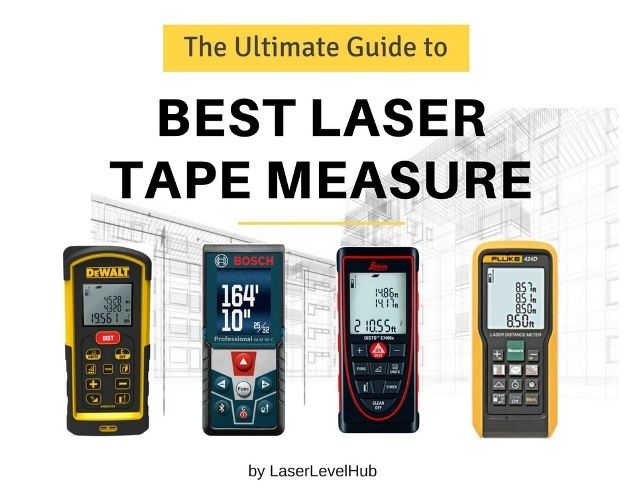 So here are the quick guide to top rated laser measuring tools to help you make the right choice.
Best Laser Measuring Tools in 2023

Best Overall

Leica DISTO E7500i

Range: 660-ft (200m)
Accuracy: ± 1/16 In.
Pointfinder with 4x zoom for outdoor use
Rugged and highly accurate

Read My Review

Top Quality

Leica DISTO E7400x

Range: 265-ft (80m)
Accuracy: ± 1/16 In.
Quick and accurate measurements
Rugged and durable design

Read My Review

Compact

Leica DISTO D2

Range: 330-ft (100m)
Accuracy: ± 1/16 In.
Top laser measure for appraisers
Convenient Bluetooth feature

Read My Review

Good Price

Bosch GLM 50 C

Range: 165-ft (50m)
Accuracy: ± 1/16 In.
Built-in inclinometer for advanced functions
Convenient Bluetooth feature

Read My Review

Best For Home Use

Bosch GLM 35

Range: 120-ft (36m)
Accuracy: ± 1/16 In.
Accurate and easy to use
Bright backlit display, pocket-size

Read My Review

Best Budget

Bosch GLM 20

Range: 65-ft (20m)
Accuracy: ± 1/8 In.
Simple, compact and portable
Low price

Read My Review
Here are 11 best laser measuring tools in 2023:
#1 - Leica DISTO E7500i - Best Laser Measure For Professionals
The Leica DISTO is rated as being easing and effortless to use for both indoor and outdoor distance measurements.
Leica DISTO E7500i - Best Laser Measure For Professionals
The Leica Disto E7500i features the digital point finder display and 360-degree tilt sensors. This means that you get to take measurements that are impossible when using the conventional distance meters.
The product seems to be ready to tackle the future challenges since it comes with Bluetooth Smart 4.0 capability and additional attractive apps.
Considered as the best laser measuring tool for architects, the Leica Disto E7500i model is able to take measurements with the highest level accuracy of 1mm (better than 1/16 inch)
To help with outdoor measurements, this Leica laser measure displays crosshairs on screen to easily target the laser point.
#2 - Leica DISTO E7400x - Top Quality Laser Measure For Construction
The Leica Disto E7400x model is seen to be the perfect blend of functionality and precision for the laser measuring device. Most people in the engineering and construction industry would use it for accurate measurements.
Leica DISTO E7400x - Top Quality Laser Measure For Contractors
The Leica laser measure comes with a respectable 265-feet (80 meters) range and accuracy of 1 mm.
To make it last longer, the sensitive elements of the product are covered with a solid rubber over molding and an additional reinforced housing.
Several drop tests have been made and they all show that the Leica Disto E7400x laser measure can withstand the daily bumps when using at any workplace
The manufacturer made the laser measure to be dust and water proof so that you can use the Leica Disto E7400x without worrying about having to clean it more often or it getting destroyed from water and dust particles
Read full Leica DISTO E7400x review
#3 - Bosch GLR825 - Most Accurate Laser Distance Measure
Bosch GLR825 - The Most Accurate Laser Distance Measurer
The Bosch GRL825 can measure distances of up to 825 feet (250 meters) with an impressive accuracy of 1/25 inch (1 mm). So far it has been rated as the most accurate outdoor laser measure on the market today.
With such a measuring range, it simply means the product is built for big jobs that require superior precision at all times.
The Bosch laser measure GRL825 comes with 11 measurement modes to choose from based on your needs at the moment. You can always choose the one you feel is appropriate based on the application.
Some new applications added include combined indirect modes, trapezoid, and double indirect modes. You can still find the hidden or hard to reach measurements using the Pythagorean Theorem to get the exact values.
#4 -
Fluke 424D Laser Distance Meter
The Fluke 424D is a professional-grade laser distance meter that provides a fast and a much easier way of taking measurements in complex situations.
It comes with versatile features that save time and reduce errors, to make your daily measurement chores a breeze.
Fluke 424D - Best Fluke Laser Distance Meter
Fluke 424D is a compact and handy tool that is specially designed for both indoor and limited outdoor applications. With Fluke 424D, you don't have to walk all over the job site to take measurements. It can measure a long distance of about 330 feet (100 meters) with greater accuracy of ±0.04 inch (1 mm).
It stores 20 measurements for quick recall and also features full Pythagoras function that makes height measurements a breeze.
You can determine the angle of a corner with is corner angle feature and also comes with an inbuilt compass and 180ᵒ inclination sensor for height tracking and leveling.
It has a big 4-line display, easy button operation, and improved environmental protection to enhance its durability. This means you can take it anywhere with you and easily take a measurement in any weather.
Fluke 424D laser distance meter has auto shut-off feature and can take an average of 5000 measurements without changing the batteries, making it a must-have for every professional contractor.
Read full Fluke 424D Laser Distance Meter review
#5 - Leica DISTO D2 New Laser Distance Measure With Bluetooth
You no longer have to risk breaking a leg while balancing on a ladder just to measure the ceiling height. With Leica Disto D2 New, you will get to experience an easy way of taking measurements starting today.
New Leica DISTO D2 - Best Laser Measuring Tool For Appraisers
The Leica DISTO D2 New has an accuracy within 1/16 inch making sure that you will get the precise measurements from your laser measure better than using a tape measure.
The Leica laser measure also lets you crack the Pythagorean functions inbuilt in the system to quickly calculate the height and width of the room indirectly. Such a feature will also make it easy to get the accurate measurements even for places that are hard to reach.
The unit can be used to take measurements from corners and edges all thanks to the unique flip-out end piece feature. Its laser dot is also visible clearly so that you can see the target point and make sure you get the right measurement.
The calculations and measurements are clearly displayed on the back-lit LCD easy-to read-display. The neatly arranged screen makes it easy to take the measurements from it.
You can also store the measurements into the device memory for faster retrieval later on. Note that you can only retrieve the 10 most recent measurements.
#6 - Bosch GLM 50 C - Best Affordable Laser Measure With Bluetooth
Bosch GLM 50 C - Best Affordable Laser Measure With Bluetooth
Bosch is a quite known brand when it comes to delivering the best laser measure products. This Bluetooth laser measure does not disappoint at all when it comes to taking measurements.
The Bosch GLM 50 C comes with five modes that can be used to take measurements for various applications. The modes include length, area, continuous measurement, indirect length measurements and volume too.
The accuracy of 1/16 inch is within the acceptable limits of most people who would love to use the product. The automated backlit display delivers on better viewing of the measured distances whenever using the product.
#7 - Bosch GLM 80 - Best Laser Distance Measure For Indoor
Bosch GLM 80 - Best Laser Distance Measure For Indoor Measuring
Taking measurements such as distance and angle is much easier with the Bosch GLM 80. This is all possible with the advanced laser technology that makes it deliver the accurate measurements that many people would love to get.
The Bosch GLM 80 laser measure comes with several modes (length, area, volume, even angle measurement) to help you get measurements in different dimensions. Now you can easily analyze the area and make decisions based on such analysis.
This Bosch laser measure is made to be compact in size for easy portability. You can keep it in your pocket and take it out whenever you have to use it.
The Bosch GLM 80 laser measuring tool is powered by a 3.7-volt lithium-ion battery that will allow for up to 25,000 measurements per charge. It's time to stop worrying about battery draining so fast.
#8 - DEWALT DW03050 - Durable Laser Distance Measurer
DEWALT DW03050 - Reliable, Sturdy Laser Measure For Builders
Coming from a brand such as DEWALT, it is a sure way of saying that the product will deliver on your expectations.
With the automatic calculations, you can be sure that it would be easy to get other distances indirectly without having to strain when taking measurements.
The Dewalt tape laser measure comes with a memory unit that will get to store the last five measurements so that you may retrieve them for further clarifications.
Having a back-lit display makes it so easy to improve on screen visibility so that you can see the measurements in cases of dim or too bright conditions.
When buying the DEWALT laser measure DW03050, you can be sure of getting a durable laser measure. The over-molded housing provides the durability in a product that you would need in a construction tool. It can still be used even when it falls from 6-foot height.
#9 - Bosch GLM 35 - Best Laser Measure For Home Use
Bosch GLM 35 - Best Laser Measure For Home Use
This Bosch laser measure utilizes the precision laser technology so it can deliver faster and easy measurements each time you get to use it.
You get several modes when using the product including length, volume, area, continuous measurement and single indirect measuring for maximum versatility. This makes it better to use in different applications even for home use.
The Bosch GLM 35 has a handy pocket-size design. You can now easily bring and use it anywhere.
For an affordable product, the Bosch GLM 35 Laser Distance Measurer delivers better range than other models in its category. This laser measure has an amazing range of 120 feet (36 meters) and an accuracy of 1/16 inch. That makes it affordable and accurate too when it comes to making the measurements.
#10 - Bosch GLM 20 - Simple Laser Measure For Homeowners
Bosch GLM 20 - Easy to Use Laser Measure For Homeowners
The Bosch GLM20 model is what you need for simple, but accurate measuring around the home.
For this model, it is made to be one-button operation laser measure. You will not find many buttons on the product that sometimes are just confusing.
With a range of 65 feet (20 meters), you can use this Bosch laser measure for different applications in a small area such the basement or any other room in the house, for example, measuring wall before painting.
Having a square base makes it possible for the Bosch GLM 20 to stand on its own so that you can adjust the other tools without moving the laser measure.
#11 - Tacklife 196 Ft - Best Cheap Laser Measure For Homeowner
Tacklife - Best Cheap Laser Measure For Home Use
Taking measurements around your home is much easier with Tacklife 196ft Advanced Laser Measure. This is made possible with the advanced laser technology that provides a fast and precise measurement that you can bank on.
This device has laser precision technology that measures distance up to 196 feet with great accuracy (about ±1/16 inch). It allows you to take readings in Inches, Meter, or Feet for free adjustment.
The large backlight LCD screen provides clear readings and better visibility in dark areas.
It features mute setting to turn the measure beep on or off, making it suitable for quiet places such as the classroom or library where the beep sound can distract others.
With its multiple measurement features, you don't have to carry along your calculator or make series of calculations to determine distance, area, length, and Tacklife included the addition and subtraction feature as well as the continuous measurement, and Pythagorean mode for accurate height measurement.
The unit can store up to 20 measurement data for a quick retrieval. With all the features available on this unit, you would agree that Tacklife Advance Laser Measure is truly a nice tool for the price.
Which Is The Best Laser Measure To Buy?
To help you make an informed decision, I have classified the laser tape measures into three main categories namely:
Home use laser measure: simple and inexpensive tools, mostly for indoor projects at home
Mid-range laser measure: packed with various functions, best for general construction uses
Hi-end laser measure: comes with modern measuring technology, especially for professionals
Best Laser Measure For Home Use
You are a homeowner working on a simple, small scale remodeling project at home, but still want it to come out perfectly?
Now, have a look at three laser tape measures that are most recommended for home use:
Best Laser Measure For Home Use Comparison
Here are some of the things you should consider when choosing the best laser tape measure for home use:
If you don't spend a lot of time working on a single project, you should choose an inexpensive laser tape measure with basic features, then the Bosch GLM 35 is the best choice
Choose the laser tape that is easy to use. The most suitable laser measures for home use do not come with many complicated features that might keep you working on them all day long for better configuration. Consider the Bosch GLM 20
For small-scale home improvement projects, you don't need a laser measure with very long range, choose the one with shorter distances will save you a lot of money.
Best Laser Measure For General Construction
How about when:
You are a home user spending most of your free time on home improvement projects on a regular basis, or
You are a professional who needs to perform fast and accurate measurements mostly indoor?
Then a laser measure which is more durable with better features than the basic ones will work best for you. That is when I came up with reviews on best laser measure for construction.
Here are best laser measuring tools that fall under this category:
Best Laser Measure For Construction Comparison
My Pick-Up Criteria
To help you have a wise choice on which is the best laser measure to buy, I would like to share my criteria when choosing laser measure tools for this category:
The laser measures in this category should have measurement range from 165 feet and above but not exceed 300 feet (which I call "mid-range" laser measures) so the laser measure can cover most construction projects yet they are affordable too
The mid-range laser measures have superior features as compared to the home use models. Their functionality is also improved and can be used in many construction measurement works
The mid-range laser tape measures are seen to be great for indoor uses. They can be used for outdoor applications, but they perform best under indoor conditions
With such features, these laser tape measures are ideal tools for tradesmen such as electricians, contractors, painters, masons, builders, appraisers and real estate brokers.
Best laser measure for construction
Which Mid-Range Laser Measure To Buy?
Each product mentioned above for mid-range use have its advantages and disadvantages.
For people looking for a product that can deliver on their needs better and with high precision, I recommend buying the Bosch GLM 50 C Bluetooth Enable Laser Distance Measure.
Bosch Bluetooth Enabled Laser Distance Measure with Color Backlit Display GLM 50 C
With features such as built-in inclinometer, you get to enjoy using the product with more precision and accuracy. It is not just that, this Bosch laser measure will store the last 30 measurements giving you a chance to refer to them if the need comes up.
Most people who have used would agree that its ergonomic design makes it feel comfortable in the pockets or hand.
Best Laser Measure For Professionals
Below are top 4 advanced laser distance meters for professionals:
The high-end laser measures are often known to be more precise and accurate whenever they are used to deliver on measurements. Many people who opt for such devices would not want to leave any margin for error.
Best Laser Measure For Professionals Comparison
Below are the comparison on top 4 hi-end models you can buy today and experience the benefits they have to offer
Why Should You Buy A Hi-End Laser Measure?
Maybe you are considering whether you should buy a functional laser measure or a more advanced model. If yes, some of the reasons why you would want to buy the high-end models are:
The long range exhibited by the high-end models is desired by many people in the construction industry. You will be able to take measurements over long ranges easily
You will also get more advanced measurements modes integrated into the devices. Such modes could include trapezoid, stake out, multi-surface or even double indirect measuring. You might also get some of them being touch screen making them faster to operate
These best laser measure tapes can be used for bothindoor and outdoor projects. You no longer have to buy different products to be used for indoor and outdoor conditions separately
Their various features make the laser measures in this category to be ideal for different professions. Most people who use them are in engineering, real estate, contractors, HVAC and architecture. These are people who would not want to make any assumptions when it comes to accuracy.
Final Verdict
Right now you should be in a position to know about which laser measure to buy.
The factors you would always consider to choose the best laser measures are the laser range, accuracy, measurement modes, durability among many others.
With many manufacturers always coming up with new models that can handle your needs, do not let yourself be easily confused with the many features, but make sure you focus on the important ones first.
Buy the best laser measuring tool today and get to enjoy getting accurate measurements at all times.