High laser technology depicts the Bosch GLM 80 Laser Distance Measure, for convenient measurement.
If you are looking forth to get the precise measurements quickly, then Bosch GLM 80 should be your reliable choice. The device has been built specifically for both professionals and craftsmen.
It comes handy with some features that set it apart from many other laser distance meters.
In the package, you will get a Belt Pouch (for safety), charger, and Li-Ion Battery. Learn about its key features and their benefits in this Bosch GLM 80 Review.
Bosch GLM 80 Laser Measure Review Summary
Bosch GLM80 Laser Distance Measurer
Review Summary
Measuring Range: 2-in. to 265-ft. (0.05 to 80 m)
Accuracy: ±1/16 inch
Protection Rating: IP54
Measuring Units: inches, feet and inches, feet, yards, meters, cm, mm, decimal
Measuring Mode: Length/distance, area, volume, addition/subtraction, single/combined indirect measuring, angle measuring
Memory: Last 20 measurements
Tripod Mounting: 1/4 -in thread
Battery Life: 25,000 measurements per single charge
Warranty: 2-Year Limited Warranty
Special Features: Backlit display with tilt-screen, multi-surface area mode, rechargeable via a standard micro-USB port
Pros & Cons
Pros
High accuracy and precision
Compact design (small) and handy
Rechargeable via a standard micro-USB port
High-tech functionality due to the integrated 360-degree incline sensor
Its illuminated display makes it easy to operate regardless of the measuring orientation
Timer function for accurate measurement from difficult positions
Cons
Unlike laser measures from other manufacturers, operating Bosch GLM 80 will require some time. You need to go deeply through the user manual since the controls aren't intuitive
Annoying default settings that you will need to change once you turn on the device
Benefits and Key Features Of Bosch GLM 80
The Bosch GLM 80 Laser Distance Measure is mainly featured by its simplicity when using but with highly accurate and precise measurements.
It comes with some several measurement features and modes that make it user-friendly and compact.
With this Bosch laser measure, builders and tradesmen like masons, painters, contractors, and electricians will find it easy when calculating distance, angles, volume, and areas with precision.
High Accuracy and Precision
Since Bosch has used an even newer technology and features in the GLM 80, you are assured of high accuracy and precision in your measurements.
Hence, you will be highly productive by getting your measuring jobs done easily. You can measure distances of up to 265 feet with up to 1/16-in accuracy.
Built-In Tilt Sensor For Viewing From Any Direction
The Bosch laser measure GLM 80 comes with an built-in tilt sensor to make your measuring experience even accurate.
With the Tilt Sensor, you will get an additional dimension of accuracy by calculating 360-degrees angles in two-axes.
Thus, the device will work accurately both vertically and horizontally.
Additionally, the display has been built with a tilt-screen technology that will turn when you have turned the device for over 75-degrees. It will also be legible when the GLM is turned upside-down.
With this technology, you are assured of optimal viewing from any direction.
User-Friendly Design
Its ergonomic design characterizes four flat surfaces, which ensures that the device comfortably fits in your work-belts or pockets.
Furthermore, the integrated Li-Ion battery makes its design even more compact. You are assured that the Bosch GLM 80 is drop resistance, for up to three feet, due to its robust design.
Long-Battery Life
The integrated Li-Ion battery (1250 mAh) allows you to make up to over 25,000 measurements per a single charge.
It is rechargeable via the help of a standard micro-USB port. The manufacturer has also included the charger in the package.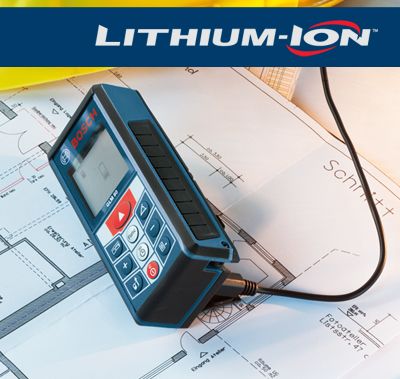 Source: www.boschtools.com
Splash and Dust Resistance
Apart from its strong design, the Bosch GLM 80 Laser Measure has been built with a technology that protects it from water and dust.
The manufacturer understands that measuring can take place in any environment, something that makes the device prone to getting into contact with dust and splashes.
You just need to wipe it off with dampened cloth, and you are ready to go.
Inbuilt Memory Up to 20 Measurements
The Bosch GLM 80 will store the last 20 measurements by default. Thus, you will get the last 20 measurements (both angle and distance) from its inbuilt memory.
Included is the individual measurements that add up to the combinations and results thereof. Nonetheless, you can permanently store one particular assessment, if need be, by saving it as a constant.
Good Cost-Performance Ratio
The price of GLM 80 is fair, given its high accuracy and the tilt sensor for inclined measurements.
Its long-lasting battery life – for up to 25,000 individual measurements – adds value to its performance.
Compared to other laser distance meters, Bosch GLM 80 will offer you a lot much for your money.
How to Use the Bosch GLM 80 Laser Measurer
Operating the Bosch GLM 80 Laser Distance Measure is pretty easy. At least for a person who want to carry out simple measuring chores, will not need the manual.
Its display screen is larger, making it easy to read. The display also rotates to give you a proper readability despite the orientation of your measurements. The device will switch to "landscape" or "portrait" depending on its location.
Among the functions that you should expect in this device include timer function, addition and subtraction, Pythagoras function, minimum and maximum function, shutdown function, up to 4 seconds measurement duration, and ability to measure from trailing or leading edge.
Learn more about various functions of a laser measure in this article


Maintenance
The Bosch GLM 80 Laser Measure comes with a robust and ergonomic design. Its housing has been built with protection again dust and splash.
You just need to wipe it with dampened clothing after work, or in the case of spillage.
Before storing, ensure that you wipe it off with the damp cloth and rinse the cloth before wiping it again. Safely put the device in the Belt-Pouch even when you aren't working.
Frequently Asked Questions Of Bosch GLM 80
Will the laser shine in the presence of strong lighting, like mid-day sunlight?
Sure. I have tried measuring houses, and I could clearly see the red dot even in bright sunlight. Whereas I can vouch that it's not that visible, you will not have to strain for you to see the red laser dot.
To boost this visibility, you can get some glasses. Like the Red, Dewalt Glasses will highly serve the need.
What do I get from GLM 80 that I can't get from GLR 225?
I'm certain you are asking this question due to the price discrepancy. Well, besides getting the rechargeable battery functionality, you also get the internal 90 degrees tilt sensor, rather than the exterior bubble vile.
With the GLM 80, you will get instant indirect and height measurements.
Can I set an offsetting measurement?
Yes. With the Bosch GLM 80, you will get several measurement modes like combined indirect measuring, indirect measuring, and single measuring.
About the Manufacturer

Bosch has for a long time been recognized for offering an extensive range of laser measures, line lasers, digital levels, point lasers, rotary lasers, measuring tool accessories, and optical lasers.
With their tools, I assure you that you are going to work smarter and not harder – they are made with high-tech components and ergonomic designs.
Conclusion
The Bosch GLM 80 Laser Distance Measure offers an integrated tilt sensor and a rechargeable, long-lasting Li-Ion battery.
These features make the laser measure stand out of other entry-level devices of similar functionality.
Its measuring range of up to 265 feet makes it suitable for exterior and larger interior rooms' measurements.
Many customers have termed the price as very reasonable for a device that offers the functionalities which come with the Bosch GLM 80.
It's easy to read display, assures you of highly accurate and precise measurements despite the orientation. You can also convert your measurements into different functions.
See also:Best Laser Tape Measure Reviews