If you are looking for the best laser measure for outdoors use or just looking for a measuring tool to enjoy the benefits of high accuracy distance measurement, then the Hilti PD-E Laser Measure might be all you need.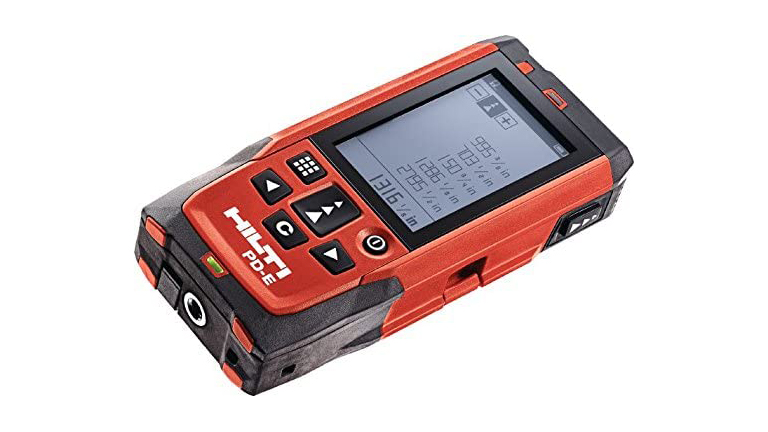 This is a handy electronic measuring device that relies on optical measuring process (laser technology) for high accuracy laser distance measurement.
Of course, there are lots of laser distance meters available on the market, but what makes the Hilti PD-E Meter special? Should you even consider buying one?
In this review, we are going to look into its benefits, features, and my honest view about this laser distance measure.
Hilti PD-E Review Summary
Hilti PD-E Laser Distance Measurer
Review Summary
Measuring Range: 0 in - 656 ft (200m)
Accuracy: 0.04 inches (1mm)
Protection Rating: IP65
Measuring Mode: Addition, Subtraction, Area, Volume, Painters area, Setting out, Min/max, Timer, Offset, Memory (30x), Trapezoid (2x), Pythagoras (3x), Indirect measurement (4x)
Memory: Last 30 measurements
Tripod Mounting: 1/4-in thread
Battery Life: up to 5,000 measurements
Warranty: 2-Year Limited Warranty
Special Features: 4-line display, corner angle feature, Automated End-piece Correction for measuring from an edge or corner, backlight, audible keypad feedback
Who is It for?
The Hilti PD-E laser distance meter is for anyone working on a remodeling or construction project, both amateur and professionals such as:
DIY enthusiasts

Carpentry

Contractors

Electricians

Interior designers

Architects

Homeowners (especially those seeking for a reliable way to take accurate measurements)
Hilti 2 PD-E Laser Meter Review
Owning or using the Hilti PD-E Laser Distance Measure comes with a lot of benefits.
In this section, I am going to show you the features of the tool and share from my encounter with the tool, the benefits you stand to gain from its purchase and what I felt was missing.
Let's get started!
High Accuracy
When it comes to tackling the work of a construction project, every detail counts. A single error or mistake committed while taking the measurements can affect the outcome of the whole project.
The Hilti PD-E helps to avoid errors that could mar your work; it has a very high accuracy of ±0.04 inch and clearly displays the accurate measurements taken on its LCD screen.
Willing to verify the company's claim for accuracy, I measured my bathroom's dimension and compared the readings with what I got from my traditional tape measure.
The tape measure produced a distance measurement of 71.3 inches by 99.6 inches while the Hilti PD-E produced a dimension of 71.34 inches by 99.57 inches.
The measurement taken was fast, very consistent and falls within the claimed limit. I found this is very impressive and amazing!
Saves Time and Effort
Imagine the amount of time you have to spend to drag about a traditional tape measure across the job site to take long measurements.
Not to talk of the hazards you face as well as the time and effort you expend when moving the obstruction out of your way or dragging a ladder with you to access hard to areas so you can take the measurement.
The Hilti PD-E comes with several features that work together to save time and take measurements in complex situations thus, allowing you to work faster and smarter.
The tool was very efficient in taking my home's roof measurement and also worked perfectly when accessing difficult and hard to reach areas.
It has an inbuilt 360-degree tilt sensor that allows me to take accurate height measurement from the ceilings to the floor during a drywall installation project with no assistant required.
And the fact that you don't have to move heavy objects or obstructions out of the way before to take accurate measurements makes it an excellent tool for obtaining data for quotations and handling professional-grade projects.
Long Range
The Hilti PD-E Laser Distance Measure offers a long range of coverage up to 656 feet, one of the longest laser distance measuring range available on the market.
The tool's inbuilt optical viewfinder aids outdoor distance measurements, especially when the laser line is out of sight or when you find it difficult to see the laser spot clearly.
These features will not only allow you to work without the need for a partner, but will also save you the time and stress of trekking long distances to take measurements thus, making the whole process a breeze.
Tripod Support
This is actually one of the features I like about this Hilti laser meter. It comes with a metal tripod thread mount and has a diameter of ¼ inches that allows you to mount the tool on a tripod for accurate long distance measurement.
With this feature, you can hold the tool steady to ensure that the dot is not shaken before you press the button to take the readings. This feature along with its long measuring range makes it one of the best lasers for professionals and arguably the best outdoor laser measuring device.
Strong Battery Life with Easy to Read Display
The unit is powered by 2 x 1.5V (AAA) batteries which are included with the tool. This produces up to 5000 measurements without the need to replace or change the batteries.
Hilti PD-E Laser
The tool has a big LCD screen with a sensor automated backlight feature for easy and precise measuring experience and improved visibility even in a low light condition.
It also has the LED reference indicator and E-paper technology which helps to improve the screen readability in bright lighting conditions. This makes it a perfect laser measuring tool for both indoor and outdoor use.
Multiple Measurements
The Hilti PD-E does not force you to do any complex calculations. It comes with the math feature that performs the mathematical calculations such as addition, subtraction, area, volume and other indirect measurements like the Pythagoras function.
It allows you to take measurements from 5 different reference points and can even take measurements inside corners, with the help of its flip-out extension.
The tool supports indirect measurement for areas that are hard to reach or access. The unit automatically saves the last 30 measurements in its memory for quick recall. This means you don't have to go to your job sites with your writing materials, and I found it very useful when making quotations.
Just take your readings, activate the math function and you are good to go!
Robust Housing with Strong Environmental Protection
The unit has an operating temperature of 14 to 122ᵒF and comes in a robust housing with a strong IP 65 rated protection against dust and water. This makes it able to withstand the occasional bruises, fall, and bumps it may encounter at the job site.
It also has rubber protection on all its edges to improve its durability thus, offering you extended years of use.
Some Drawbacks
Some of its drawbacks and the things I felt was missing in this product includes:
No spirit level

No Bluetooth compatibility and inbuilt camera which might be required by a

professional interior designer or architect
How to Use the Tool
The Hilti PD-E laser distance meter is very easy to use, just insert the battery into its compartment, mount the tool on a tripod, turn on the device and aim the laser dot on your target. After this, the device will calculate the distance and display the readings on its screen.
Note that:
The use of the tripod is not compulsory but helps to take a more accurate reading.

Read the tool's manual and understand how it works before you operate it (especially the use of the advanced features).

Make sure the device is not operated outside its normal working temperature range.

Do not submerge the tool in water.

After work, clean off the dirt with a clean damp cloth.

Keep the tool in the pouch that comes with the package when it is not in use.
Customer Support and Warranty
Hilti, the company behind the PD-E laser distance meter, tests all their products before they are released into the market. Their products are of high-quality, so you won't have any issue when you set them up for use.
This sounds interesting as it banishes the fear that you might be purchasing a laser tape measure that has issues.
The company provides 20-year warranty coverage on workmanship and material related issues. This means that the company will replace or repair the broken parts of the tool that happen as a result of a defect in workmanship and materials.
The company also offers 2-year warranty coverage for wear and tear. This means the company will repair the tool for free (no charges for labor, parts, and shipping) for a limited period of 2 years from the day of purchase.
Conclusion
Pros
Long range (up to 656 ft)
Fast and accurate (±0.04 in) with clear and easy to read display
Tripod support and suitability for accurate outdoor measurements
IP 65 rated with data memory of 30 measurements and a good battery life
Cons
Higher price point
No Bluetooth technology
If you want a fast, and accurate laser distance measure with a very long coverage range that will last long and withstand a lot of abuses from the job sites, the Hilti PD-E is perfect for you. This tool is tested and true and comes with several features that make it one of the best laser measures for outdoor and indoor applications.
If this product looks like something that might be helpful to you, I suggest you try it out and come back with your testimony.