Digital levels are a must-have when it comes to ensuring your measurement of level, plumb or slope is 100 percent level.
To make it easy for you to choose the best digital level among many models available on the market, I have created this buyer's guide containing some digital level reviews.
Top 5 Picks for Best Digital Levels: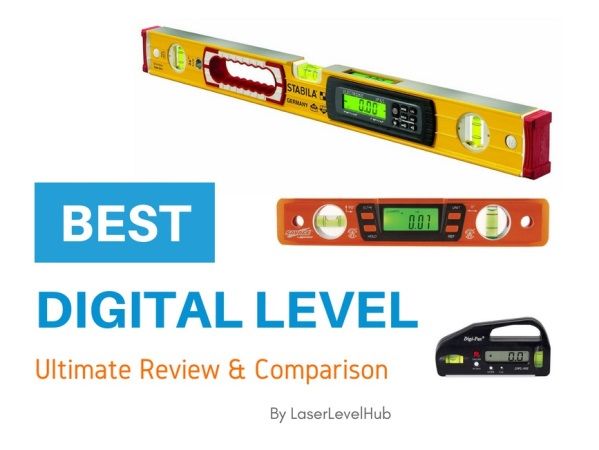 Best Digital Level Reviews 2023
1 - Best Digital Level: Stabila 36548 48" Electronic Level
The Stabila 36548 electronic level features a solid and sturdy construction and is packed with a ton of features.
The tool is capable of precisely measuring slopes and perfect for stair layouts.
Best Electronic Level - Stabila 36548 Digital Level
Pros
High accuracy
Solid and sturdy construction
Dust and waterproof with IP65
Offers measurements in degree, percent, feet & inch and millimeter & meters
Quick and easy conversion of units
Stabila Electronic Level Review
The Stabila 36548 electronic level has two electronic digital displays on both sides allowing you to quickly and accurately take readings without straining, even under poorly-illuminated conditions.
You can take measures in degrees, percent, feet & inches in both fractions and decimals, and lastly in millimeter & meters.
It is also easy to convert the measurements to a scale of your choice. Sight-free use is made possible with the inclusion of the audible tones feature.
Additionally, the reference function of the tool allows you to measure slopes repeatedly and angles faster and with a lot of consistency compared to other digital levels.
In addition to its one-button calibration feature and carrying case, the tool is powered by two AA batteries.
Verdict
Perfect for professionals with a keen eye on quality construction and performance.
2 - Bosch GIM 120 Digital Level, 48-inch
No brand quite matches the expertise of Bosch in levels and measuring.
The Bosch GIM 120 Digital Level, 48-Inch perfectly demonstrates their high-quality construction, reliability, and accuracy.
Best digital inclinometer - Bosch GIM 120 Digital Level
Pros
Easy to use
Quick and accurate measurements
Strong aluminum body
Cons
A little difficult to self-calibrate
Bosch GIM 120 Digital Level Review
The Bosch digital inclinometer is accurate to an impressive +/- 0.05 degree at 0-degree or 90-degrees.
Furthermore, the IP rating for the Bosch GIM 120 stands at 54, which makes the tool ideal for use in even the harshest conditions. And that is not the end of its awesomeness.
This Bosch digital level comes with an easy-to-read display featuring bright and sufficiently large numbers.
The tool gives an almost instant measurement after you move it, unlike other digital levels that experience a delay. Measurements are given in percentage, degree or ft./in.
The all-aluminum construction keeps weight down at just 1.5 pounds, meaning it is both lightweight and very compact to use in hard-to-reach spots.
The Bosch GIM 120 uses arrows on both sides to guide leveling, giving an audible notification upon leveling. It has a one button calibration and uses four AA batteries.
Verdict
The Bosch digital level GIM 120 is one of few tools offering reliability, quality, and accuracy. Give it a try!
3 - Hammerhead Digital Laser Level
The Hammerhead Digital Laser Level is one of the most accurate digital levels in the market today, offering a maximum angle accuracy of 1/20-degree.
Best Digital Level with Laser - Hammerhead Digital Laser Level
Pros
Impressive 0.05-degree accuracy
Solidly and robustly constructed
Gives instant angle reading
3-year limited warranty
Cons
The laser pointer is not very accurate
Hammerhead Digital Level Review
The Hammerhead digital level with laser comes with a dual digital display mode: high accuracy and regular accuracy.
Such accuracy means you will be able to complete your project with the precision you want and in accordance with your plans.
The tool is equipped with a sufficiently big, back-lit digital screen that also flips vertically when the digital level is inverted. Consequently, you will be able to effortlessly take readings irrespective of your position that of the level.
You will also be able to perform distant alignment of up to 100 feet, thanks to built-in laser dot projection feature.
Lastly, you will not have to worry about the digital level slipping on flat or smooth surfaces as it features an all-aluminum constructed base reinforced with strong magnets for stability.
Verdict
This Hammerhead digital level is the best digital level with laser for all types of angle measuring.
4 - Best Small Torpedo Level: Swanson SVT200 Savage Digital Torpedo
The Swanson SVT200 9-Inch digital level is meant for professionals with a keen eye on efficiency, maneuverability, and practicality.
Top Digital Torpedo Level - Swanson SVT200
Pros
Sturdy construction
Impressive accuracy and versatility
Bright light for easy viewing in dark areas
Industrial-strong
Great price
Cons
No auto shut off function
Swanson SVT200 Savage Digital Torpedo Level Review
The Swanson digital torpedo level measures 9-inches and packs some considerable weight.
The tool fits firmly and solidly in the hands with its precision billet aluminum construction, which additionally makes it lightweight and compact to allow for prolonged use.
This digital level is factory-equipped with four strong neodymium V-grooved magnets capable of holding to pipe, irrespective of the positions they assume.
The Swanson SVT200 9-inch digital level is just as versatile as it is efficient. It comes with two vials, the first at 0-degree and the second at 90-degrees enabling you to take readings conventionally rather than using the LCD screen.
The green background light of the screen significantly increases readability, allowing you to take readings even when the level is flipped upside-down.
Accurate to +/- 0.029 degree, the digital level guides your leveling by indicating the direction in which to move.
You can take readings in degree, percent, and pitch.
Verdict
A truly perfect tool for electricians and plumbers.
5 - DigiPas DWL80E Mini Pocket Size Digital Level
The DigiPas DWL80E Mini Pocket Size Digital Level is a compact digital level ideal for multiple home uses and industrial applications.
The level can display angles in degree and slope and is fitted with a factory-built magnet at the base to allow for hands-free handling.
Best Mini Digital Level - DigiPas DWL80E Pocket Size Digital Level
Pros
Compact and lightweight design
Accurate and efficient measuring
Easy to calibrate
Low price
Cons
Poorly designed battery cover
DigiPas Pocket Digital Level Review
The compact and lightweight construction of this small digital level ensures versatility and saves on storage space since it measures only 4 inches in length.
Using the device is quite simple, only requiring that you turn the On/Off button accordingly before placing it on the surface of an object.
The digital level is also equipped with ultra-strong magnets to prevent slippage on various surface types.
The DigiPas DWL80E digital level has a resolution of 0.1-degree and offers an astounding accuracy of +/- 0.1 degrees at 0 and 90-degrees and +/- 0.2-degree between 1 and 89-degrees.
For additional versatility and efficiency, the user can easily convert readings from degree to percentage and vice-versa with a lot of ease.
Verdict
Best mini digital level for leveling jobs in tight spaces.
Top 5 Digital Levels Comparison
While they are more expensive than their bubble-vial counterparts, the digital levels are a reliable tool for many contractors by the fact that they offer way better digital level accuracy, efficiency, and functionality.
Digital levels are similarly packed with several useful features aimed at increasing ease of use and convenience, meaning they are the best choice when performing home remodeling, woodworking, and Do-It-Yourself projects.
Let's make a quick comparison of top 5 digital levels.
How to Use a Digital Level?
Use a Digital Level For Leveling
Using digital and electronic levels is quite a straightforward and easy endeavor. The tool gives a reading by simply placing it on a surface and waiting for a few seconds before it settles on reading.
You may, however, need to make adjustments to the digital level to get a reading of 0.0 degrees.
Like all tools, digital levels have to be kept clean and dry during and after use.
Conclusion
Home improvement, remodeling, and most Do-It-Yourself projects will most likely necessitate the use of a digital level. Their preference is informed by the fact that they offer digital level accuracy, maneuverability, and efficiency.
All the digital levels featured on our list are ideal for professionals and Do-It-Yourselfers looking for top-performing, solidly built, and reliable digital level. Choose one right now from among this list of best digital levels.