The best dot laser level is something that helps a user manage all alignment, plumbing, and leveling requirements easily.
Whether it is for a trivial indoor job or outdoor application, the best dot laser has to take care of most basic requirements.
It should have useful features, should last longer since the applications are often heavy duty, has to be reasonably priced, and should come with a decent warranty period.
Top 5 Picks for Best Point Laser Levels: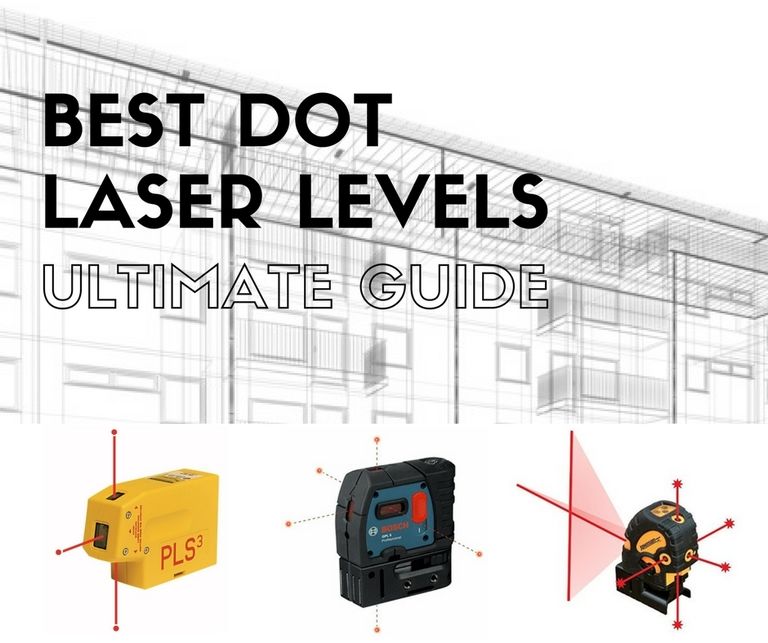 Based on such essential parameters, following are two lists featuring the best dot laser levels that we have bought, used, analyzed, and reviewed over a period of two weeks.
For a quick selection, take a look at our top picks below.
Best Dot Lasers - Plumb Laser Levels 2023

Best 5-Point Laser

DEWALT DW085K

Accurate, bright laser dots
Quick and easy installation
Affordable price
3 years warranty

Read My Review

Best 3-Point Laser

PLS 3-Point Laser

Visibility range of up to 100 feet
Pendulum lock for safe transport
1M drop tested
3 years warranty

Read My Review

Most Compact

Leica Lino P5

5 Points exactly 90 degrees lasers
Pulse Technology for using with laser detector
Dust and splash-proof
2 years warranty

Read My Review

Best Value

Johnson Combination Laser

5 self-leveling beams and 2 cross-lines
Visible and audible alarms
Great value kit with laser receiver
3 years warranty

Read My Review

Good Price

Bosch GCL25

5-point laser with cross-line
Wide range of applications
Four modes for easy use
2 years warranty

Read My Review
How We Choose The Best Dot Laser Levels?
Doing a quick online research so that you can look at various options and then narrow down your selection can be difficult, especially when there are so many models to choose from.
In order to ease you through the process of selecting the right dot laser level for your specific requirements, we have created this short guide. Read our dot laser level reviews below and select your model.
As mentioned above, it took us several days to come to a conclusion and list our top picks of the best laser dot levels in the market right now.
Our analysis was based on a number of factors such as visibility range, accuracy, battery type, cost, additional features, and warranty.
If you are a household user who is looking to purchase a dot or plumb laser level for residential applications, this brief buying guide will get you sorted.
Best Dot Laser Level Reviews 2023
#1 - DeWALT DW085K 5-Beam Laser Pointer
Best laser level for electricians: DeWalt DW085K
A higher version of its 3-point laser level, this DeWALT 5-point laser level has all its salient characteristics and retails at almost the same price. This makes the DW085K one of our top picks for the best laser level for electricians.
A very handy product, it is preferred by people who are looking for indoor applications.
Although some users have reported problems with calibration, others have lauded its small design, sharp accuracy, and durable plastic kit.
Pro Tip – When using 5-point dot laser levels, make sure the calibration is carried out/adjusted before you start using it, for longer life and better results.
#2 - PLS 3-Point Red Laser Level Kit
Pacific Laser Systems (PLS) markets itself as a 50-year old company, and we can attest to that fact. It's a local brand, and is trusted by a large number of construction workers, mostly because of its wide range of industry-grade products.
The PLS 3-Point red laser boasts of battery-powered operation time of more than 30 hours and is highly suitable for electrical and HVAC applications.
PLS products are used by professionals, and most users get this for its long lifespan and easy handling.
#3 - Leica Lino P5 5 Point Laser for Plumb and 90 Degree Layout
Leica Lino P5 5 Beam Point Red Dot Laser
Not to be confused with the popular photography lens maker brand, Leica Geosystems is a Swiss manufacturer which has been in the industry for close to a century.
It is known for its heavy-duty products and systems that are preferred by those who like extra set of features in addition to the general ones.
This Leica laser level is a better self-leveling 5-point laser level because it uses pulse technology to project high-focus beam for both indoor and outdoor use.
Since Leica Geosystems is a relatively niche brand in the US, it is preferred only by the professionals and those who know their stuff.
Customer experience has been top-notch, with users admiring its rugged build and laser technology.
#4 - Johnson Level & Tool Cross-Line and 5 Beam Laser Dot Kit
Johnson Self-Leveling Combination Cross-Line and 5 Beam
Johnson has been leading the power tool industry in the US for more than 70 years now, thanks to their fine range of laser levels.
The Johnson Level 40-6687 model is a hybrid of both line and dot laser levels so that you get the power of two functions in a single package.
The line and dot lasers can be used simultaneously, with the best feature being its alarm system which notifies the user when he/she goes beyond the leveling range.
Users have highlighted this model's ability to simultaneously project both beams and cross-lines giving engineers the upper hand in a lot of applications such as restroom plumbing and surveying.
#5 - Bosch GCL25 Self Leveling 5-Point Alignment Laser with Cross-Line
Bosch Self Leveling 5-Point Alignment Laser with Cross-Line GCL25
If you are in budget and have to compare between the Bosch GCL25 and the Johnson 40-6687, we would recommend you the former.
Why? Because it has four different modes and is much cheaper than the Johnson model.
Most users prefer this Bosch dot level over Johnson because of its magnetic stand, higher accuracy, and rugged design. Both have their own set of merits and demerits. If price is your single parameter, go with Bosch.
#6 - PLS 3G 3-Point Green Laser Level
Another PLS model in this list, this one beats the above PLS 3R by only one point – the high-focus green beam, which makes it the ideal plumb laser level for outdoor applications. The company claims that the green beam is 300% brighter than the red one.
With the only drawback of being slightly costlier than the rest of the models featured here, the PLS Green Beam 3-Point Laser is a crowd favorite among both household and professional users.
#7 - DeWALT DW083K 3-Beam Laser Pointer
DeWALT DW083K 3-Beam Laser Pointer
Almost a century into the power tool business, DeWALT is one of the biggest American brands that manufactures high-quality 3-point laser levels.
This specific self-leveling DEWALT DW083K model here should be on the top of your selection because it is the most cost-effective model at this price range, and comes with a durable protective case, which is really important when it comes to power tools.
Users love DeWALT's technology and durability with extra points given for its reasonable price, design, and usability.
#8 - PLS 5-Point Green Laser Laser Tool
If you agree with millions of construction workers in the US who believe in PLS' technology, then the PLS 5-Point Green Laser Tool is your best bet for an auto-leveling 5-point green laser level.
Users looking for the best 5-point laser levels love it mostly because of the sturdy design and bright green laser beam, which are the two most essential parameters for electricians.
#9 - Bosch GPL3 3-Point Self-Leveling Point Laser
Bosch GPL3 3-Point Self-Leveling Point Laser
Bosch is the oldest manufacturer in this list, which itself should motivate you to consider this model. In addition to the classic German technology, the
In addition to the classic German technology, the Bosch 3 point laser level GPL3 boasts of a Smart Pendulum Leveling System which senses and warns its users of out-of-level conditions. It is an affordable 3-point dot laser level you can get.
When it comes to Bosch, there is hardly any doubt about durability. Users around the world trust Bosch's technology and customer support.
Point Laser Level Comparison
Best 3-Point Laser Levels Comparison
The following table will give you a fair idea and comparison about the best 3-point laser levels along with their specifications:
Best 5-Point Laser Levels Comparison
The only major difference between a 3-point and 5-point laser level is the number of point sources. One can use this type for a wider range of applications, but at a heavier price than its younger cousin.
We recommend our readers to go through these 5 point laser level reviews closely before making the final selection.
What is a Dot Laser Level?
For starters, a dot laser level is an electric equipment that uses laser beam technology to create reference points for assistance in horizontal or vertical alignment, which can be used to position items or make calculations.
Bosch GPL5 5-Point Alignment Laser
It helps in creating a level of reference dot across a horizontal (a floor or a ceiling) or a vertical (a wall) plane.
Originally invented and intended for outdoor construction purposes and still widely used for such applications around the world, dot laser levels are now also used extensively by household owners who want to, say, create a chair rail around a room at equal height or hang curtains in a straight line without messing up the alignment.
Also known as plumb laser level due to its obvious primary application, it is a smarter alternative to the traditional bubble level and the plumb bob, and has today become an intrinsic part of a home tool kit.
Modern Day Dot Laser Levels
Compared to the bulky systems that were used on job sites in the 80s and 90s, dot laser levels of today have become comparatively cheaper and more efficient.
They can be carried around for use in different sites, and also minimize the need for multiple workers.
A lot of experts believe that the laser level technology (dot, line, rotary) has revolutionized the construction industry.
Compared to other types, dot laser levels are cheaper, highly portable, easier to use, albeit with a limited set of applications.
General Applications of a Dot/Plumb Laser Level
Suppose you are looking to hang portraits of your family in the adjacent two walls of a room.
The first thing that you require here is a reference point on each of the wall that is at the same length from the floor.
You can use a measuring tape and do it the traditional way, or you can take advantage of a plumb laser level.
Let's see how we can do it!
Firstly, fire up the system, set a point on one of the walls, and trigger the rest of the points to create an aligned level on both the walls that is at equal distance from the floor.
You want to experiment with your portraits and want to hang it diagonally?
Worry not, and just tilt your laser level. The possibilities are endless and you will never be criticized for going "out of alignment" (pun unintended).
Using a branded laser level not only will give you great precision in aligning the portraits, but also with the added feature of experimenting with your portraits using different angles and styles.
Ever wondered how that boutique bookstore near your house fixes bookshelves on their walls? Now you know.
For a lot of householders, a dot laser level can be a lifesaver. And for some home builders, it becomes the forth basic necessity in life. Some of the other major applications of a dot laser level are:
Laying tiles, hanging photo frames and curtains, installing cabinets, shelves, and chair rails
Aligning fences and paint stripes, wiring purposes, leveling cabinets and shelves
Job site applications such as surveying, aligning bricks and squaring up batter boards
Leveling of floors, site layout, contour farming, and site layout
Note – The above list is limited; the applications of laser levels are countless.
How to Use a Dot Laser Level?
Let's say you want to install ceiling lights in a square-shaped room.
One can use a traditional measuring tape, a ladder, and lot of manual strength and willpower to make the markings before getting down to drilling and fixing.
But, at a time when automation and simplicity are the chief elements of the current world, you can do this same activity in a better way. And that, too, in a fraction of the time.
Here are steps to install ceiling lights using a dot/plumb laser
Step 1: Lay out your light fixture locations on the floor and mark the reference points
Step 2: Use your 3-point laser level and place it on top of the first reference point
Step 3: Fire the level and see the red dot pointed straight on the ceiling where your first light fixture will go
Step 4: Now mark it with a pen, and repeat the same for all other references
What would have taken you 45 minutes will now take less than 10 minutes. Such is the power of plumb laser levels. You can also use a 5-point laser level if you also plan to install lights on the walls.
Types of Dot Laser Levels
The two main types are 3-point laser level and 5-point laser level, and both of them have their own set of features and diverse applications.
The number of points denotes the source points of laser which are used to project bright spots on a surface.
Pro Tip – While purchasing a laser level, look for the leveling technology. Most laser only mentions self-leveling or automatic leveling, which are different from each other.
Self-leveling lasers make use of a pendulum system whereas automatic leveling lasers use stepper motor technology. The latter are expensive and require periodic maintenance.
How to Use Laser Levels like a Pro?
Using a laser level is easy, but there are ways in which you can maximize its output and efficiency, and make your job easier and quicker.
Following are some pro tips that we have drafted to help you use your laser level like a true professional:
Tip 1

- Using Accessories With A Laser Level

**Special Red Glasses

Detecting a red beam in bright sunlight is difficult and can make the whole process harder.

The best solution for this problem is to get special red glasses that improve visibility even in broad daylight.
**Laser Level Tripod
While most heavy-duty level systems are designed to be used with a tripod, users can also make use of it for smaller models.
Most dot laser levels have a threaded hole in the bottom which you can use to place it on any standard 1/4-inch tripod mount. This enables you to adjust the height of the laser, especially on uneven surfaces.
Read reviews on the best tripod for laser levels here
**Laser Target Card
It is a reference plate that you can use to follow and detect the laser dot in bright environments. Target cards are generally dark-colored so that they can easily detect the red/green lasers.
Bosch is known to manufacture large targets that allow engineers to have better visibility
**Laser Receiver
It is a must-have if you intend to use your dot laser levels for outdoor applications.
Trigger your system and make use of the receiver to detect the laser, even when you are way beyond the range. The receiver either beeps or indicates the laser using LED display.
Some models, such as the Johnson Level & Tool 40-6687 Line and Dot Laser, come with complementary laser receivers
**Pole System (Laser Position System)
Bosch BP350 Telescoping Pole
Users can take advantage of attachments like leveling pole, clamp, and tool mount to position the laser for different applications.
The pole system is used by professionals for surveying and other construction application
**Wall Mount/Mounting Device
For indoor applications such as photo frame hanging or cabinet installation, users can purchase a wall mount (or other mounting devices) to fix the laser in any object (a switchboard or a wall) for better measurement and alignment
**Batteries
Users can choose to use Li-ion batteries that last longer than NiCad batteries which are generally used in lasers.
Alternatively, heavy-duty rechargeable batteries of higher potential are available online
Pro Tip – You can use your camera tripod and save yourself some dollars.
Tip 2 - Maintaining Your Laser Equipment
Since dot laser levels are electrical equipment, they have to be handled/carried carefully in order to ensure their longevity.
Follow these simple tips and tricks so that your one-time investment works for years and years to come:
Usage
Always keep the device calibrated, especially if you have dropped or knocked it down while using. Ensure that the calibration does not go beyond the specified tolerance
Always carry the device in its safety kit while traveling
Switch off the laser beam when not in use. Most lasers have the feature of single-level power switching
Unlike other power tools like drilling machine, laser levels are supposed to be handled with care. Their internal units are very sensitive
If you are a new user, read the manual completely before operating
Keep the device away from liquids and semisolids (concrete, paint, etc.)
Storage
It is recommended that the laser level be placed back on its safety kit after each use
Store the pouch in a dry place
Look for models that are dust-, water-, and shock-proof so that you do not have to worry about using it in extreme conditions. (Leica Lino P5 is one such example)
Remove the batteries if you do not intend to use the equipment for a longer period of time
Keep your batteries charged before taking the device for a specific project. Most lasers use NiCad batteries, which need to be discharged fully before being recharged
Dot Laser Level vs. Plumb Bob
Plumb bobs and bubble levels were used by construction workers to measure plumb and level in their surveying and other construction-related tasks.
However, over time, thanks to new technology, we now have battery-operated equipment that make our job easier.
By definition, a plumb bob is a bob of metal that is attached to a string to form a plumb line.
Tajima PZB-400GP Plumb-Rite 14-Ounce Bob Setter
A dot laser level is preferred for long-distance leveling (building a fence) whereas a plumb bob is used for shorter distances (creating a plumb up or plumb down for wall building).
A dot laser level can be used by a single person to complete the job whereas a plumb bob generally requires two people.
Moreover, plumb bobs cannot be used in windy conditions, which is one of its major drawbacks.
Advantages of a Dot Laser Level
A dot laser level is considered to be the modern alternative of a plumb bob. Some of its biggest advantages are:
Transfer points from the floor to the ceiling
Get vertical and horizontal alignments
Create a plumb line with a flick of a button
Create reference points
Smaller in size, and compact
Cheaper than hybrid models and line lasers
Efficient and easier-to-use than a plumb bob
Dot Laser vs. Line Laser
As we have mentioned before, a dot laser only beams dots on a surface. There are two main types of dot lasers, namely 3-point and 5-point.
A 3-point dot laser has a horizontal dot, a plumb up, and plumb down whereas a 5-point dot laser has two additional horizontal dots at 90 degrees for added support.
Dot laser levels are mostly used for indoor applications such as for kitchen cabinet layout, light and switch placement, chair railing measurements, etc.
They have wider ranges and are cheaper than line lasers. Check out our reviews above for the best laser levels for carpenters and technicians.
PLS 4 Combined Lines & Dot Laser Level
On the other hand, a straight line laser projects a line beam – one horizontal and one vertical – and usually together as a cross.
These are used for close-range applications and have comparatively lower range (few tens of meters). Users looking for a combination of
Users looking for a combination of both dot and line lasers can opt for the Johnson and Bosch models reviewed above.
Thanks to brands like Bosch and Johnson, we can now take advantage of both line and point lasers in a single package. Users looking for both types can select from either of the two hybrid models featured above.
Pro Tip – While dot laser levels are used for ranges of up to 100 feet, users can opt for rotary lasers whose visibility range is more than 200 feet.
Check out our ultimate guide on the best rotary laser level
Conclusion
We hope that our list of the best dot laser levels will help you make a wise purchase. This guide was written by our in-house experts who took around two weeks for testing different models and to come to the conclusion.
Whether it is a 5-point laser level so that you can build a wall or a 3-point laser level for small household tasks like cabinet installation, you can choose from the models that we have listed above. We have tried our best to feature different brands that are currently top sellers in the market.
A plumb laser level can save you time and hassle, and make your job easier. So, what are you waiting for? Go through the reviews above and get yourself a nice, handy laser level.