We think of laser levels as contractor's and home builder's companions, but homeowners can also use them as home improvement tools.
The best laser level for hanging pictures will simplify the tasking process of ensuring the frames alignment is straight for a uniform and appealing decor.
Top 5 Best Laser Levels For Hanging Pictures: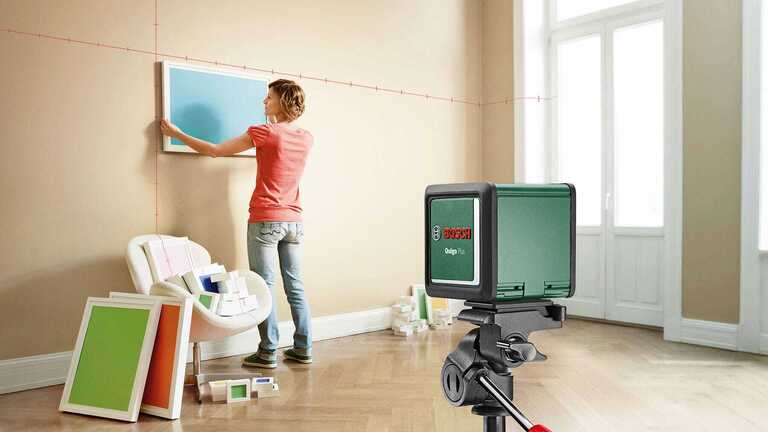 A laser level makes the best picture hanging tool since it frees both of your hands in the process, unlike spirit levels. Such a basic tool will also help you accomplish other leveling tasks like drawing stripes on walls, decorations, and tiling.
Best Laser Level For Hanging Pictures Review
A basic laser level will help you accomplish simple home improvement leveling/alignment tasks quickly and easily. Such tasks like hanging pictures and wall decorations that can be at times involving!
Using a laser level is the best way to hang pictures on wall because of the awesome features and benefits that come with such a device:
Laser levels free both of your hands when aligning the frames, unlike when using traditional leveling tools.
Laser levels are also suitable for other leveling and alignment tasks around the house like tiling walls, mounting shelves on walls, and other decorations.
The best picture hanging laser levels are affordably priced (under $100) and lightweight but durably designed.
With their simple to use control features and self-leveling capabilities, almost any individual should be able to operate a laser level!
#1 - Bosch GLL40-20G Green Beam Laser - Best Laser Level for Hanging Pictures
Top Pick
Bosch GLL40-20G Self-Leveling Cross-line Laser Level
Best Laser Level for Hanging Pictures
Bosch has been featured among the best laser level brands. Thanks to its ability to design durable laser levels that are dedicated to handling niche specific tasks.
Pros
2x Brighter green beam laser lines
IP54 rated to withstand rain and dust in tough job site conditions
Long laser line range, accurate and easy to use
Flexible mounting device for quick setup
Cons
The laser line isn't clearly visible outdoors
Features and Benefits:
Bosch Self Leveling Cross Line Laser GLL40-20G features Bosch's Visimax technology that delivers up to 40 feet of line laser visibility in standard working conditions. It offers simple laser setup modes to project horizontal, vertical, and cross lines.
Using the Bosch GLL40-20G self-leveling cross-line laser when hanging your wall pictures is pretty easy. Fix it on a tripod stand or use the Flexible mounting device, power-on the device, let it detect the level, and voila!
I've used the device when putting up curtain rods, cabinet doors, picture frames and paintings, and other interior decors and fittings like towel holders when moving houses. Its Smart Pendulum Self-Leveling System helps the tool to self-level.
Drawbacks:
Despite Bosch GLL40-20G being an excellent device for a variety of uses around the house, it isn't the perfect laser level for outdoor uses on sunny days.
Verdict
The Bosch GLL40-20G laser level will help you complete simple and complex tasks around your house, quickly and easily.
It's time to ditch your spirit level for a more accurate, flawless tool when doing your home re-decoration projects.
Want to find an affordable laser level for home renovation? Check this article on Best Laser Levels For Homeowners.
#2 - Johnson Level & Tool 40-6603 Self-Leveling Cross-Line Laser Level
Johnson Level & Tool 40-6603 Self-Leveling Cross-Line Laser LevelJohnson Level & Tool 40-6603 Self-Leveling Cross-Line Laser Level
The Johnson Level & Tool 40-6603 Self-Leveling Cross-Line Laser Level provides you with a quick and easy way to hang pictures straight on your walls. This simple, yet versatile laser device projects two laser beams both horizontally and vertically.
Pros
A 3/16-inch accuracy with a 30 feet laser range
Designed in a compact, durable build quality
Manual mode for non-level applications like stairs
Cons
A tripod isn't included in the package
Features and Benefits:
Johnson Level & Tool 40-6603 laser level lets you handle most of your indoor leveling tasks hassle-free. Whether it's your basement that needs a stepped shelving or the wall paintings that calls for a nice alignment, the tool will get this done.
It has been designed with a 1/4"-20 tripod thread that makes it compatible with most common tripods. This is a perfect laser level for most indoor leveling projects like fixtures installation, wall pictures hanging, and cabinetry
I recently did an entire bathroom renovation. An overwhelming project that entailed a total tearing-up of the old bathroom wall tiles, fixtures, and fittings and replacing them with newer, friendlier design. This device came in handy in the entire project that would have taken hours to hack through with a bubble level.
Drawbacks:
Doesn't come with an instructions manual. However, there are a few great tutorials online that will help you kickstart your leveling with this laser level.
Verdict
When paired with a tripod, you can get the most out of this Johnson Level & Tool 40-6603 laser level during your interior remodeling projects like stepped shelving and stair layout alignments.
Just like Bosch GLL40-20G, it's not the right level for outdoor applications but ideal for indoor projects like shelving and hanging photos.
#3 - HAMMERHEAD HLCLG01 Green Beam Compact Laser Level
HAMMERHEAD HLCLG01 Green Beam Laser
As the name suggests, HAMMERHEAD HLCLG01 Green Beam COMPACT Self-Leveling Cross Line Laser comes in a compact design. The device is packed up with an adjustable mounting clamp, a package that makes it one of the best laser level for hanging pictures on the go.
Pros
Bright, highly visible green beam laser
Easy to set-up and operate
Compact, lightweight
Includes a clamp that can be attached to surfaces to extend the tool's versatility
Cons
Not the ideal laser level for outdoor usage - in bright sunlight
Features and Benefits:
Unlike the Bosch GLL40-20G and Johnson Level & Tool 40-6603 that we have discussed above, the laser lines projected by Hammerhead laser level are brighter. It projects vertical, horizontal, and cross lines with ±1/4-inch accuracy levels at 30 feet.
This Hammerhead compact self-leveling cross line laser has been configured with an LED indicator that turns red when it's positioned outside the self-leveling range. The unit self-levels when within 4 degrees of level.
Being a serious DIYer or handyman doesn't need you to invest hundreds of dollars on a bigger brand to get the right device. This tool will let you undertake most of your leveling projects needs from wall paint hanging to tile alignment.
Drawbacks:
The clamp works effectively on rough surfaces like frame lumber and ladder sides. You will find it a rough time trying to clamp the unit on smooth or/and thick surfaces like door jambs. You might need a tripod to get the most out of it.
Verdict
The Hammerhead Compact Self-Leveling Cross Line Laser stands out as the best small laser level at the moment.
Thanks to its compact design and the three laser-line modes that enhances its applicability in most of the indoor leveling projects.
#4 - BLACK+DECKER BDL190S BullsEye Auto-Leveling Interior Line Laser/Stud
BLACK+DECKER BDL190S BullsEye Line Laser
The BLACK+DECKER BDL190S BullsEye Auto-Leveling Interior Line Laser/Stud has been built in a lightweight yet very sturdy design.
Pros
An auto-leveling laser that works pretty fine
Convenient stud finder features
Has been built in a compact durable design
Inbuilt stud finder
Cons
Doesn't include plumb/vertical laser mode.
Features and Benefits:
It comes with a hanging pin that means you won't need a tripod to kickstart your wall pictures and paintings hanging experience!
The BLACK+DECKER BDL190S has been simply designed with only the horizontal laser lines mode and a stud sensor feature. It includes an easy-to-read LCD digital screen that helps you get the most done in the shortest time possible.
Its laser lines will help you easily and quickly find the perfect leveling for straight wall picture hanging, while the stud sensor will detect metal, live A/C wires, wood, and studs to avoid messing up while doing your interior decor.
Drawback:
BLACK+DECKER BDL190S lacks a vertical laser. This might be a feature that any serious DIYer or interior remodeler wouldn't want to trade off when saving a few bucks. Perhaps, the stud sensor feature makes it the right laser tool for basic indoor leveling and alignment projects.
Verdict
Gone are the days we would spend almost an hour trying to find the perfect wall leveling with a bubble level. Then spend a few more minutes sketching faint marks and fixing wall paints and photos albeit removing them and re-fixing for a few times until we find the perfect straight alignments. With this Black & Decker laser level, you get a huge improvement from the spirit level!
#5 - Tacklife SC-L01 Laser Level For Home Remodeling/Decoration Projects
Tacklife SC-L01 Laser Level For Decoration Projects
The Tacklife SC-L01-50 Feet Laser Level sums-up the picture hanging laser levels list. Thanks to its compact and lightweight built-quality and the cross-line laser mode.
Pros
Affordable, lightweight, and easy-to-use
Waterproof, dustproof, and shockproof
Comes with a soft carry pouch that keeps the dust off
Cons
Not suitable for outdoor use
Features and Benefits:
Tacklife SC-L01 projects a combination of both horizontal and vertical laser beam lines that form a crossline onto flat surfaces.
With an accuracy of ±1/8 of an inch and 50 feet range, it is the ideal laser device for hanging paintings on wall, tile alignment, and other simple indoor remodeling/decoration projects.
Just like Bosch GLL 55, the package includes a magnetic mounting bracket. The strong magnets help you get started with hanging your wall paintings without the need of a tripod. You can also set it on the table, turn it on, adjust your measure, let it self-level, and voila you are ready to fix your wall shelves, switches, pictures, and more!
You can use the Tacklife SC-L01 on the self-leveling mode that works when the device is placed within 4 degrees on either side of true zero. Or maybe use the manual mode by deactivating self-leveling. With a tripod and manual mode, you should be able to handle most non-level projects like stairway wall paintings hanging and stepped shelving.
Drawbacks:
Most of the users have complained of its vague user instructions. However, there are a few reputable online tutorials dedicated to helping you get started on this device.
Verdict
Despite being the cheapest of all the laser levels in the list, Tacklife SC-L01 will help you quickly and conveniently handle most of your home remodeling leveling projects.
From putting frames to installing a curtain rod to tiling bathroom walls, the device will accurately work the leveling magic!
Best Tips for Hanging Pictures on Wall (Using a Laser Level)
Below are some tips to use a laser level for hanging pictures on walls:
Working with the horizontal laser line/beam above the picture will help you get the job done conveniently. You might end up blocking the beam when its aligned below the frame.
Use the BLACK+DECKER BDL190S Laser to hang pictures in a straight line
The best way to hang pictures on wall is when the laser level line is at the same height with your eyes. Climbing on a stable chair or bending your knees will help you attain the right heights for straight leveling.
You don't have to invest in a $50 tripod to hang pictures on your walls with a laser level. You can pack books on your table to raise the device to the desired height or use your camcorder tripod.
Final Verdict
The best laser level for hanging pictures doesn't have to cost an arm and a leg! A basic laser level with self-leveling capabilities with often get the job done quickly and conveniently.
As a serious DIYer, I've done most of my interior and outdoor home remodeling and decor projects. In the process, I've learned that finding the right tool for the right task involves seeing beyond the brand and the main task I'm intending to accomplish with the tool.
The above tools will not only help you hang your wall pictures in a fraction of the time you would spend while using a bubble level, but will also help you sometime later in other leveling/alignment projects!