xA grade laser level is an accurate measurement tool that is commonly used for grading in construction and surveying. It consists of a laser projector that is mounted onto a tripod.
Grade lasers indicate a green or red beam when measuring the horizontal and/or vertical axis. With grade leveling tools, engineers can get accurate measurements when working on a construction project that covers a wide area.
Top 5 Picks of Best Laser Levels For Grading:
As there are many different types of laser levels on the market, it's important to find the best laser level for grading that is durable and user-friendly.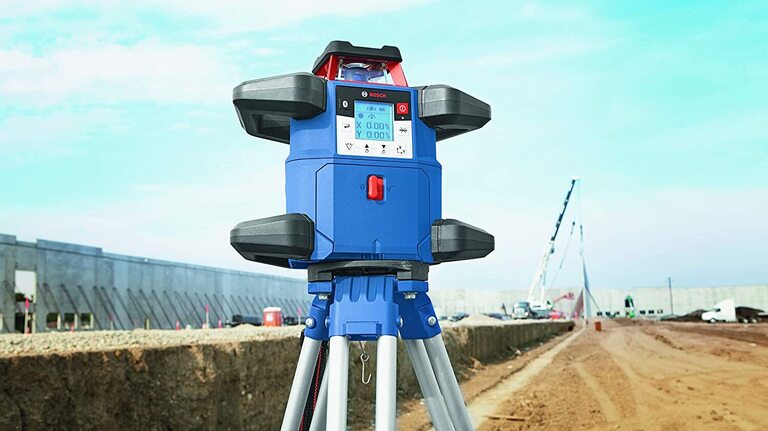 Best Laser Level For Grading
This laser level review will help you in identifying the best grade laser that fits your project.
Best Laser Levels For Grading

Best Overall

Spectra Precision GL622N

Dual grade laser, automatic grade matching
Grade range up to 25% on X/Y axes
Working range up to 2,600 ft (800 m)

Read My Review

High Accuracy

Topcon RL-200 2S

Dual grade laser, very accurate
Wide grade range (up to 25% slope)
Working range up to 1,100 ft (335 m)

Read My Review

Best Value

Topcon RL-SV2S

Horizontal, single and dual slope
Working range up to 2,600 ft (800 m)
Extra-long battery life (120 hours)

Read My Review

Most Advanced

Spectra Precision GL722

Dual grade laser with radio remote functions
Working range of 3,000 ft (900 m)
Machine control compatible

Read My Review

Most Durable

Spectra Precision GL422N

Dual grade laser, accurate performance
Full weatherproofing and dustproofing
Working range of 2,600 ft (800 m)

Read My Review

High Quality

Stabila LAR350

Dual slope up to 5° on two axes
Motion Control for quick operation
Working range of 2,600 ft (800 m)

Read My Review

Reliable

Spectra Precision GL412N

Automatic, self-leveling single grade laser
Easy to use menu driven user interface
Durable and portable design

Read My Review

Occassional Uses

Leica Rugby 680

Semi-automatic dual grade laser
Smart Slope function for accurate performance
Simple user interface, weather protection

Read My Review

Bluetooth

Bosch GRL4000-80CHVK

Dual dial-in slope laser with Bluetooth
Working range of 4,000 ft (1,200 m)
Dual power source for extended runtime

Read My Review

Best Budget

Johnson Level & Tool 99-028K

Horizontal & vertical electronic self-leveling
5° dual-slope for grading and concrete flatwork
Visual and audible alarms

Read My Review
Top 10 Best Laser Levels For Grading in 2023
#1 - Spectra Precision GL622N Versatile Grade Laser
Spectra grade laser GL622N is automatic self-leveling equipment that provides the desired elevation when grading. It offers full control when working on rail, roads, car parks, sports pitches, or other areas requiring grade.
Best Laser Level For Grading: Spectra Precision GL622N Grade Laser
Feature Highlights
Automatic grade matching – This is the best grade laser to calculate and indicate the grade and will help in matching pre-existing slopes situated on a jobsite where an actual grade value has not been identified.
Axis alignment – Its automatic axis alignment capabilities allow you to eliminate errors when grading. This instrument will align you to your preferred grade hub hence creating an accurate self-leveling setup.
This is done simultaneously on both the X and Y axis when the preferred grade measurements are beyond the 90-degree angle to each other.
Temperature compensation – Its temperature compensation functionality allows the equipment to perform at optimum levels in both hot and cold temperature.
It also minimizes beam drift during the day when temperature changes. The receiver keeps the beam locked in position at the preferred elevation and eliminates costly errors in the process.
Spectra Precision GL622N Grade Laser is commonly used in alignment and excavation applications by specialty and general contractors.
The only drawback to using this instrument is that it doesn't come with a tripod or measuring stick when you buy it.
#2 - Topcon RL-200 2S High Accuracy Slope Laser
The Topcon RL-200 2S slope laser is among the most effective advanced rotating lasers in the market.
It is commonly used to cover a long working distance, providing high levels of accuracy when working on exacting slopes.
Topcon RL-200 2S High Accuracy Slope Laser Level
Feature Highlights
The RL-200 high accuracy laser is an instrument designed for accurate elevation and enhancing productivity.
It has extra essential features including an increased working diameter of 1100m, graphical display and wide grade capabilities that cover over 25% slope.
It's eco-friendly with a rating of IPX6. The Topcon grade laser is best suited for geopositioning, topography, land surveying, civil engineering, geospatial monitoring, construction survey, underground/utility layout, as well as exterior and foundation building.
This Topcon dual slope laser has set commendable standards in the construction industry for its accuracy and simplicity.
Besides its many functionalities, Topcon RL-200 2S dual slope laser also has a radio remote function and this makes it the best laser level for grading.
You can analyze all the operating information on display. That means you can change grade, check battery life or verify operational status on your device.
#3 - Topcon RL-SV2S Dual Slope Laser Level
Topcon RL-SV2S Dual Slope Laser Level
Feature Highlights
The Topcon RL-SV2S Dual Slope Laser Level is perfect for use in various construction applications. Its laser functionality is useful for both vertical and horizontal applications.
Additionally, it is high powered and excellent for general construction or engineering projects, as well as single or dual slope applications. With its large operating diameter, the Topcon dual slope laser can easily cover a big job site.
It can cover slopes beyond +/- 5 degrees on either the X or Y-axis and this makes it excellent for grading.
In most cases, grading is often done before any construction or renovation work to even out the surface and create a strong foundation. But for an existing foundation, the dual slope laser can assist in grading, as well as improving the drainage system.
The Topcon RL-SV2S dual slope laser level has a quality, easy to use backlit display which makes it the best grade laser level in the market.
Moreover, its long-range capability makes it popular among contractors especially when working on a large project.
&t=462s
You can also get a rechargeable battery for the Topcon RL-SV2S dual slope laser level. With a dry rechargeable alkaline battery, the Topcon dual laser has up to 120 hours of operating time. That means you can still use it when other construction instruments have quit.
This Topcon laser level is commonly used in septic installation and site preparation. It can provide an accurate measurement of about +/- 10 arc seconds when working on a slope.
Engineers can use this measurement to design roads and parking ramps. In addition to assisting in site preparation, this instrument can also help to set up drainage systems.
#4 - Spectra Precision GL722 Advanced Grade Laser
Most Advanced Grade Laser: Spectra Precision GL722
Feature Highlights
This is the most advanced grade laser level in the market. The grade matching, long range capability, radio remote, and axis alignment functionality allows you to set up an accurate grade application.
It also enables you to perform grade reverse on an instant.
Additionally, you can easily control its transmitter's functions by using the long range remote. It can cover measurement of +25% on the Y-axis and ±10% on the X-axis. It has an operating range of over 3,000 feet (900m) and that means it is suitable for a large project.
On the other hand, axis alignment typically covers over 500ft (150m) from its transmitter and creates an accurate set-up.
Spectra Precision GL722 Grade Laser
Other features of Spectra Precision GL722 includes:
Active temperature control – the instrument will always produce stable, accurate results irrespective of change in temperature.
Long range wireless capability – the device's wireless functionality is unaffected by sunlight or direction, providing the best set-up when mounted on a tripod extension of over 3m. The remote control offers you complete functional control even at this height.
Protective against harsh weather elements – laser performance is protected against unfavorable weather conditions like sunlight or torrential rainfall. Additionally, it has simple, intuitive controls that make it easy to learn and use.
Long battery life – the device has excellent power options, as well as an active battery life indicator. Its wireless functionality helps to save battery life during breaks.
Grade reverse – adjust the grade measurements with just a push of the button, and change the grade from -1% to +1%. This instrument also has grade sensors that prevent errors when grading, and hence reduce wasted machine and man hours.
Infra-Red laser beam – the device also has infra-red beams that provide all the many benefits that you will not find in a standard grade laser level.
The Spectra Precision GL722 is commonly used in trenching, site preparation, machine control, road construction, and pipe laying.
#5 - Spectra Precision GL422N Dual Grade Laser
Most Durable Laser Level For Grading: Spectra Precision GL422N
Feature Highlights
This self-leveling, automatic Spectra Precision laser is one of the best cost-effective lasers that can perform three jobs effortlessly – grade, level, and vertical alignment.
More importantly, this instrument can also function in harsh conditions to consistently deliver accurate and reliable performance. This will enable you to work smarter and faster.
The laser level can withstand a drop of over one meter onto concrete, which makes it durable and best suited for rugged terrain.
Its durability, combined with dustproofing and weatherproofing capabilities ultimately reduce downtime and minimize repair costs. Put simply, regular maintenance is not necessary with the rugged precision laser level.
The instrument has an automatic receiver that offers grade match, fingerprint and PlaneLok functionality.
It can measure the existing grade measurements over an unknown grade, which eliminates error and time-consuming prone calculations.
-ZaZsE
On the other hand, the PlaneLok functionality locks the devices on an existing vertical or horizontal alignment point to eliminate drift and error due to improper weather or calibration.
It has a mask mode that reduces interference when working with other construction crews onsite. The durable design also reduces loss of downtime due to tripod falls and drops.
The device also has an interactive user interface that helps reduce learning time. Moreover, it eliminates the constant need for pressing buttons when you want to activate complex features.
As mentioned earlier, the machine can work perfectly even in dusty, rainy and other unfavorable weather conditions. Furthermore, it comes with a remote control that allows you to control all the laser functions up to a range of about 100 meters.
In addition, it has a fingerprint capability that allows you to pair it with a laser from the beam it has been paired with.
#6 - Stabila LAR350 Rotary Laser Level For Grading
Best Rotary Laser Level For Grading: Stabila LAR350
Feature Highlights
This device has a rotating laser for vertical and horizontal leveling and can help you to obtain plumb lines.
It is a fully automatic rotation laser best suited for both vertical and horizontal applications. It can also provide manual inclination when working on two axes.
The innovative motion control functionality enhances its rotating laser capabilities. The in-built motion sensor can detect hand movements and then transmits them on the rotating laser.
It also has an inclination dual slope functionality that can be set up on 5 degrees effortlessly on two different axes. It also has an LED assist functionality for safety and easy operation at the workplace.
What's more, the integrated LEDs help to indicate which axis has been tilted. The manual alignment capability helps to pivot an axis when performing a vertical operation.
The Stabila LAR350 has perfect system protection, which will prevent it from being damaged even when it falls from a height of about 6 feet. It also has dustproof and waterproof capabilities.
As a result, it is the best rotary laser level for grading and is commonly used in reinforcing concrete construction, constructing barriers, leveling layers, and constructing batter boards.
For metal construction, it helps to align and position steel beams when constructing an industrial building. On the other hand, it is used for constructing paving in landscaping and gardening work.
#7 - Spectra Precision GL412N Single Grade Laser
Best Single Slope Laser: Spectra Precision GL412N
Feature Highlights
The Spectra Precision GL412N is a single grade, self-leveling grade laser built for varying civil, concrete, and concrete applications. It has 3 in-built digital receivers with an innovative CR700 display detector. Its superior grade laser makes it useful for vertical and level plane capabilities.
The Spectra GL412N single grade laser can self-plumb vertically and that makes it ideal for curtain walling and anchor bolt installation.
It is specifically suitable for large laser detectors responsible for grading and digging operations, and the driver can monitor the grade while seated in the cab.
#8 - Leica Rugby 680 Dual Grade Laser Level
Best Grade Laser level For Occasional Uses: Leica Rugby 680
Feature Highlights
Enjoy convenience and simplicity in construction jobs with the Leica Rugby semi-automatic laser level. It is designed for engineers that mostly do flat work and occasionally need assistance in constructing dual or single slopes.
Leica Rugby semi-automatic lasers are effective in grading and leveling applications. It eliminates downtime and costly errors caused by the temperature changes at the jobsite.
The semi-automatic grade laser level has a smart slope feature that continuously helps to monitor temperature changes. This excellent functionality enhances accuracy and boosts performance regardless of the weather conditions.
It is easy to perform slope and leveling applications with proper use of the Leica Rugby 680 dual grade laser.
Its simple interactive user interface, digital display and four-button menu allow convenient and quick dial-in grade for increased efficiency and productivity on site.
The semi-automatic Leica Rugby grade laser has a working range of 2,600ft and an accuracy reading of 1/16" at 100ft. Its axis grade can cover at least 8% of the working range at the simple touch of a button.
This laser is suitable for working in outdoor conditions due to its convenient IP67 protection class that helps in water and dust protection.
It has 140 Rod Eye Classic Receiver, Alkaline Battery and Battery Holder. This rotating grade laser unit also comes with 1Mw output and class II laser.
#9 - Bosch GRL4000-80CHVK Rotary Laser Level For Grading
Best Bosch Laser Level For Grading: Bosch GRL4000-80CHVK
Feature Highlights
The Bluetooth 18V REVOLVE4000 Bosch GRL4000-80CHVK rotary laser with an interactive user calibration is the best solution for indoor and outdoor leveling.
Its dual-dial feature is excellent for slope angle adjustment required for basic grade applications and can work perfectly on both the Y and X axis. Powered by 18V 4.0 Ah battery, the Bosch rotary laser has an extended runtime.
It is also compatible with 8.0 Ah and 4.0 Ah Li-ion batteries respectively. It has an alkaline adapter that uses four (D) cells as well.
With its rubber protective case and innovative handle design, it can withstand the most rugged job sites. Additionally, its IP68 water and dust protection standards make it suitable for working indoors and outdoors.
Bosch GRL4000-80CHVK Rotary Laser Level For Grading
Other features of Bosch GRL4000-80CHVK include:
Bluetooth connectivity – The Bosch grade laser can connect to your mobile device to the Bosch Remote App. It has Dial-In Slope and control sleep mode functionality just to mention a few.
Long working range of about 4,000 Ft. Its vertical-beam capability makes it excellent for working on a 90° point angle in squaring, plumb and layout applications.
Electronic self-leveling functionality – This feature enables easy set up when working on the job site.
It also has a disturbance monitor that helps to indicate when the tool position changes, providing leveling accuracy.
Variable-scan and speed-angle selection – this feature promotes maximum visibility when working at varying lighting conditions.
Its comprehensive kit features an aluminum tripod, laser receiver, wall mount, alkaline battery, charger, remote control, durable protective carrying case and high-quality grade rod.
#10 - Johnson Level & Tool 99-028K Dual Slope Rotary Laser
Johnson Level & Tool 99-028K Dual Slope Rotary Laser
Feature Highlights
Designed for an expert laser user, this is the best grade laser level for homeowners and can tackle any task.
It has both vertical and horizontal leveling capabilities, which make it suitable for vertical applications like footings and fencing.
On the other hand, its dual-slope function makes it excellent for setting drainage or checking grade.
It has a durable hard-shell protective case that makes it ideal for excavation and grading application, as well as planting beds and retaining walls just to mention but a few.
-hghs00
This affordable laser level for grading Johnson 99-028K is also used in checking floor heights before erecting walls or pouring concrete.
Its 90-degree laser split angle makes it suitable for checking height and alignment as well. And in horizontal and vertical use, it can help in laying out floors and walls, and installing drywall track.
It is horizontally used to install drop ceilings and wainscoting, with an interior range of about 200 Ft. and an exterior working range of 1500 Ft.
Its kit includes a remote control, tripod, magnetic target, instruction manual, protective carrying case, 9V battery, 6.4B battery charger, Laser, and NiMH rechargeable battery.
As mentioned earlier, the Johnson 99-028K is perfect for leveling footings and forms and aligning fences, as well as grading and excavation.
What is a Grade/Slope Laser Level?
A slope/grade laser lever is a measurement tool that is used in construction and surveying. Its laser beam indicator is fixed on a tripod that is leveled depending on the accuracy you desire to achieve.
This measurement tool will indicate a red or green beam when placed along the vertical or horizontal axis.
Types of Grade Lasers
There are 2 main types of grade lasers, dual slope grade lasers and single slope grade lasers. When using a single slope grade laser, you can get a reading on one axis on a slope at one go.
On the other hand, a dual slope laser offers you the opportunity to get a reading on two slopes while using separate axes simultaneously.
Grade Setting Methods
Grade lasers usually have two distinct grade setting methods; fully automatic and semi-automatic.
For example, the Leica Rugby 680 rotating laser is semi-automatic and is most suitable for different construction applications. Align, square, and level much quicker and eliminate downtime and costly errors.
On the other hand, Spectra grade lasers are fully automatic. Since it is fully automatic, it helps to improve productivity and reduce downtime.
Spectra grade lasers can automatically adjust to most of the functions. It also has an interactive collection of invaluable features for accurate measurement of grades.
Conclusion
Buying a grade laser level requires proper consideration to ensure you find the best tool that is suitable for the application at hand. It is useful to have a look at some of the features that might be useful for the job you want to do.
Similar to any other construction tool, you need to focus on your requirements if you want the best laser level for grading.
Finding the best grade laser level with the best accuracy levels is extremely important. This is because errors when making measurements can ruin your project.
But accuracy can get worse if you are working in a large area. For that reason, if you are planning to work in a wide-open area, then you need to buy a long-range rotary laser for better accuracy.