For many years, the laser level has been an innovative piece of technology that brings a high level of accuracy to every leveling and aligning job. Everyone, from professionals to homeowners or DIY-ers, would at once need a laser level to achieve perfectly aligned and flawless applications.
Though, with a wide range of products available nowadays, it is challenging and tiresome to know which one would be best for you.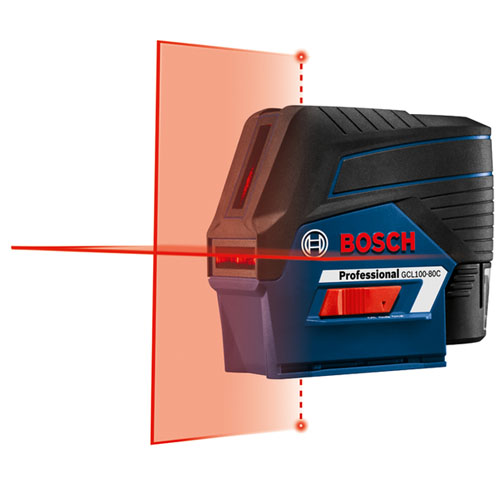 Bosch GCL100-80C 12V Cross-Line Laser with Plumb Points
Don't worry! We've got you covered. Check out our top pick for the best laser level for the money, Bosch GCL100-80C 12V Cross-Line Laser, with a detailed product review.
Bosch GCL100-80C 12V Cross-Line Laser Level Review Summary
Bosch GCL100-80C 12V Cross-Line Laser with Plumb Points
Review Summary
Laser Color: Red

Number of Beams: 2 lines, 2 points

Visibility: 100 feet

Range with Detector: 165 feet

Accuracy: Laser lines: ± 1/8 at 30 ft; Laser points: ±9/32 at 30 ft

Self-leveling Range: ±4 degrees

Laser Class: 2

IP Rating: IP54

Power supply: 12V Max Lithium-Ion battery

Warranty: 2-year limited warranty

Weight: 1.4 pounds

Dimensions: 5.4" x 2.2" x 4.8"

Top Features: VisiMax technology to maximize visibility and battery life, Bluetooth connectivity for remote control, ideal for one-person jobs, Ultimate 360-degree planes.
About Bosch
For a long time, Bosch has been known as the leader in the field of power tools and power tools accessories. Aiming to enhance the quality of life, Bosch has brought to the world innovative and valuable solutions with a broad array of products, including laser and optical leveling devices.
With Bosch products, you will be able to be more productive, more profitable, and achieve exceptional results.
Benefits & Special Features of Bosch GCL100-80C
For anyone who occasionally works on small-scale renovation or any DIY-er with small applications around the house, the Bosch GCL100-80C 12V cross-line laser with plumb points will be an excellent choice.
With an affordable price and adequate features, this tool will take your work to another level, without breaking the bank.
Multi-functional Laser Level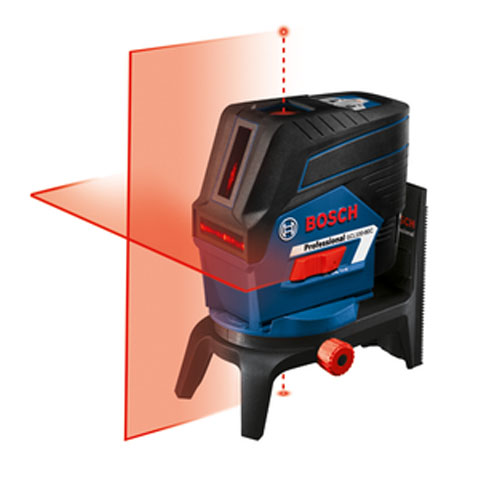 Bosch GCL100-80C 12V Cross-Line Laser with Plumb Points
The Bosch GCL100-80C projects multiple laser lines to facilitate any setup with horizontal, vertical, and plumb points.
There are four modes that you can choose to use: a horizontal line, a vertical line, cross-line planes, or all-in-one two lasers and two plumb points. This cross line laser level might look small and compact yet it will bring you all that versatility you would need for a job done well.
This cross line laser level will help you easily any fixture applications, from shelves or cabinets installment to hanging pictures with perfect alignment.
High Visibility
The Bosch GCL100-80C level projects bright red laser lines and points. Though we all know green laser beams are better when it comes to visibility, green laser levels always come with a more expensive price.
Especially for homeowners who most of the time handle indoor applications, a red laser level is already satisfactory.
Moreover, this tool's red beams have a working range of up to 100 feet with an accuracy of ± 1/8 at 30 ft for line lasers, and ±9/32 at 30 feet for laser points.
If you have a receiver, you can pair it with an integrated pulse mode to detect the laser at a long distance. By doing this, you can extend the laser level working range to the maximum distance of 165 feet.
VisiMax Technology
Featuring Bosch VisiMax technology, this laser level provides crisp laser reference lines and longer tool life by optimizing energy efficiency and monitoring the device's temperature.
Smart Pendulum Leveling System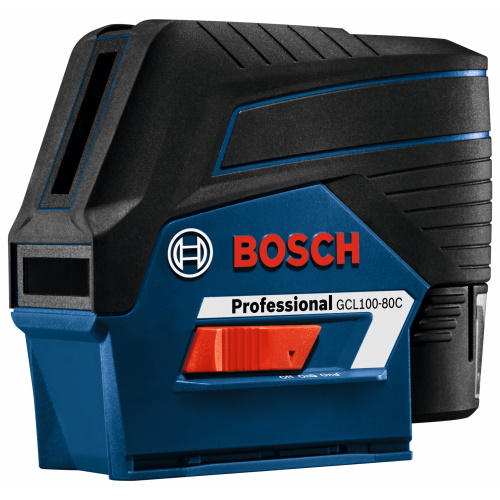 Bosch GCL100-80C 12V Cross-Line Laser with Plumb Points
This tool includes a built-in smart pendulum leveling system which allows users to switch between self-leveling mode or manual lock mode.
The self-leveling mode up to ±4 degrees ensures the highest accuracy as it will notify users when the tool is out of level, offering you spotless applications. You can lock lines at any desired angle to easily set up layouts for various applications.
This system locks the pendulum when the tool is switched off to preserve the accuracy during transport and strong impacts.
Ideal for One-person Works
Bosch is well-known for its cutting-edge technology, and this GCL100-80C is no exception. The tool can be remotely controlled through a free app named Bosch Leveling Remote from a distance, making it perfect for one-person work.
Moreover, users can use this app to turn the level on and off, select the laser modes, keep track of battery level, leveling alerts, and adjust line visibility.
Long Runtime
Bosch GCL100-80C runs on 12V Max Lithium-Ion batteries, which can operate continuously for a long time without any interruption.
No one likes discontinuance in the middle of their work just because of draining batteries. This tool will let you rest assured a continuous runtime for higher efficiency.
Secure Mounting Options
This laser level comes with a RM2 magnetic rotating mount that can swivel 360-degree while featuring a fine-tune adjustment knob, a keyhole, and a set of four magnets on the back.
The kit also has a ceiling grid clip, allowing the tool to securely stand on different surfaces, even ceiling-grid applications. You can slide the device to the RM 2 or clip it for ceiling applications such as centering light fixtures above tables.
Durable and Long-lasting
With IP54 rated for dust and splash resistance, the tool can withstand any risky jobsite condition. Together with robust over-molded plastic construction, the tool will stay accurate for a long time, offering users a cost-effective solution for their leveling tasks.
Drawbacks
Although this might not necessarily be a drawback, the tool case included feels quite low in quality and not durable enough to stand carrying the whole kit for a long time.
Pros and Cons
Pros
Bosch VisiMax technology to greater line visibility and optimized energy efficiency

Remote app for a one-person control

Magnetic rotating mount with ceiling grid clip helps the tool stay secure on different surfaces.
Cons
Red laser beams are not as bright as other green lasers

The case quality is considerably bad.
User Tips
You can get an additional 1-year warranty, a total of 2 years in services, simply by registering the laser level on Bosch Tools website within 8 weeks since your purchase date.
Conclusion
Living up to its name, Bosch will never let you down with its advanced products. Likewise, the Bosch GCL100-80C 12V Cross-line laser with plumb points will give you an easy time leveling your fixtures, enhancing your productivity while bettering your work results.
If you are looking for the most affordable laser level for home use, this device is definitely a great option.