When it comes to construction work where aligning and leveling is one inevitable task, no one wants to settle for less than perfection.
To help builders and contractors achieve flawless results, levels exist as an ultimate solution. Though traditional levels have been there for as long as one can remember, laser levels are invented to take everything to another level.
Bosch GLL3-330CG 360-Degree Green Beam Three-Plane Leveling and Alignment-Line Laser
If you are struggling to look for the best laser level for builders, let us help you. To save your time and effort, we have conducted this review for our best pick for a line laser level, Bosch GLL3-330CG 360-degree laser.
Bosch GLL3-330CG Laser Level Review Summary
Bosch GLL3-330CG 360-Degree Green Beam Three-Plane Leveling and Alignment-Line Laser
Review Summary
Laser Color: Green

Number of beams: 3 lines

Visibility: 200 feet

Range with Detector: 330 feet

Accuracy: ±3/32 inch at 30 feet

Self-leveling range: ±4 degrees

Laser Class: 2

IP Rating: IP54

Power supply: 12V Max Lithium-ion battery or four AA alkaline batteries

Warranty: 1-year limited warranty

Weight: 2 pounds

Dimensions: 4.92" x 4.92" x 6.38"

Top Features: VisiMax technology to maximize visibility and battery life, Bluetooth connectivity for remote control, ideal for one-person jobs, Ultimate 360-degree planes.
Benefits & Special Features of Bosch GLL3-330CG
With Bosch's reputation, this GLL3-330CG 360⁰ Connected Green-Beam Three-Plane Leveling and Alignment-Line Laser lives up to its name and recognition. If you are seeking the best multi-line highly functional level, this device will offer all the best things you'd love to have in one single tool.
Multi-functional 360-degree Laser Level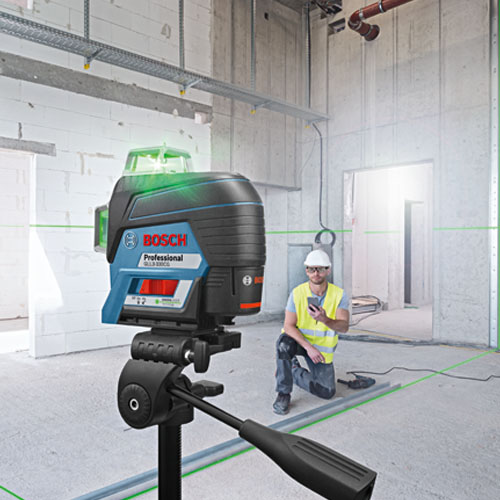 Bosch GLL3-330CG 360-Degree Green Beam Three-Plane Leveling and Alignment-Line Laser
The Bosch GLL3-330CG is a green beam laser level that projects three lines in 360-degree planes. The laser beams can be emitted in four modes depending on your needs and requirements: one horizontal plane, one vertical plane, two vertical lines, or three lines simultaneously for 360-degree coverage.
The laser level allows users to set up room layout quickly from just one initial point, making it especially ideal for one-person work.
With this tool, you can tackle a wide variety of tasks, such as hanging pictures, leveling studs, drop ceiling installations, and so on.
4 Times Higher Visibility with Green Beam
The green beams from this laser level are typically 4x brighter than the standard red lasers. They can be easily observable not only under ambient light, but also from a maximum distance of 200 feet in diameter.
There is also an integrated pulse mode that will help extend the working range of this laser level up to 330 feet (when used together with a receiver).
To enhance visibility, the GLL3-330CG features Bosch's VisiMax technology. This technology monitors the device's power consumption and temperature to maximize line visibility while boosting the energy efficiency for longer battery life.
Smart Pendulum Leveling System
This device features a smart pendulum leveling system that self-levels and signals out-of-level conditions up to ±4 degrees, helping users get rid of all those costly errors in constructional work.
Meanwhile, this system can lock lines at any angle so that users can handle various applications.
On the other hand, the pendulum lock will protect and keep the unit safe during transport. This locking mechanism, along with a built-in CAL Guard monitoring calibration issue, the GLL3-330CG will preserve and maintain the highest level of accuracy even through drops and high heat.
Ideal for One-person Works
This tool features all the advanced technology ideal for one-person jobs, namely Bluetooth connectivity and Bosch Leveling Remote App.
With these innovations, users will be able to control the laser level's operation from a long distance using their smartphone and the Bosch Leveling Remote App, which is free to download and use. You can quickly turn on and off the laser level and receiver mode, or select your preferred laser planes.
Long Runtime with Dual Power Technology
If you can't stand having interruption while working due to battery drained out, the Bosch GLL3-330CG will definitely be a great help.
This tool features dual power technology where it can be used with both Lithium-Ion batteries, or the standard Alkaline batteries. It grants users the flexibility and continuity in doing their work with a guarantee of no disruption.
Various Mounting Options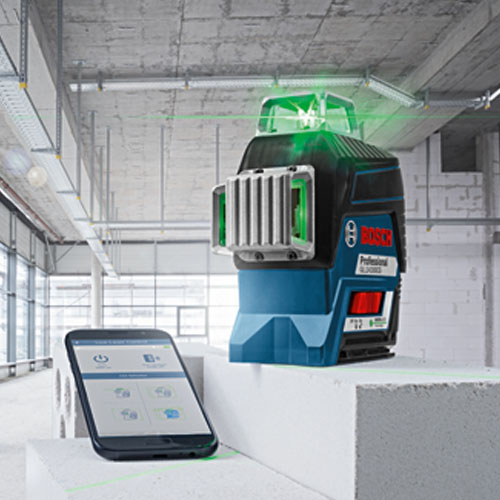 Bosch GLL3-330CG 360-Degree Green Beam Three-Plane Leveling and Alignment-Line Laser
The GLL3-330CG comes with a BM 1 positioning device, which has a microfine height-adjustment system and the versatility to pair with a variety of levels.
With this device, you can affix the laser level on floors using retractable feet, or mount onto multiple surfaces due to strong magnets. You can even use the laser level for ceilings with this BM 1 and its clip attachment for a quick and easy setup.
Durable and Long-lasting
This tool is made of IP54 rated to ensures the device is durable and can withstand splash or dust over time. This factor, along with an over-molded construction, offers a long-lasting tool even under hazardous conditions. It is a jobsite tough, perfect for builders and contractors.
Drawbacks
Every tool has its shortcoming, with this GLL3-330CG, we suggest you should consider its battery life and the CAL Guard calibration sensors.
Firstly, the battery life is somewhat shorter than claimed. However, you can check battery alerts with the Remote App to keep track in case your battery is running out.
Next off, the tool's internal sensors detecting calibration issues are quite sensitive, which might alert even when the device is never dropped or damaged.
Pros and Cons
Pros
Bosch VisiMax technology to maximize line visibility and longer battery life

Bluetooth connectivity and remote app for distant control, or one-person jobs

Dual Power Technology makes the tool always ready to use.
Cons
Battery easily drain out

Calibration sensors are, in fact, a bit too sensitive.
User Tips
Utilize a receiver to detect the laser line better outdoors, especially under direct sunlight. Bosch also recommends users using enhancement glasses for greater visibility.
Conclusion
Being an innovative tool where all the best features included, Bosch GLL3-330CG 360-Degree Green Beam Three-Plane Leveling and Alignment-Line Laser is always among the best laser levels for builders.
If you are contractors, workers in construction sites, or just someone who builds a lot, this is an excellent choice to make your work better and your life easier.