The Topcon Dual Slope Laser RL-SV2S is suitable for a variety of construction applications. It can help you perform jobs that require laser functionality for vertical applications, dual-slope or single slope, as well as horizontal applications. This in-built laser has all the essential features you need and is quite simple to use.
Topcon RL-SV2S Dual Slope Laser Level Review
Topcon RL-SV2S High Accuracy and Value Dual Slope Laser Level
1 - High Powered
This instrument is excellent for any engineering project or general construction as well as for use in flatwork, and dual or single slope applications.
With an operating range in diameter of about 2,400 feet, the dual slope laser level RL-SV2S can cover a large job site. What's more, it can cover slopes beyond +/- 15 degrees either with the Y or X-axis.
2 - Best for Multitasking
The Topcon RL-SV2S is practical for its multitasking functionality. You can quickly turn it on its side to use for purposes of alignment and layout. You can attach or mount it on a tripod for accurate and fast vertical applications where the laser electronically performs a self-level.
3 - Assists in Grading
Grading is usually done before any renovation or construction work to make the surface more even and create a solid foundation. For existing foundations, this instrument can help in grading to improve an existing drainage system.
To establish grades for buildings and landscaping, using the dual slope RL-SV2S is the best choice. This instrument offers high levels of accuracy in construction projects such as excavation, foundations, pipe laying, and so forth. All these projects require a great deal of precision you can only get from the RL-SV2S dual-slope laser.
4 - Site Preparation and Septic Installation
The dual-slope laser RL-SV2S is also beneficial in providing an accurate reading of +/- 10 arc seconds on a slope, which is essential for engineers and surveyors who design parking ramps and septic installation.
Proper grade reading using this instrument is critical in site preparation and setting up drain pipes. It is also useful in trenching or installing driveways.
5 - High-Quality Display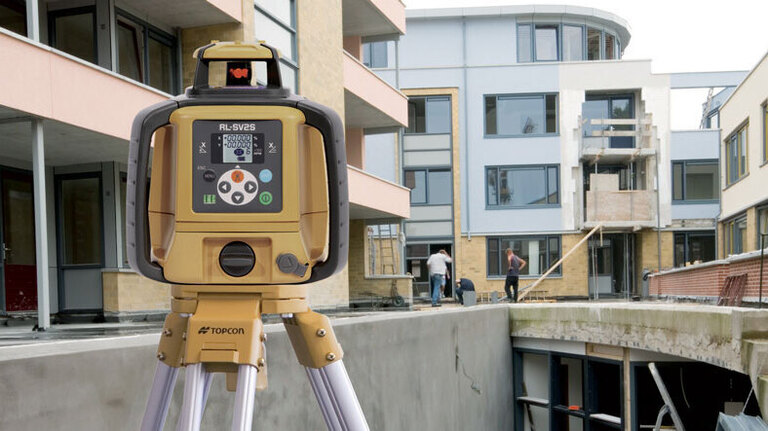 Topcon RL-SV2S High Accuracy and Value Dual Slope Laser Level
The high contrast backlit display makes the RL-SV2S the best dual slope laser level in the market. It is simple to use and has a long life span.
In addition to having a low price tag, the RL-SV2S is a self-leveling, long-range instrument that is designed to outperform its competitors.
6 - Rechargeable Battery
Contractors that want a device with a rechargeable battery will undoubtedly enjoy the dual laser RL-SV2S. This instrument has a rechargeable alkaline dry battery that has over 120 hours of operating time. With a rechargeable battery pack, this laser level for grading will work perfectly after other instruments have quit.
7 - Best for Use in Different Types of Weather
With an IP66 rating, this product can withstand torrential rainfall, sudden rain, and even dust. It is hence considered ''Jobsite tough".
8 - Many Useful Features
This versatile construction laser level has a variety of valuable features that make it accessible for contractors, including electronic shutters, long battery life, a sided detector, and an automatic alert that indicates the height of the instrument. You can access all these features on the device's control panel that is operated by a standard remote control.
Conclusion
Topcon RL-SV2S High Accuracy and Value Dual Slope Laser Level
Pros
Easy to use
It's best for multitasking applications
Long battery life
Cons
It doesn't come with a battery charger
The RL-SV2S was designed to perform a wide range of tasks and is perfect for vertical, sloping, and horizontal onsite laser applications. It can either operate on the Y or X axis when you slope it on a +/- 5-degree angle. Due to its high powered operating range that covers 800m in diameter, you can use this instrument on a large project.
Moreover, this engineering tool has a rechargeable battery pack to serve you longer when other instruments would have long quit. Additionally, the dual-slope RL-SV2S can withstand different types of weather, including dust, torrential rainfall, or sudden shower.
It's without a doubt an excellent investment for contractors looking for a versatile, high-powered and rugged leveling instrument.