Not all people would want to buy a laser level for handling a large construction work. In this case, having the best laser level for home use would be perfect for them.
Such lasers are not meant to be used on a daily basis, but rather only when they are needed.
The home users will be using such laser levels for common home improvement projects such as decorations and remodeling.
Top 5 Picks for Best Laser Levels for Home Use: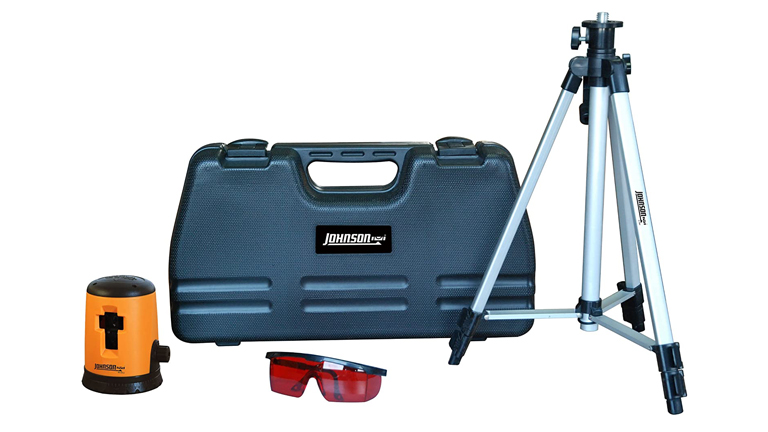 Below are top-rated laser levels for homeowners, remodelers and DIYers that are very handy, easy to use and affordable to help you with multiple leveling and alignment tasks around the house with ease. Check them out!
The 5 Best Laser Levels For Home Use of 2023:
#1 - Best Overall: Johnson 40-0921 Laser Level For Home Use
Best Home Use Laser Level: Johnson Level and Tool 40-0921
Pros
An impressive interior range of 100 feet
Longer battery life of 12 hours
The visual indicator shows when the device is out of level
Cons
The accuracy of the product should be improved
Bright light conditions make the laser invisible
The Johnson Level and Tool 40-0921 is designed to project both horizontal and vertical lines at the same time.
With an interior range of 100 feet, this Johnson laser level should be perfect for anyone looking to use it for indoor home renovation projects.
Because of its convenient features, many people are now using the Johnson 40-0921 Cross Line Laser Level as a useful tool for various building projects such as installing chair rails, kitchen cabinets, framing a room and adding drop ceilings.
The 360-degree graduated base makes it easy to work with angle layouts on any projects. The self-leveling capability makes it better at accuracy as compared when using the bubble or spirit levels.
#2 - Best Value: HAMMERHEAD HLCLG01 Green Laser Level For Home Use
Green Laser Level For Homeowners: HAMMERHEAD HLCLG01 Green
Pros
The green lasers are bright for easy visibility
Acceptable accuracy of ¼ inch for a 30 ft. range
Self-leveling capability will show you when there is a problem with current projection
Cons
Not very good for long distance or outdoor use
To make working with the Hammerhead HLCLG01 Laser Level easier, the manufacturer provides it with an adjustable mounting clamp. The unit will project the horizontal, vertical or cross line on various surfaces with the right amount of visibility.
The accuracy of ¼ inch at a range of 30 ft. is commonly acceptable for many people. You will get a red indicator turning on whenever the unit gets positioned outside its self-leveling range.
You can play around with the mounting clamp to make sure that you get the right measurements for your applications.
#3 - Best Budget: SKIL MT 8201 Cross Line DIY Laser Level
Best Cheap Laser Level For Homeowners: SKIL MT 8201
Pros
Easy installation process
Automatic out-of-level sensing capability
Various projection models for multiple applications
Cons
Limited range of 30 ft.
Only works great in low light conditions like indoors
Having more modes of operation in a laser level always seems like a great idea for many users.
The SKIL MT 8201 DIY laser level comes with four modes of projection to use for your indoor activities. They include horizontal, laser cross line, vertical and manual projects with a 120-degree fan.
The automatic out of level sensing should help you know when the level is out of sync so that you can take measures to correct it. You get a range of 30 feet with this Skil laser level and an accuracy of ¼ inch.
The product also comes with an easy installation process that can be easily followed when using the laser level manual.
#4 - Best For Tiling: Bosch GTL2 Laser Level For Home Tiling
Best Tile Laser Level For Home Use: Bosch GTL2
Pros
Simple operation with using only one button to do most of the things
The unit easily holds onto a surface using an abrasive adhesive
Provides the best alignment for a 90-degree layout
Cons
The laser is difficult to see in bright daylight
The laser has a low accuracy
Coming from a brand like Bosch, anyone would know that it is the product with the right quality when it comes to several applications around the home.
The homeowners recommend the Bosch GTL2 Laser Square as the best when you need a tool for tiling a floor or a wall. This is all because of the alignment guide of 90-degree layout that makes it easy to align your wall.
You can still change the angles with a 5-degree change to make it get various applications when working on various projects.
#5 - Durable: Bosch GLL 2 Crossline Laser Level For Handymen
Most Reliable Laser Level For Home Use: Bosch GLL2 Laser Level
Pros
Smart pendulum leveling system
Highly visible laser lines
Flexible mounting positions
Cons
The device has a shorter battery life
Cannot be mounted on all surfaces and hold perfectly
The Bosch GLL2 laser level will project highly visible horizontal laser lines that you get to see easily for an easier focus. With a self-leveling cross line laser, ending up with accurate alignments should not be a problem in cases the laser line is not clearly visible.
You can switch between different types of modes to help you level horizontal, vertical and cross line. All you need is to press its button to switch between the different modes.
The Bosch GLL2 is also rated as a flexible mounting device that can be clamped on multiple surfaces for an easy setup process.
Best Laser Level For Home Use Comparison Table
To help get started on which laser level to buy for homeowners and DIYers, below are some of the top picks that deliver the best features.
Verdict
There you have it, you do not have to spend a lot of money to easily handle home-based projects using laser levels.
All these best laser levels for home use are made with superior features too such as self-leveling capability, multiple projections and various clamping capabilities.
They are also affordable for homeowners and DIYers who don't want to spend too much.
For those who need to use the laser levels for major applications as pros, it would be better to get yourself the best laser level for professionals.
Want to gain accurate measurements within seconds? Consider buying a laser measure!