If you think about aligning tiles on a floor, it can be quite a hard job without the right tools. It is time to shift all energy to other things and let the laser square help with such activities.
The best laser square or tile laser level will save you time and make your work more accurate.
Top 3 Laser Square Levels For Tiling: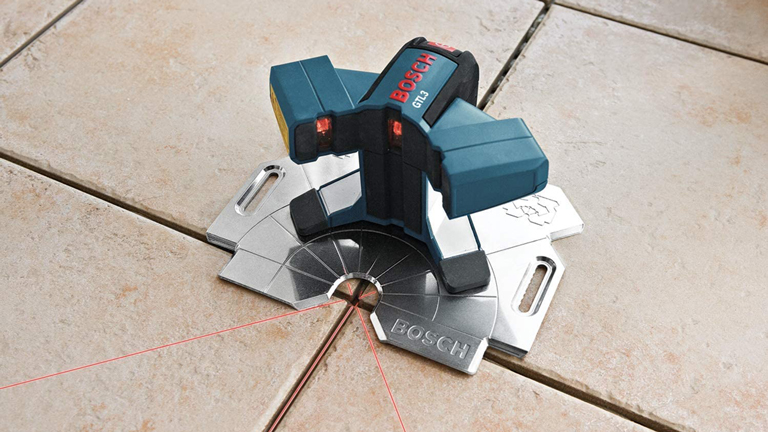 Best laser level for tiling
Below arethe best laser levels for tiling on the market that can make tiling and framing jobs easier:
Top 3 Best Laser Square For Tiling in 2023
#1 - Bosch Professional Tile and Square Layout Laser GTL3
Best Laser Level For Tile Installation: Bosch GTL3
Pros
Provides 0, 45, 90 and 135-degree layout
Easy to use, simple one button operation
Dust and splash protected
Strong magnet for secure attachment
Lightweight, it is easy to carry around
Cons
The laser line is quite dim under sunlight
The Bosch tile laser is able to project 90-degree lines plus optional 45-degree line that make it perfect for squaring. The position of the laser line generators of Bosch GTL3 makes it easy for having variable applications for remodeling cases.
The laser lines are designed to appear in front of the laser base, making it easy for centering and precise adjustment.
The Bosch GTL3 Professional Tile Laser is water and dust protected (IP54), as a result, it is dependable for years, even with regular use in different places.
The manufacturer has included a magnet that provides for secure attachment on the positioning plate.
However, when using it outdoors, you may find that the laser lines are quite dim if you are working in bright sunlight. You will either need laser glasses or you must wait till the sunset.
#2 - Bosch Laser Level and Square GTL2
Bosch Laser Level and Square GTL2
Pros
Simple and easy to use
Great for the floors and quick wall hanging jobs
Low price
Cons
The laser line is only visible indoors
This model will project horizontal and vertical inch chalk lines that are easily visible on any surface you are working on currently.
People love using Bosch GTL2 Laser Square as you can use it to calculate and turn angles in 5-degree increments. This is a great improvement to what people have experienced before with other models that have large degree increments.
A visible range of 30 feet makes it easy for you to use it even for distant work when you are working indoors.
The device is easily operated with a single button. On pressing the button, the two perpendicular laser lines are activated. A push button helps you secure the tool without having to use unwanted adhesives.
But working outdoors or in bright light may be difficult because the light is not very strong in bright lighting conditions.
Also, it can project only two beams while the Bosch GTL3 can project 3 laser lines, making accuracy even better.
#3 - Johnson Level & Tool 40-6624 Tiling Laser
Johnson Level & Tool 40-6624 Tiling LaserJohnson Level & Tool 40-6624 Tiling Laser
Pros
Compact and easy to use
Good accuracy
Multiple uses
Cons
The plastic body is not very durable
This tiling laser level does generate two lines on the surface of the floor. The lines are at a 90-degree angle making it easy for tiling floors or walls.
You can use the Johnson Level & Tool 40-6624 Tiling Laser on multiple surfaces such as tiles, stones, brick, hardwood flooring and carpet.
The built-in protractor helps with easily establishing the angles. You can vary the angles with any angle that is suitable for your current application.
However, the body is partially made of plastic which raises concerns about the durability of the product. While it does look strong, plastic can be damaged quickly. It projects two laser beams at 90-degree angles only, there are no cross lines for additional accuracy.
Best Laser Square Comparison 2023
There are some key components and features of the laser squares that make them better in their own unique way.
Below is a comparison of top rated tile and square layout lasers for tiling and flooring installation. You should be in a position to make an informed decision at the end of the section.
Accuracy
When it comes to accuracy, the Bosch GTL3 Professional Tile Laser takes the first spot. It has an accuracy within 1/16 inch for a distance of 20 feet and within 1/8 inch per 20 feet between 45° and 90° lines.
The Johnson Level & Tool 40-6624 Tiling Laser comes in second with an accuracy of 1/4 inch at 20 feet.
The Bosch GTL2 Laser Square accuracy is the lowest among the three being rated at 1/2 inch at 30 feet.
[su_site_stripe asin="B002OHDSMO" linkid="422f813dadd458865d1719649ad598af"]
Laser Range
The laser range varies a lot for these laser squares with Bosch GTL3 Tile Laser coming at the top again with a range of 65 feet.
The Bosch GTL2 has a tie of 30 feet of laser range while Johnson 40-6624 has a working range of 23 feet for indoor applications.
The laser range will determine how far you can go with your work before having to move the laser square to get new laser lines for work.
Bosch GTL3 Professional Tile LaserBosch GTL3 Professional Tile Laser
Laser Brightness
The Bosch GTL3Tile Laser and Johnson 40-6624 Tiling Laser have the best laser brightness that is suitable for most tiling or flooring projects. You will not have to work at short distances with such laser brightness.
Coming in the third place, the Bosch GTL2 still has a remarkable laser brightness for its price. Many people would also settle for it in the case the others seem expensive.
Mounting Options
The number of positions a laser can be mounted increases the number of applications.
The Bosch GTL3 Tile and Square Laser comes with magnets at the bottom of the base. This means you can securely mount it and it will remain fixed as the work progresses.
The Bosch GTL2 Laser Level Square comes with two adhesive mounting strips. The adhesive strips make it easy to mount the device in a minute.
The Johnson 40-6624 Tiling Laser can easily be done with adhesive strips too, however, the manufacturer does not supply them.
Bosch GTL2 Laser SquareBosch GTL2 Laser Square
Battery Life
For the Bosch GTL3, you get up to 18 hours of run time with 2 laser lines and 12 hours with 3 laser lines because of (4) AA batteries.
The Bosch GTL2 Laser Square has the same battery life at 15 hours on a single charge.
The Johnson Tiling Laser 40-6624 delivers the best battery life of 20 hours of run time.
Durability
The Bosch GTL3 Laser Leveling For Tiling has a strong construction as compared to the other two laser square. The sturdy construction is what makes it likable among many people who want a device that can last for longer.
The other two still have a great construction and will last for long based on the usage by a person.
[su_site_stripe asin="B002YDMGT4" linkid="60cd05cd172c9646c9342897be35b680"]
Warranty and Service
When you buy either of the Bosch tile laser tools, you will get a 1-year warranty and 30-day money back guarantee.
The warranty covers all the defected parts of the machine. You can always contact the company in case you have to claim the warranty.
As for the Johnson Laser 40-6624, you get a 2-year warranty on the parts and labor.
The company claims to be always available 24 hours a day to provide with the customer repairs. You can still get a replacement by showing the proof of purchase.
The Best Choice Of Laser Level For Tiling
Right now, the question running in your mind is what is the best laser square for your work?
With all the information above, it is easy to settle for the Bosch Professional Tile and Square Layout Laser GTL3. It has proven to come with many impressive features that many people would want.
Such features include better accuracy, better mounting capability, more applications and impressive range too.
Best Overall
Bosch Professional Tile and Square Layout Laser GTL3
Best Laser Level For Tiling And Flooring Installation
The Bosch GTL3 Tile Laser is recommended by its users, especially professional tile setters as the perfect laser level for tile installation. As much as it is great in everything, you will have to pay more to get it.
For those people on a budget, consider going for the Bosch GTL2 Laser Square as it comes at a very affordable price and still packs a number of notable features too.
The Bosch GTL2 Laser Square is only suitable for home users working on small-scale projects like tiling bathroom and kitchens.
If you are new to using laser levels, go for the Johnson Level & Tool 40-6624 Tiling Laser, as it is easy to use and affordable too. You should be able to start working on your project in a few minutes because of its simplicity.
What is Laser Square/Tile Laser?
The laser square or tile laser levels are laser tools that project two laser lines at 90-degree angle. These lines when aligned properly, they provide a framework for alignment for things such as tiles on a floor or wall.
This feature of laser squares is beneficial for making alignments or for surface layout, mostly for indoor activities.
Use a Laser Square For Tiling Floor
Applications Of Laser Square
The laser square has proven to be a great asset for people who work indoor on tiling, flooring or framing activities.
If you are looking to install tiles on a floor or wall, the guidance of a laser square will make it all easy and huge time-saving.
Other than just tiles, you can use it to make layouts for mounting mirrors, lights, windows, cabinetry fixtures and many more applications.
Many indoor applications of the laser square include the following
Tile installation on walls and floors
Installing electrical outlets and switches
Determining reference points for lighting a room by electricians
Installing metal studs and wood frames
For acoustic ceiling installation
Framing pictures, photos, windows...
Factors To Consider When Choosing A Laser Square
Ending up with the right laser square is always an advantage for both professional builders and homeowners.
The thing is, we have so many lasers available on the market today. This brings a lot of confusion just to pick one among the many square tools and calls for a comprehensive guide on the best laser squares.
But at first, let's take a look at some important factors to consider when choosing a laser square.
** Impressive Accuracy
This is the important factor to keep in mind always. The sole reason you are using the laser in the first place is to get the perfect alignments.
The accuracy levels will vary from one manufacturer to another. The accuracy ratings will help to know how precise the laser square can deliver.
** Maximum Range Of The Laser
The range of a tile laser/laser square determines how much area can be covered. A good device should cover a lot more space with the laser beam.
Compare the ranges offered by different devices before settling for a suitable tile laser.
** Long Battery Life
Most, if not all tile laser work on a battery. The lasers are known to eat up the battery power quite fast. You will need to keep on recharging, and that can be quite annoying.
Manufacturers are now improving the battery life and laser equipment that consume less power. Consider checking the laser battery rating before buying.
** The IP Rating
The IP rating is used to determine the laser square durability. For a laser that has a high IP rating, it shows that the device will last for a longer time.
It means that the laser square can handle also different working conditions without breaking down.
Tips on Using/Maintaining Laser Square
Using the laser square correctly is the only way to make use all of its benefits. Here are a few tips to help with proper laser square usage:
Do not to store the device in a hot area or neat objects emitting a lot of heat. The heat can shorten the lifespan of the laser square.
For a laser that is not waterproof, ensure that you do not leave it outside when raining. It must be placed in its protective casing while not it use.
Before you can transport the device, make sure that it is turned off. Also, put the device in an area where it will not be knocked over by other job equipment such as at the back of your pickup truck.