Unless you are going for a minimalist interior design, the blank walls can end up looking boring, cold and stark.
And, you don't have to splurge money on expensive artworks to make your interior design look chic and gorgeous.
There are some easy ways that can help you dress up your walls like an expert.
#1 - Create A Wall Gallery
The wall gallery is certainly in vogue these days. And, you can quickly and easily elevate the style of any space with even the simplest form of wall gallery.
The wall gallery is simply a collection of photographs and pictures hung in cluster in a specific pattern.
The wall gallery is the perfect way to make a statement about who you are and what you like.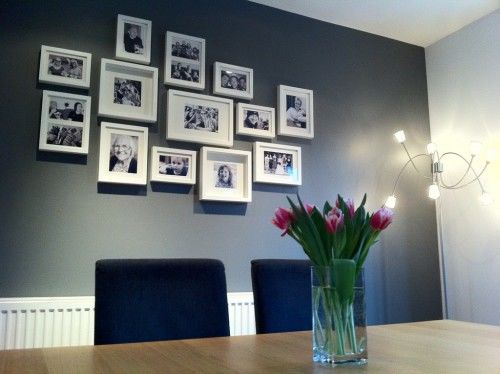 Create A Wall Gallery - Source: www.flickr.com
The very first step in creating your wall gallery is to figure out what kind of layout you want to create.
And, the best way to do so is to arrange your frames on the floor in few different patterns before you find the most suitable one.
To see which layout has the most visual appeal, take some pictures of every layout.
The easiest way to begin is to hang two same sized frames at the same height to create an anchor and fill out from there.
Now, keep in mind that anchor should be in perfect straight line so it is advisable to use a laser level to mark out points and lines.
Best for:
This wall decoration idea is best suited for more public spaces of your house such as sitting room or drawing room.
#2 - Inspirational Quotes
Now, this can be extremely easy to accomplish or could take your whole day depending on which way you are doing it.
If you are lazy like me and would love to get a gorgeous result in the shortest time possible, go for wall decals. You can find some superb inspirational quotes on websites such as Etsy.
Next, make markings on the wall and paste the vinyl decal accordingly.
However, you need to ensure that markings are perfect. Use scale and a laser level for homeowner to get accurate markings.
The other option is for those who love personal touch. Use a large stencil to trace words or letters of your quote on the contact paper.
Next, using a laser level and a large scale to draw straight lines on the wall.
Now, using these lines as reference paste your letters or words. However, it is not necessary to paste it linearly.
If you feel confident enough, you can experiment with mismatched letters and unique patterns.
Best for:
The inspirational quotes are best suited for personal spaces in your house.
You can put in your study or gym to motivate yourself. Or, you can paste in your bedroom for an inspired start to your day.
#3 - Create a Garland
A bit of floral inspiration never hurts anyone. Handcrafted garlands lend a personal touch to the décor and look lovely.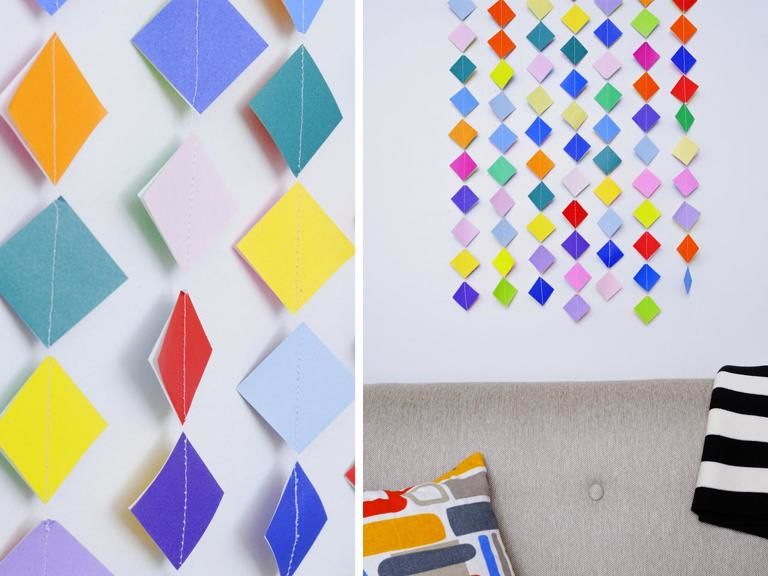 Create a Garland on Wall - Source: www.hgtv.com
You can create artificial garlands using fabric, paper or even using plastic flowers, sprinkled with generous amount of glitter.
You can opt to hang floral garlands alone to brighten up the dull walls or can use it to highlight or outline pictures on the wall.
In short, there are tons of creative ways in which you can use garland decoration to brighten up dull space.
The best thing about this DIY idea is, there are no limitations. You are free to churn up creative ideas and implement them.
However, it is advisable to place garlands on the floor in the decided to the pattern. This will help you find patterns which will look best.
#4 - Painting Stripes
Painting stripes is arguably the simplest and easiest DIY trick to glam up blank walls.
And, considering that stripes whether they are in clothing or interior décor never go out of fashion, make it an ideal option for those of us who don't have the ability or inclination to try complex décor ideas such as string art.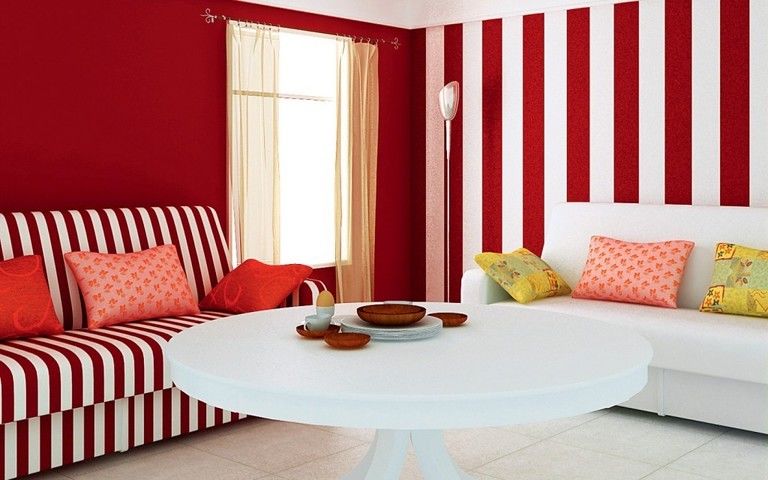 Painting Stripes on Walls - Source: www.rowcdesign.com
As the name suggests, this décor method involves painting stripes on the wall.
Although it is a fairly simple task, you need to be bit careful while doing it because messing up this simple job could be very detrimental to your reputation
Your wife or family members would never let you forget that sloppy work in which you couldn't even paint straight lines.
To prevent any such unfortunate situation and to get it spot on, use a frog tape, a laser level and long ruler to get markings right. If you get markings right, the rest of the work is fairly easy.
To easily determine the height of the walls before painting, use a laser tape measure for quick and accurate measurement.
Best for:
This style of wall décor is well suited for almost every space in your house. The vertical stripes will elongate the room and will give an illusion of higher ceiling. Whereas, the horizontal stripes especially broad stripes with bold color palette are more in fashion these days.
#5 - Mirror Collage
The use of mirrors in influencing the decor is often overlooked. You can easily give your décor an extra lift with the use of mirrors.
Mirrors create light and give the illusion of space. You can club together mirrors to enhance this effect and create extra texture in your décor.
Just like picture and photo collages, you can use mirrors of different sizes and shapes to create a chic and gorgeous pattern.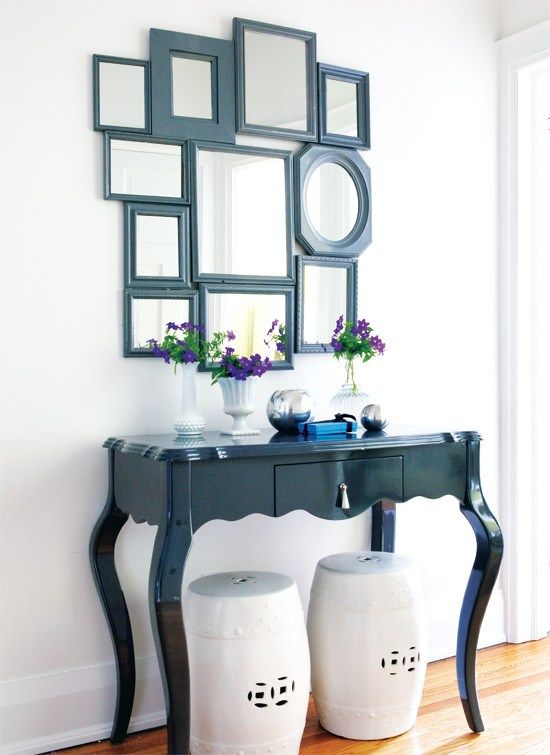 Decorate Wall with Mirror Collage - Source: www.remodelaholic.com
The options and possibilities for layout are almost endless. You can create a collage with identically sized mirrors placed in perfect symmetry and rigid style.
Or, you can put two same size mirrors at the same height and fill spaces around it with mirrors of different shapes or sizes.
The only thing you have to be careful about is overkill. Try to keep the number below dozen for rooms. You don't want your space to look like a badly decorated barber shop.
You can use mirror collage décor for almost any place in your house. From your bedroom to the hallways, it is perfect for polishing off any space.
#6 - Make Wall Clock With Photos
Bored of looking at your regular clocks? Yes?
Here is a wonderful option for you, which along with giving you a personalized clock, will give your wall a complete makeover.
This style of décor gives you an excellent opportunity to play with time. Instead of numbers, you can have photos that correspond with how you feel about that particular time.
Fun, isn't it?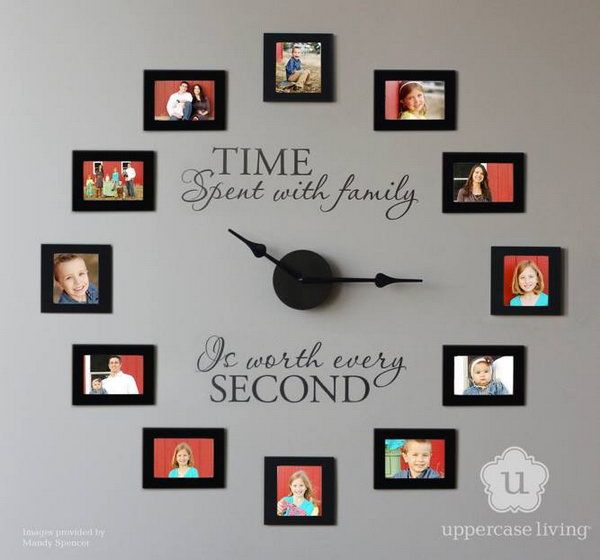 Make Wall Clock With Photos - Source: www.uppercaseliving.com
However, you have to be bit careful and will have to put some serious work in it.
You need to get the marking and distance between frames and center absolutely right. Mark a center point and then with the help of laser level and measuring tape, mark twelve points which are equidistant from the center.
Best for:
The ideal place for this wall decoration is the wall of your living room. It isn't a smart move to cramp walls of your bedroom with such décor.
#7 - Add Stickers/Wall Paper On Wall
Wall sticker is an excellent option to glam up the blank wall without having to put lots of work.
There is a wide range of stickers in various categories available in the market. You can find stylish designs on online stores as well.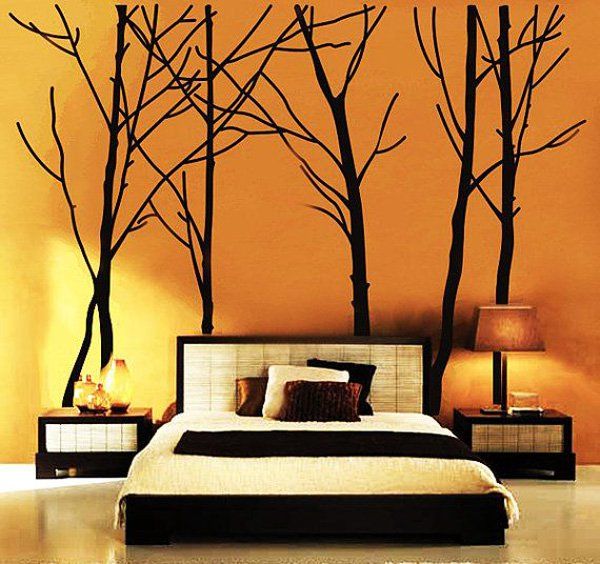 Add Stickers, Wallpapers On Wall - Source: www.cuded.com
However, there are a couple of things you should bear in mind.
Always measure the space available and then order sticker accordingly. There is no use of sticker which is too small and can't be noticed or a too big that you can't use it.
Also, you have to consider the color palette of your paint and décor. Getting a sticker or wallpaper that creates a chaos of colors would be pretty bad idea. You are better off with blank walls then.
You need to clean the wall surface thoroughly before adding sticker or wallpaper. The dirt and oil can negatively affect adhesive duration.
Use a damp sponge to remove dirt and a small amount of soap to take care of the oil.
Best for:
This method of spicing up your dull, blank walls is suitable for any space in your house.
You can add a big scenery sticker just above the sofa in your living room or transform small space above your headboard with bird stickers.
#8 - Boxes
You can use shoe boxes or even other small boxes to create a cheap but gorgeous 3D wall art.
This idea is also great for those indulging in DIY activities for the first time and hesitant towards trying something complex.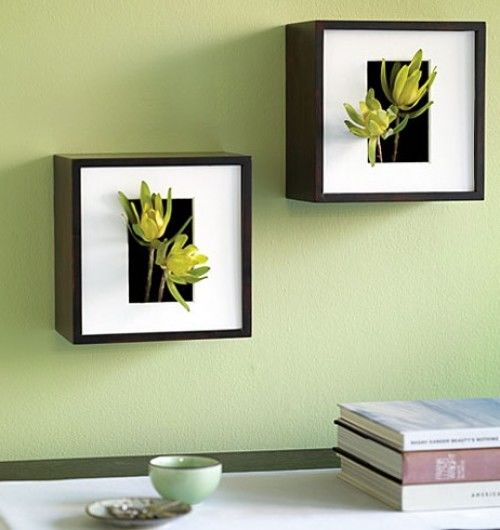 Decorating Walls With Boxes - Source: www.shellieideas.com
One of the simplest ways to use boxes is to cover same sized boxes on the outside with different wrapping papers and sticking in a straight line on the wall.
Decorate the boxes with sequins to take it a notch higher. You are free to play with shape and sizes as well.
You can also use boxes to create colorful and vibrant shelves. Cover the inside of the boxes with plain, colored paper and hang boxes in different patterns to create a gorgeous handmade shelf.
You can also use boxes to create unique and lovely photo frames.
A laser square would be a helpful tool to help you easily level the boxes in a straight line on the wall.
#9 - Lettering and Signs
This style of wall decoration is very similar to the motivational quotes décor mentioned above in the article.
You can get lettering in form of your favorite sayings or quip from online websites or your local store. And, the same goes for various signs.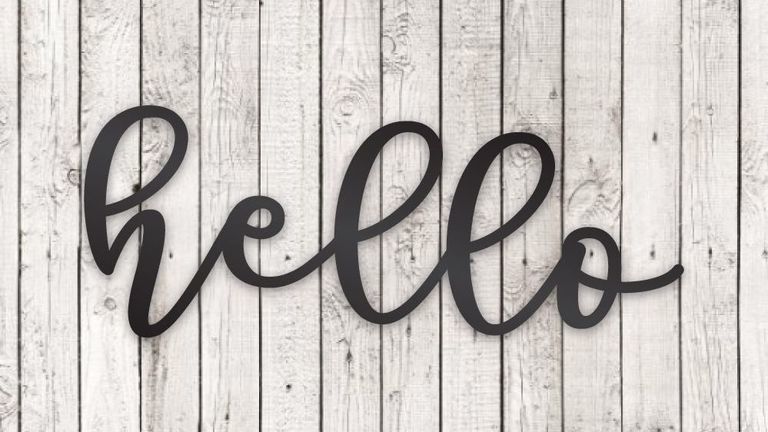 Decorating Walls With Letters and Signs - Source: www.popsugar.com
Ensure that you don't paste the lettering in a crooked way to the wall. You need to get measurement and alignment right.
Use a measuring tape to mark the first point. Now, stick the laser level next to the point to find a linear second point and then the third point.
Draw a line passing through these points. Use this line as a reference point to stick lettering.
The process remains same for the signs.
Best for:
The lettering is best suited for less private spaces such as living room or dining room. Whereas, the signs are perfect for small and private spaces.
#10 - String Art
String art is probably the most challenging and tedious wall décor idea mentioned in this article.
However, it goes without saying that every effort you spend in creating this style of wall design, it would be worth it.
The number of possibilities available in this category is endless.
You can spice up simple shapes such as heart or leaves or you can channel your inner artist to create a gorgeous and intricate abstract masterwork.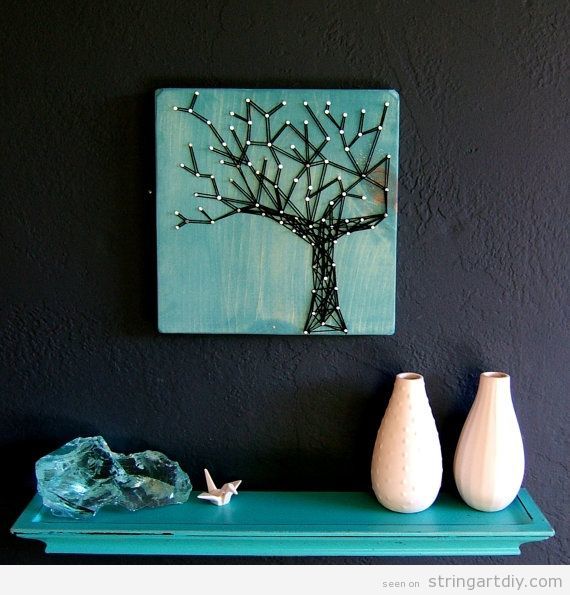 Decorating Walls With String Art - Source: stringartdiy.com
As it isn't possible to give adequate instructions on how to accomplish string art, I will try to give brief pointers on how to make it work and things to avoid.
First of all, instead of driving nails straight into the wall and messing it up, create a design on wood board, which will give you more wriggle room.
Corkboard is even better alternative than wood board as you won't have mess with hammers and cutting wood. Plus, it is lightweight and cheap.
#11 - Sequin
Next, we have a sparkling and show stopper idea to get your walls to their dazzling best.
The use of sequin to decorate your walls can give your walls an expensive looking makeover.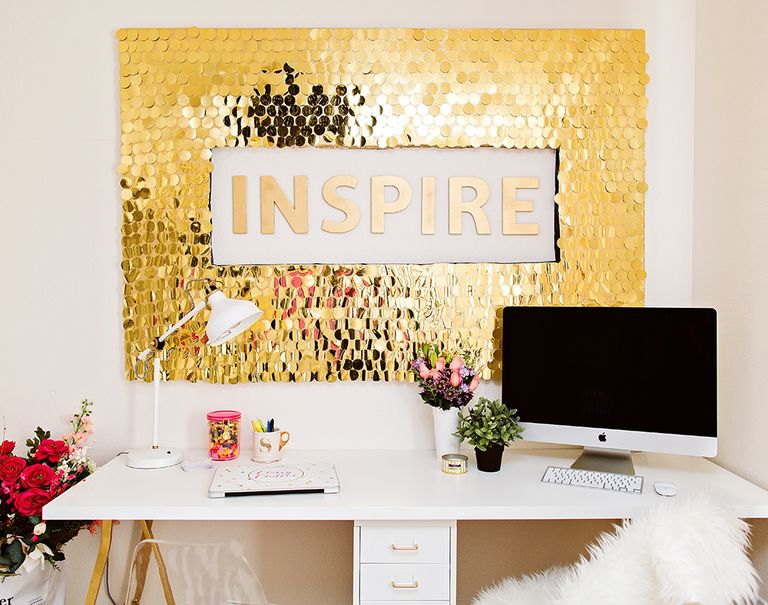 Decorating Walls With Sequins - Source: www.classyclutter.net
The difficulty of creating this décor style differs in accordance with the style or idea you are pursuing.
For example, if you want to add a regular size sparkling board over the headboard in your bedroom, the task is very simple, all you have to do is stick sequins over the board.
However, if you want to add sparkling wisdom to your living room wall, it will take a lot of planning and focused hard work. You can also create a frame artwork and use it to highlight some special photographs.
There are great other ideas involving sequins. All you need to do is get in touch with your artistic side.
Best for:
This style of wall décor is well suited for the entire home.
You can create different designs on photo frames for your stairway or hallway. A headboard for your bedroom or quotes for your living room.
#12 - Add 3D Paper Flowers, 3D Shape On Wall
This is another ingenious way to give magic transformation to the blank space on your wall. This is more interesting and original in comparison to other ideas mentioned till now.
However, it is a bit complex and demanding task. But once you get it right, your wall will look absolutely gorgeous.
The most common version of this decoration style is paper flowers. You have to be at least decent in origami to pull it off.
The premise is pretty simple. All you have to do is make a couple of paper flowers and stick it on the wall.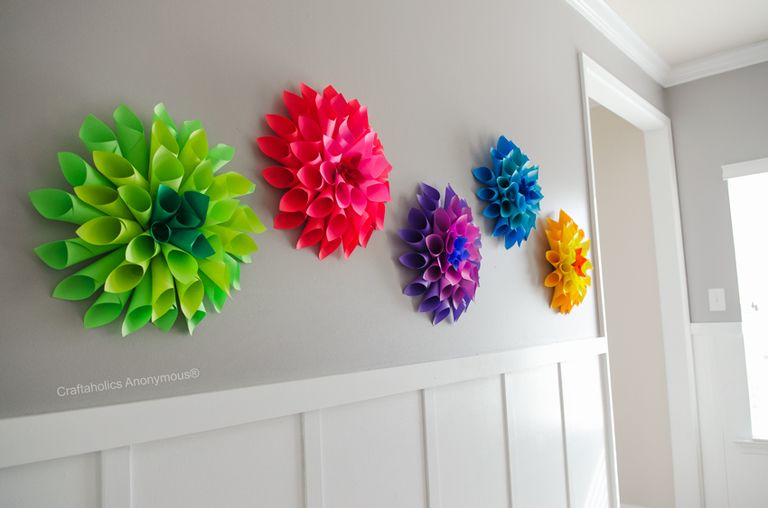 3D Shapes on Wall - Source: www.craftaholicsanonymous.net
Another interesting version of this wall art is sticking cardboard circles of different dimensions and color to the wall.
To get the 3D effect, you will have to stick them at varying length from the wall.
Glue various sized wooden pegs on the wall and stick circles on it. This style of wall décor is more suitable for common spaces in the house.
Tools and materials needed
Origami paper (for 3D flowers)
Cardboard circular cutouts (for 3D circles)
Wooden pegs (for 3D circles)
Pencil
Tape measure
Glue
#13 - Lights
Last but not the least we have is lights décor that can give some festive spirit to your blank walls.
Like most of the décor ideas on this list, you can use lights in several different ways to manipulate style and aesthetics.
Even, placing light scones over your artwork and photographs qualifies as wall décor and so does using cluster lights to form a boundary around your quotes or lettering.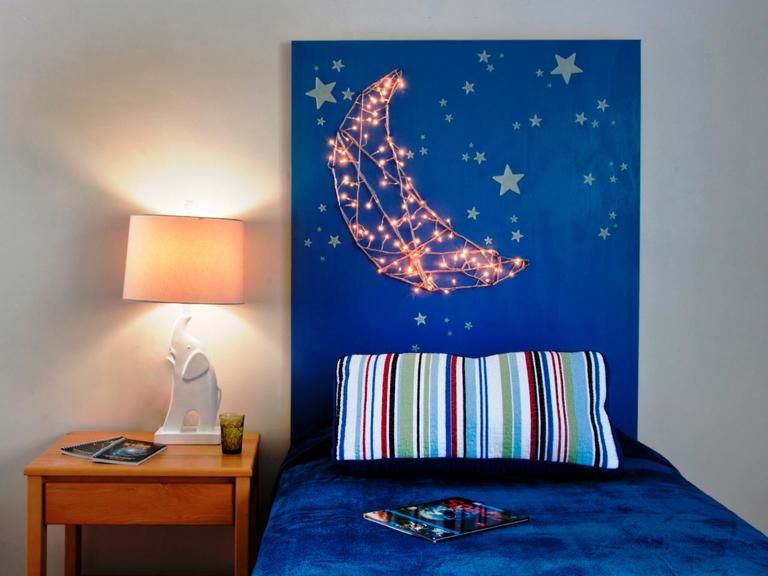 Decorating Walls With Lights - Source: www.hgtv.com
You can also use Christmas lights to create patterns or letters on the wall. However, this idea is not easy to do, but as it is with other complex and ponderous tasks, the result is beautiful and chic.
This wall decoration idea is best suited for common spaces in your house. However, it can be used in bedrooms as well but in simplistic and minimalistic designs.
Conclusion
Yes, some of the above-mentioned wall decoration ideas will require some work. But, it will give a stylish upgrade to your blank walls without having to hire an expensive interior designer.
And, the end result is worth every effort you will expend for the project.
Just make sure that the work is done neatly and use a good laser level to ensure symmetry and right layout. And, you have a lovely space.