Nowadays, people tend to spend a lot of money to renovate or upgrade an old bathroom to make it looks perfect and more efficient.
While renovating an old bathroom can be a good move to spruce up your home, spending a fortune (about $30,000+) to get yourself a luxurious bathroom might be light years away from what you can afford.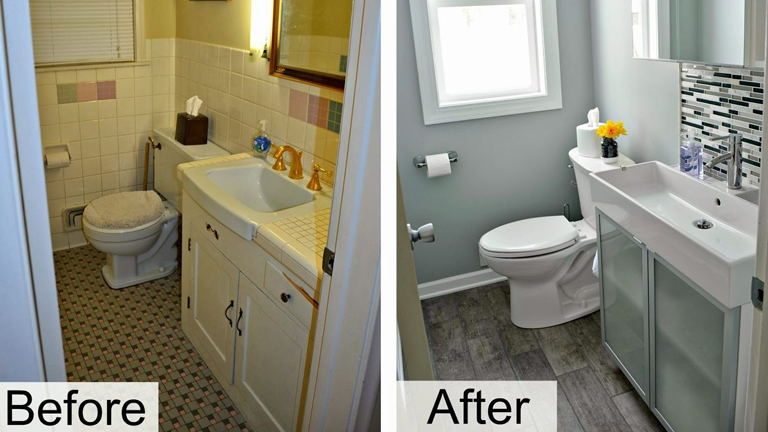 A full upgrade and renovation cost can be as high as $40,000 while an average bathroom renovation cost may run up to $20,000; this is still a high cost isn't it?
Here is the good news.
You don't have to spend your life savings to transform your bathroom into a perfect cool relaxing place. You don't need to have Bill Gates' income to create a beautiful and comfortable bath for you and your family.
With a DIY approach, you can upgrade your bathroom with a budget as low as $5000 to $1000 or even less and still achieve that perfect look that you've always wanted.
Is it time for you to renovate and transform your old bathroom into a new one?
Do you need awesome ideas that you can carry out on your own to reap the benefits of your home and bathroom renovation?
We have got you covered.
This article will guild you through some bathroom renovation ideas to follow to create for yourself the bathroom you've always dreamed of without having to hire a professional.
Things to Do Before Renovating Your Bathroom
Of course, we know that you have been willing to upgrade that bathroom.
There are, however, some factors you need to consider and things to put in place before embarking on the renovation journey.
Some of these are discussed below.
1 - Evaluate Your Bathroom
Evaluation is first step of every successful renovation and home improvement project.
During this process, you should ask yourself what you want from a bathroom and how you want your bathroom to be. Then evaluate your bathroom and determine what should be changed and what shouldn't.
Evaluating how old your bathroom and its components are or the degree of the damages will assist you in deciding whether to go for repairs or replacements.
Accessing your bathroom will also help you in making the right plans to achieve your goal at a lower cost within a short period of time.
2 - Estimate Renovation Cost
The cost of renovation is the most decisive factor for any bathroom renovation project.
Since you do not intend to hemorrhage your bank, you have to consider the cost, ask yourself how much you can afford to spend and set your limit.
After evaluating and deciding on the aspect that should be upgraded, visualize your bathroom's new look and plan the model that falls within your budgetary constraints.
3 - Labor
This is another important factor to consider when planning a bathroom renovation project.
While hiring a pro might seem like an easy way to get the job done efficiently, the cost incurred might be far more than what you can afford.
DIY approach is now considered an ideal way of cutting the renovation cost.
Come to think of it, why should you pay a pro a huge sum of money on a project you can actually do on your own?
Although the DIY approach requires a little level of expertise and might take longer to complete, the amount of money you'll save on it is well worth the risk.
And the tip to save cost...
Planning your renovation project around your existing plumbing fixtures is another way to reduce your bathroom renovation labor, and cost.
Moving your pipes and plumbing fixtures like your toilet and bathtub will not only cost you more but will also take a big chunk of your time.
Other questions also need to ask yourself are:
What is this bathroom function and who will be using it after the upgrade?
How long can my family carry on without this bathroom?
Should I increase my bathroom ventilation?
Do I wish to invest in energy efficient products?
These questions will enable you to plan well and decide on the DIY project and ideas that suit your bathroom to avoid sabotaging your good intentions.
Bathroom Renovation Ideas for DIY
Do you want to renovate your bathroom but have no idea of the best ideas to follow to spruce up your bathroom?
The following DIY ideas might be able to help.
1 - Repair Or Install Flooring
Repairing or installing a new flooring to your bathroom is one of the best ways to improve or renovate a bathroom.
Changing the old or damaged flooring will not only improve your bathroom's appearance but also improve your bathroom's functionality.
It allows you to uncover what is hiding under your outdated floor or tiles and get them cleaned.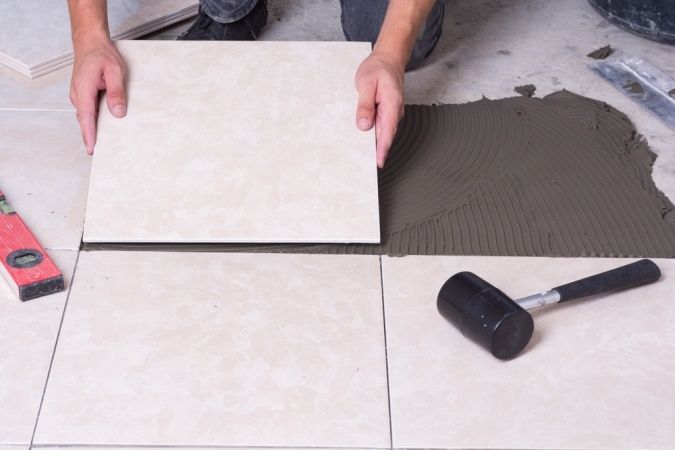 However, this project can be a tricky task as you need to opt for the flooring type that is durable and slip resistant while adding value to your bathroom and staying within your budgetary constraints.
Depending on your style and how much you care to spend, marble, granite, and ceramic tiles makes a highly durable and beautiful wall surfaces and flooring for bathrooms.
You can consider other options like the use of painted or stained cement, vinyl tiles or sheet vinyl that will give your bathroom a good look at an inexpensive cost.
You should also consider the color of your bathroom while selecting the ideal flooring that suits your needs.
You can undertake this project over the weekend.
The total cost depends on the flooring type and the size of your bathroom. On the average, you can install a new bathroom flooring for something around $700 to $1700.
See also: Best Radiant Floor Heating Systems For Bathroom
2 - Add Fresh Coats of Paints
Painting the bathroom is one of the easiest and cheapest ways to upgrade a bathroom.
You can never underestimate the aesthetic value you will be adding to your bathroom by simply applying a fresh coat of mildew resistant paint to the ceilings and walls.
With this DIY approach, you have the option of choosing your favorite color or combining two or more colors to give your bathroom the awesome appearance you've always wanted.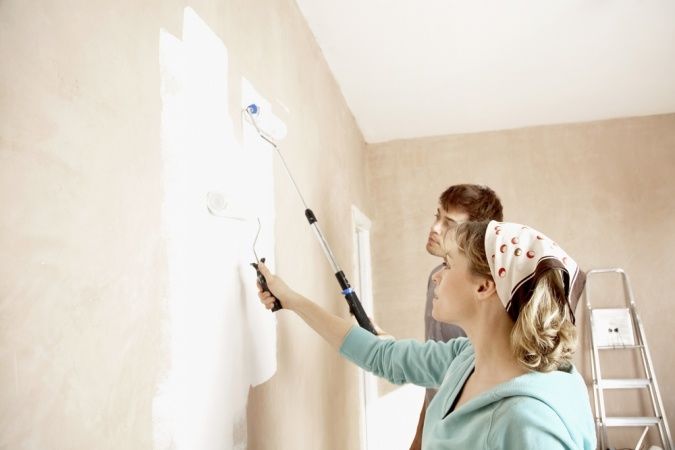 Apart from being one of the most affordable bathroom improvement options, it offers an avenue to reduce your labor and expenses.
For instance, you can decide to paint your old tiles; this will not only save you the cost of replacing your tiles but also save you the time and efforts to spend on removing and replacing them.
When it comes to selecting the best paint for a bathroom, its contact with a higher degree of moisture which enhances the development of mold and mildew is often considered.
High-quality paint especially those with a satin finish is effective in preventing the growth of mildew. They should, therefore, be your number one choice of paint for your bathroom painting needs.
If you intend to paint your bathroom tiles, you can start by using a tile cleaning product to remove the dirt, and then allow the tiles to dry.
Using a fine sandpaper, sand the tiles lightly to reduce the glaze to allow the paint to adhere properly to the tiles.
Clean off the dust, prime and allow to dry. You can then apply double coats of the desired paint.
The estimated cost of painting a bathroom is around $100 to $500 which covers the cost of buying paints and other necessary equipment.
Painting the bathroom is a project that can be completed in a day or within a few hours based on the size of your bathroom and what you intend to paint.
3 - Add Wallpapers
This simple DIY project is a quick fix that can add a wow factor your bathroom.
Instead of painting the walls of your bathroom, you can employ this idea as it is faster and less labor-intensive and can even be completed in less than an hour.
Adding wallpapers to your bathroom wall is an ideal way to hide the blemishes on your bathroom walls.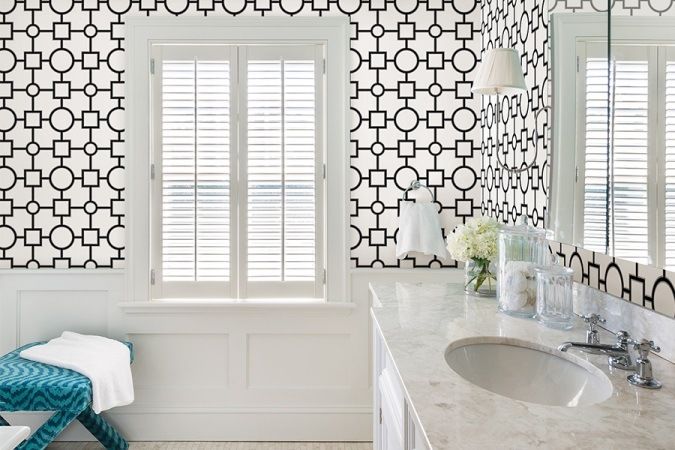 One good news is that you can use a metallic wallpaper; this type of wallpaper can improve the lighting condition of your bathroom by reflecting light back into it.
You can change the wallpaper annually since it is easy to carry out and result in an aesthetically gorgeous bathroom.
Before you add the wallpaper, remove loose paints on your walls, check if there's any hole or cracks and fill them up.
The cost of installing wallpapers ranges from $90 to $200 depending on the product and the size of the wall to cover.
With a new wall application, you don't have to be a wallpaper specialist or spend a lot of money to transform your bathroom.
4 - Install More Lighting
Inadequate lighting can render a bathroom impractical or extremely dangerous.
It is, therefore, needful to follow the idea of a lighting design that is not only energy efficient but also creates a perfect atmosphere that will spruce up the appearance of your bathroom.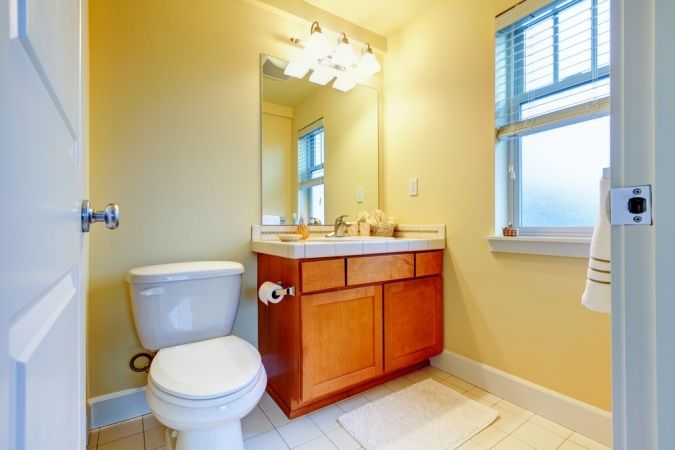 While installing lighting fixtures can be an easy DIY project, it can be a bit difficult if you are planning to do a new electric wiring.
Installing lighting fixtures can also be dangerous if you handle the project incorrectly. You should, therefore, be careful when handling projects that have to do with electricity.
When planning for your bathroom lighting; the natural light should be the first on your consideration list. The natural light has to be maximized before the artificial.
One way to achieve this is to plan your windows and ventilation properly.
For artificial lighting, having a minimum of 4 watts of bright lighting per square foot is more advisable.
Addition of new lighting and lighting fixtures normally falls within $50 to $200 depending on the size of the bathroom. While this DIY project does not put a lot of pressure on your pocket, it can also be completed within a few hours.
5 - Update Your Fixtures and Hardware
Although this project may be considered insignificant when compared to other bathroom renovation projects, no renovation project is complete without the addition of new accessories.
Updating your pulls and knobs to bronze or brushed nickel can give your bathroom a new decorative touch.
With new updates, you will not only benefit from the aesthetic value that will be added to your bathroom but will also increase your bathroom's efficiency and functionality.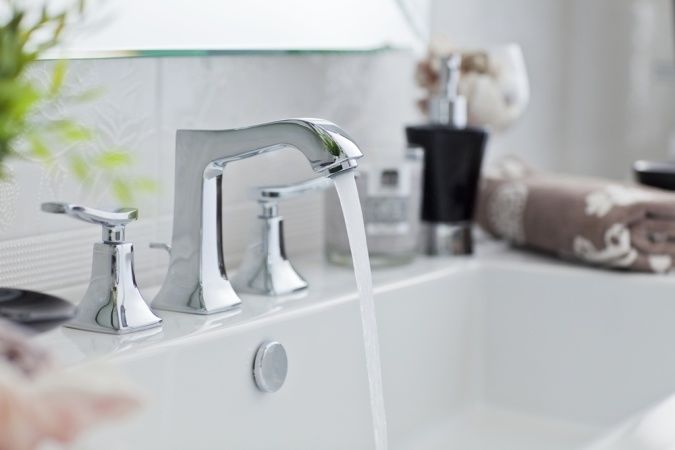 Little addition speaks great volume about your bathroom style.
Adding stuff like new soap dishes, towel racks, mirrors, new towel bars, door hardware, faucets, toilet paper holders and bath mats will surprisingly spruce up the look and the value of your bathroom.
You can also improve the safety of your tub and shower by adding decorative grab bars.
Changing outdated parts will save you hundreds of dollars to purchasing a whole new system. Although updating your hardware is beneficial, you do not have to add all.
If you are on a budget, determine the ones that are most important to you and affect the change.
You can easily complete this project in a couple of minutes with an average cost of $200 depending on the fixtures you want to update.
6 - Clean Your Toilet
If your toilet bowl has stains or rings, it can be embarrassing if you would have visitors visiting your home.
Come to think of it, how will they feel when they see your toilet? Wouldn't they think you are living in an unhealthy environment?
A dirty toilet will not only produce offensive odors or serve as a breeding site for pest and diseases but will also give your bathroom a disgusting appearance, scaring your visitors away.
Since your bathroom is an indication of how hygienic you are, cleaning your toilet would be an important DIY project to improve your bathroom thereby ensuring its functionality and efficiency.
Cleaning the toilet will not only ensure your health safety but will also save you the time, and the cost of installing a new one, and doesn't that cut across all your wish?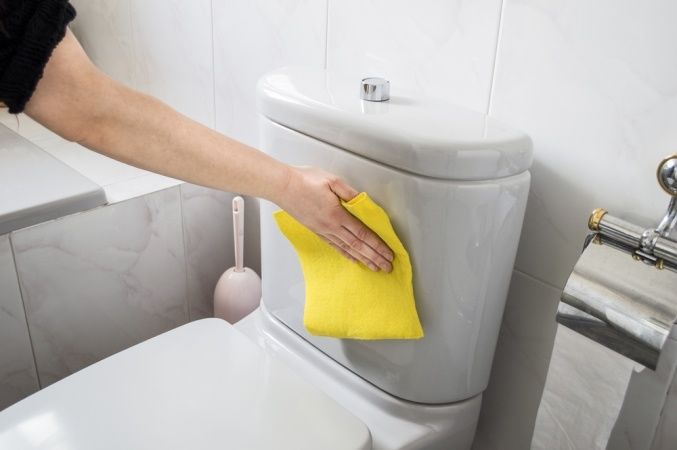 Removing toilet stains and rings often seem like an impossible task. You may clean your toilet regularly or try various methods to remove the rings and stains, yet they will just not budge.
Don't get frustrated yet; you are not alone, and we are here to help.
To remove those stains and rings, you can use Borax powder, White vinegar, Pumice stone, Soda pop or Lemon juice to wash or scrub the affected area.
Flush after washing and the stains or the rings would be nowhere to be found!
Regular cleaning is also required, to avoid toilet rings and stains and to keep your bathroom clean and healthy.
7 - Repair or Update Your Toilet
If your toilet is old, outmoded or damaged, you might need to install a new one and what toilet would you install other than the one with best flushing capability?
A new toilet will not only improve your bathroom appearance but will also enhance its functionality and efficiency.
Nothing can be as bad as flushing a toilet, and the waste keeps returning thereby requiring more quantity of water to send the waste down into the septic tank.
This is why you should not only be looking for something stylish but also looking after water efficiency when shopping for the best toilet replacement for your bathroom.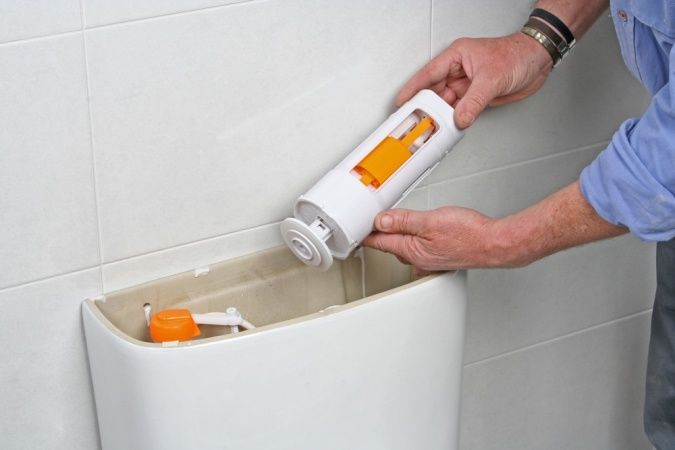 You should also be careful not to select a flushing toilet replacement that will exceed your budget. When you select a flushing toilet, select a low-flow toilet that offers the best value for your money.
There are varieties and brands of toilets to select from at different prices; the common brands include the American Standard, Woodbridge, Kohler, and TOTO.
You can shop for the best toilet at your local store or online at Amazon. The project normally runs from $200 to $800 and can take several hours to complete.
You can also check the toilet and replace the damaged part.
For instance, if your toilet is leaky, you may have to check the flapper or the inlet valve and get the problem resolved by either repairing or replacing the damaged parts.
Instead of replacing the whole porcelain peach, you can consider the option of replacing the toilet lid and seat. This option can give your bathroom a new look while saving you a lot of money on buying and installing a new toilet.
8 - Clean Or Freshen The Grout And Caulk
Cleaning or freshening the grout or caulk is another important yet overlooked bathroom improvement project.
Clean tiles, grout, and caulk are important to maintaining a friendly and healthy bathroom environment. However, when they get grimy, they give your bathroom an unpleasant and unattractive appearance.
You, therefore, need to clean your bathroom regularly to avoid a grimy or messy grout and caulks.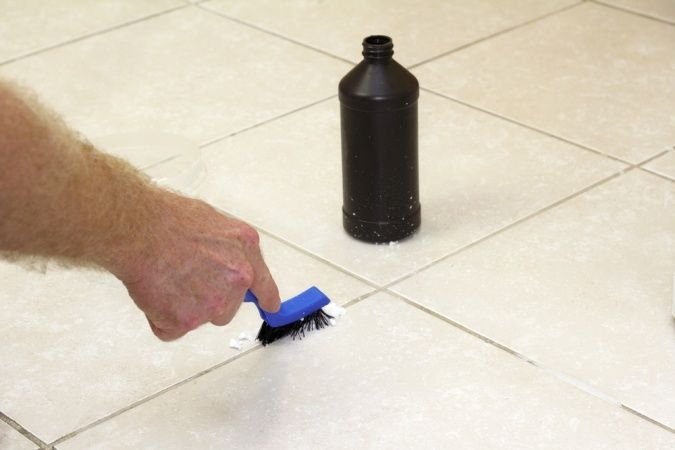 If your grout or caulk is old or stained, cleaning to remove the stains or to get rid of the mildew growing under the caulk might be a little challenging. This might be a signal for you to upgrade to a fresh and new grout.
A new or fresh caulk and grout around your tub and sink will not only yield a big visual difference but will also prevent leakage and the outgrowth of mold and mildew. You will be surprised to you see how this project will transform your bathroom.
While caulk and grout are cheap, cleaning or re-grouting is an inexpensive DIY approach to freshening up your bathroom.
However, you may need some basic tools to carry out this project. The project cost runs from $180 to $420 and can be completed within 1 to 5 days depending on your bathroom size and equipment used.
Read more: How to Remove Grout and Best Grout Removal Tools
9 - Install Or Repair Your Exhaust Fan
Ventilation is important and more important in a room like a bathroom.
The bathroom will smell and get foggy and poor ventilation will make this even worse. It will leave your bathroom moldy, damp and might even be injurious to your health.
A well-ventilated bathroom will make your bathroom healthy and prevent the saturation of building insulation as well as the decomposition of any wooden trim or fixtures.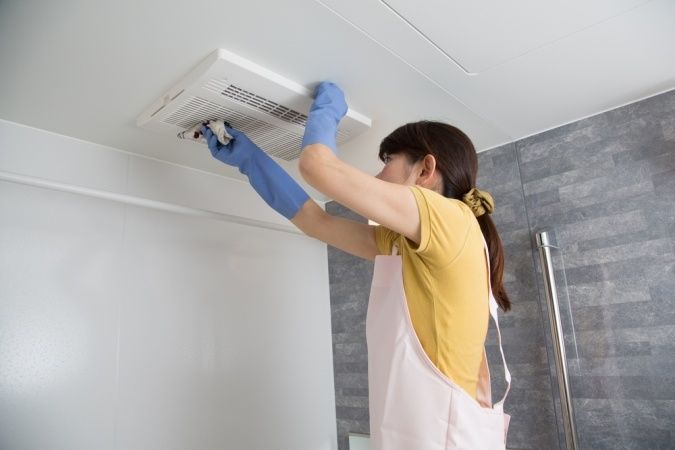 One way to tackle these bathroom dilemmas and improve its ventilation is by installing or repairing your bathroom exhaust fan.
While repairing the bathroom fan can be a cheap and easy DIY project, installing an exhaust fan can be a difficult task. It requires proper planning: selecting the best fan, the ideal installation position and addressing the electrical wiring issues.
Installing a bathroom exhaust fan is not an expensive task (its average cost is $350), but it can take several hours to complete.
10 - Unclog or Clean Your Shower Drains
Cleaning and unclogging the shower drain is considered more of a DIY bathroom maintenance project than a renovation project.
However, it should not be overlooked as a clogged shower drain might contribute to your bathroom dilemmas.
Cleaning the drains can be much of a struggle, homeowners should, therefore, learn how to unclog drains and prevent future occurrences.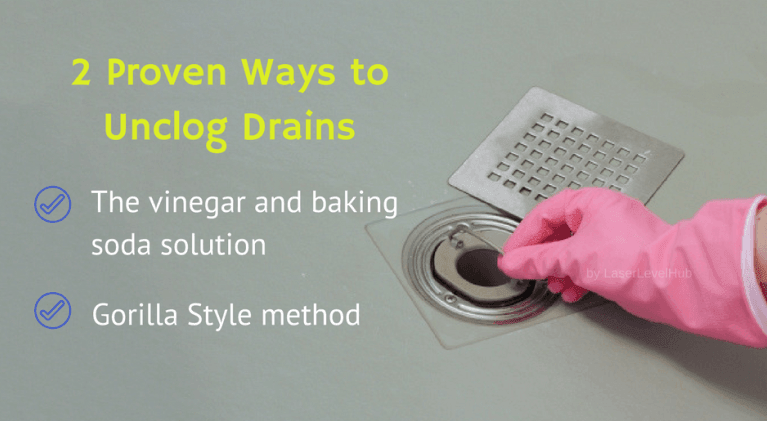 2 Proven Ways To Unclog Drains
There are many ways to achieve a clean and unclogged shower drains, but for this course, we would be discussing only two proven methods.
These are:
The vinegar and baking soda solution:
This natural method will not damage your plastic pipes. Start this cleaning process by pouring a cup of baking soda down your shower drains and let it stay for about 10 minutes.
Then add a cup of vinegar and wait for some minutes (about 30 minutes to an hour plus) to allow the hair clog to dissolve. Then pour boiling water down the drain to clean it out.
Gorilla Style method:
This method is a combination several approaches to remove tougher clogs. Some of the things you need to carry out this method include Wire coat hanger, screwdriver, Paper towel, Plastic bag, Antibacterial spray household cleaner, waterproof gloves and boiling water.
Start by carefully removing the drain's cover with your screwdriver and remove the accumulated gunk around it with your rubber gloves on.
Use the wire coat hanger to fish out the clogs that cannot be reached with your hands, place all the mess in the plastic bag and tie it to lock up the odor.
Then repeat the first method to knock out the clogs.
This DIY project less expensive and can be completed within a few minutes.
You can prevent future blockages by using a drain protector if your bathroom has none or a soap dish to trap the gunk and the hair and turn them into larger clumps that can be easily removed.
11 - Add Shower To Your Freestanding Tub
Although freestanding tubs are appealing, we sometimes often prefer to go for a shower. But the good news is that you can have them both.
Adding a shower to your freestanding tub will not only spruce up your bathroom but also saves you a lot of cash off (about $2300) a regular installation of a shower.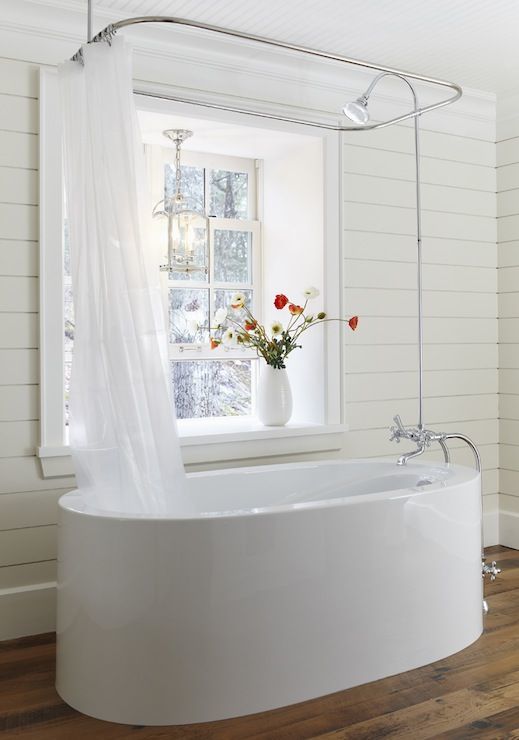 The steps below will guide you through this DIY project to add a shower to your tub without having to call a pro.
Turn off the water
Disconnect the faucet and the water supply lines using an adjustable wrench
Fix all the parts that come with your freestanding tub and shower assembly together (don't attach them to the tub yet)
Fix the faucet to the tub
Install the support rod of the shower riser
Install the mounting bracket to fix the shower curtain ring
Install the shower head and test the system
If you are planning to install a new tub shower combo, you should be prepared to spend up to $3000.
On the other hand, installing a shower to the current tub is more affordable, you can complete the project within a few hours for something less than $500.
Click here to watch the video.
12 - Update Your Shower Heads, Bath Faucets, And Hand Showers
Replacing your faucet with a new but stylish low-flow model it one of the best ways to reducing water consumption while improving the appearance of your bathroom's sink area.
The faucets are one of the most frequently used items in the bathroom and can be used to display your taste and personal style.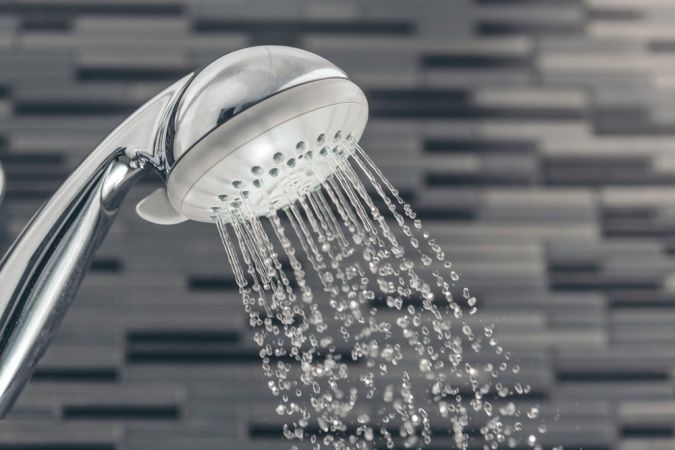 The hand showers and shower heads improve the overall appearance of your bathroom design while providing you a more enjoyable showering experience.
Replacing an old or damaged shower head can be an inexpensive DIY project that can be completed in a couple of minutes.
The cost of replacement ranges from $50 to $400 depending on the number of the faucets and shower heads you are replacing.
If you want to save move on updating your faucets and shower, you can go for hand showers. They are easy to install and can be hand-held for maximum versatility or used in place of a fixed shower.
13 - Update or Repair your Cabinets, Vanity and Vanity Tops
Replacing an outdated, old or damaged vanity with a new one can change the entire look and feel of your bathroom.
Adding a new vanity to your bathroom will not only spruce up its appearance but will also enhance your bathroom functionality and storage.
When it comes to adding a new cabinet or vanity, there are various styles to select from, ranging from traditional to electric, depending on individual personal preferences.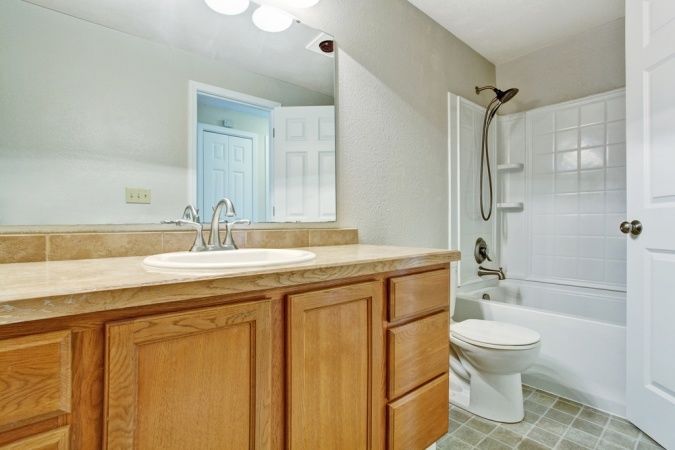 Planning the storing solutions and cabinets can be a tricky problem especially where the bathroom is small or irregularly shaped.
However, it should be planned for maximum functionality while accommodating your stuff and keeping everything within your reach. They should also fit perfectly into your bathroom space and look fashionable.
On the other hand, repairing your cabinet and vanity by replacing the door or painting can go a long way to help you achieve your goals while cutting the cost.
You can also add matching mirrors and coordinating vanity tops or sink.
The average cost of replacing or installing a new vanity ranges from $800 to $1500 while repairs run at a lower cost ($520 or less), and can be completed in 6 hours.
14 - Retile The Shower And Backsplash
Retiling the damaged shower and backsplash tiles is not a DIY project for the weak, but the value it will add to your bathroom cannot be overlooked.
Getting out the old tiles to install new ones can be a tricky task. However, these tasks are simplified by using the right tools, the ones which are listed here.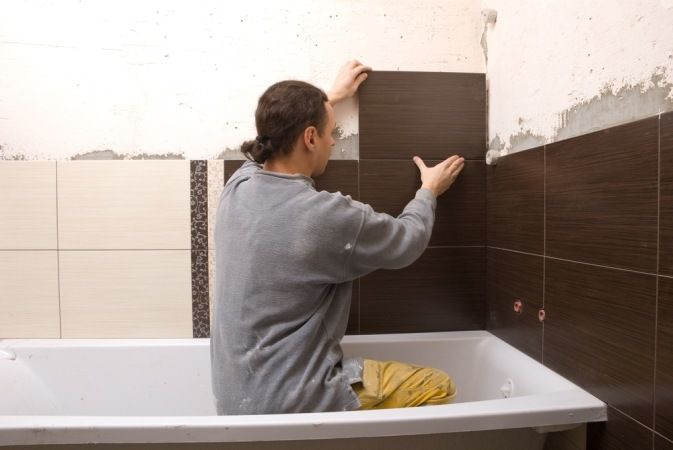 Here are steps to install the backsplash:
Remove your shower heads and handle and use newspapers to cover the shower floor
Starting from the bottom corner, place your chisel by the tile's side and hammer it gently to knock out the tiles
Remove the mortal also by chiseling them out after you are done removing the tiles
Clean the walls and prepare them with new mortar. Use your notched mortar trowel to spread the mortar evenly over the bottom half of the wall
Start setting the tiles at the center of the wall from the bottom row. Make sure the tiles are well pressed into the mortar. Continue setting the tiles to the sides, and cut the end tiles if necessary
Add grout to the tiles
Note that you can follow this process to replace the tiles of your bathroom's floor.
The cost of retiling the shower and bathroom backsplash is from $1000 to $2000 and $592 to $1025 respectively, depending on the cost of the materials and the size of the bathroom.
15 - Decorate Wisely, Consider Going for DIY Decors
A well-decorated bathroom will not only appeal to the eyes but will also improve the value of the bathroom and the whole property on resale. This is why you should consider giving your bathroom a nice decorative touch to spruce it up.
However, this does not mean you should spend a huge amount of money on decorating your bathroom when you can simply achieve a great decor at an affordable cost.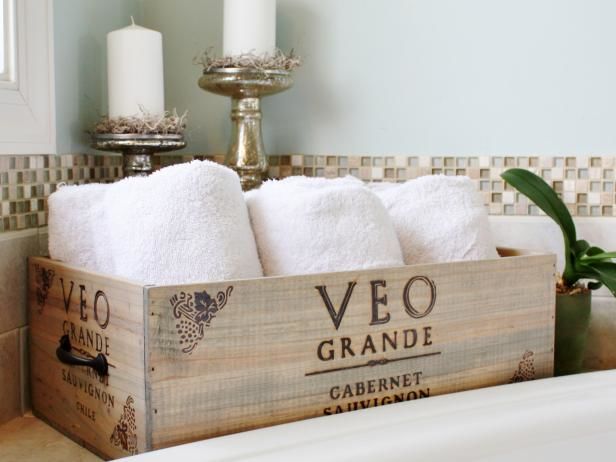 photo source: hgtv.com
If you choose to purchase all your bathroom decor in the store, you will end up spending more on your bathroom. This is forgivable if you are the type that cares less about how much you spend to spruce up your bathroom.
However, if you are on a tight budget, you might need more ways to cut your spending and what other ways than to DIY your decor?
When you DIY your decor, you will not only reduce your remodeling cost but also allows you to add your creativity to decorate and spruce up your bathroom.
You can shop online for the best pocket-friendly bathroom decor that suits your needs and save you a lot of money. You also have the opportunity to shop around for different ideas, and decors and get yourself the best deal.
There are lots of ideas online on how to create several beautiful bathroom decor items with different materials that you can easily get around you.
While these decors items can be easily made within a few minutes, they will cost you almost nothing ($50 or less), saving you a ton of money for other DIY projects.
Now It's Your Turn
I hope this article has opened your eyes to different bathroom renovation ideas and has helped you in finding the best idea for your bathroom.
Leave a comment to let me know which idea you're going to try first.
Or recommend a bathroom DIY renovation idea that is not included in this article, feel free to use our comment box.