Bathroom tiles end up getting outdated by losing their gorgeous looks over time. In such instances, the most suitable way of retaining the elegance of the bathroom is by ripping the old tiles out and replacing them.
However, tile replacement costs and the time involved can be overwhelming. Painting your old bathroom ceramic tiles can not only help you cut these costs but will also offer an awesome alternative of improving the general anesthetics of your bathroom.
Can You Paint Tiles In Bathroom?
The answer is Yes.
Bathroom tile painting will perfectly work on the upper walls that don't receive water splashes. Although, you can still paint such areas that get splashed on. They include the walls around the shower and bathtub.
In such a scenario you will need to invest in high-quality paint and practice in order to do it in the right way.
Paint tile walls in a bathroom - Source: todayshomeowner.com
Hence, it is best to focus on walls and leave these areas around the shower unpainted until you have the right supplies and skills.
Can You Paint a Bathtub?
Yes! You can paint bathtub. If done correctly, the surface will be resistant to peeling, scratches, and chips that will make you wonder why you didn't do it a year ago.
When it comes to bathtubs, there is no sanding. Maybe, just using steel wool around the edges. I would advise that you consider using two-part epoxy paint and a high-quality gloss finisher for the best results.
Tools And Supplies For Painting Tiles
Tools:
Brushes
Rollers
Fine (180 - 220 grit) synthetic grit sandpaper
Orbital sander (optional)
Caulk removal tools (I prefer using a cordless oscillating tool)
Drop cloth
Sponge
Soft cloth/rug
A spray gun (optional)
Supplies & Materials:
Latex or Epoxy paint
Grout and caulk
Paint tray and liners
Painters tape
Bleach and comet
Abrasive bathroom cleaner
Safety gears – gloves, a respirator, and safety glasses
How To Paint Bathroom Tiles - Step By Step
Painting bathroom ceramic tiles niches down to two important steps - proper preparation of the tile surface and using the right paint type.
Step 1: Prepping the Tile Surface
Just like any other painting task, you need to conduct a thorough preparation on the tile surface.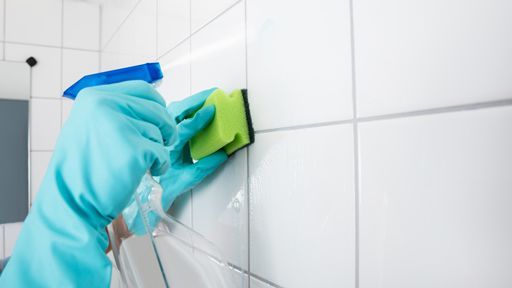 Prepare the tile surface before painting
Start by removing the caulk since you cannot paint over it. Once you have painted your bathroom tiles, you can go back and add it.
In most cases, your outdated bathroom tiles will lack caulk but cracked, missing, and chipping grout will be present in the edges and corners. Consider removing all the cracked grout from the areas you intend to paint. You should then re-grout these areas to achieve a uniform surface.
Next, you will need to clean the tiles. I mean real and thorough cleaning! Remove any soap scum, mildew, and dirt with the help of Comet and an abrasive bathroom cleaner. To remove mildew, use bleach water.
Follow up by using a clean, wet sponge to wipe the surface and remove any dirt residue. Rinse the surface and give it some time to dry completely for at least one hour.
Follow up by sanding the tiles. Use a fine synthetic grit sandpaper and lightly sand the tiles. Aluminum oxide or silicon carbide sanders are the best in taking the gloss off the glazed tile surface.
Finish the cleaning by removing dust. Use a dampened cloth to wipe down the surface and remove any dust. Allow the surface to dry before doing the painting.
Tape off the shower with painter's tape, to avoid painting on it.
TIP:
Using an orbital sander or an oscillating tool will help you accomplish the task much faster and better compared to hand sanding.
Step 2: Painting the Tile Surface
There are two types of paint options for bathroom tiles: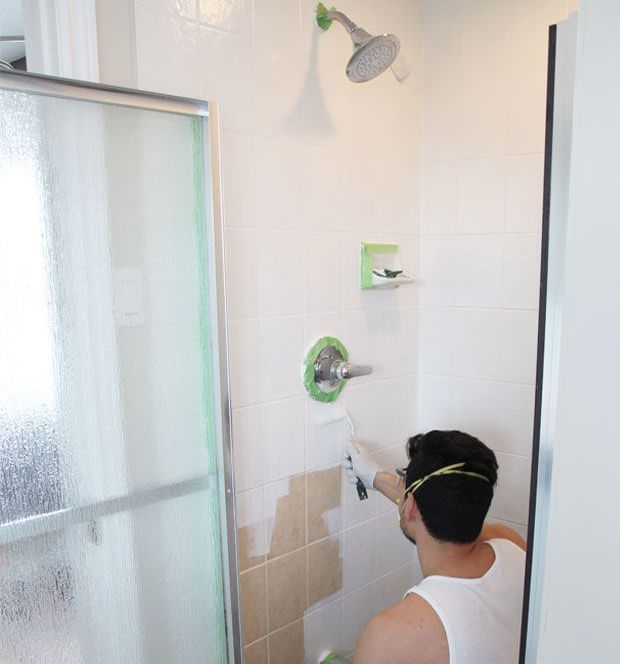 Painting The Bathroom Tile Surface
1. Epoxy Paint:
Epoxy paints come in limited colors, unlike latex paint. Each manufacturer provides unique directions on how to apply epoxy paint on your bathroom tiles.
However, the general rule is to apply two coats of the two-part epoxy paint. You should also give the paint the recommended time to dry before using the bathroom.
Also note that, professionals will use a blend of fast-drying acrylic resins. Such materials will bond tightly to the tile surface.
The closest material that can match them is Epoxy. Epoxies have been designed for home use. However, they don't bond as strong and won't last as long as the acrylic resins. You may need some retouching after every year or two, since epoxies turn yellow over time.
How To Paint Tile Using Epoxy Paint?
Start by mixing the two-part epoxy paint together. One part is the activator while the other is the base. Epoxy paint can be used on ceramic and porcelain among other tiles.
Next, use a brush to cut in the corners and edges. The process is similar to how you would have done while painting your living room walls.
Once you are done with the brush, pick up the roller and work on the tiles from one edge to the other as you apply the first coat.
Give the first coat an hour to settle before going back with a second coat.
2. Acrylic Latex Wall Paint:
Unlike epoxy paints, latex paints don't involve mixing. Start by applying one or two coats of a bonding primer that has been designed to adhere to tile surfaces.
Give some time for the primer to dry and then follow up with two coats of the latex paint.
Follow the manufacturer instructions when it comes to the recommended drying time.
10 Tips For Painting Bathroom Tile
#1 - Allow The First Coat To Dry Before Applying a New Coat
In case you intend to paint a tub and the walls around the shower, allow each coat to rest for two to three hours before applying another coat.
Further, avoid using the bathroom for about three days to give the paint an ample time to fully dry.
#2 - Prep The Surface Carefully
Unlike when you consider the services of a professional, the job that you put when painting your tiles will be as great as the time you spend prepping the surface.
When it comes to painting, a rough surface is your primary source of adhesion. Hence, spend some quality time to clean and sand the tiles.
#3 - Work In a Properly Ventilated Environment
You also want to work in a properly ventilated environment. I recommend that you use a fan and wear a respirator mask. You don't want to breathe in the ridiculously strong smell that comes from the epoxy paint fumes.
#4 - Use a Spray Gun
When it comes to the painting equipment, use a spray gun. Whereas rolling and brushing can work, they won't offer a great finish.
REXBETI Ultimate-750 Paint Sprayer
If you are unable to get a spray gun, I recommend that you use a foam roller. Low nap rollers will tend to leave tiny raised hairs on the painted surface.
#5 - Use High Quality Paint
Choose high-quality mold resistant paint. With quality, you are assured that your walls will remain mold free.
Furthermore, using a color that matches that of the tile will help you avoid an imbalanced bathroom decor.
#6 - Avoid Using The Same Paint Tray For Two Consecutive Coats
After applying one coat, throw away the remaining paint and mix a fresh paint. New paint can re-energize the old stuff such that to leave small, bumpy spots on the painted wall.
Using a liner will help you make the entire exercise seamless.
#7 - Don't Use Any Kind Of Water-Based Paint
It is a no-brainer! Water-based paint will disintegrate faster than the time you had taken to prep the painting surface.
#8 - Don't Use The Regular Spray Paint
That is the kind of paint you use on your old lawn chairs, you don't want this kind of make-over on your elegant bathroom walls.
#9 - Avoid Taking A Long, Hot Bath For A Few Days
Avoid taking a long, hot bath for a few days after painting your bathroom tiles. I understand the impatience of wanting to enjoy your newly done bathroom, but you want to give it some time to cure.
#10 - Consider Related Factors
Unlike painting your bedroom walls, they are factors to consider when painting your bathroom tiles. The task calls for much greater attention to details, ample ventilation, and a "considerable" downtime as you wait for the paint to cure.
Remember, while painting your tiles, you will be doing the work of a professional tile re-finisher. You want to assess whether the tiles are in good condition for refinishing. Consider finding whether there are some pieces that need replacement and replace them before prepping the surface for the painting job.
Final Words
Tiles have been the permanent solution for bathroom floor and walls. The fact that they are mold-resistant and water-proof make them the perfect material for bathrooms.
Painting outdated tiles give you the ability to decorate your bathroom to your own liking. Since tiles come with limited color options, you can paint them with the colors that match your home decor.