At some point in life, you have probably found yourself in a position where you cannot avoid doing a climb to work at heights, either several feet above or below ground.
And you never realize how susceptible you are to height-related injuries or fatalities until the risk arises when you need to do home inspections, repairs, and maintenance on your own.
Whether you intend to do roof and ceiling inspections, repairs and remodeling, routine home maintenance like cleaning and painting, or trimming, pruning trees, and cutting wood among others, you need to put in place safety measures that will, for the most part, keep you away from falls, injuries, and other potential hazards.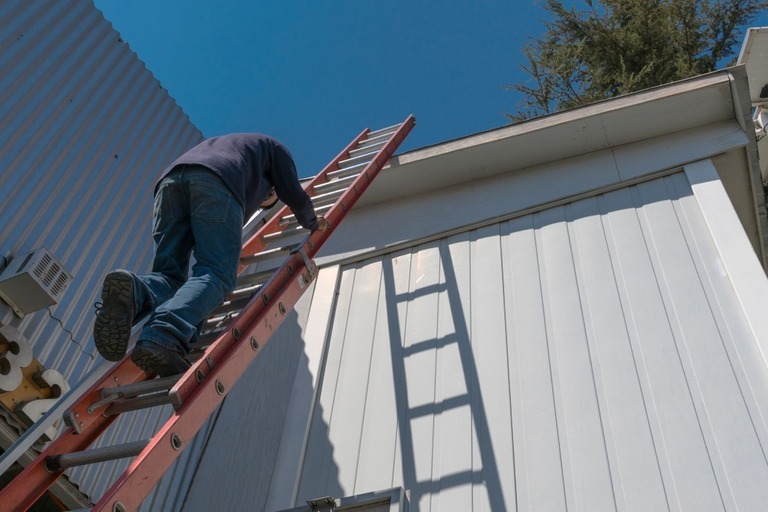 Safety Tips For Homeowners Working at Height
From the veteran to the newbie whose working-at-heights skills aren't quite up-to-snuff, it is very easy to forget these simple safety procedures. Thankfully, this post highlights the necessary safety procedures and every aspect you need to give thought to when working from high points.
5 Safety Tips For Homeowners Working At Height
Plan For Your Project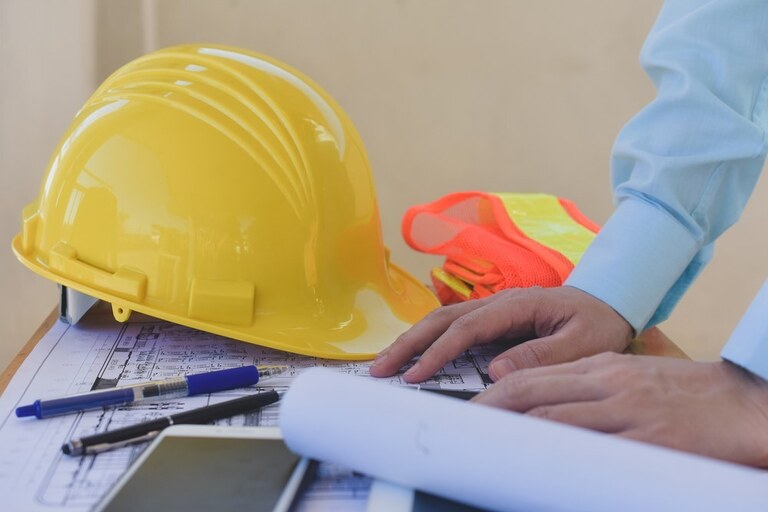 The first step towards putting your safety first when working from an elevated point is assessing the task at hand, examining potential risks, and considering all possibilities. To help you come up with an educated guess, it is wise to draft a rough method statement and carry out a risk assessment.
For example, is the ground surface around your work area firm, or is it soggy, sandy, or slippery? Jot down a checklist of every equipment you will require, the procedure you will follow, and the safety measures to implement.
Check the possible fall distance, weigh the risk in case of an accident, and prepare for any possible emergency. Look for potential hazards like electrical power lines and find safe and practical ways of working around them.
Use Proper Equipment
If you long for the utmost safety, then every tool you add to your climbing arsenal should correspond in quality and elegance. Inspect and check your tools regularly and always maintain them in prime condition.
In case of any worn out or faulty part, make sure you replace it before you begin working. That's not all, DO NOT use makeshift lifts such as boxes and barrels to increase your height.
Use every tool correctly and carefully to ensure maximal safety. Keep in mind the following:
If you will be using a ladder or scaffold system, ensure it is positioned on level ground for much-needed stability. Avoid muddy, wet, sandy icy, or snowy surfaces.

Do not overload the ladder or scaffold with equipment and working materials. If the tasks entail heavy or strenuous load, look for a sturdy ladder.

Avoid sitting or standing on the top step of the ladder or leaning out too far.

Use a tool belt or holster when carrying equipment and supplies to spare your hands for safe climbing. Alternatively, ask another person to pass them to you only after you are settled in your work area.

Use guard rails or safety harness every time you work around edges or on a very steep surface to prevent falling.
Wear Safety Gear
In the wake of the Covid-19 pandemic, the words Personal Protective Equipment (PPE) should not sound alien. Call to mind the possible risk areas of your body and ensure they are well protected and out of harm's way. You will need to make plans for the following:
Headgear - To protect your head from falling objects and cushion your head in case of a fall, ensure you put on safety helmets or protective hats. The helmet also protects your head from falling debris, tools, and more.
Footwear - You will also need strong footwear with rubber soles to provide friction to keep your feet safe from any imminent injuries and to provide grip to the steps or footholds during climbing.
High visibility clothing – Reflectors or fluorescent clothing are also crucial to increasing conspicuity and advertising your presence. This reduces the risk of accidents, especially in congested areas.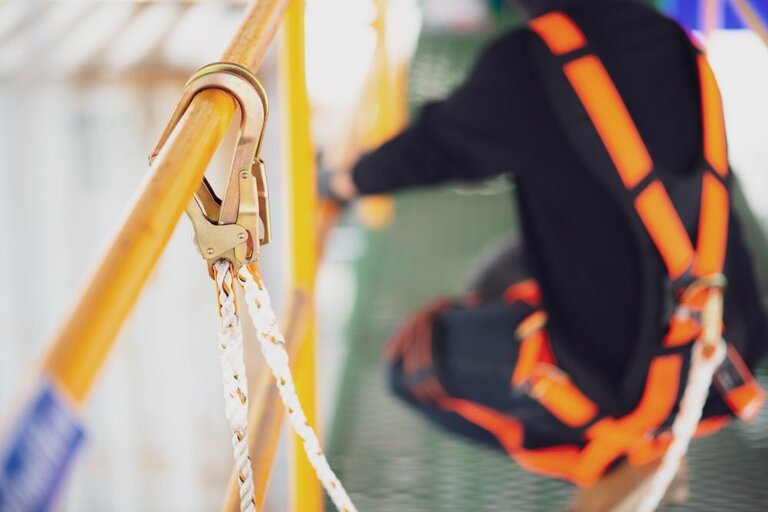 Safety harness system - If you will be working from higher than 10 feet, around edges, or if the slope is steeper than 25°, experts advise that you add a harness system or guard rails to reduce the likelihood of falling over or slipping. Ensure you have basic knowledge of using a safety harness before enlisting the aid of one.
Find a robust and reliable rope or safety line to connect to the harness and tie it to a strong and robust anchor point or lifeline. If you are new to harness systems, we recommend having someone close by when using one to assist you should you need a hand.
Safety Net and Mesh - If you will be working very high with a high risk of falling, find an airbag, safety nets, or soft landing systems to reduce the impact of an accident. Use safety nets and meshes when working on roofs and ceilings to protect the people in the area below from falling items.
Do as Much as You Can On The Ground
Try to carry out as much as you can on the ground before climbing up for a reduced risk of accidents.
Ensure that everything you will be doing up is 100% necessary and safe for you and those around you. Set up all your equipment and prepare every tool you will need before doing the climb.
Using Scaffold Systems
Scaffolds are elevated platforms or structures, usually made from wood or steel, that offer support for you or your supplies when working at heights.
When building your scaffold, measure the height and dimensions of the area you intend to install and confirm that your unit meets the specifications.
Ensure the legs are braced for added support. Putting your scaffold against a wall is the safest way of putting up the support. You can also purchase readymade scaffold systems from credible retailers or suppliers of DIY equipment.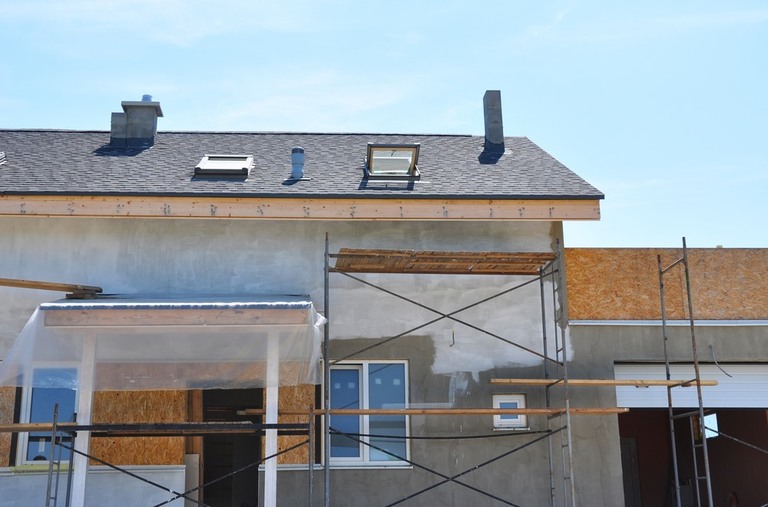 You will need to familiarize yourself with the basics of using a scaffold system before giving it a go. Adhere strictly to the setup instructions and check that the scaffold is fully planked and has all guardrails in place.
Inspect the scaffold system every time before use and look out for all the necessary inspection tags. In case of any structural degradation or faulty part, do not hesitate to find a replacement. Do not walk on the plunks if you notice any ice, mud, or snow, which may cause slipping.
You may still need a ladder to climb the cross braces and access the scaffold. Check the weight limit of the scaffold system and ensure your weight and the weight of your supplies do not exceed it. The total weight you throw on the scaffold should be at most a quarter of its weight capacity.
Concentrate!
It is natural for you to turn around when a friend initiates a chit-chat or move around to a passing car.
However, such distraction may affect your concentration and compromise your ability to cling to your support. Make sure you keep your mind clear of other issues and focus on the project you are doing.
General Precautions
See to it that your work area is free of trash, debris, or any tripping hazards

Avoid stacking heavy equipment or supplies close to the edges

Always carry your phone in your pocket when working alone. The device will be essential if you need to call for help in the unfortunate event of an accident

Also, make preparations for first aid, emergency evacuations, and find a rescue plan.
In a Nutshell
Of course, you can never be adequately safe and prepared when working on upper portions of your home, but executing the safety guidelines outlined here is the closest you can get to being fully accident-proof.
So you have no excuse for leaving any repair or maintenance work undone. Just make sure you get a job done safely, rather than doing it quickly without consideration.