Deciding whether a paint sprayer is the ideal tool for your paint job is just half of the problem. The other is involves understanding the different types of sprayers and selecting the most suitable for the project.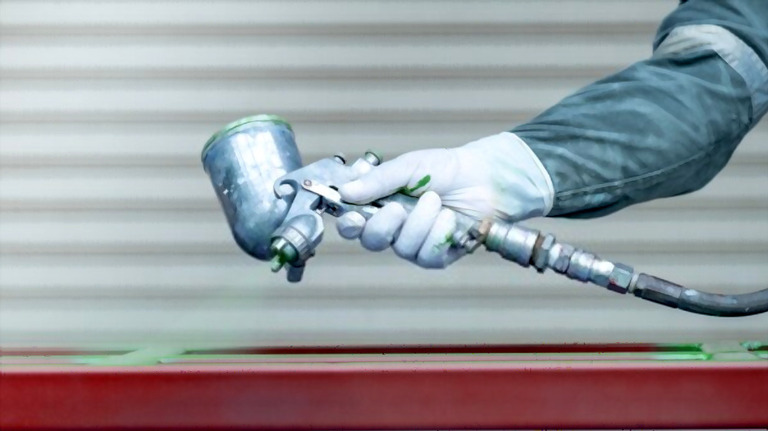 Luckily, most paint sprayers will hack it on different painting jobs around your home. You will apply an even, glass-smooth coat and get the task done in less time compared to the traditional painting tools.
Types of Paint Sprayers
Paint sprayers come in three different main variations. That's the HVLP, compressed air, and airless paint sprayers.
Your ideal sprayer will depend on your level of expertise and the type of project at hand. Let's delve into each one of them and learn where you should put your stakes.
1 - Compressed Air Paint Sprayers
They are also known as traditional or conventional paint sprayers. You most likely have seen one in your old man's workshop.
Compressed air sprayers (air compressor paint sprayers) work by projecting the paint out of the nozzle with the help of highly compressed air. This results in a wide and thick spray of paint that achieves a smooth, even finish.
Compressed Air Sprayers using a spray gun and an air compressor
Among the three types of paint sprayers, this has the most simple operation mechanism. Making it ideal for beginners looking to handle small painting jobs.
Pros
Offers the perfect result in small paint jobs like cabinets and other furniture
Easy to assemble, use, and clean
Affordable, compared to airless and HVLP paint sprayers
Cons
Not economical to run since they use an air compressor
Use a lot of paint that might lead to a messy paint job with overspray
Typically, compressed air sprayers setup will include a compressor canister, a sprayer gun attachment, and a high-pressure hose. The hose connects the spray gun to the compressor.
2 - HVLP Paint Sprayer
High Volume Low Pressure (HVLP) sprayer works by carrying droplets of paint on a steady, large volume of air. Their lower pressure renders them easier to control. You end up with less waste and mess.
HVLP Paint Sprayer is ideal for interior and furniture painting
HVLP sprayers give the best results on interior paint jobs like doors, molding, trim, and cabinets. A feature that has made them win the hearts of most beginner DIYers and homeowners.
Pros
Costs considerably less compared to the airless spray system
Offers for a more controlled paint job with its variable pressure settings
Works perfectly in interior paint jobs to give smooth and even coats
Cons
Most HVLP sprayers handle only thinner paints. While they are perfect for primer and wood stain, they aren't ideal for latex and gloss paints.
To ensure you're getting the best painting experience, consider going for a model that features an adjustable pressure setting. This allows you to attend to more difficult corners or delicate surfaces.
See also: Best Paint Sprayer For Cabinets and Furniture
3 - Airless Paint Sprayers
Airless paint sprayers are the REAL masters of spray painting. They work by propelling the paint through the nozzle of the sprayer with the help of an electric pump.
Airless paint sprayer allows you to spray directly from a paint bucket
It applies a very high pressure on the paint reservoir that fans out droplets of paint. The result is an evenly coated surface with a professional, glass-smooth finish.
Unlike HVLP and compressed air sprayers, airless sprayers easily handle thicker paints. They also come with a variety of tips/nozzles suitable for different paint jobs. Including lacquer, varnish, wood stain, and the more viscous like latex house paint.
Pros
Works directly from a 5-gallon bucket or even the paint tin
Offer the best result for large paint jobs
With a little practice, you will easily achieve the perfect, professional finish
Cons
Some paint will drift through the air resulting in wastage
Not the best alternative for outdoor painting, more so when it's windy!
Even with such drawbacks, the airless paint sprayer has maintained its standing as the best paint sprayer for home use. With some practice, you will find yourself pro painting an entire living room in less than 15 minutes!
Benefits of Using a Paint Sprayer
Even Coat. Painting with a sprayer easily gives you an even coat. You only need to pay attention to overlapping. Just like you would have done when painting with a roller, but not as tedious!
Perfect for Rough Surfaces. Rough textures like cracks, bumps, and gaps are a pain when painting with brushes or rollers. With a paint sprayer, you can easily override such imperfections.
Flexibility. Paint sprayers are flexible to work with on both interior and exterior surfaces. They are especially the best painters for exterior surfaces. Since they cover wide swaths in one motion.
Glass-Smooth Finishes. Even when working on an uneven surface, you end up with a smooth coat. It is the go-to solution when you want a glass-smooth finish on wooden surfaces like doors.
Saves the Painting Time and Efforts. That's by getting the job done quickly and easily! Compared to brushes and rollers, they paint large swaths with each push of the trigger.
Affordable for DIYers and homeowners. A sprayer gets cheaper in the long-run. Needless to say, there are cheaper models today than ever before.
Drawbacks of Using a Paint Sprayer
A paint sprayer sounds like the tool that will complete your paint job with a killer-smooth finish with fewer efforts. But it does all those great things while leaving you with a few 'dirty-work' to clean up.
A lot of prep work is involved when taping and masking every single space that won't be covered by the paint.
After the job, you will be slapped with a cleaning task that needs to be done immediately. The nozzle might get clogged with a delayed cleaning!
A sizable initial investment is required when acquiring a paint sprayer. A cheaper one won't hack it. Good enough, sprayers are now getting more affordable than ever before.
They aren't ideal for a small painting job. Meaning that you will end up using a brush or roller even when you have a decent sprayer in your home!
It's better to choose an easy to clean paint sprayer
How to Choose The Right Paint Sprayer?
You now have a clear idea of the different types of paint sprayers. It's time to choose the best sprayer for your projects. The following tips will help you narrow down to the ideal option.
1. Principle of Operation
The first feature to consider when choosing a paint sprayer is its working mechanism. Since this determines its ease of use and efficiency.
High Pressure (HP) sprayers like airless and compressed air work pretty fast when applying the paint. Hence you complete the project quickly and with a smooth finish. But as a compromise, you end up losing a lot of paint!
HVLP sprayers are more efficient since you have more control over how the paint is ejected from the nozzle. But you will trade-off the speed.
2. Ease of Adjustment
Always go for sprayers that offer easily adjustable controls. It can either be a dial or knob near the nozzle.
See also: Handheld Paint Sprayer Reviews 2021
3. Surface Compatibility
Versatility is the key word here! Don't just pick a sprayer that is specifically designed for interior or exterior painting. Nor should you choose a model that works only on wooden or metallic surfaces.
A more diverse option sounds like the best bargain. Some models come with different nozzles to suit on different applications. These are the best bets for a DIYer.
Choose a paint sprayer that can be used for both interior and exterior use
4. Portability
With a portable paint sprayer, you can go anywhere and get the job done. They also complete both smaller and bigger paint jobs pretty quickly. It's advisable to choose a unit that comes with wheels or a backpack that eases its movement.
5. Horsepower
The paint sprayer's power tells you the amount of paint it can propel per minute. Sprayers with a significant horsepower are more powerful and allow you to get the job done quickly.
However, for a DIYer, I recommend going with an alternative that you can easily control. To avoid the overspray mess and reduce the clean-up job.
6. Tank Volume
A smaller tank means a lightweight paint sprayer that is easy to handle. But the compromise is the frequent refills. Making it only ideal for smaller projects.
More paint capacity gives you a bigger paint sprayer than can only be suitable for large painting projects. Not to forget the bulkiness when carrying around.
7. Tank Position
Sprayers with tanks at the bottom of the gun allow for a more controlled paint job. Rendering them ideal for detailed spraying on small projects.
Sprayers with tanks at the bottom of the gun allow for a more controlled paint job
A tank as the top means a better paint weight distribution with a much faster spraying speed. Making them ideal for large painting projects.
8. Power
Electrically powered paint sprayers are lightweight. All you need is to plug them into the electricity supply. Some are cordless and ultra-portable. Making them ideal to use in places where there is no electricity.
The gas-powered alternatives are pretty heavy. Not to mention their environmental unfriendliness. They are only ideal for large paint jobs in areas where there is no electricity. That doesn't sound like the average home!
9. Cleanup
HVLP sprayers offer for an easy cleanup since their working mechanism is more controlled. But that can't be said for airless sprayers. For interior projects on a house you're already occupying, HVLP or compressed air make the best alternatives.
10. Flexibility
Always go with a model that allows for pressure control. They offer for flexibility when using them in different paint jobs.
Accessories That Extend the Paint Sprayers Life
Paint sprayer accessories will extend its life while making your painting job easier.
Tips/Nozzles - Different tips propel paint in different patterns. Getting a few extra tips helps you paint on different surfaces while achieving a smooth coat.
Hose - Having several hoses makes your sprayer more versatile. Longer hoses are ideal for large, exterior projects. While smaller jobs like kitchen cabinet will need shorter hoses.
Filters - With filters, you reduce contaminants and debris that can clog the nozzles and cause paint splattering. They also ensure that you are getting a smoother finish.
Extension Rods - Helps you to paint decks with much ease. You'll get into hard-to-reach surfaces like ceilings.
Protectants and Conditioners - Which are liquid formulas that help in preventing corrosion, rust, freezing, and sticking. This extends the life of your equipment.
Protective Gear - Spraying painting is a messy and dirty job with fumes and paint particles in the air. Wear protective equipment respirator or face mask, gloves, and goggles.
Now that you have a clear idea on types of paint sprayers and how to choose the right one, it is time to buy the best paint sprayer for your needs. Remember, the drawbacks of a paint sprayer simply become part of the job if you're an enthusiastic DIYer!