Laser measure is more than a mere measuring tool, they offer more precision readings than their traditional counterparts, thus making it easier to complete a wide range of construction, electrical, plumbing, and home DIY installations and repairs much easier.
Take advantage of the coming Black Friday laser measure deals to locate an ideal laser tape measure that will be suitable for your needs. With good discounts on laser measure, you are guaranteed a good brand of this device at much lesser costs.
Why You Should Buy a Laser Measure?
Convenience is the top benefit to own a laser tape measure. It comes as a simple handheld tool with a very easy-to-read digital display feature. With your laser measure, you can measure short and long distances, walls, ceilings, and many difficult-to-reach places without stress. These laser measures can work independently or when attached to some other devices.
Accuracy is another reason why you should consider buying a laser measure. Since measurements are all about accuracies and estimations, you need a precise and reliable laser distance measure.
The good news is you don't have to wait for Black Friday sales on laser distance meters before you discover the best laser measure available. However, make use of the discounted tools and you can save a lot.
Best Black Friday Laser Measure Deals 2023
Here we've selected the latest deals, sales and discounts on laser measuring tools for Black Friday and Cyber Monday 2023. We're expecting some huge discounts in November and will be updating this as soon as they are available.
Bookmark this page and check back frequently for all the latest news and best Black Friday laser measure deals.
Laser Measure Black Friday Deals 2023

43% Off

Hilti 2062051 PD-E Laser

Range: 656-ft
30 last measurement memory
Optical viewfinder for outdoor uses

35% Off

Leica DISTO D1

Range: 120-ft (40m)
Simple two button operation, Bluetooth 4.0
Provides easy point and shoot measurements

30% Off

Bosch Blaze Pro GLM165-40

Range: 165-ft (50m) for professional uses
Auto square function
Backlit color display, compact

30% Off

Bosch GLM165-25G Green-Beam

Range: 165-ft, green laser beam
Easy-to-read backlit color display
Accuracy and long-range real-time measuring

28% Off

Leica DISTO X3 - Rugged Laser Distance Meter

Range up to 500ft with X-Range technology
Rugged design IP65, Bluetooth
Bright, colorized, backlit display, long battery life

20% Off

BOSCH GLM20 Blaze

Range: 65-ft
Simple, one button operation
Smart and convenient size and shape

16% Off

Leica DISTO E7100i

Range: 200-ft (61m)
Simple control, easy to use
Affordable price

18% Off

Leica DISTO E7500i

Range: 660-ft (201m)
Built in inclinometer, comes with advances features
Convenient Bluetooth functionality

18% Off

Leica DISTO D810

Range: 660-ft (201m)
Ultra-light and portable
1-meter drop tested and IP54 rated

16% Off

Leica DISTO E7100i

Range: 200-ft (61m)
Simple control, easy to use
Affordable price

15% Off

Leica DISTO D2 New

Range: 330-ft (100m)
Easy to use, accurate measurements
Durable, compact design

10% Off

Bosch GLM 50 C

Range: 165-ft (50m)
Built in inclinometer, many advanced features
Convenient Bluetooth functionality

9% Off

Fluke 417D

Range: 131-ft (40m)
An adjustable zoom camera, color display
Bluetooth connectivity
When is Black Friday 2023?
This year Black Friday lands on Friday 24 November.
If you're wondering which laser measure to pick up in the Black Friday sales, take a look at our watch list for some of the best laser measure recommendations.
Black Friday Laser Measure Deals 2023 - Watch List
Keep an eye on the following laser measures when searching for Black Friday deals 2023. They are among the top-rated laser distance meters on the market.
Bosch GLM 20 Blaze 65' Laser Distance Measure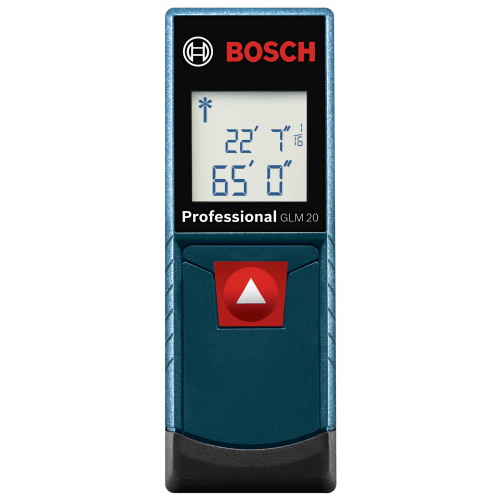 This laser tool measures up to 65 ft. which is a long-range distance. With a one-button operation, you can press and start using the device. It can measure in feet or inches or inches only. It is simple and compact enough to fit into your pocket and it provides a real-time measurement that automatically adjusts as you move closer and further away from the target.
The Bosch GLM 20 has a backlit display that can be easily read even in the dark. This good cheap laser measure is powered by a corded electric source and 2 AAA batteries.
Bosch Blaze GLM 50 C Bluetooth Enabled 165' Laser Distance Measure
The inbuilt Bluetooth technology on this device makes it one of the best laser distance measurers because the technology can transfer your measurements to other devices. If you are working with a group of others, and need information sharing, this is one device you should opt for. The Bluetooth and color display technology provide extra brightness for the workspace.
The in-built inclinometer also provides advanced features like min/max and angular measurements of distances. The measuring accuracy of this laser measure is 1/16 which is one of the highest you can get. The highly compact and portable device will fit into your pocket easily.
Leica DISTO D2 New 330ft Laser Distance Measure
This laser measure comes at higher prices, perhaps you may want to wait for Black Friday deals to get a discount on it. It is a class 2 laser with up to 300 ft. measuring range and that makes it the best laser measuring tool for appraisers. It offers 1/16" accuracy and a Bluetooth 4.0 technology that is considered the fastest for transferring data, including your measurements.
It measures and calculates the indirect height and width measurement with the use of formulas like Pythagoras theorem. It comes with IP54 water and dust resistant body and has a built that can reach the toughest hard-to-reach ends.
Leica Disto x4 Laser Distance Meter
This is one of the top laser distance meters you can find because of its unique, advanced features. The major feature worth appreciating here is the 4x zoom that provides easy targeting, especially when measuring outdoors. It also comes with robust protection of IP65 glass which does not shatter or break even after a fall from 6" from above.
With a tilt sensor and Smart Room function, you can work out horizontal distances with great precision. There is a rotating display that ensures that measurements are kept in line for reading at any angle. This device is powered by 2 alkaline batteries, and it comes with a 3-year manufacturer warranty.
BOSCH GLM400CL Blaze Outdoor Laser Measure
This is another powerful outdoor laser measure device from Bosch. Based on its ability to measure up to 400 ft. distance, you can call it the best laser distance measurer for outdoors. It comes with multiple measuring features including 11 measuring functions that include length, area, volume plus addition, and subtraction capabilities.
There is an adjustable zoom camera that spots laser spots from a distance. Even at 400 ft. maximum, this device will still maintain the accuracy of 1/16-inch. The easy-to-read backlit LCD will illuminate the numbers even in a dark environment and can also help you in a low-lit environment. Made from durable plastic material and powered by a Lithium-Ion battery.
Bosch GLM165-10 Blaze One Laser Distance Measure
The 165ft. range laser distance measure can deliver up to 1/16" accuracy for both indoor and outdoor applications. It is compact enough to fit into your pocket. The backlit LCD illuminates the work environment and the screen surface for clear reading.
It operates on a single push button. It also works with a live measuring feature that allows you to move nearer and closer to your target without losing accuracy. There is an auto square feature that calculates the square footage. The IP54 water and dust-resistant feature provides extra protection for the laser measure in outdoor conditions.
Fluke 417D Laser Distance Meter
This is a one-button point and click laser measure that measures up to 40 meters in distance. It provides continuous measurement even when you move closer or away from the target. You can use it to calculate Area which is measured as feet/meters. It can survive a 1-meter drop and it is protected with IP54 water and dust-resistant design.
It is an excellent choice for interior and exterior applications. Due to its affordable cost, it could be one of your best deals on a laser tape measure on Black Friday.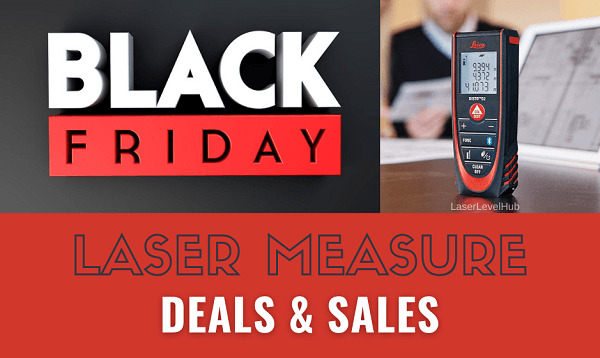 How to Get The Best Laser Measure on Black Friday?
When looking for the ideal laser measure, you should pay attention to your needs first before you start searching for Black Friday deals on laser measuring tools. Other factors you should consider are:
Should you buy or hire?
Indoor or Outdoor Use
Range of Distance
Durability and built
Once you have decided on the main purpose of your laser measure and what you intend to use it for, you should decide whether to buy or hire. If you are planning to use a laser measure for smaller DIY home jobs, it might be helpful to buy a cheaper laser measure, especially through Black Friday laser measure sales. Alternatively, you may want to hire the laser measure only when needed, and if you don't get to use it frequently.
As a construction professional, plumber, electrician, builder, agriculturist, architect, or any other field, you need to buy the tool outright. Perhaps you will need the Black Friday laser measure deals and sales more than anyone else.
You should also take into consideration whether you will be using the laser measure tool indoors or outdoors. Most laser measures are designed either to work indoors or outdoors, but you can also find others that can work in both situations. For indoor laser measures, the distance covered is usually smaller than the distance covered by the outdoor options. Pay attention to the distance maximum range for each laser measure before purchasing any.
Range or distance covered by different laser measuring tools differ, and the longer the distance covered, the higher the price in most cases. Most laser tape measures provide distances between 60m and 200m. The 60m to 100m rated laser measures are most suitable for DIY home applications, and most especially indoor applications. Don't mistake distance for accuracy, as a matter of fact, the longer the laser measure travels, the more likely it is distorted and influenced by interferences that reduce speed and accuracy.
Durability and built as a factor in choosing the right laser measure are non-negotiable. You want a laser measure product that will stand the test of time and handle the pressure and demands of external issues such as mechanical falls, moisture, and dust. The best laser measuring devices should survive at least 3 feet of fall and must be rugged enough to withstand mechanical and non-mechanical pressures. Cheap plastic designs should be avoided but light metal or a mix of metal and plastic are good designs.
Now that you are aware of the procedure to choose the right laser measures for your needs, you should put some effort into finding the best deals or discounts to save money. Black Friday is the best time to get the best discounts on laser measures and the reason is that you can save between 15% and 40% on all laser measure brands listed on the deals.
Don't Miss Out Black Friday 2023
With Black Friday deals, you have access to hundreds of laser distance measure devices and brands and can save up to 40% on prices. The Black Friday discounts come once a year especially the Friday after Thanksgiving Day, hence you don't want to miss out.
Do not forget to bookmark and return to this page regularly to get the best Black Friday deals on laser measure, laser levels, power tools, and more product reviews