The hunt for the perfect demolition hammer that works for your exact needs can be challenging.
Because every user has different needs and different ideas about what it should achieve, finding the best demolition hammer can require a bit more work than usual tool shopping.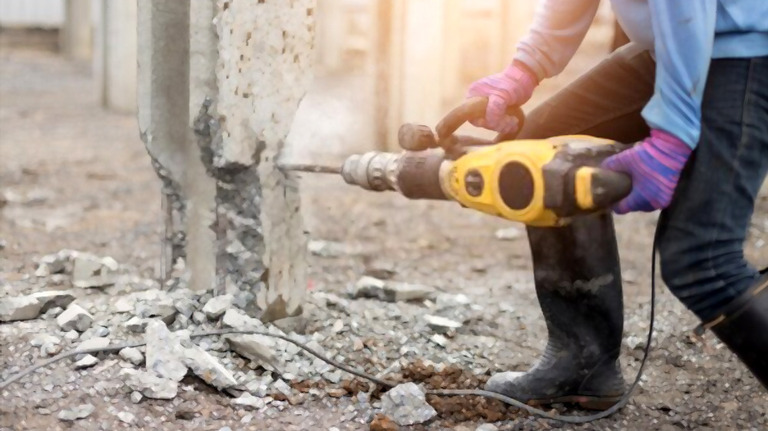 Top 6 Picks for Best Demolition Hammer:
This guide will turn this challenge into a walk in the park. Just browse through our top selections based on a variety of important factors and then pick the one that suits your needs and style.
The art of choosing the ideal concrete demolition hammer is looking at its capacity and customizability. Everything else usually follows.
Start here!
Best Demolition Hammers of 2021

Best Overall

Makita HM1214CX

Lightweight, powerful, and customizable (12 bit-angle settings)
Anti-Vibration Technology and automatic speed control
Delivers 950 to 1,900 blows per minute (BPM)

Read My Review

Powerful

DeWALT D25892K

Lightweight at 22 pounds while holding
Shocks Active vibration control
19.4 Joules of impact energy

Read My Review

Great Value

Bosch DH712VC

Lightweight at 18.3 pounds
Active vibration and speed control
Auxiliary handle aids in longer duration of operation

Read My Review

Durable

Makita HM1203C

Low-duty portable jackhammer
Indicator light for switch failure and cord damage
Designed for horizontal hammering

Read My Review

Good Price

Bosch 11321EVS

Compact, lightweight model at 13.7 pounds
Overload protection and speed control
Powerful and high quality equipment

Read My Review

Best Budget

XtremepowerUS 61105-XP

800 RPM, 20 pounds of body weight
1000-watts of consistent power
Uses hex shank bits (hex bull, hex chisel)

Read My Review
If you have already made your pick (bravo!), the next step in your hunt is to go through its detailed review.
Here we have listed down the demolition hammer reviews, pros and cons, and final verdict of each demolition hammer model.
A bit of comparison is also present to help you understand, for example, why the DH712VC is a better tool than the 11321EVS from the same manufacturer.
Best Demolition Hammer Reviews 2021
These hammer reviews are based on rigorous first-hand tests that we conducted in our laboratory. Because actual use cases were used to assess the quality of these power tools, you can rest assured that they will perform well even in the most complex situations.
In other words, these reviews will tell you if a demolition hammer will do what it claims to do. Read on…
#1 - Makita HM1214CX 27-Pound AVT Demolition Hammer
This 27-pound beast is the answer to all your demolition needs, no matter how challenging the work may seem.
Makita HM1214CX Demolition Hammer
Pros
Anti-Vibration Technology for longer operation time
Constant speed control enables users to drill through all types of surfaces by automatically managing the power
Comes with a complementary 1-inch SDS-plus rotary hammer
High power-to-weight ratio makes it suitable for all types of demolition/chipping jobs
Cons
Can be difficult to handle for beginners
Product Review
Equipped with trusted Japanese technology, this Makita model stands out because of its speed control, patented Anti-Vibration Technology (AVT), and an impressive power-to-weight ratio.
The 14.0-amp motor can rip through all types of materials like concrete and rock without straining itself a bit.
The 12-bit angle setting supports the demolition as you can customize the hammer based on specific job requirements. For example, need to the pointy bit to drill through slabs of concrete without disturbing the adjacent built-ups. You got it.
The vibration and speed control go hand in hand as both focus on helping you get your job done. Both the features allow the machine to pinpoint force into the job without shaking your hands and running it.
The automatic speed control shifts the speed by detecting the requirement, making it an intelligent tool for the modern user.
What makes the Makita HM1214CX a darling demolition hammer for first-time buyers is the complementary SDS-Plus rotary hammer.
Who does not like freebies? And when it just makes your construction job easier, you cannot even complain, right?
No doubt we had to adjudge it as the best demolition hammer out of the lot.
Well, this is the best deal you can get if you are in need of a superior demolition hammer and do not want to compromise on the quality in return for a lower cost.
Verdict
This Makita demolition hammer is lightweight, powerful, and hard-working – which means it will never let you down. Take it home and fire it up and it will keep on working for you without a strain for years and years to come. It's an all-rounder and intended for a variety of demolition and chipping purposes.
#2 - DEWALT D25892K 22 Lb. SDS Max Demolition Hammer
Lighter that the Makita above is this product of decades of pioneering technology by DeWALT, America's own lovable power tool brand.
DEWALT D25892K 22 Lb. SDS Max Demolition Hammer
Pros
Shocks Active vibration control for less fatigue and greater productivity
Automatic speed control for changing speed on the basis of load/job type
4 Joules of high impact energy
Perfect for concrete slab work
Product Review
There is a reason why DeWALT tools are preferred over others and this SDS Max demolition hammer model right here confirms why.
Intended for construction workers who depend on precision for their work, the D25892K is a tool that is perfect for slab work and drilling holes without disturbing the outer area.
Its patented Shocks Active technology ensures that you can operate it for longer durations without experiencing fatigue.
DeWALT promises greater productivity through its speed control mechanism, which is another feature to dig in this native-produced construction machinery.
Because it is lighter, even a beginner can learn to carry out demolition hammering, making is suitable for all types of user groups; hobbyists and professionals alike.
The 19.4 Joules of impact energy is tremendous for a tool that is priced so modestly and built like sheets of aluminium.
During our testing, the D25892K performed well on rocks, sandstone, and even tile chipping. The intelligent speed control is a feature that will make working with this piece of machine a fun exercise.
Verdict
Ever wanted a general-purpose demolition hammer that you can put a one-time investment on? This is the answer right here. The specialty of this DeWALT demolition hammer model is its suitability for concrete slab work.
#3 - Bosch DH712VC SDS-Max Demolition Hammer
Third on our list of the best SDS Max demolition hammers is a powerhouse from Bosch.
Bosch DH712VC SDS-Max Demolition Hammer
Pros
About 18 pounds in weight makes it a lightweight marvel
Active vibration control allows all-day chiselling
Auxiliary hand for extra comfort and positioning while hammering
Suitable for chiselling and demolishing all types of hard materials through its SDS Max chuck system
Product Review
Equipped with a defining auxiliary comfort handle for longer durations of hammering, the DH712VC is a perfect tool for both newbies and advanced professionals.
It smacks 9.6 Joules of impact energy on the material surface and will give your jobs a staggering start.
The vibration and automatic speed controls (two of the most important features in a portable jackhammer) act in combination to aid your projects as you will marvel at the effortless operation of this Bosch technology.
Perhaps what defines this tool is the high levels of comfort while holding it. Bosch knows that demolition work requires hours of nonstop operation and even though workers use hand gloves to be protected from the dust and for better grip, power tools still tend to exhaust the worker of all energy after a few hours of use.
Not this Bosch demolition hammer whose outer covering is designed keeping the worker's convenience in mind. It has the best handle grip in all the six units we reviewed on this list.
Hold this for the whole day and your hands will be as pristine as they were before you start working.
Verdict
Looking for a model that you can depend on for jobs that require you to be working for hours at a stretch? Have to focus more on chiselling? The Bosch DH712VC is your pick as the best demolition hammer for tile removal.
#4 - Makita HM1203C 20-Pound SDS MAX Demolition Hammer
If you are a hobbyist who needs a handy demolition hammer for quick tasks, or a home user who needs one for that occasional trench digging, or a contractor who requires a smaller version of the mighty jackhammer for work on masonry and concrete, look no further.
Makita HM1203C SDS MAX Demolition Hammer
Pros
Variation speed control through a speed dial
Indictor light for switch failure and cord damage
Soft start for better operation start
5 Joules of impact energy
Cons
Not suitable for heavy-duty demolishing
Cannot drill through asphalt, hard rock
Product Review
The Makita HM1203C 20 lb demolition hammer is one of the better models in the market. Simply because it has all the definite features and does its job as required. Which is why you do not expect anything more from this machine.
Makita markets it as a tool for horizontal work, meaning you should avoid using it for digging asphalt and other similar jobs.
Further, it is not designed for large rock chipping thanks to its low-duty plastic enclosure.
But that does not mean it cannot take up the usual tasks. Apart from the speed control and power light that indicates you in case of cord or switch failure, the HM1203C has a soft start that suppresses start-up reaction to avoid drill running and increase machine life.
It is a general-purpose electric demolition hammer that will work just fine as long as your requirements are not heavy-duty.
Verdict
If all you need is a demo hammer that helps you chip away tiles and knock down slabs of concrete on vertical surfaces, the HM1203C is your most economical bet. Don't think twice, you DIYer!
#5 - Bosch SDS-Max Demolition Hammer 11321EVS
Bosch 11321EVS SDS-Max Concrete Demolition Hammer
Pros
Speed control and smooth start-up function
Auto-Max speed dial matches the power to the application
Ideal for tile chipping and basic demolition work
Cons
Switch setup is not user-intuitive; may result in unintentional motor turn-off
Product Review
If the first three models on the list are the crème de la crème of demolition hammers in the current market, this one and the Makita model above are the economical versions. The type that a DIYer would prefer.
Why?
Because similar to the Makita model above, this one is a low-duty, lightweight demo hammer that is intended for chipping applications more than actual 'construction destruction'.
Although it has all the kinks of a high-quality portable jackhammer what it lacks is the power to induce.
Take this: with a lightweight frame of 13.7 pounds, it supplies a maximum impact energy of 6.1 Joules, which is not enough to destroy concrete slabs.
What it can instead do is chip tiles neatly as possible and drill through unwanted thinset that maybe decades old. In that sense, this Bosch does best what is intended of it.
Add to that the usual Bosch promise of reliability and long running time, you get the best affordable demolition hammer that is 100% efficient with its actions. The BPM of 2,900 is the highest and so is the built, enclosure and motor assembly included.
The only downside, even though it is a minor one, is the switch setup on this model.
During our testing we found that it is very easy to turn it off through the nick of your fingers accidentally without realising it. It can be a huge turn off if you are in the middle of a job.
But for all the better features of this tool, it is a monster in its own right.
Verdict
If the 11321EVS promise is all that you need in your tool and you only expect a few basic tasks from your demolition hammer, this model is for you. It will not disappoint as long as you stick to low- to medium-duty applications like bathroom tile chipping, wall thinset removal, and fake ceiling demolition.
#6 - XtremepowerUS Demolition Electric Hammer
For plenty of reasons, this is one of the most popular models on this list.
Thanks to its entry-level pricing as well as its idea of crude demolition, the 61105-XP from the underdog XtremepowerUS completes our list of the best demolition hammers for DIY, homeowners in the online market.
XtremepowerUS 61105-XP Demolition Electric Hammer Jack Hammer
Pros
Adjustable 360-degree handle
1000-watts of consistent power with no variable option
Cheapest demolition hammer
Cons
Requires maintenance on the part of the user through regular checks and oiling
Low quality body and storage case
Product Review
Upon testing, we found that this is the tool that will appeal to anyone who has never tried out demolition hammering before.
Are you a home user wanting to remodel your bathroom through DIY techniques?
Then this tool will bring a smile to your face.
Made with industry-grade materials, its constant speed from the 1000-watt motor allows you to wreck anything that comes between you and your job's completion.
Whether it is a concrete slab or an asphalt flooring in your car porch, this monster of a machine will not step back till the job's done.
It provides an RPM of 800 through its 20-pound frame and 8 Joules and impact energy which may not sound like a lot that does its work through brute force.
It uses hex shank bits compared to the SDS Max used by other models on this list, which is both an advantage and disadvantage if you think about it.
Professionals may find bit incompatibility problematic, which is why we do not recommend this for seasoned construction workers or contractors who have huge loads of heavy-duty work.
Verdict
Ever visualized you could get hold of a jackhammer being used on the street but one that is portable and handy? Stop reading now and instead of renting a used hammer for $100, get this one. No doubt why the 61105-XP is called "the concrete breaker."
What is a Demolition Hammer?
A demolition hammer is an electrical power tool that is used to break down structures made of hard materials like chunks of concrete and rocks.
It contains a hammering mechanism (compressed air, pneumatic, hydraulic, or electro-mechanical) that moves the chuck system up and down to pound onto the job. It is the heavy-duty and advanced version of a rotary hammer and the portable, dumbed-down version of a jackhammer.
In comparison, a handheld demolition hammer has a powerful motor and a larger chuck system to hold the chisel and spade bits.
It also requires adequate strength training and endurance to hold such a drill, making it a tool suitable only for professionals.
However, there are models – the Bosch 11321EVS and the Makita HM1203C – that are easy to handle for beginners too.
Depending upon the type and strength, it is also known as a portable jackhammer (American term), a pneumatic drill, an electro-mechanical drill, and a hydraulic drill.
While there are variations with these name changes, the operating principle and applications usually remain the same.
Demolition Hammer vs Rotary Hammer vs Jackhammer
The biggest difference between a rotary hammer and a demolition hammer is that the former is primarily used for drilling with the extra force of the hammering motion.
Certain surfaces made of hard materials like cement, rock, and sandstone requires the added pressure for the boring. Demolition hammers are used primarily to chip, destroy, and chisel away unwanted built-ups. They cannot be used for drilling holes or screwing.
As noted above, a demolition hammer is a sort of portable jackhammer. They are smaller in size, portable, and have lesser impact energy capacity.
One of the other major differences is that a jackhammer cannot be used for horizontal projects, whereas a demolition hammer like Makita HM1203C is specially designed for that purpose.
You cannot carry a jackhammer along with you in a case and that's the biggest advantage you have when you own a demo hammer, as it is sometimes called by construction professionals.
How to Buy a Demolition Hammer
A list of five actionable tips to employ while looking for the ideal demolition hammer:
There are two unofficial types of demolition hammers: one that can break down entire concrete walls with their high impact energy and the other that is designed for chipping. Make sure your requirements are clear before zeroing-in for one
When going for the best demolition hammer for tile removal, make sure to look for the chuck system and bit compatibility. Although most models use SDS Max some may have an added advantage of hex/spline bits. The ability to use different attachments – chisel, spade, etc. – is the key to a good tile removal power tool
Focus on the weight of the machine before hitting the 'Buy' button. These hammers are known to be very heavy (15 to 45 pounds) so knowing the weight helps you understand if you can also use it for horizontal operation. For example, the Makita HM1203C is a perfect tool for such applications
Some models have extra bells and whistles like LED light that should be kept as secondary priority when choosing a demolition hammer. Remember that the main goal is to find a powerful machine that focuses on demolition
If you are a loyalist of a certain brand, stick to it. Your experience handling its tools will come in handy. For example, if you are a DeWALT fanboy, it makes sense to go with the D25892K even though our top pick is the Makita HM1214CX.
How to Use a Demolition Hammer?
Using a demolition hammer is laborious task. It requires a lot of energy, endurance, and skill to hold and operate it safely.
Therefore, we recommend practicing this activity only in the presence of trained professionals. DO NOT try this at home.
The operating principle of a demolition hammer is simple: it uses a bit and a thumping (hammering) mechanism to pulverize a surface and then break it down into tiny pieces.
To simplify this, consider the example of a two-by-six-feet concrete wall with a thickness of three inches that needs to be flattened.
You can use a demolition hammer with a basic pointed bit and hammer through the wall till it crumbles into pieces.
The hammering motion aids in the breaking-down as a pile of concrete debris forms on the floor.
Depending upon the quality of the wall, it can take anywhere from a few ten minutes to a few hours to break something down.Same goes for activities like tile chipping, boring, and chiselling thinset out of a frame.
The right way to use a demolition hammer is governed by three things:
The way you have held it – for most tasks keep the bit perpendicular (at a downward angle) to the surface that needs to be demolished. Angle changes can help in better results
The type of bit/attachment – you must use the right bits for different jobs. If you want to chip tiles, go for a chisel or a spade
The impact energy – the higher power-to-weight ratio higher the performance. While tile chipping requires less power, concrete work will demand higher Joules.
Apart from these, you must also take care of the following in order to bring out the best in your demolition hammer and stay safe:
Safety – We have noted how beginners should avoid handling it altogether; and if they have to, it should be under the supervision of a professional. Usage of a hardhat, dust mask, hand gloves, work boots, and protective glasses is a must
Handling – Again, as noted earlier, the efficacy of a demolition hammer's operation depends on the way you handle it. Use a pair of hand gloves for tighter grip so that the tool does not fall off your hands in the middle of a job. A number of accidents occur due to such power tools slipping off the hands of workers
Pro tip – Go with the Bosch DH712VC which has the best grip on this list
Tip Orientation – The bit of the hammer should point downwards and with an angle to the surface to better results
Planning – As with any construction job, planning your task beforehand will help. Understand what the aim is and then work through the plan as to where you will start (what point on a surface) and how it will end. Knowing the start and end points can help you get the job done faster.
Demolition Hammer FAQs
A list of frequently asked questions and answers about demolition hammers.
How Do I Ensure Safety While Using a Demolition Hammer??
Invest in a pair of hand gloves, a dust mask, eye protection gear, a hardhat, and work boots. Understand the operation through a user manual (go through the section above), learn how to handle and point it properly, and plan your job beforehand.
What Size Demolition Hammer Do You Need??
This will depend on the projects that you handle. If your projects are of all types, invest on a tool that can do everything with high impact energy. The Makita HM1214CX is your best bet. If you are a hobbyist or a home user, go for an intermediate version like the Bosch DH712VC
What Oil Should I Use??
Any medium-weight oil will do the job of lubricating the air cylinder and other mechanical parts of a demolition hammer. You can get this at Home Depot. Ask for gear oil at any shop and that should work fine with any machine. Alternatively, some models have recommended oil types mentioned in their user manual.
How To Increase The Lifespan Of A Demolition Hammer??
Periodic oiling (once a month if daily use), dusting, and proper usage will ensure that your hammer stays with you for decades.
What Are The Common Causes Of Fatigue Failure??
Bending of tip, chuck system failure, cold temperatures, poor lubrication, corrosion, and mechanical damage. Check all the moving parts of your hammer at least once a month to ensure proper operation.
Final Verdict
There comes a time in every professional's and hobbyist's life that they need another expert to tell them what's best for them. This article is a form of that.
Here, we not only selected the top demolition hammers in the current online sphere but also took you through the basics of what, how, and why. We hope you have consumed this information and it has helped you make a good investment.
In case you are still on the fence about taking one of these home, here are top three recommendations for certain user types –
For professionals – the Makita HM1214CX will not disappoint. It has lots of power that can punch through most types of surfaces without giving you fatigue. Its lightweight body is another highlight that really makes it a crowd favorite
For hobbyists/DIYers/home users – Go with the Bosch 112321EVS or the Makita HM1203C which are economically priced and still pack all the features required in a middle-order demo hammer
Economical option – Need to try your hand on a demo hammer but are not ready to splurge? This is the model to get. Many call it the underdog in this department but let us assure you it's the opposite. Because it is not only cheap but also powerful and crude as demolition hammers should be
So, choose you pick today and let us know your thoughts in the comments below.