Always wanted to invest on a hammer drill to take care of your "heavier" boring and chafing needs?
Well, now is a great time to do so because of the diverse types available in the market. Today we are going to talk about some of the best hammer drills that you can buy online.
Top 7 Best Hammer Drills for Concrete and Masonry: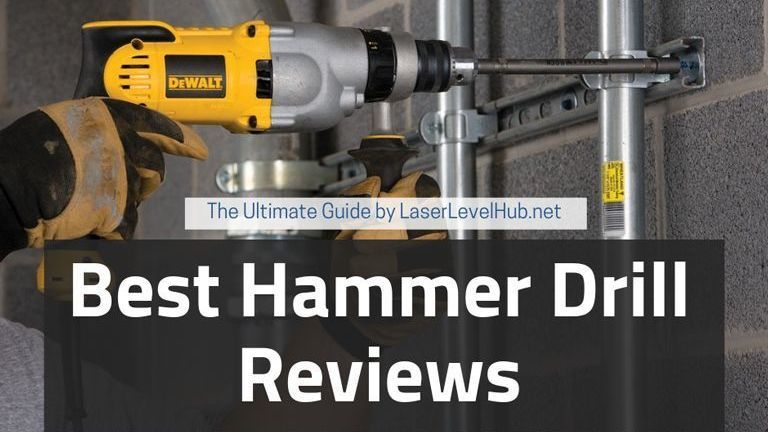 If you are in a hurry and want a hammer drill over this weekend, check out our quick guide below. If you need more analysis and convincing points about any model, scroll down to check out the detailed hammer drill reviews.
Best Hammer Drills 2023

Best Overall

DEWALT DWD520K

3 modes: low/high-speed rotary, and hammer drilling
Variable speed for use in different applications
10-amp motor with overload protection

Read My Review

Runner-Up

DEWALT DWE5010

Dual mode: regular drilling and hammer drilling
Perfect for drilling through cement foundation (thinset)
Lightweight

Read My Review

Best Cordless Drill

Makita XPH07Z

High-quality 5Ah batteries
Maximum torque for drilling through fat job materials
LED battery level indicator

Read My Review

Most Advanced

DEWALT DCD997B

Bluetooth connectivity for remote operation
Brushless motor for higher durability
Variable speed (up to 3 different speed cycles)

Read My Review

Heavy Duty

Bosch HDH361-01

885-feet pound of torque delivered at a single touch/trigger
All-metal chuck ensures more durability
Very lightweight at 4.25 lbs.

Read My Review

Good Value

PORTER-CABLE PCC620B

LED light for drilling in dark areas
Dual speed RPM settings
23 clutch settings for use in a variety of applications

Read My Review

Best Budget

SKIL 6445-04

Side-assistant handle for added control
Variable speed trigger
Affordable choice for DIYers

Read My Review
These seven top-rated hammer drills have been handpicked by our in-house technical experts keeping in mind the various parameters such as features, ergonomics, brand, reliability, and value for money.
We understand that as a user you may have very different needs when it comes to power tools. If you are a DIYer you would probably want a machine that is both easy on your wallet but still good enough to bore through stone tiles. On the other hand, if you are a seasoned user, your needs may be advanced and you will need one with a powerful motor.
This difference in choices and requirements is the main reason why we chose seven different models from top manufacturers like DeWALT, Bosch, Makita, Porter-Cable, and Skil.
Check out detailed hammer drill reviews below for each of the models and choose your pick today.
Best Hammer Drill Reviews 2023
Without further ado, here's everything you need to buy the best hammer drill.
#1. DEWALT DWD520K Corded Hammer Drill - Best Overall
One of the main reasons for us to choose a corded hammer drill as our #1 pick is its ability to supply more power and still avoid overload. Drilling on concrete and stone is rough work and you need all the power to succeed, which is what the DeWALT DWD520K specializes in.
Product Review
Whenever DEWALT introduces a new product it takes the power tool industry by storm. Same happened when it released the powerful DWD520K, a top-notch corded hammer drill designed to take on heavy-duty applications.
Applications such as boring through 20-year-old concrete or a stone tile that you exported from Italy for your patio. This beast of a drill has enough chops to even cut through materials harder than those two mentioned above and stay with you for a long time.
Thanks to its solid build with metal gear housing the DWD520K will never pull a fast one on you. Use it for hours at a stretch and it will still give you the same power through its 10-amp motor (the best on this list) with overload protection.
We especially dig the three modes where you can use it for regular drilling at two different speeds and hammer drilling. Perfect for users who need a two-in-one model for both household and work projects.
It is unfortunate that hammer drilling does not have speed control but we are not complaining, especially when DeWALT packs in a 360-degree handling mechanism and reversible drilling.
We tested this soft-grip drill on a six-inch block of concrete and it drilled like a metal stick on butter. Compared to other drills in the range, this DEWALT model has a lot of kinks in it that will return your investment within the first few uses.
It's smooth yet powerful, durable enough to go to the next generation, and delivers 50% more power to stay true to its claim. And it comes in a kit along with a bag and a depth gauge.
Pro Tip
Its user manual is one of the best we have read for a power tool in a long time. Make sure you have a good look for smart drilling instructions and tricks.
#2. DEWALT Hammer Drill DWE5010 - Great for Home Use
DeWALT's tagline goes like this: Guaranteed Tough. And we experienced it first hand when we tested the DWE5010, one of its most powerful and lightweight corded tools.
Product Review
Sometimes people end up pausing their side projects because they don't have a strong-enough electric hammer drill with them. The idea of renting a second-hand machine comes in but the day rent is too damn high ($35 and upwards).
In situations like this, the ideal solution is to invest in a model that gives value for money as well as longevity. The DWE5010 is the first solution. The second one is the Skil 6445-04.
Compared to our top pick, this one definitely holds its waters due to its low price and a strong build. Although the corded hammer drill is insanely light to hold, it packs a punch with its 7.0-amp motor that has the ability to drill through wood, steel, and hard cement.
The single-speed motor (2800 RPM) is apt for most drilling jobs where you want a steady torque to incise through hard surfaces.
The 360-degree handle with a soft grip is another great feature in what we'd like to call an intermediate model that is well worth the price if you are a DIYer or home user.
Don't put too much thought into it because the DWE5010 pays for itself – just like all DEWALT models – with just a few uses.
#3. Makita XPH07Z 18V Hammer Drill Driver - Best Cordless Drill
There are two types of people in this world. One who stay Makita loyalists till the end and other who experiment with different brands.
Regardless of your type, this cordless hammer drill by the Japanese conglomerate is sure to surprise you with its massive torque.
Product Review
Makita's latest entrant in the power tool industry is known for two things:
Extremely high torque for all those applications that require the bit to work harder without damaging the surface or nearby areas. An example would be drilling a hole on a tree stump
Lightweight and portability
While we at LaserLevelHub prefer it for its over 1000 foot-pounds of torque to help us drill down sensitive work areas, the portability factor is also a great feature. It is perfect for users who see the need to travel with their toolkit where power supply may not be abundant.
The LED battery indicator is also a great addition because you can be prepared with a spare set during times of crisis.
The dual-speed mode is also a savior especially in cases where you don't want to put a lot of torque to an application. We found that the RPM of 550 is enough for small jobs.
The second speed might sound low against the DEWALT models we reviewed above but don't just go by the numbers. The speed of 2100 RPM in the XP07Z is at least 40% faster than other models that have a top speed of 1500 RPM. We tested this in our lab and the results are more than surprising.
While we have heard complaints about the torque quality not staying up to the mark after a few months of operation, Makita offers a 3-year warranty on both the tool and batteries (if you choose to buy them). The company also has excellent servicing in case you experience issues with your buy.
Don't forget to add the 5Ah batteries to your kit if you decide to purchase this 18V hammer drill because getting them externally will set you back by at least $250, which is higher than when you get it in a single package.
#4. DEWALT Hammer Drill with Bluetooth DCD997B - Most Advanced
There is a reason why DEWALT is considered the leader in the manufacturing of best hammer drills. They add some of the most advanced features to their tools – features that their users have demanded for years. And they have continuously delivered. This is just one example.
Product Review
The DCD997B has Bluetooth and that's all we dig in this modestly-priced brushless hammer drill. Using its proprietary Tool-Connect smart app, you can switch on, fully operate, and monitor the operation of the device while standing 10 meters away from it.
Of course, you wouldn't want to drill a hole on a wall like that but it helps when you have associates working for you. Which makes it an absolute gem of a machine for project managers.
The variable-speed brushless motor ensures that whatever speed you choose the drill works without sweating. No pulsing, no clacking – only the sweet sound of the motor humming. Holding it and using it to drill on any piece of material (the hardest even) is like operating a soft toy.
But don't take its lightness as a weakness because it can pack a great punch with two of the most powerful 9Ah batteries we have seen in any cordless hammer drills.
The increased accountability will help you stay stress-free if you invest in this modern piece of technology.
#5. Bosch Hammer Drill/Driver Kit HDH361-01 - Best for Heavy Duty Drilling
We talked about Bosch in one of our earlier articles where we ranked it behind DeWALT and Makita. We have always believed that its tools have the power and style to give those two brands a run for their money. And the HDH361-01 might just be a model that could do that.
Product Review
The HDH361-01's biggest convenience is the kickback control which is extremely useful in cases where the tool absorbs shocks while you are drilling and the surface binds the bit. This can save you from rapid vibrations while drilling through steel and other metal, metal alloys.
The powerful motor is capable of delivering a torque of up to 885 feet pounds, which might sound less than the one provided by the Makita model above. But hear us out when we say that this has almost double the torque because of its silent motor and extreme shock absorption.
The all-metal chuck enhances durability, and add to that the Bosch promise, this tool will stay with you for a long time. Apart from its regular drilling and hammer drilling mode, you can also use it for fastening screws both in clockwise and anti-clockwise directions.
There's this in-joke between our experts where they claim that the Bosch HDH361-01 has more power and torque than its corded counterparts.
#6. PORTER-CABLE Hammer Drill PCC620B - Best Under $100
If all the above five models by big brands are hard on your pocket, then this Porter-Cable model should fall within your budget. It packs both a powerful cordless motor and full value for money.
Product Review
It is in our hunt for the best hammer drill which gives a total value for money that we stumbled upon the cordless PCC620B, one of the best entry-level models in the market that stays up to its claims.
It is light on your wallet, has dual speed settings, and most importantly, comes with an additional bang not seen in most basic models: an LED light.
Very helpful while working towards the evening, the light can save you from errors and mishaps that would otherwise take the project off track. And if the light is not enough, the Porter Cable PCC620B also has a powerful motor enough to cut through masonry work.
The battery is not up to the mark, which is why we recommend investing in a 4.0-amp battery (20-volt max.) that would be a fantastic complement to this tool.
Please also note that this is a regular drill with an added feature of the hammer drill and not the other way around. Even though Porter-Cable markets it as a hammer drill, it is originally a general-purpose drill. However, this does not compromise the quality of hammer drilling.
#7. SKIL 6445-04 Hammer Drill - Best Cheap Hammer Drill
If the Porter-Cable also falls out of your budget, then we have one final solution for all your DIYing hammer drilling needs: the corded Skil 6445-04 hammer drill.
Product Review
When the company itself markets its product as best value and one for DIYers looking to get low-duty jobs done, you know they are not bluffing. The Skil 6445-04 does exactly what it promises: help you drill through masonry work, stones, tiles, and metals without chafing the drill bit.
The side handle and variable speed trigger are common features but what is surprising in this Skil model is the high RPM of 3000. We specifically tested it to ascertain if this is the correct value, and to our surprise, it is. The power may not be good enough for heavy-duty work but the speed near 2900 on full trigger press.
It is also reversible, which can be used to unfasten rusty screws in and around the house. Making it a wiser option for homeowners to invest in it rather than renting a heavy-duty one that would cost you more.
Conclusion
DEWALT and Makita make up for our top three picks when it comes to the best hammer drills currently available in the market. We came to this conclusion after analyzing and testing tens and tens of different models from different brands including Milwaukee, Worx, Ryobi, and Black&Decker.
While the DEWALT DWD520K takes the pie as the top-rated hammer drill because of its powerful motor and versatility, we also like to highly recommend the Makita XPH07Z for its cordless functionality.
We hope that the quick and detailed guides have helped you make a decision. If you are still confused, we request you to consider our top three models. But if budget, features, and brand loyalty are the parameters you judge your tool with, then a good look at the reviews will help you further.
Let us know what your choice is and why you chose it in the comments below. We always love some interaction with our readers.