If you're a construction professional or an enthusiastic do-it-yourself amateur you probably already know at least a little bit about oscillating multi-tool kits.
The 5 Best Oscillating Tools You Should Buy: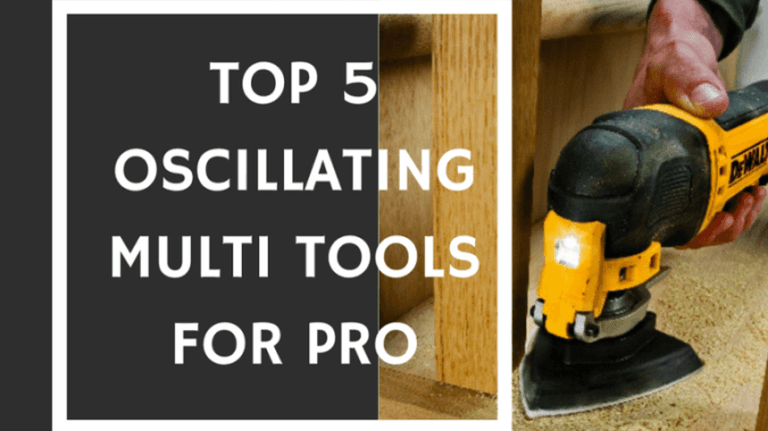 "Oscillating" is a fancy word for what you may simply call a "power tool."
Yes, an oscillating multi-tool is an electrically-charged "workhorse" that enables you to handle a broad variety of tasks easily and competently.
And in this article, you'll learn all about the best oscillating tool and how it can help you around the house or at a construction work site.
Oscillating tools, both corded and cordless, are versatile multi-purpose tools. However, corded oscillating tools offer many advantages, especially to construction professionals.
They are ideal for long-running jobs and durable for years, while the cordless tools need to be recharged frequently.
This oscillating tool review includes only corded models because we think they are the better choice for both professionals and DIYers.
In case, you like a battery-operated multi-tool to take advantage of its convenience, use this link to find the Best Cordless Oscillating Tools.
Best Oscillating Tool Comparison
We've done the research and believe that the following oscillating tool kits are among the most reliable oscillating tools.
Here is what we found out.
Here are Top 5 Best Oscillating Tools of 2023
#1 - DEWALT DWE315K Corded Oscillating Tool Kit
If you buy tools, you know about DEWALT. This company has a reputation for producing quality products. And this corded oscillating multi-tool is no exception.
Best Oscillating Multi Tool: DEWALT DWE315K
Pros
Lightweight and easy-to-use
Quick blade changes
Accurate and smooth cutting
29-Piece kit with Storage Box that is compact and portable
Cons
No speed dial may be a concern of some users
Loudy noise when operating
The blades are not very durable
The DEWALT DWE315K oscillating tool features a powerful and reliable 3.0 amp motor that makes every cutting job you tackle easy to handle.
Its Quick Change Accessory System enables you to replace blades quickly and easily and its reliable Dial Grip puts you in total control of speed changes that take place while you work.
The Oscillating Tool Guide System lets you set depth and height measurements for accurate readings.
The DEWALT DWE315K has also included a small, but powerful, LED light that brightens dark spaces and makes tough jobs easier to complete.
There are many other features, too, including 29 attachments that feature blades that can handle every project.
The Multi Brand Accessory Adaptor lets you use this kit with accessories from other manufacturers.
Verdict
This DEWALT DWE315K oscillating tool is a reliable product that works pretty well and consistently helps you to get the job done. The simple truth is that it's perfect for do-it-yourself projects.
And while it is lighter than many competitive power tools, it still has a broad range of useful attachments that make it popular with construction professionals.
#2 - Rockwell RK5151K 4.2 Amp Sonicrafter F80 Oscillating Multi-Tool
Rockwell is another manufacturer with a solid reputation for producing quality work tools. The product described here does nothing to harm the company's good name.
Most Powerful Oscillating Tool: Rockwell Sonicrafter F80
Pros
Duotech Oscillation™ technology for better controlled and faster cuts
4.2 Amp motor provides lots of power to help you complete even the toughest jobs
Built-in Technology limits vibration to assure smoother, safer cutting
Cons
The sander attachment needs improvement
The Rockwell Sonicrafter F80 is a powerful tool that features 5º and 3.4º Duotech Oscillation™ Technology to help you control speeds and oscillation angles while working.
The Rockwell Universal Fit System allows you to change blades and other attachments quickly and easily while its Universal Accessory Interface lets you replace existing parts with similar parts from other manufacturers.
The oscillating tool also comes with a Hyperlock tool-free clamp which is easy-to-use and provides one ton of clamping force to prevent slippage during use.
It also features a LED light that illuminates dark work areas without being too bright.
Clearly, this is a kit that will serve the needs of both professionals and amateur do-it-yourselfers well.
Verdict
This Rockwell F80 multi-tool has received lots of positive feedback for its reliable quality. It performs well and operates powerfully and smoothly. Definitely, an excellent power tool for serious DIYers and professionals.
#3 - Bosch GOP40-30C StarlockPlus Oscillating Multi-Tool Kit
Bosch GOP40-30C StarlockPlus Oscillating Multi-Tool Kit
Pros
Quick change blade with StarlockPlus system
Well-built quality
The cord is high-quality and long
Lightweight, compact and very portable
Cons
Not compatible with any of the older styles of blades
This oscillating multi-tool is loaded with great features, some of which are not available anywhere else.
The company behind this product, Bosch, has a well-deserved reputation for producing high-quality work tools.
And, as many have discovered, this Bosch GOP40-30C model is no exception. It is reliable, rugged and built to last for years.
Highlight Features of Bosch GOP40-30C
Starlock Plus 3-D tool accessory interface provides exact grip and more torque when in use
Ideal for plunge cutting, flush cutting, sanding, grinding, scraping and much more
Variable speed dial lets you set the optimal speed for the work you're doing
Bright LED light easily illuminates dark work areas
Snap-in-and-out feature makes blade replacement easy
Includes 32 accessories and case
Verdict
The Bosch GOP40-30C is one of the most powerful oscillating tools which is perfect for various cutting jobs, even though its motor operates quietly and efficiently. Importantly, its blades are remarkably easy to change.
#4 - PORTER-CABLE PCE605K52 3-Amp Oscillating Tool Kit
Best Value Oscillating Tool Kit: PORTER-CABLE PCE605K52
Pros
Great selections of blades and accessories
Less vibration
Easy to control
Good price for the kit
Cons
No LED light
The body of the tool gets warm during operation
52 accessories and a 10-foot power cord make the PORTER-CABLE PCE605K52 oscillating tool popular with construction professionals and do-it-yourself amateurs.
The lengthy cord enables you to use this tool like one that is battery-operated because you can move freely around a work site to complete a job.
There are many other features that make this affordable multi-tool a "must-have" for everybody who works with his hands.
Highlight Features of PORTER-CABLE PCE605K52
Includes tool-free system for changing blades quickly and safely
3-amp motor provides ample power for DIY cutting jobs
Includes depth and cutting guide to help you avoid costly mistakes
10-foot power cord lets you move around a job site freely and easily
Verdict
Purchase this PORTER-CABLE oscillating tool and you'll appreciate the fact that it is quick and easy to change blades. This multi-tool is ideal for small, quick tasks around the house.
Come with 52 accessories and case, this oscillating tool can be considered the best value oscillating multi-tool to buy.
#5 - Dremel MM40-05 Multi-Max 3.8 Amp Oscillating Tool Kit
Dremel has long been a favorite with construction professionals and DIYers because their tools are generally affordable, rugged and easy to use. This "multi-max" tool is no exception.
Best budget oscillating multi tool: Dremel MM40-05
Pros
Tough and durable
Lightweight
Affordable price for homeowners
This Dremel oscillating tool packs 3.8 amps of raw power, a fact that makes cutting jobs easier. Its 3.2 degrees of oscillation is another positive that makes this particular tool one of the best oscillating multi tool for performance in its price range.
Add to all that the fact that, there are 36 accessories and it's easy to understand why people love Dremel.
Highlight Features of Dremel MM40-05
High performance 3.8 amp motor easily handles the toughest jobs
Includes a Quick-Lock feature for tool-less and secure accessory changes
Quick-Boost feature maintains constant speed through all work applications
Quick-Hold Magnetic feature holds accessory in place when changing a blade
Upfront on/off switch allows one-handed use so that you can maintain speed while working
Verdict
People love this Dremel oscillating tool for its consistent performance and its affordable price. You can think of it as a great product that lives up to the claims made for it.
Importantly, it features a superior power-to-weight ratio which means it is compact, relatively lightweight and easy to use. This tool may be a very good buy.
When to Use an Oscillating Multi Tool?
What kind of tasks does an oscillating tool handle?
The better question may be "what kind of tasks is it unable to handle?"
The simple truth is that oscillating multi-tool kits are available at hardware stores everywhere – and online – from most major manufacturers.
And the best oscillating multi-tool kit will put real power in your hands – and the capability – to scrape, sand, grind and cut just about any material.
Clearly, this "wonder tool," invented about fifty years ago, has revolutionized the way construction professionals and do-it-yourselfers work. It has made their lives easier.
Of course, there is still a lot you need to know about oscillating multi-tools, even if you currently own and use this incredible work aid.
Oscillating Multi-Tools Make Even Tough Jobs Easier to Do
It's true.
An Oscillating Multi-Tool is actually a collection of many tools offered for sale as a "tool kit."
When you purchase this remarkably versatile product, from any manufacturer, you get as many as 32-36 attachments (sometimes even more than that) and the ability to handle a seemingly endless variety of jobs.
For example, regardless of which Oscillating Multi-Tool Kit you decide to buy, you will find yourself in control of a tool that enables you to saw wood and other materials … grind … rasp … sand … scrape … polish and, of course, cut.
You'll be able to handle all of those functions and an endless variety of small and even large projects at home and at a construction site.
Importantly, most Oscillating Multi-Tool Kits are lightweight and portable so that they go where you go and are easy to work with, even when you're at a jobsite.
Corded vs. Cordless Oscillating Multi-Tools
Oscillating Multi-Tools are available in two distinctive and different kinds of models – corded and cordless.
Corded Oscillating Multi-Tools, 5 of which have been reviewed in this article, offer many advantages, especially to construction professionals, but also to do-it-yourselfers.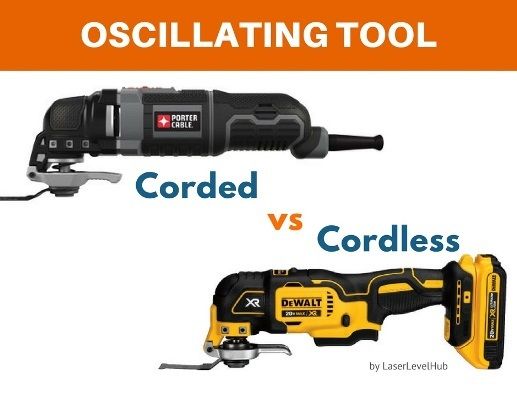 Corded vs Cordless Oscillating Tools
However, they also have some disadvantages, negatives you need to know.
Corded Oscillating Multi-Tool
What's Good?
There are many reasons to like a Corded Multi-Tool. Here are the most important ones.
Ideal for Long-Running Jobs because you never have to stop working to replace a battery. That means you save time and get the job done faster.
Compact and powerful - ideally-suited for effectively reaching into tight, small spaces so that no job is "too small" to complete
Low-Cost Maintenance because you never have to spend money on costly battery replacement
Rugged and Durable and built to last for years, even when used frequently. That's why Corded Oscillating Multi-Tools are extremely popular with construction professionals.
Includes Accessories for EVERY Job … virtually all corded Oscillating Multi-Tools come with as many as three dozen attachments so that you can work on – and easily complete – just about any task. And because it's a corded multi-tool, you get the added power that electrical current provides.
It's affordable … a budget-friendly purchase that will pay for itself many times over
What's Not Good?
Of course, even the best tools feature something that may not please you. When it comes to a "corded power tool," you may find that the weight of the multi-tool may be somewhat uncomfortable for you.
That's because most corded oscillating tools generally weigh at least 4 pounds (including the cord), sometimes even more than that.
Keep this thought in mind: this type of multi-tool is the overwhelming choice for construction professionals.
It may be that the weight factor is not that much of a concern because most corded tools are compact and, as a result, easy to handle and use.
You may be asking yourself right now if a cordless oscillating is the better choice for you.
I'm going to lay out the specifics about cordless tools and you can make your decision – corded or cordless – based on what you learn as you continue reading this article.
Here are the facts about cordless multi-tools.
Cordless Oscillating Multi-Tool
Cordless Oscillating Tools may be the better choice for homeowners and do-it-yourselfers, people who like to fix things at home with their own hands.
A cordless tool tends to be lighter than its corded cousin and, while its battery has to be replaced periodically, it is unlikely to occur frequently because do-it-yourselfers tend to use work tools far less often than professionals.
What's Good?
There are many good reasons to rely on a Cordless Oscillating Multi-Tool. Here is everything you need to know.
It's an incredibly versatile and multi-purpose took … you can use it so many ways and for so many different jobs throughout your home and in the garage. It will enable you to work "like a pro" even though you're a do-it-yourself amateur
It's compact and lightweight which makes it surprisingly easy-to-use. And that means you'll be able to complete small projects around your home successfully
It's versatile … it includes attachments that enable you to handle just about any job, such as trimming panels … cutting out outlets … repairing and replacing drywall and much more.
What's Not Good?
Of course, as is true for just about any product, there is one key disadvantage you need to think about and consider before making a purchase decision.
Cordless Oscillating Multi-Tools are battery operated. As such, the battery that powers this device will run down over time and force you to stop working on a project until you have purchased and installed a replacement.
That's lost time which can be frustrating when you're working on time-consuming tasks such as removing grout or sanding.
What may be even more troubling is the fact that replacement batteries are expensive. You will have to spend money on a costly battery with relative frequency if you use your oscillating multitool regularly and on lots of projects.
Keep that in mind when you're deciding on purchasing a Corded or Cordless Oscillating Multi-Tool.
Corded models may cost more initially, but you will never have to spend money on replacement batteries.
How to Choose the Best Oscillating Tool?
As I noted earlier, Oscillating Multi-Tools are advertised and sold as "kits." That's because they include as many as three dozen attachments, including lots of different blades so that you can handle a broad range of job functions.
Of course, some kits offer more features and attachments than others. When shopping for an Oscillating Multi-Tool, your "best buy" opportunity will be for the kit that includes as many of the following components as possible.
Here are the kit features that can serve most of your new construction, repair and replacement work needs.
Look For These Product Features When You Make Your Purchase Decision
Quick Change Accessory System enables you to change sharp blades and other attachments quickly, easily and safely
Dial Grip Trigger - this useful feature lets you control the many speed changes you need when performing a task. It makes it easier for you to safely control all applications you employ, as well
Bright LED Light brings much-needed illumination to dark work areas and makes tough jobs much easier to complete
Extra Long Cord allows you to move away from the outlet from which you draw power so that you have lots of room to operate and work effectively on your project
These are features – the important "extras" – you are likely to find in the very best oscillating multi tool kits.
Along with the many different blades and other attachments each kit also includes, they'll make it much easier for you to successfully complete work projects whether you're a professional at an outdoor work site or a do-it-yourselfer bending over a work table in your own garage or basement.