Using manual levels for construction work measurements is not just enough due to higher risks of inaccuracy. Fortunately, there are huge discounts on laser levels you can find on special occasions like Black Friday and Cyber Monday if you are budget-conscious.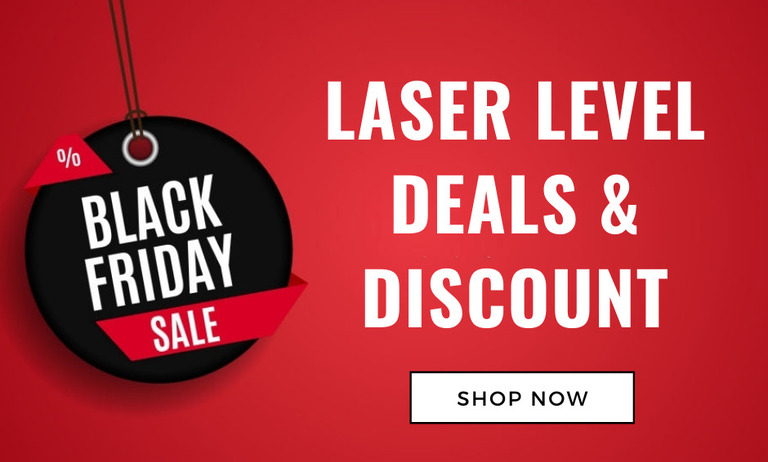 More Black Friday Deals 2023:
Best Black Friday Laser Level Deals 2023
Buying a laser level from top-rated brands will ensure your work efficiency and accuracy. Here we've collected deals from well-known, reliable laser level brands such as DeWalt, Bosch, Pacific Laser System (PLS), Johnson Level & Tool, and so on.
Save you hundreds of dollars on laser levels with our Black Friday deals today. We will continue to update the best Black Friday deals, sales and coupons on laser levels when they are available.
Best Black Friday Laser Level Deals 2023

39% Off

Bosch GCL 2-160

Cross-line laser with plumb points
Visibility: 65 ft / 19 m
Accuracy: 0.125 in @ 30 ft

37% Off

DEWALT DW085K

5-beam laser pointer
Accuracy: 1/4 in @ 100 ft
Quick and easy installation

37% Off

DEWALT DW089K

3-beam line laser, 90-degree layout
Visibility: 50 ft / 15 m
Accuracy: 0.125 in @ 33 ft

32% Off

DEWALT DW0825LG

Versatile cross line and 5 spot lasers
Accurate and easy to use
Range: 100 ft (dots), 50ft (lines)

30% Off

BOSCH GLL40-20G

Green beam, self-leving crossline laser
Visibility: 40 ft / 12 m
Accuracy: 5/6 in. @ 30 ft

30% Off

Bosch GPL100-30G

Green 3-point self leveling lasers
Integrated 360° MultiPurpose mount
Range: up to 125 ft (dots)

29% Off

DEWALT DW088K

Cross-line laser with Pulse Mode
Visibility: 50 ft / 15 m
Accuracy: 0.125 in @ 30 ft

29% Off

BOSCH GLL30

Projects 2 red crossline lasers, include 360 mounting device
Visibility: 30 ft / 9 m
Accuracy: 5/6 in. @ 30 ft

25% Off

Huepar Box-1G 150ft/45m Outdoor Green Cross Line

130° Horizontal and one 150° Vertical line
Visibility: Up to 150 ft
Bright green beam, outdoor pulse mode

24% Off

Bosch GLL3-330CG

Green lasers, 360° laser planes
Visibility: 200 ft / 60 m
Accuracy: 3/32-in @ 30-ft

22% Off

DEWALT DW089LG

360° Green lasers, full room layout
Visibility: 100 ft / 30 m
Accuracy: 0.125 in @ 30 ft

20% Off

Huepar Green Laser Level 621CG

360° horizontal line and 2 plumb dots
Visibility: Up to 180 ft
Bright green beam, outdoor pulse mode

19% Off

Johnson Level & Tool 40-0921

Projects 2 red crossline lasers
Visibility: 100 ft / 30 m
Accuracy: 1/4 in. @ 35 ft

19% Off

BLACK+DECKER BDL190S

Auto-leveling laser level
Stud sensor functions
Easy to use

15% Off

PLS 3G 3-Point Green Tool

3-Point green laser level
Bright laser, easy to use
Range: 100 ft/30 m

13% Off

DEWALT DW0822LR

Vertical & horizontal cross laser, with up and down plumb dots
Range: 100 ft (dots), 50ft (lines)
Accuracy: 0.125 in @ 30 ft

9% Off

PLS 6G Point & Line Green Laser Tool

Point and cross line green laser
Range: 100 ft (dots), 50ft (lines)
Accuracy: 0.125 in @ 30 ft
Best Black Friday Tile Laser Level Deals 2023
If you are looking for a laser level for tiling and flooring installation jobs, here are the best Black Friday deals on these handy tools.
Best Tiling Laser Level Black Friday Deals 2023

30% Off

Bosch GTL3 Tile Laser

Tile and square layout laser
Bright and highly visible laser lines
Durable

0% Off

Johnson 40-6624 Tiling Laser

Easy to establish angles
Several indoor applications
Self-leveling
Rotary Laser Level Black Friday Deals 2023
Here we've curated the latest discounts on some of the best rotary laser levels on Black Friday and Cyber Monday 2023.
Again, we only pick Black Friday deals on the top-rated rotary laser levels (in terms of quality, durability, and versatility) to ensure that you can take advantage of these deals without compromising the tools' quality.
Black Friday Rotary Laser Deals 2023

31% Off

Johnson Level & Tool 40-6517

Working range up to 800 ft
Variable rotational speeds of 200-600 RPM
Great value kit

27% Off

Johnson Level & Tool 99-027K

Working range up to 2,000 ft (600 m)
Self leveling rotary lasers with 90º split beam
Useful visual and audible alarms

26% Off

DEWALT DW080LRS

Working range up to 2,000 ft (600 m)
Bluetooth connectivity for tool tracking
Dual axis slope mode

22% Off

DEWALT DW074KD

Horizontal self-leveling laser
Working range up to 600 feet
Standby mode, rugged design

20% Off

Huepar RL300HVG Green Rotary Laser

Horizontal/vertical self-leveling laser
Working range up to 2624 feet (800m)
Electronic dual-slope function

15% Off

Topcon RL-SV2S

Horizontal, single and dual slope
Working range up to 2,600 ft (800 m)
Extra-long battery life (120 hours)

5% Off

BOSCH REVOLVE900 GRL900-20HVK

Horizontal/Vertical Self-Leveling Cordless Rotary Laser Kit
Working range up to 1000 feet
Laser Level Accessories Black Friday Deals 2023
Below are some of the best deals on laser level tripods, laser detectors/receivers, laser level mounting pole, and grade rod available right now.
Remember to check back frequently to see if your dream laser level tool is going to be on offer this year Black Friday and Cyber Monday sales.
Why Use a Laser Level?
Laser levels will simplify your DIY projects especially home remodeling, and for construction professionals, a laser level will improve accuracy significantly. Consider a 1/16" per 100 ft. accurate laser level for instance, the tool will ensure that construction materials are hanged or positioned in their right angles with zero errors.
Another benefit of laser levels for home remodeling and construction is that they are versatile. This means they can be used both indoors and outdoors. They can be used to line up walls, level floors, verify your doors and window heights, and install cabinets and shelves among many other things.
Laser levels are also highly visible since they rely on infrared colors that are brighter and make you see your job. To unlock many other benefits of a laser level, find Black Friday laser level deals online today and spend less on your preferred brand.
When Do Black Friday Laser Level Sales Start?
Black Friday normally comes up in November, and is usually the last Friday of the month. For instance, the Black Friday event in 2023 is on November 24th. Black Friday is an event that is simply an informal name given to the Friday after the United States Thanksgiving Day which is an annual holiday in the country.
Black Friday is symbolically tagged as the beginning of the holiday shopping season and it may be extended until after the Christmas and New Year holiday seasons. Typically, shoppers gather as early as possible on the morning of Black Friday to find the best deals on almost all available products in a store.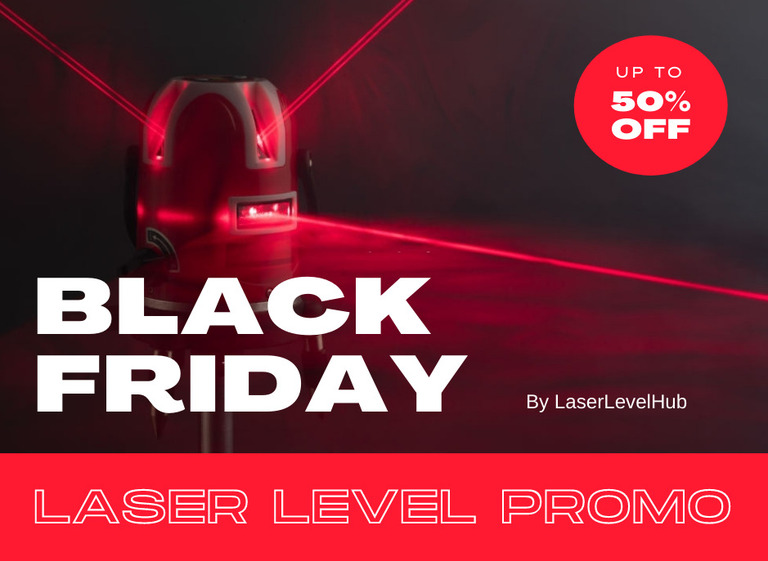 If you look forward to finding a good laser level at a very discounted price, you should start searching for the Black Friday tool deals 2023 as early as possible. Make sure you check out the apps and ads and compare prices because Black Friday prices often come up earlier than the main day.
You should also take advantage of the Early-Bird shopper discounts where you get the best discounts before they are reduced as Black Friday draws near. Black Friday deals are also on the internet, you don't have to visit the store physically to get your laser level or any other tool.
Black Friday Laser Level Deals 2023 - Watch List
Regardless of the type of laser level you need, you can easily discover Black Friday sales on laser levels that match your work requirements.
The following are laser levels that we expect to receive the biggest discounts on Black Friday and Cyber Monday 2023.
DEWALT 12V MAX Line Laser, 3 X 360, Green (DW089LG)
This is a 360-degree line laser for a full room layout measurement. It relies on green beam light which is four times brighter than the laser beam. With its in-built magnetic bracket, it can be flushed and attached to metal track and steel.
It is mostly suited for indoor installation with a maximum range of 100 ft. It comes in a molded housing casing for extra protection and also comes with an IP65 water and debris-resistant body. It is powered by a 12V Lithium-Ion rechargeable battery. It is a class 2 laser with a power rating of 1.3mW. The DW089LG comes at a great price and it is one of the popular choices on Black Friday deals for laser levels.
BOSCH GLL40-20G Green-Beam Self-Leveling Cross-Line Laser
This is one of the best cross-line laser levels in the market today, and perhaps you should watch out for this product when searching for the best deals on laser level. It operates with a green laser beam, and it offers a 40ft compact operation for great accuracy and visibility. It offers up to 40ft maximum laser brightness, though you can still use it beyond such distance.
It is very versatile in that you can project 2 different lines for leveling and plumb for diverse alignment and leveling applications. With a mounting device that comes with it, you can clamp this laser level to different surfaces. The 360-degree rotating neck ensures quick setup, and fine-tuning. The class 2 laser level has a power rating of 5mW.
DEWALT Laser Pointer, 5-Beam (DW085K)
This is a highly accurate self-leveling point laser. It is considered as one of the top-rated laser levels you can find around. You can achieve precise adjustments with a micro-adjust knob attached. There is an in-built magnetic pivoting bracket to position the mounted laser level efficiently.
It also features an integrated track clearance. The calibration on the device is maintained with an over-molded housing or casing. The self-leveling laser level is operated by a rechargeable battery.
Leica Lino P3 3 Beam Point Red Dot Laser
This is a very appealing dot laser level for those who want a portable device. It is a self-leveling device for plumbing up and down and can be used for indoor and outdoor application purposes. It comes with a water and debris protection outer design.
The Leica Lino P3 can be automatically locked to protect the device from shock and mechanical damage during transport. The device also comes with a target plate, carrying pouch, extra battery, and magnetic multifunction adapter.
Bosch Professional Tile and Square Layout Laser GTL3
Arguably, it is the best laser level if you are looking for a tile and square professional laser level. It projects a 90-degree line for your flooring layout, tile squaring, and wall installations. It comes with a bright and sharp visible redline laser that can travel on uneven surfaces. It has a switchable 45-degree line for proper positioning.
It is durable and able to withstand all job site conditions. It comes with an easy-to-carry soft carrying pouch. The device is highly secured with magnets on the bottom of the tool to help fasten it to the surface. A positioning plate also secures it to the surfaces of metals. It is a laser level with more precision and accuracy. It is a class 2 laser with a 1 mW power rating.
Johnson Level & Tool 40-6648 Self-Leveling Cross and Line Laser
Compact self-leveling cross-line laser with a difference. This tool is highly fortified to serve you for diverse purposes. It produces a combination of cross-line and plumb lasers and can project up to 3 laser beams at the same time. It has a tilt mode for manual leveling of the device, and can also project laser beams at any angle.
The magnetic compensator system will stabilize the internal pendulum accurately and quickly. There is a status light at the top to alert you when the tool is out of the leveling range. This device is mostly recommended for indoor applications such as the installation of cabinetry, electrical boxes, drop ceiling installation, and plumbing works.
Johnson Level & Tool 99-006K Self Leveling Rotary Laser
This is arguably the best laser level on this list because it is a rotary laser level and it comes with almost all the accessories you need. It has a turnkey solution and there is an LED detector plus a contractor-grade tripod stand and drop-ceiling bracket to simplify your work.
It comes with a rotation speed varying from 200 and 600 RPM and it is mostly suitable for exterior applications such as grading or excavation, aligning fence posts, and laying out of walls. It can project laser beams in vertical and horizontal motion and has a 200ft maximum range indoors.
Which Laser Level to Buy?
Knowing the differences between different types of laser levels can help you choose the right type for your work. The four main types of laser levels are:
Line laser
Dot laser
Combination laser
Rotary laser level
The Line laser level could be a straight line or cross line laser level. The straight-line level can only produce a horizontal laser line at a distance and it is the simplest option of laser level you can find. It comes with the benefit of very high visibility and low interference since it projects only in a single line. The cross line laser level is capable of producing both vertical and horizontal lines simultaneously.
One major benefit of cross laser line laser level is that it saves time in measuring multiple angles separately and it could be your best option for installing cabinets, shelves, and tiling walls. The Black Friday deals on cross line laser levels are often the commonest with some brands going for as much as 60% discounts.
Dot laser levels are known to project a single point at the surface being measured. The single point projected can be square, level, or plumb. You can find them at a wide range of prices with the cheapest one going for around $20 while midrange options go for several hundreds of dollars and high-end dot lasers going for thousands.
Just like other types of laser levels, you can also find Black Friday deals for dot laser levels. The main advantage of the dot laser level is that it is very accurate when it comes to installing small items on a surface.
Rotary laser levels are designed for some of the largest projects, especially a complete work site. They have the advantage of producing long laser lines at 360-degree rotation. They can spin quickly without losing their stable projection on work surfaces.
These laser levels are not limited to a direction, unlike other laser levels. Rotary lasers reach longer distances than most other types of laser levels and they are also more accurate. Since rotary laser levels are more expensive than other options you should look out for Rotary Laser Level Black Friday sales as early as possible to get the best discount rates.
Combination lasers can come in different mix-and-match forms, they could come as a combination of dot and line lasers or cross-line and rotary lasers. A combination laser level comprising of line and rotary laser can project solid laser lines in a vertical and horizontal direction at 360 degrees, unlike the ordinary rotary laser that only projects laser lines on a straight line.
The advantage of this laser level is that it can handle multiple installations at a time since laser lines are projected horizontally and vertically.
You need to keep in mind that more discounts are applied on the line, dot, and combination lasers than rotary laser levels on Black Friday deals because they are cheaper than rotary laser levels and come in more brand options.
Laser levels are also classified based on their color. Red laser beams are the most popular but not as strong as green laser beams that travel faster and are 4 times more visible than red laser beams even at the same wavelength. Green laser beams are much better and more accurate outdoors where visibility may be an issue.
Regardless of the type of laser level you choose, you can expect between 5% to 60% off the price on Black Friday laser level deals and sales.
Which Accessories to Use with a Laser Level?
There is a wide range of accessories that work with laser levels and fortunately, most of these accessories also qualify for Black Friday deals. The following are the most popular accessories that are very important to enhance the functionality of your laser level:
Tripod stand
Laser detector/receiver
Grade rod, and
Telescoping pole or adjustable laser level mounting pole
A Tripod stand is a three-legged stand where a laser level can be mounted. It serves as the foundation for laser levels when the laser levels are mounted on top. With the tripod stand, you can elevate the height of measurement to meet your work specifications.
The best tripod stands are calibrated in meters, feet, and inches for different requirements. Tripods are adjustable in height; they are compact and portable and can provide stability when moved with the laser level from side to side or up and down motion axis. There are two types of tripods; the adjustable and the fixed legs.
The adjustable leg tripods are more common for construction and uneven terrains or surfaces. Fixed leg tripods cannot be altered and they are more common for indoor, and outdoor DIY applications.
Laser detector and receiver
The basic functions of laser receivers and detectors are to detect or pick up laser lines generated by laser levels. This means that laser detectors and receivers help determine the signal strength of laser beams. With an LCD screen, a laser detector is easy to read, and it also comes with a clamp rod that provides a snap-in feature to make it easier to switch from rod-mounted to a handheld device.
A good laser detector or a receiver is waterproof, and rugged to ensure that moisture and dust don't affect its performance.
Grade Rod
Grade rods, also known as leveling rods are used in measuring and calculating the differences in elevations of surfaces or utilities. It is quite common with construction workers, building contractors, plumbers, and grading contractors.
The grade rod is used in measuring the vertical distance between one point on the ground and the line of sight of a surveyor's level. The rod must be extended to its full length when in use, before determining the points to be measured.
Telescoping pole or adjustable laser level mounting pole
The adjustable laser level mounting pole is a tool used in quickly positioning a laser level. They normally come with a tripod stand and they are adjustable to just any length. They can be placed at any height and the rod comes with a secondary tail rod that can further telescope at significant height upward and increase height.
The telescoping pole comes with mounting brackets or fine-tuning bracket that works with most laser level types including rotary and line laser levels. With a spring-loaded base, you can set up its tension quickly and easily. The foot and the head plate of the telescoping pole have a non-slippery surface. This tool is very easy to set up and transport.
Which is the Best Laser Level Brand?
Here are the top-rated laser level brands you should consider when shopping for a laser level.
DeWalt
DeWalt is the number one name in the power tool industry. Known for its utmost optimization of professional workhouse solutions with rugged, precision-made, and durable tools and accessories. The rich history and proven performance of the company began in 1922 when the company was established and most of its products were wartime machinery.
Today, the company manufactures home DIY and industrial construction tools and accessories trusted all over the world. Watch out for DeWalt Black Friday deals to save up to 60% on selected DeWalt products and accessory sales and discounts.
Some of the best DeWalt laser levels:
DeWalt DW089LG Green 360-degree laser level
DeWalt DW0825LG 5 Spot + Cross Line, Green Laser
DEWALT (DW088K) Line Laser
Bosch
This is a privately owned organization owned by Robert Bosch. Founded in Stuttgart Germany in the year 1886. The company has been driven by technological innovation as a conglomerate. Mobility solutions and Industrial technology are the main objectives of this power tool and accessories company. Bosch power tools are characterized by precision engineering that lasts for decades and their prices reveal their class.
Some of the best Bosch laser levels:
Bosch Self-Leveling Cross-Line Red-Beam Laser Level GLL 55
Bosch GLL3-330CG 360-Degree Green Beam
Bosch REVOLVE900 GRL900-20HVK Exterior Rotary Laser
Spectra Precision
This is an established brand known for delivering top quality tools and services to the survey, GIS, and construction markets. The company known as "Spectra Geospatial" focuses on utilizing technologies that provide optimal efficiency and delivery. Its services are backed by strong technical and non-technical support on or offline. Established as far back as 1846, the company has established itself as one of the best producers of rugged, durable, all-in-one tool manufacturer for many fields.
Some of the best Spectra Precision laser levels:
Spectra Precision LL100N Laser Level
Spectra Precision LL300-1 Automatic Self-leveling Laser Level
Spectra Precision LP51G Laser Pointer
Leica Geosystems
Another top company involved in the wholesale distribution of industrial equipment and machinery all over the world. The company is a major manufacturer of construction laser levels, airborne sensors, machine control systems, laser tracker systems, laser distance meters, automatic and digital laser levels. Leica Geosystems was incorporated in 1923 and remains one of the top power tool manufacturers in the world.
Some of the best Leica laser levels:
Leica Lino L2P5 Self Leveling Combination Cross Line and Dot Laser
Leica LINO L2 Laser Level Self Leveling Cross Line
Leica R620 Horizontal and Manual Single Slope Rotary Laser
Johnson Level & Tool
Johnson's level represents high standards in the making and supply of laser levels, spirit levels, and construction worksite measuring tools for plumbers, electricians, surveyors, carpenters, and construction workers.
Mounting brackets, soft shell carrying cases, measuring wheels, and digital tools are just a few of the high-end tools Johnson Level and Tool offers. The company was set up in 1965 and the standards of manufacturing have remained high over the decades.
Some of the best Johnson Level & Tool laser levels:
Johnson Level & Tool 99-028K Electronic Dual Slope Rotary Laser
Johnson Level & Tool 40-6606 Self-Leveling 360 Degree Line Laser Level
Johnson Level & Tool 40-0921 Self-Leveling Cross Line Laser Level
Pacific Laser Systems (PLS)
Arguably one of the best providers of layout tools and laser levels. The company is known for its top-notch field controllers, surveying equipment, and surveying instruments. They offer tools that provide crisp points, very fast and accurate layout tools.
Some of the best PLS laser levels:
PLS 180R Cross Line Red System
PLS 3R 3-Point Red Laser Tool
PLS 6G Combo Point & Line Green Laser Kit
Makita
This is the number one manufacturer and distributor of corded and cordless power tools of all kinds as well as laser level and accessories for plumbing, construction, home DIY, electrical, and many more. Makita is also popular for its Lithium-Ion batteries that supply reliable power to power tools of all kinds.
The company was established in Japan in 1915 and remains one of the most reliable brands not only in Asia but in over 150 countries of the world where their products are sold.
Some of the best Makita laser levels:
Makita SK105DZ 12V max Cross-Line Red Beam Laser
Makita SK106GDZ 12V CXT Self-Level Cross-Line/4 Pt. Green Laser
Get Ready For Black Friday 2023
Black Friday Laser Level Deals are the best possible ways of saving money when searching for a laser level either as a beginner, intermediate, or expert user. The secret to getting the best deals is to start early and make use of the deal finder websites. With the Black Friday deal pages, you may not have to partake in the last-minute rush but still, find the best discounts.
We do advise that you bookmark this page in case you need to return and find out more information about the best Black Friday deals on laser level, laser measuring tools, and accessories.