Scaffolding has always been the most common construction tool as regards the efficiency, safety, and getting the job completed to a high level of quality.
They are the temporary structure that creates a platform where a work crew or construction materials can be placed to work at different heights.
Top 5 Picks for Best Scaffolding: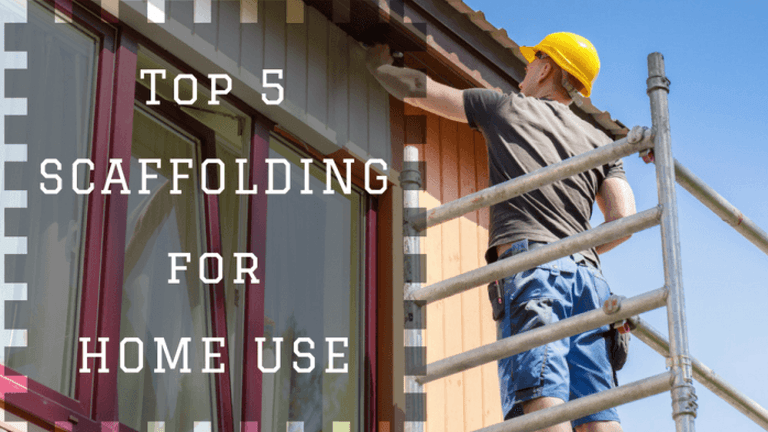 Best Scaffolding Systems For Home Use
Although this equipment can take your home improvements or construction projects to greater heights, selecting the best scaffolding system for your working intentions might seem like such a big task.
However, this article will not only open your eyes to the types and uses of the scaffolding system but also assist you in making the best choice.
Best Scaffolding For Home Use 2023
The following are the best scaffolding for home use.
Top Rated Scaffolding For Home Use

Best For Indoor Uses

MetalTech 4 Ft.

Load capacity: 500 lbs
Design for interior use
Sturdy, easy to setup and use
Comes with multi level working platform

Read My Review

Highly Durable

Pro-Series 6 Ft.

Load capacity: 1000 lbs
For interior or exterior use
Durable steel construction
Meets OSHA and ANSI scaffolding regulations

Read My Review

Heavy Duty

MetalTech 12 Ft.

Load capacity: 820 lbs
Offers higher working height of 12 feet
Platform height is fully adjustable
Stable, good quality

Read My Review

All Terrain Uses

Bronco All Terrain

Load capacity: 300 lbs per Bronco
All-terrain scaffold, work on roof pitches up to 8/12
Foldable for easy transport and storage
Easy to use, good value

Read My Review

Multiple Uses

Finether Folding Ladder

Load capacity: 330 lbs
Versatile, you can use it in 7 different ways
Foldable for easy transport and storage
Sturdy and tough, resistant to corrosion

Read My Review
For your optimal choice, we have selected the best models from various types of scaffolding.
These products are selected according to their build quality, versatility, ease of use and mainly for their style.
The first three scaffoldings are baker-styled scaffolds with different height.
The 4th product is suitable for areas with uneven terrain such as the roof.
The 5th is the "scaffolding ladder" styled, which is a ladder that can be used as a scaffold
Best Scaffolding for Home Use Reviews 2023
Now, let's go into detailed scaffolding reviews! Here are top 5 best scaffolding systems for homeowners:
#1 - Metaltech Job Site Series Scaffold, 4-Feet
Best painters scaffolding for indoor DIY projects
The Metaltech scaffolding system is best for interior use and home DIY projects.
Load capacity: 500 lbs
Dimension: 4-3/4 ft. x 4 ft. x 2 ft.
Weight: 51.5 lbs
Highlights
You will find the 4 ft. MetalTech mini folding steel scaffold a perfect indoor scaffolding equipment to tackle all your indoor home improvement and DIY projects.
Although this small scaffolding system is lightweight, it is durable and strong enough to bear up loads that are not more than 500 lbs.
This scaffold can be easily set up and moved from one point to the other to allow the completion of your DIY project without wasting time finding help to carry or move the scaffold.
You can simply fold it after use, this allows for easy and convenient storage.
With its rugged steel frame construction and lockable 4-inch swivel casters, its stability and safety are ensured.
The two sets of black anti-slip working platforms provide a secure working area at different heights.
This small scaffolding system also comes with a trash holder and tool shelf to provide the convenience of holding your tools, gallon paint cans or garbage while you work.

photo source: metaltech.co
Using Tips
To ensure its longevity, fold and store this equipment properly after use.
#2 - Pro-Series GSSI Multi Purpose Scaffolding, 6-Feet
Pro-Series Multi Purpose Scaffolding - Best bang for the buck
This scaffold works best for home interior usage and also suitable for exterior usage.
Load capacity: 1000 lbs
Dimension: 74" L x 29" W x 75" H
Weight: 138 lbs
Highlights
The Pro-Series 6-feet Multipurpose Scaffolding is an ideal way to access hard-to-reach places on your construction project.
With this quality but inexpensive scaffolding, you can handle both interior and exterior DIY projects with ease.
It is made of steel and comes with a powder-coated finish that ensures its durability and resistance to harsh weather condition.
The 5-inch swivel locking casters work pretty well, allowing for easy movement from room to room to complete your construction or remodeling project.
Pro-Series Scaffolding supports for easy movement
The scaffold is equipped with two extra bars for safety and has a maximum load capacity of 1000 lbs.
The scaffolding unit is versatile; you can even use it as a working table for small wood projects.
Its plywood deck is held in place by the safety latches and can be easily switched to lower or raise its working platform.
Using Tips
Climb the scaffold using a folding ladder. This help to reduce the risk of accidents, climbing the scaffold with no one to weight down the other end makes it shaky and increase the risk of a fall.
Do not leave the scaffold out in the rain or humid areas to prevent rusting or damages to the stage wood.
Install the safety pins to make it more stable before using the unit.
This scaffold has sharp edges that may cause If you found the edges too sharp; reduce it by sanding it off using an 80 grit sandpaper.
#3 - Metaltech Multipurpose Scaffold Tower, 12-feet
Best rolling scaffold tower for home use
The MetalTech 12-feet rolling scaffold tower is ideal for both indoor and outdoor project.
Load capacity: 820 lbs
Dimension: 73" L x 29" W x 144" H
Weight: 355 lbs
Highlights
The MetalTech heavy duty scaffolding unit features a steel construction which is strong enough to withstand a lot of use.
It comes with a poly powder finish that made it resistant to harsh weather conditions.
The eight 5-inch double locking casters make for safety, stability, and easy transportation of the scaffold around the job site.
Metaltech Scaffold Tower is a great choice for both professional construction and home use
The 12-feet scaffold tower comes with reinforced steel plywood that can be adjusted in 2-inch increments from 27 inches to 71 inches.
You can also use this scaffold unit as a working table to handle small wood projects.
The rolling scaffold tower allows you and your working materials to reach a point as high as 12 feet; this makes it one of the best scaffolding for painting house.
#4 - Bronco All Terrain Scaffolding - Telescoping Sawhorse
Bronco All Terrain - Best Roof Scaffolding
This scaffold works best for both indoor and outdoor use.
It is ideal for use on flat, slant or uneven terrain such as the roof.
Load capacity: 300 lbs per Bronco
Dimension: 34.6 x 3.8 x 38.1 inches
Weight: 19 lbs
Highlights
If you are looking for roof scaffolding unit to handle those roofing projects, consider your search over with this tough 3-legged scaffold.
This all-terrain scaffold keeps you stable on any terrain and folds flat for easy transport and storage.
Use Bronco All Terrain Scaffolding For Roof Repair
The Bronco scaffold features a durable aluminum frame with a quality powder coated finish that gives the scaffold its strength, lightweight and rust-proof properties.
The three legs (tapered tripod design) featured on this scaffold make for added stability, versatility, and safety.
Each Bronco has a maximum load capacity of 300 lbs which easily supports 24-inch scaffolding planks.
You can adjust the platform height from 3 to 5 feet.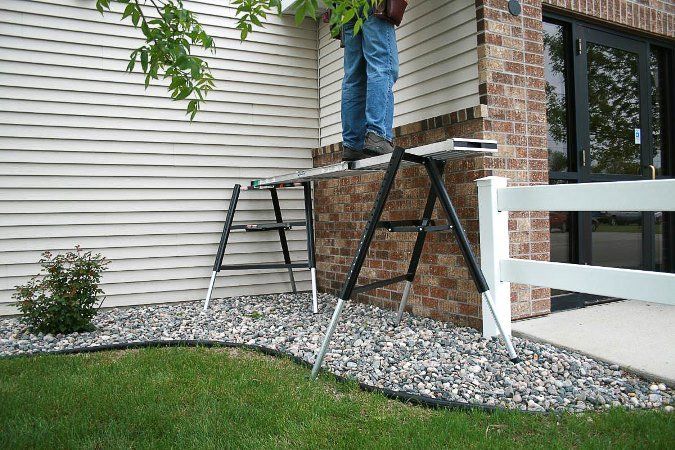 Bronco All Terrain Scaffolding
#5 - Finether Multi-Purpose Folding Ladder
Finether Multi-Purpose Folding Ladder
The Finether multipurpose scaffolding ladder is ideal for any climbing need around your home.
Load capacity: 330 lbs
Fully folded dimensions: L14. 2 x W10.6 x H48.4 inches (36 x 27 x 123 inches)
Weight: 29.1 lbs
Highlights
This multi-purpose folding ladder is the best way to go for your DIY project especially in areas with limited space or where using use of the baker styled scaffold would be unreasonable.
It features a durable aluminum construction that is lightweight and rust resistant.
This scaffolding ladder is versatile, allowing you to use it in 7 different ways to complete your DIY project.
It has a maximum load capacity of 330 lbs and comes with two scaffold bases for added stability.
Another exciting feature is the safety locking hinges allow you to configure the ladder according to the project at hand safely.
Once you unfold the ladder, the added hinges will automatically lock the ladder into position for safety and stability.
After completing your DIY project, you can collapse the 15.4 feet ladder into 4 feet for easy storage and transport.
Using Tips
Read the guide carefully before use
Be careful with your hands or fingers when collapsing the ladder to avoid smashing or injuring yourself.
The ladder should not be loaded above its capacity to avoid accidents.
Scaffolding System Comparison Table
When to Use a Scaffolding
Even if you are undertaking a big construction project or a simple home improvement or cleaning project, getting the access to high structures and buildings from the ground level on a regular basis is often a difficult task.
However, with the innovation of new techniques, and the introduction of the scaffolding system, these tedious tasks have become much easier and convenient.
Scaffolding Versus Ladder
With various kinds of ladder available in the market, the importance of using the scaffolding during construction has often been questioned.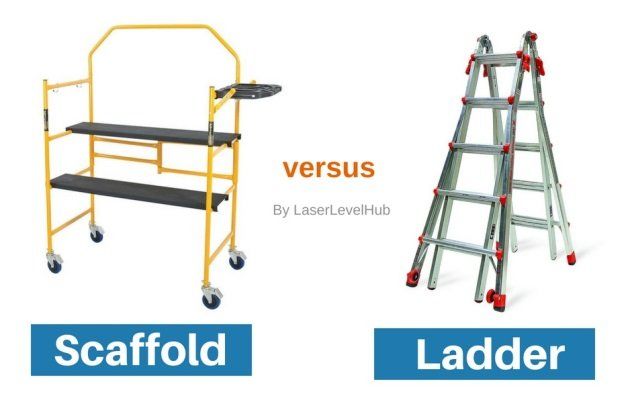 Scaffold versus Ladder
However, scaffolding has the edge over the use of a ladder for construction projects, offering a higher level of comfort and safety.
Not only does it create a flat, well-balanced platform for workers to navigate the building project with ease but also allows the ease of moving or lifting construction materials for instant uses at various heights.
With this system, the risk of falling or getting injured at the construction site is greatly minimized.
Owning a scaffolding system comes with a lot of benefits, no wonder that they are considered a necessary tool for jobs that requires a great deal of efficiency or comes with a tight deadline.
How To Choose The Best Scaffolding
When shopping for the best scaffolding, there are some important factors you need to consider. The types and some of the essential factors to consider includes:
1 - Types of Scaffolding
Since there are various types of scaffolds available on the market, having a sound knowledge of the constituent materials, types and uses are therefore essential in making the best choice.
The types, properties, and uses of the available scaffolding system are discussed below.
Single Scaffolding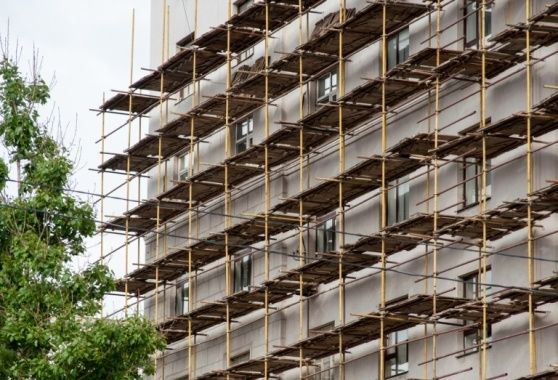 Single Scaffolding
This type of scaffolding is also known as bricklayer's scaffolding, and it is commonly used for brick masonry.
It is made up of standards (vertical member such as bamboo or timber), put logs (transverse horizontal board), ledgers (horizontal longitudinal board), which is securely fixed into the ground in a row parallel to the wall of the building at a distance of about 1.2 m.
The spaces between the standards are normally kept within 2 to 3 m and tied with rope lashing to the ledgers at every rise of 1.2 to 1.5 m.
The putlogs are positioned at a distance of about 1.2 to 1.5 m such that one end is fixed within the holes made in the wall while the other end gains its support from the ledgers.
Double Scaffolding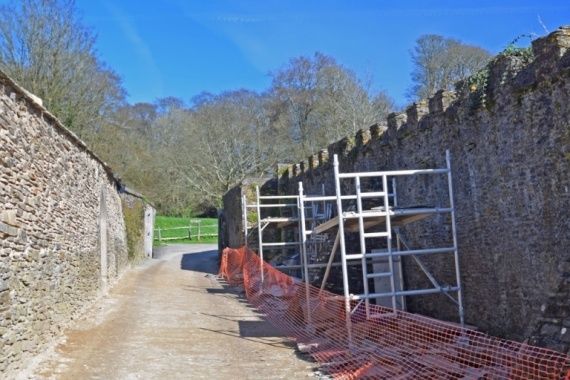 Scaffolding uses in stone masonry
Double scaffolding (also known as Mason's scaffolding) is normally used for stone masonry.
Since it's hard to make holes into the stone wall to hold the putlogs, two rows of the stands are fixed into the ground to make the scaffold more stable.
The first row is made close to the wall (at a distance of about 20-30 cm) while the other row is at a distance of about 1.5 m away from the first row.
The putlogs are supported at both ends by the frames, unlike the single scaffolding where one end of the putlog is fixed into the holes made on the wall.
To prevent slipping or to make the scaffolding stronger, cross braces and raking shores are provided. This scaffolding is also known as independent scaffolding as it is independent of the wall.
Cantilever Scaffolding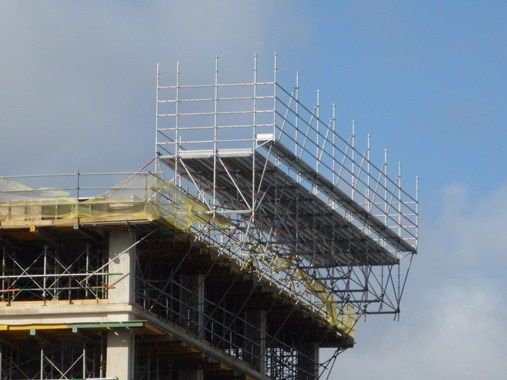 Cantilever Scaffolding - photo source: layher.co.nz
This scaffolding should be considered for the following circumstances:
When it is impossible to secure the stands into the ground
When the construction is to be carried out on a street that has to be free from traffic
When construction work is to be executed in the upper part of a tall building
The standards of this scaffolding system are placed at certain heights above the ground rather than fixing them into the ground.
The standards are placed on a platform (needles) which extends out of the holes in the wall.
The inner ends of the needles are strutted to prevent or stop the needle from moving upwards. The other end is held by an inclined strut and fastened to the needle using dogs.
Suspended Scaffolding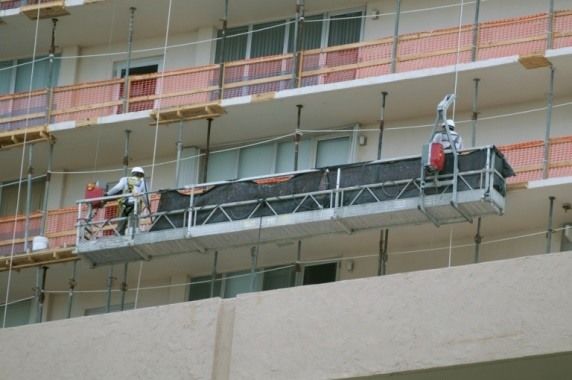 Suspended Scaffolding
As the name implies, this type of scaffolding system is suspended from the roofs of tall construction projects.
This kind of scaffolding can be adjusted to your required level by raising or lowering its working platform.
It is typically used when it is impossible or difficult to create a base or where it would be unreasonable to construct scaffolding from the ground to the required level.
Suspended scaffolding is suitable for exterior repairs and home improvement projects such as window cleaning, painting, etc.
Trestle Scaffolding
Werner PS48 500-Pound Capacity Portable Scaffold
This is otherwise known as rolling scaffolding. Instead of providing a fixed base, it uses movable tripods or ladders that allow you to move the base from a point to the other.
The wheels are locked to prevent movement and ensure safety when materials or workers are on its working platform.
This type of scaffolding is ideal for interior home improvement or construction works like painting, repairs, plastering the ceiling of a room, etc.
Patented Scaffolding
CBM Rolling Scaffold Tower
These types of scaffolding are made of steel; they are ready-made tools that come with some couplings and frames.
Their working platforms are placed on brackets which allow you to adjust the scaffolding heights according to your needs.
2 - Height of Scaffolding
Scaffolding for interior use may not be ideal for exterior projects especially those that deal with greater height.
Since scaffolding are made designed to get access to high points and areas of a building, it is important to consider the height a scaffolding system offers when selecting the best for your construction project.
3 - Load Capacity
It is important to establish the load capacity of a scaffolding system while making your selection to ensure your safety and that of your workers.
Typically, scaffold load capacities are determined by its materials and the ratio of its heights to its base.
An ideal scaffolding should not only support the weight of the workers but also the weight of the construction materials that might be placed on them.
4 - Build Quality, Stability, and Versatility
The material used in the construction of a scaffolding system plays a vital role in its properties, qualities, and cost.
A steel scaffolding system might be easier to set up, use, move, adjust, more durable and resistant to fire than a wooden scaffolding system but might be very costly.
Although the mobility of a scaffolding system is an addition, its stability should also not be ignored as it is the basis for the safety of the workers and the materials placed on it during construction.
An unstable scaffold does not only affect the project efficiency, result in accidents but may also cause the damage of materials and result in wastage.
Therefore, it is important to consider the stability and quality of scaffolds before making your selection as it might save you a lot of investment in the long run.
5 - Cost
This is a very important factor to consider when shopping for the best scaffolding system. Since they are available in different types and brands, their prices also vary.
Depending on your budget, you can get the best home scaffold for your needs, but it is always advisable to go for nothing but the quality.
Although high-quality products are often offered at higher prices, this does not mean that you have hemorrhage your bank to get the best scaffolds that suit your projects.
Determine to buy used scaffolding or brand new product
Some people do consider renting, or buying a second-hand scaffolding to buying a new one. This may be an ideal way to cut the cost but might not always be the best way to go.
With a new scaffolding system, you are sure of the safety offered by the product since you won't be using a depreciated item.
Owing a new scaffolding equipment will not only make you happy and settled but also makes it easier for you to carry out your home improvement needs at your convenience, any time of the day.
If you are going for a second-hand item, you should not expect it last longer or be as marketable as the new item in case you choose to sell it after use.
Whichever one you decide to choose, go for one that suits your needs but falls within your budgetary constraint.
Scaffolding Safety
A fall from a high altitude could be very disastrous. Even a fall from a structure of only 11 feet tall can result in severe injuries or death.
It is therefore important to take the issue of safety very seriously when using a scaffolding system.
Home owners should strictly follow the following safety guidelines for a safe and efficient scaffolding.
Do not use the scaffolds outside in windy or stormy weather
Inspect the scaffolds before use, do not use if any part, hook, block or fitting on the scaffold is worn of damaged
Do not support your scaffolds with unstable objects like loose concrete blocks or bricks, barrel or boxes
Make sure your scaffold working platforms are fully planked before you start working on them
Your mobile scaffolds should not be moved when it has someone on it
Ensure that the wheel of your mobile scaffold is properly locked before mounting
Use the lanyards or safety belts if you are working at the height of 10 ft or more
Keep your feet on the decking, be careful not to jump or climb the cross braces to access the scaffold
Conclusion
Do you need to safely reach those heights to perform your painting, roofing, cleaning, siding, windows or masonry work without wasting time?
If yes, the scaffolding system is all you need.
It allows you to safely reach those difficult points and carry out your construction or DIY project with utmost ease and accuracy.
However, nothing is more pleasing than having your own scaffolding unit that assures your safety and allows you to tackle those project at your convenience.
With your scaffold system, you save yourself the trouble of paying more to rent a scaffold whose level of maintenance and safety you cannot tell.
Above are the best scaffolding units for your home use. Although there are lot more scaffolds that are suitable for home use, the scaffolding systems mentioned above are those we found more reliable, versatile, durable, stable and reasonably priced.
Whether all you care about is safety, completing the job on time or accurately, these scaffolding systems are the most reliable companion you cannot do without.