Are you a car owner who has finally decided to take things on your hands by using an automotive multimeter?
Or are you a technician who works with car circuits and now looking for a highly-rated multimeter?
If you are any of these incredible people, then you have come to the right place. Because today we are going to pick the best automotive multimeter for you by reviewing the top 6 models available in the market right now.
Best Automotive Multimeters: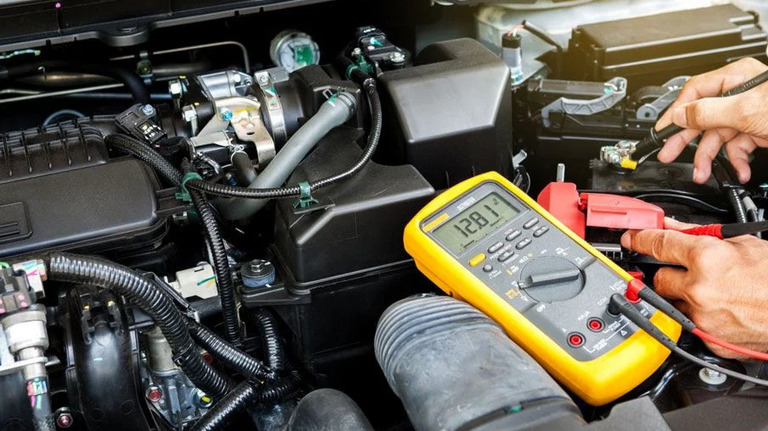 Below are top 3 digital multimeters for automotive use that are the best at its price range. For more product recommendations, check the following automotive multimeter comparison table.
Best Multimeter For Automotive Use 2023

Best Overall

Fluke 88V

Measures up to 1000V AC/DC
Powerful with many advanced functions
Very accurate, reliable and durable
Lifetime warranty

Read My Review

Good Value

INNOVA 3340

Suitable for both professional and home use
Measures up to 600V AC/DC
Large, easy to read display
Affordable price

Read My Review

Best Budget

Tacklife DM07

Best for beginners and home use
Large range measuring, multiple functions
Low cost

Read My Review
Best Automotive Multimeter Comparison Chart
Before we jump into the automotive multimeter reviews and buying guide, here is a list of the top six automotive multimeter models according to our in-house experts.
We have tested all of them and have ranked them on the basis of factors such as usability, accuracy, and features.
You can skim through these automotive multimeters or scroll down to read the detailed reviews below.
Best Automotive Multimeter Reviews 2023
So, without further ado, here are the top rated multimeters for automotive repair.
#1 - Fluke 88V 1000V Automotive Multimeter
The America-made Fluke 88 series is trusted by generations and is the top-rated and a very highly recommended automotive multimeter in the history of heavy-duty meters.
Best Fluke Multimeter For Automotive: Fluke 88V
Fluke 88V - Best Fluke Multimeter For Automotive
Other than the fact that the 88V is manufactured inside the United States, this Fluke meter is designed to work flawlessly in high energy environments, especially in assembly-line industries that manufacture hybrid vehicles. This makes it an ideal choice for mechanics and master tech engineers.
It is rated to measure voltage ranges of up to 1000V (600V for category IV) and can also detect temperature (thermocouple attached) and frequency changes.
The Fluke 88V is really an auto mechanic's companion because its capacitance measurement and availability of oxygen sensors elevates its appeal and capability.
It just simplifies the task at hand, which would otherwise consume more time and effort.
The Fluke 88V can withstand huge voltage spikes (the company manual says up to 8000V, which is a bit of an overstatement, to be honest), has a high-impact holster to save it from those accidental falls, and a magnetic hanger for hands-free troubleshooting.
It's a sturdy little meter that is the best thing you can depend on to diagnose electrical issues in your car.
#2 - Fluke 77-IV Digital Multimeter
The backlight and wide display are definitely the highlights of this Fluke model, which is the #1 choice for technicians of field work.
Fluke 77-IV Digital Multimeter
Fluke 77-IV Digital Multimeter Review
The good thing about the Fluke brand is that it has managed to create a reputation for itself over the years, and which has, in turn, boosted its global sales.
The ubiquitous "yellow" meter is a trademark now, which is why two of our top automotive multimeters are of this brand.
Add to the capability of handling voltage ranges of up to 1000V, similar to the 88V model, this Fluke 77 is a bit faster than its cousins.
The backlight lets you work in the dark, especially in places that are dimly-lit. (You will still need a flashlight to see where to plug the probes, right? Check out the Tacklife meter at #6!).
It is a great solution for when you are working on house wiring projects and have to check the wiring in the attic area.
The Fluke 77-IV is a modern version of the legendary Fluke meter and is a perfect tool for mechanics working on electrical motors and auto electrical troubleshooting.
Pro Tip – Make sure you register your Fluke meter immediately after purchase to avail its incredible customer support and warranty.
#3 - Innova 3340 Automotive Digital Multimeter
Designed specifically for auto engine problems, the Innova 3340 is best known for its solid build and a wide display that is very bright and shows large values (prints), which makes it easier to note the measurements.
Innova 3340 Automotive Digital Multimeter
Innova 3340 Automotive Digital Multimeter Review
If you are not a fan of Fluke, then consider Innova, the equally fabulous brand of electrical measurement tools.
It came into limelight with its flagship 3320 model that is still considered one of the most inexpensive and accurate automotive meters to come out from the manufacturing industry.
If that is not enough, then here's what will appeal to you…
Apart from the usual electrical measurements, the Innova 3340, which is an upgraded version of the 3320 Plus, can test duty cycles, temperature, solenoids, and switches – all of which makes it a perfect tool for both DIYers and auto mechanics.
What we specifically love is the hands-free approach (which is also available on the Fluke 88V), the RPM clamp, and a nifty carrying case.
It shuts off automatically to save power when not being used for more than 10 minutes, which is a great add-on.
If you are a basic user, check out the next best automotive multimeter…
#4 - ESI 585K Deluxe Automotive DMM
The low price tag, as well as the high safety rating, makes this ESI model a coveted tool amongst auto tech mechanics.
ESI 585K Deluxe Automotive DMM
ESI 585K Deluxe Automotive DMM Review
While our top brand is and has been Fluke for a long time, we like to cut some slack to underdogs. ESI (Electronic Specialties Inc.) is one such brand that tries too hard and excels.
The 585K automotive DMM is a great example of ESI's capabilities of bringing all great features in a solid meter.
It garnishes all the features with a dual fuse protection and excellent auto-ranging feature, which further elevates its stance in industrial troubleshooting.
Whether you are a hobbyist who likes to meddle around with your 4-cylinder car engine or are an engineer who works at an auto tech, this smart tool is going to leave up to your expectations.
It works on all – 1-, 2-, 4-, 6-, and 8-cylinder engines, measures almost all relevant quantities except capacitance, and is designed for professionals.
There is nothing that can go wrong with this hybrid tool that also comes with great customer support.
#5 - AstroAI Digital Multimeter
Low-cost automotive multimeter with 3 years of warranty, excellent customer support, and LCD backlight.
Best Affordable Multimeter For Automotive: AstroAI Digital Multimeter
AstroAI Digital Multimeter Review
For people who are looking for inexpensive meters yet want quality and precision, the AstroAI WH5000A is a good bet.
It is the cheapest meter on the list so far, and despite that, can provide accurate, true-RMS readings.
It can also measure temperature and capacitance (up to 60mF) and comes with a magnetic hanger.
Although we tested the magnet to be fine while working on running engines, we do not recommend it for critical tasks for the fear of tripping.
The safety rating is as good as the Fluke 77-IV with dual fuse protection and a sturdy enclosure.
The only drawback that we found is the beeping feature – the meter beeps every time you press a button or use a function. Now, this is not a deal-breaker for DIYers and hobbyists but can be irritating to auto mechanics who work in industries and noiseless areas.
Compare it with Innova 3340 above and this is the cheaper version of that meter with only a few features missing.
#6 - Tacklife DM07 Digital Multimeter
LCD backlight, flashlight, non-contact voltage (NCV) measurement, LED pulse lights, variable beeping sounds – we saved the best for the last!
Best Automotive Multimeter Under $20: Tacklife DM07
Tacklife DM07 Digital Multimeter Review
The Tacklife DM07 is by far the cheapest and the most power-packed automotive meter we have seen.
It has all the features of all the meters you have seen above combined, and yet is priced like a steal. Here's what it has in store for you…
The LCD backlight displays large digits on a widescreen while you are testing anything from voltage to capacitance (100mF) to temperature (different probes).
If that was not enough, it also comes with a flashlight which can be used to measure in areas that are not properly lit.
The LED pulse lights are great indicators of voltage presence through the NCV feature, that is not present in any of the above models.
What makes it further interesting is the beeping sound that has variable frequencies according to the strength of the quantity being measured.
Using this Tacklife meter is like having more fun and loving the job that you do.
We certainly had great fun testing it, and therefore recommend it as one of the best automotive multimeters available on the market right now. For this price, it has no comparison at all.
What is The Best Multimeter For Automotive Repair?
Above are the best digital automotive multimeters available in the market right now.
While they have different features, one common thing between them is the high safety rating, which is not only essential but should be your number factor while purchasing.
While Tacklife DM07 is the most inexpensive meter on this list, it is definitely high on features and accuracy.
On the other hand, the Fluke 88V is, without a doubt, the best Fluke meter for automotive use that money can buy.
Both of them are highly rated and are trusted by millions of professionals around the world. So, match your requirements with the buying guide and make your selection.
How to Buy an Automotive Multimeter?
In this guide, we will take you through a few important factors that you need to consider while choosing your meter, most common applications, useful tips and tricks, and frequently asked questions.
Look at this section as an information desk for all your burning questions about automotive troubleshooting.
Why Should You Buy an Automotive Multimeter?
Having a good-quality automotive multimeter can help you diagnose common electrical issues with your vehicle.
One such example would be to test the battery of your car and check if it needs a boost or a replacement. All without depending on a mechanic.
While you can do this with a general-purpose meter, an automotive multimeter ensures more safety and is rated for high voltages.
If the high rating is not enough of an advantage, modern meters come with fabulous features that will turn you from a regular car owner to an enthusiast.
Features like temperature measurement, automatic ranging, flashlight, and battery health check meter are some extra bells you can find in multimeters today.
Therefore, it makes sense to make an automotive multimeter a part of your automobile toolkit.
Compared to how much a car costs you, getting a multimeter will be a fraction of that cost. But in the long-term, it will pay off by helping you keep your car in spick and span condition.
If you are still somehow confused about which one to buy, here's a short buying guide that will help you make a perfect choice.
How to Choose a Multimeter For Automotive Use?
There are several factors that need to be considered while shopping for an electrical meter. But with an automotive meter, it is slightly different.
It basically combines different measurement functions into one.
Here are the most important parameters that you can take to judge your top choices with:
Safety Rating – Consider the usage and location.
If you are going to use the meter in highly sensitive and static areas like production lines, you need to buy a meter that has a strong enclosure made of fiber and with a higher CAT rating. Most of the above meters are rated for CAT-IV (around 600V AC).
For the highest rated meter in our list, go with the Fluke 88V Automotive Multimeter.
Analog meters are almost like artifacts today, used only by a niche group who prefer those types. Digital meters are robust, more accurate and easier to read, and come with a plethora of features.
Ranging – You can either go with auto-ranging or manual mode (like regular DMMs).
Auto-ranging meters automatically detect the range of the quantity being measured and get you the exact value.
Quantities – Look at what quantities the meter can measure.
Are you going to be needing a tool that also measures temperature? Then get one with a thermocouple (Fluke 88V).
Can't think of a meter that does not measure capacitance? Don't consider the ESI model.
It is also important to check the maximum ranges. For example, if you want to measure voltages above 1000V, you might have to go with Pro versions of the Fluke meters reviewed above.
Same goes for capacitance and frequency.
Quality – This is a default parameter and one that you will not need to put efforts in.
Our reviews of the meters above should give you a good idea about the make and build of the meters. All six are highly accurate, while only a few of them give a true-RMS reading.
Other than usual electrical ones, the meter also needs to have the ability to test batteries, fuses, and coils since these are common applications in the automotive industry
Jot down the top 5 features that you need and then get the meter that has a majority of them. This is the easiest trick in the book to find your ideal meter.
Most common features found in automotive multimeters:
LCD backlight
Flashlight
Non-contact voltage (NCV) or clamp
Magnetic strap
Sturdy carrying case
Alligator clips/probes
Li-ion batteries (as opposed to non-rechargeable AA)
Beeper/variable sound
Automatic shutdown
LED pulse lights
Most Common Automotive Multimeter Applications
Measure DC voltage, amps in a circuit, continuity, resistance, temperature
Diagnose issues with ignition coil, fuses, switches
Testing a car battery, alternator, or ignition
Testing car speaker wires, woofers
Checking coolant temperature, airflow
Most of these applications revolve around measuring common electrical quantities. The key is to know what to check, when, and how.
So, here are two examples…
How to Use an Automotive Multimeter?
Two Examples of Common Automotive Troubleshooting
1 - Testing a Car Battery
It is as simple as testing a 9V radio battery. You just need to connect the probes to the terminals of your car battery and select the range of 20V DC. Since most car batteries are in the 12V-15V range, this is a good range to select.
If the battery is in good condition, the meter will read a value near to the original rating of the battery. If it does, move to the next step.
Testing a car battery with a digital multimeter
Turn ON the ignition while keeping the meter probes connected to the battery.
If the reading drops a few volts and then increases to stay constant, you can confirm that your battery is capable of generating cold cranking amps (CCA) essential for the running of your car.
2 - Checking Coolant Temperature
Find out the location of the coolant temperature sensor and connect the probes of your multimeter to its terminals.
While the ignition is OFF, check the resistance of the sensor. It should be less than 3 kilo-ohms.
Upon ignition, the resistance should drop to less than 1 kilo-ohm.
If for any reason, these readings do not match, you may need to change the sensors or take your vehicle to an auto garage.
Few automotive testers have manual instructions for such common tasks. So, it might be a good idea to read them before operating.
Automotive Multimeter FAQs
Useful Tips and Tricks For Using an Automotive Multimeter
Use a multimeter for car repair
Always wear insulated hand gloves while operating automotive meters
Use the magnetic strap with caution (as most magnets are rare Earth types and are not strong enough)
DO NOT open the back case of a meter

If you want to, do it while wearing hand gloves and eye shields
Consult a professional in case of blown fuses

Always reach out to the manufacturer first in case of an issue with the meter. Most manufacturers have their own websites and support centers
In case of daily use, replace/recharge batteries every three months
Multimeter Helpful Resources
Conclusion
We hope that this guide has saved you time and helped you make a wise decision on the best automotive multimeter for the money. Here's to industrial tools and modern technology!