If you are interested in buying an oscillating multi tool, the following frequently asked questions will help you with a better understanding of the tool.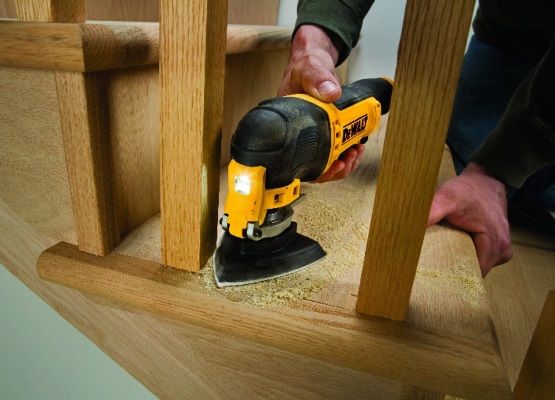 1 - What is An Oscillating Multi Tool Used For?
An oscillating multi tool is one of the most interchangeable, versatile tools ever created. They are mostly used for sawing, polishing, cutting, sanding, scraping and grinding.
These tools are incredibly handy for home repair, construction, or home improvement projects as they reduce the number of tools needed for the job.
Read more: 12 DIY Projects You Can Do With An Oscillating Tool
2 - Who Should Buy an Oscillating Multi Tool?
These tools are popular among professionals in the construction and home repair industries, as well as with the average homeowner.
Many DIY project workers also love these tools due to their adaptable nature.
3 - What Makes an Oscillating Tool Better Than Regular Tools?
Oscillating multi-tools are so handy when you have a project at hand, no matter how big or small.
The fact that they can transform into many different tools within seconds means that you will have less clutter in your garage and less items to deal with while working.
It's entirely possible that an oscillating multi tool is the only one you would need for an entire project.
4 - What Kinds of Projects Are Oscillating Multi Tools Used For?
Oscillating multi tools can be helpful with many different kinds of construction, home repair, or remodeling projects.
They are capable of doing anything from stripping floors, sanding down surfaces, removing grout, polishing materials, sawing, and more.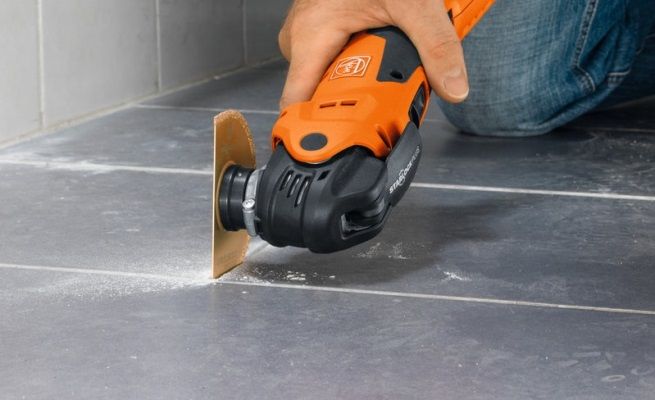 Cutting tiles using an oscillating tool
5 - What Are Some Of The Materials That You Can Use An Oscillating Multi Tool On?
Oscillating multi tools are most commonly used for working with tile, wood, metal, drywall, plastic, and cement.
The key when it comes to working with different surfaces is making sure to purchase the right oscillating tool accessories and blades for what type of material you will be working with.
6 - What Are The Best Brands of Oscillating Multi Tools?
There are lots of reputable brands of oscillating multi tools on the market. Some of the more popular ones are Black & Decker, Fein, Rockwell, Bosch, Porter Cable, Makita and Dewalt.
Each one has their own strengths, so it's important to read oscillating tool reviews to see which one would be the best fit for you and your needs.
7 - What Features Should a Buyer Look At When Comparing Oscillating Multi Tools to Purchase?
When preparing to purchase your own oscillating multi tool, it's important to know what to look for as far as features go.
Even though these tools are incredibly versatile, some of them can be bought in complete kits with accessories that are needed for your specific project.
For workers who have owned a multi-tool previously or currently still do, just the tool alone may be bought.
Other features to compare include oscillating speed, cordless or corded, size, weight, and price.
It's also good to notice whether or not the tool that you're looking at buying is compatible with all universal accessories.
Oscillating multi tool kit
8 - If I Have Never Owned An Oscillating Tool Before, What Sort of Kit Should I Buy?
There are many different kits for sale that would be perfect for a first time user.
Ideally, if you have never owned such a tool before, it would be best to buy a kit that comes with an array of blades, accessories, carrying case, and power source.
See also: Oscillating Tool Comparison Charts
9 - What Accessories Are Needed to Get The Best Use Out Of a Multi Tool?
Oscillating tools are great because they are so flexible. For each function that they are able to perform, there are accessories that need to be purchased.
For example, polishing and sanding pads are sold to smooth out surfaces. There isn't a "one blade for all" accessory, but several kinds of blades for purchase that are made to cut a variety of different materials.
While it might sound cumbersome to have to collect so many accessories, it's actually to the user's benefit.
This is because having the correct blade promotes accuracy, prevents rework, reduces low-quality results, and minimizes breakage on your home repair projects.
10 - Do All Accessories And Blades Work On Any Oscillating Multi Tool?
Not always.
While many brands make their accessories and blades compatible with other brands of multi tools, some companies make parts that are only designed to fit their specific models.
This is usually indicated somewhere on the packaging or website summary, so be sure to look for it prior to making a final purchase.
11 - Is It Important To Use The Blades Only On The Materials That They Are Labeled For?
Definitely. Not all blades are created equal because they are specifically designed to work with certain materials.
While this might sound like a bother to have to purchase blades separately for each type of project you do, it's actually to the buyer's advantage because this helps you produce neat and accurate results.
In addition to that, some blades are not durable enough to be used on tougher materials and might break or get damaged if used on something other than what they were built for.
12 - What Are Some Advantages Of Cordless Oscillating Tools Versus Corded Ones?
Cordless oscillating tools can be really handy when you have to work in small, tight spaces or in rooms without a power source.
These tools also take batteries, so users need to be aware to purchase those separately if they don't come with one.
Cordless multi tools can be great for projects that need to be done with a lot of accuracy too, as they allow the users to work really close up without having to deal with getting tangled up in a cord.
Many cordless oscillating multi tools have rechargeable batteries, so before buying one be sure to see what their charge time is.
See also: Best Cordless Oscillating Tools