Planning a home improvement project can be daunting, however, having the tools that are the right ones for the job is an easy way to guarantee to make things less stressful.
Oscillating tools are favorable for so many types of remodeling, construction, and home repair jobs.
The trick to getting the most use out of them is to know which accessories are the best oscillating tool blades for what you're working on.
Top 4 Picks for Best Oscillating Tool Blades: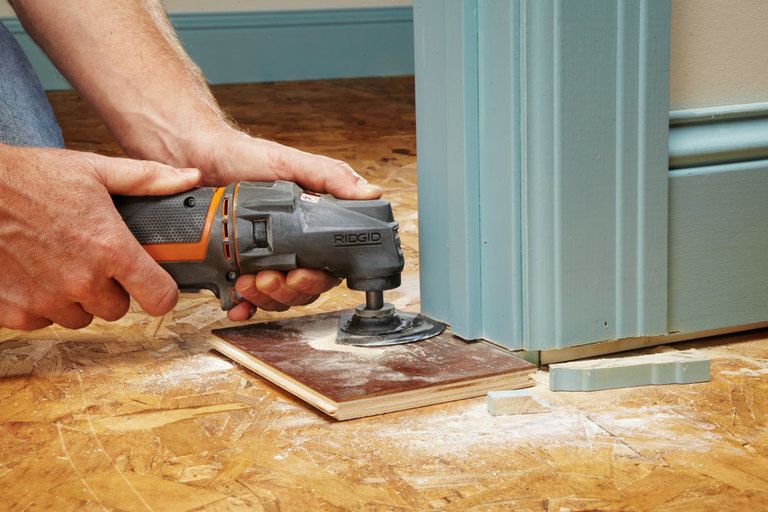 While they have a large and diverse list of functions, multi-tools are most frequently used for cutting, sanding, removing grout and filing, and can be ready to do any of these tasks with the change of a blade.
The optimal way to determine which ones you need is to compare a few oscillating tool blade reviews, as they offer explanations for their purpose and utility.
Top 4 Best Oscillating Tool Blades 2023
4 Best Oscillating Tool Blades of 2023

Best For Cutting

Fein 35222942080

6 blades for different applications
Fits all multi tools with the Starlock System
Good quality and durable

Read My Review

Best For Grout Removal

DEWALT DWA4220

Sign wave design for faster grout removal
Universal fitment for use on all major brands
Easy to use, good price

Read My Review

Best For Grinding

Dremel MM920

Can be used for grinding on many materials
Durable and affordable
Compatible only with Dremel oscillating tools

Read My Review

Best Blade Kit

ABN Deluxe 38-Piece

Compatible with most standard tools
Lots of different blades for wide range applications
Durable and inexpensive

Read My Review
Best Oscillating Saw Blades For Cutting
Saw blades are the most commonly used type of blade paired with an oscillating multi-tool. Read the oscillating saw reviews below to find the best oscillating saw blades that you can buy today.
#1 - Fein 35222942080 Best Oscillating Saw Blades Kit
Fein oscillating tool blades are made in Germany and are built with the Star Lock mount design, which means that they will fit multi-tools made by competitors as well as its own brand.
This saw blade kit comes with a two 160 Long-Life blades, two 161 Long-Life blades, one 151 Universal blade, one 152 Universal blade, and a carrying case that can hold up to 30 blades total.
According to customer reviews, Fein makes some of the best oscillating tool blades for cutting metal and are great for getting jobs done speedily.
However, many others claim that they get used to pretty fast and become dull or unusable after a fair amount of use.
Price-wise, these blades are a little more on the expensive side, but despite this have become a fast favorite.
#2 - Platinum Blades QFM187 Oscillating Multitool Blade Bundle (15-Items)
These Platinum oscillating multi-tool blades conveniently come in a pack of 15 different blades and accessories, perfect for someone who may be working with different surface materials.
This product is a great pick for those who are contractors or work on construction sites on a regular basis, as they have an astonishing wear tolerance and life for long-term projects and use, thanks to the thick gauge metals.
In addition to that, the universal arbor can be adjusted into several different positions to ensure that you can work precisely and accurately.
This oscillating multi-tool blade bundle is moderately priced, and would likely fit into the budget of most homeowners.
The fact that it comes with so many different accessories makes it a great value.
#3 - Dremel MM485B Carbide Flush Cutting Blades, Pack of 3
These Dremel oscillating tool blades conveniently come in a pack of three and are made with carbide tooth blade material that allows the user to cut into some hard material at a high-performance rate.
This means that it is capable of not only cutting through hardwoods and plaster, but it can also plow through nails, screws, stainless steel bolts, pipes, cement, slate, and even sheet metal.
In addition to that, they have the Universal Quick Fit System design to them which means that it won't take the user much time at all to switch out accessories.
These blades are highly rated among previous customers and are actually a lot less expensive than its competitors as well.
Best Oscillating Tool Blades for Grout Removal
An oscillating multi-tool is said by many to be the best grout removal tool.
The back and forth oscillating feature allows users to work without having to deal with the grout dust spitting out all over the room.
In addition to that, there are lots of different blade thicknesses to pick from to allow the user to complete the job with precise detail and accuracy.
Below are three grout removal blade reviews to help you determine the best choice for your needs.
#1 - Dremel MM500 1/8-Inch Multi-Max Carbide Grout Blade
This grout removal blade for oscillating tools is highly rated due to its lightweight and compact features and ability to function at high speeds.
As far as its design goes, the lightweight-ness and compactivity make it easy to use for extended work hours in smaller spaces with impeccable precision.
The high speeds give the user the advantage of getting the project done faster with an especially smooth finish.
This blade is compatible with any standard multi-tool as it is within the dimensions of a universal fit.
When it comes to prices, this blade is right on par with its competitors and seems to be one of the most regularly purchased models.
Based on customer reviews, this Dremel grout removal blade also seems to be one of the more durable ones, so it's a great pick to take a gamble on.
#2 - DEWALT DWA4220 Oscillating Fastcut Carbide Grout Removal Blade
This oscillating tool grout removal blade is highly rated for its sign wave design that allows it to work twice as fast as its competitors.
It is also comparatively in the same price range as the other blades of this kind and is able to fit on all major brands of multi-tools.
This DEWALT oscillating blade for grout removal is durable enough to cut brick and has fantastic reviews for its efficiency, getting work done at incredible speeds.
The only real drawback, if any, is the fact that too much consecutive use can really wear it down fairly quickly.
However, given that it isn't overly expensive means that it won't be too hard on the wallet should you need to buy another to complete your project.
#3 - Bosch OSC312RF 3-1/2 In. x 1/8 In. Grout Grinding Blade
As far as grout removal blades for oscillating tool go, this particular model has very good feedback from customers based on its ability to perform heavy duty jobs.
It specializes in providing maximum power and has a laser etched depth guide to assist with accurate capacity measurements.
In addition to that, this blade is very versatile in its position settings as it can be altered by 30-degree increments.
It functions the best when paired with Bosch branded multi-tools, however, it is usable on other branded oscillating tools.
Price-wise, this Bosch grout removal blade is slightly higher than its competitors but advertises that its durability is much longer lasting than some of the other ones out there.
Best Oscillating Accessories For Sanding/Grinding
#1 - Dremel MM920 Carbide Rasp 24 Grit for Grinding
When it comes to grinding with an oscillating tool, the best route to go is by using a carbide rasp.
This particular Dremel carbide rasp is a great pick for getting the job done, as it is the perfect tool for smoothing out a surface that is about to get a tile replacement.
The grit on this rasp is very durable and can also handle working against wood, cement, plaster or thin-set mortar.
It is also priced relatively reasonable, so if you happen to need more than one it won't break the bank.
However, the one downfall for this product might be that it is only really compatible with other Dremel tools.
#2 - DEWALT Dwa4200 Oscillating Sanding Pad
This oscillating sanding pad has a universal fitment and can be used on the majority of big brands.
And for a fairly low price, a user working on a home project won't have to worry about replacing them down the line.
Customers who have used this product in the past have made claims that they are very user-friendly and are relatively efficient for getting work done.
In addition to that, they are easy to change once you need to replace the pad for a new one.
Some feedback has claimed that these sanding pads tend to melt during use, but at least they can be swapped out when this happens.
Best Oscillating Multi-Tool Accessories Kit
These multi-tool kits below are some of the most affordable and high-quality items that you can buy these days.
They come with a large array of accessories that can be used for: sanding, cutting, shaping, polishing and removing grout.
#1 - ABN Oscillating Multitool Blade Combo 38-Piece Kit
This kit comes with even more multi tool accessories than its competitor, yet it amazingly still manages to stay within the same price range.
The versatile blades and accessories that are included provide an astonishing amount of work options for the average DIYer that they most likely won't even have to take a break to run to the store.
Included with the kit are several different blades and sanding pads that are made to remove grout off lots of types of surface material.
The blades are made of a durable stainless steel and are compatible with most standard tool brands.
If there are any drawbacks to this product, it's the constant daily use will wear the blades out fairly quickly as opposed to occasional use.
#2 - WORKPRO 25-piece Oscillating Multitool Accessories Kit
This handy kit comes equipped with 25 different oscillating tool accessories and blades that are sure to make getting your work done easier than ever.
They are compatible with many different multi-tool brands including Skil, Black & Decker, Craftsman, Mastercraft, and several more.
The quick blade release mechanism is handy for doing fast changes and different jobs, as this kit has parts for sawing, cutting, shaping, removing grout, polishing and scraping.
The quality of these blades are decent enough to get the job done, but aren't the most durable on the market. However, the price is hard to beat and customers get a lot of value in the different pieces for their money.
Understand Different Types of Oscillating Tool Blades
One of the best things about oscillating multi-tools is their ability to transform into something else in just a matter of minutes.
There are oscillating tool blades for cutting metal, sanding down surfaces, and many more uses. Even cutting tile with an oscillating tool has never been easier.
Below is a comprehensive list of the many types of blades that you can purchase for your multi-tool.
Polishing
Even though most multi-tools are used in the start or the thick of a project, they can also be useful during the end stages as well.
Felt or fleece polishing pads are great blade accessories for putting that final touch on your work.
Rockwell RW8940 Sonicrafter Felt Polishing Pad
Cutting
Oscillating multi-tools are often used for cutting materials, as this is one of their most popular functions.
There are blades for cutting softer metals as well as other designs made to cut thicker, tougher materials.
Dremel MM480B Wood Flush Cut Blades
Sawing
Needing to break out the saw every time you need something cut is a way of the past. Oscillating multi-tool saw blades come in a variety of shapes and sizes to take on any kind of project.
DEWALT Dwa4213 Oscillating Flush Cut Saw Blade
Sanding
Sanding pads are essential accessories to oscillating multi-tool blades due to how effortless they make smoothing out rough surfaces.
There are both round and triangular versions to accommodate small, big, and odd shaped areas.
Bosch SDP001 3-1/2 In. Delta Sanding Pad
Grout Removal
Getting rid of grout used to require a lot of elbow grease, but with the help of an oscillating tool blade, it's no longer a difficult chore.
There are a few different styles of grout removal blades for multi-tools, but the two main ones are carbide edge blades and diamond edged blades.
Carbide ones are used for soft materials like sealants whereas diamond ones are typically more durable for harder materials.
DEWALT DWA4240 Diamond Oscillating Blade for Grout Removal
Rasping
Rasps for multi-tools come in three different shapes: finger, round, and triangular.
They are designed this way to give the user easier access to whatever area they are working on, and are most effective for rough surfaces like concrete or wood.
Rockwell RW8924 Sonicrafter Carbide Grit Finger Rasp Blade
Scraping
Scraping blades come in both soft and firm designs, made to suit whatever type of material is being removed from a surface.
The blades themselves also can be purchased in a variety of shapes to best fit your home remodel, construction, or repair needs.
DEWALT DWA4232 Oscillating Triangular Rigid Scraping Blade
How to Choose Right Blades for an Oscillating Multi-Tool
All kinds of projects require different needs, which is why it's most important to be prepared and have the right equipment from the very start.
Choosing the best oscillating tool blades for your current job is key to having a smooth and less stressful experience.
There are many factors that should go into your purchase decision when it comes to getting blades for an oscillating tool.
Consider Your Type of Work
First, you will want to determine what sort of work you are trying to accomplish and find a blade that is made for it.
For example, if you know ahead of time that a lot of sawing is going to be done, it's best to see what kinds of saw blades are on the market right now.
In addition to that, it helps to make a list of all the types of work you'll be doing to and buy the different blades all at once in order to save time and interruptions.
Check the Blade Compatibility
Once you find the right type of blades for your project, the next thing to do is ensure it is compatible with your oscillating multi-tool.
Some models need to have specific brand blades in order to work, so it's important to make sure to check that before going through with the purchase.
Types of Materials You're Working With
You will also want to assess what kind of material you will be working with, as there are types within types of blades that are thinner or thicker depending on what's needed.
Your Budget
Other big things to consider is what your budget is, because just like anything else there can be a wide range of prices for blades.
It's also helpful to refer to customer reviews to see which blades worked best for other people trying to do similar projects.
Conclusion
Hopefully, after reading over these oscillating tool blades reviews, you will have a better idea of what to buy for your own work and projects.
While there are so many different options out there, it's nice to know what others have found to work to reduce the amount of time you need to research oscillating tool accessories.
The key thing is to ensure that the correct blade is purchased for the right type of job, so we've covered some of the most popular kinds of blades to give you a head start.