An oscillating multi-tool can be one of the exceptionally good choices when it comes to selecting a tool to handle various work of a project.
Ever since it was invented, the multi-tool has become a reliable companion that provides a safe and efficient way to handle various tasks.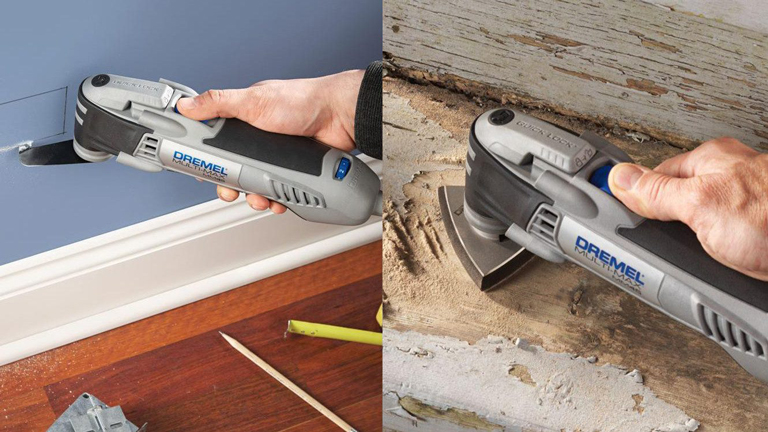 With the right blades and accessories, the oscillating tool simply allows you to cut through a range of materials including wood, fiberglass, drywall, metals, plastic, etc. with absolute ease.
It also features interchangeable heads for handling different applications like cutting, sanding, grinding, scraping or polishing.
And since it is one of the most versatile tools ever produced, the oscillating multi-tool has successfully won over a legion of contractors, woodworkers, and DIY enthusiasts.
If you are seeking inspiration on how endlessly useful an Oscillating Multi-tool can be, you are in the right place.
Below are some ideas on the DIY projects you can do with an Oscillating Multi-tool.
1 - Trimming Door Casings With Oscillating Multi-Tool
Do you want to trim the bottom ends of your jambs and door casings to fit them properly with your new floor installation?
If yes, an oscillating multi-tool is an ideal tool to handle this kind of job without the help of a repairman.
All you need to do is to attach a flush-cutting wood blade to your oscillating tool, place a piece of your new flooring on the subfloor very close to the door casing and turn it upside down.
This will help to prevent scratching the good side of the flooring while helping you to determine the height to which you need to cut.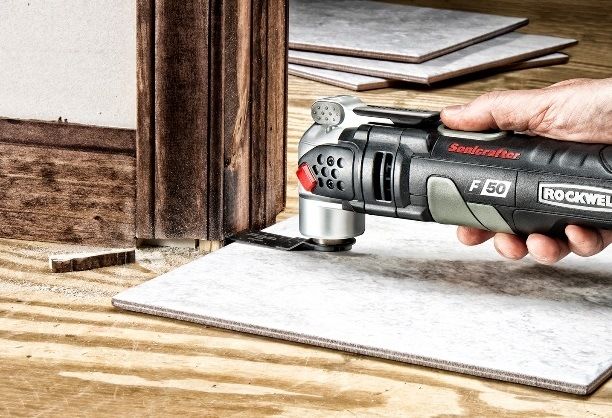 Now, hold the tool firmly with its blade flat against the piece of flooring you placed on the ground and cut directly into the door casing and then from one end to the other.
Your new flooring should now slide under the door casing soon after you trim and remove the severed piece of wood.
2 - Removing Old Paint With Oscillating Multi-Tool
No doubt, painting is one of the best home improvement projects to embark on using a DIY approach. It can yield a good visual improvement if it is carried out properly.
But when it comes to painting any surface, old, worn, loose and blistered paints can mar the quality of the task.
They, therefore, have to be removed before spraying or applying a new coat of paint to get the best result.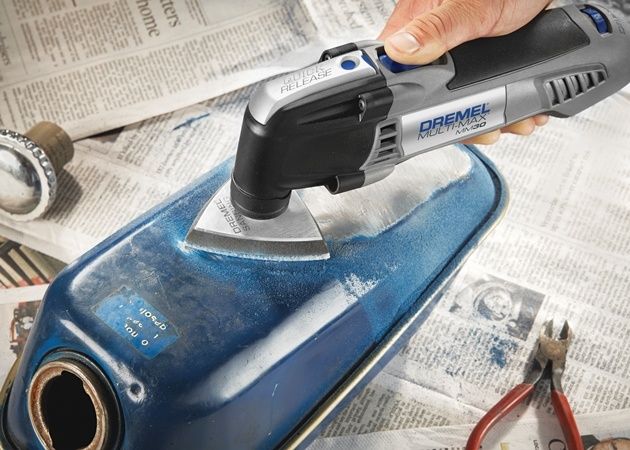 photo source: www.pinterest.com
Removing old, worn, peeling or blistered paint on a surface can be very demanding, but it's a lot easier with an oscillating tool.
To do this, fix the steel scraper blade to your oscillating tool to scrape off the loose, peeling and blistering paint.
Then change your tool accessory to a sanding pad and sand the surface down to the shiny metal underneath or to expose the wood.
You can start your sanding activity by using coarse-grit sandpaper and gradually progress to finer abrasives until you attain the degree of smoothness that you wanted.
See also: How to Paint Circles On Walls
3 - Cutting Plumbing Pipes
Of course, you can cut plumbing pipes efficiently with other cutting tools likes the hacksaw.
But when it comes to cutting the plumbing pipes in awkward areas where the hacksaw cannot be really useful, the oscillating multi-tool is the solution.
It allows you to work at awkward angles and in tight spaces because of its compactness and the adjustability of its blades to various angles.
Just find and fix the most appropriate blade from the attachment blade set and quickly slice through plastic, copper and old galvanized metal pipes.
You can even set the blade at a right angle with simple adjustments.
4 - Pry Off Moldings
It is nearly impossible to pry off moldings from wood, walls or other surfaces without damaging them, but with the use of a multi-tool, you can do this without causing any damage to the surfaces.
With a metal cutting blade (fine-tooth blade), you can precisely pry off the coat of dried paints, slice through old caulking and finishing nails.
You also use this method to carefully remove any kind of room trim such as chair rails, door casings, windows, shoe molding, and baseboard.
5 - Removing Grout With Multi-Tool
Oscillating tools are equipped with one of the most useful attachments that are specially made for removing cracked, stained or old tile grout.
People often carry out this job in a conventional way with the help of a grinder but with an oscillating tool, removing the grout becomes easier and faster.
Unlike the grinder, the blade of the oscillating tool does not spin; rather, it moves back and forth to cut and remove the grout.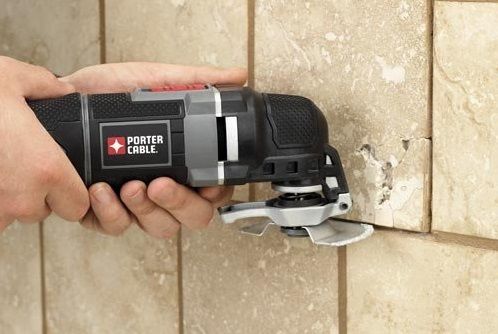 This oscillating movement leads to more tidy results as it does not throw the grout dust all over the room.
To remove grout, just attach the appropriate grout removal blade (according to the grout size to be removed) to the tool, and you are good to go.
Read more: Best Oscillating Multi-Tool Reviews
6 - Grind Away Mortar
One of the quickest and efficient ways to clean up the hardened thinset mortar in the subfloor is with the use of an oscillating multi-tool.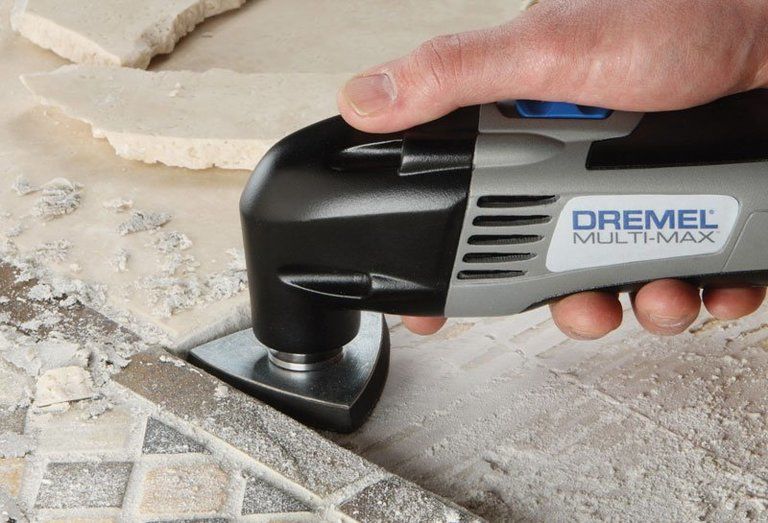 Fix the triangularly shaped attachment (carbide grit rasp) to the main unit and use it to crush the cement, mortar, and dried adhesives.
With the rough characteristics of the carbide rasp, the rock-hard mortar will be turned into dust in mere seconds.
7 - Scrap And Remove Sealant Or Old Caulk
Some parts of our furniture and homes are sealed with caulk or adhesives.
And when the time comes to replace any of the elements, removing the stubborn adhesives or hardened caulk it is often met with a struggle.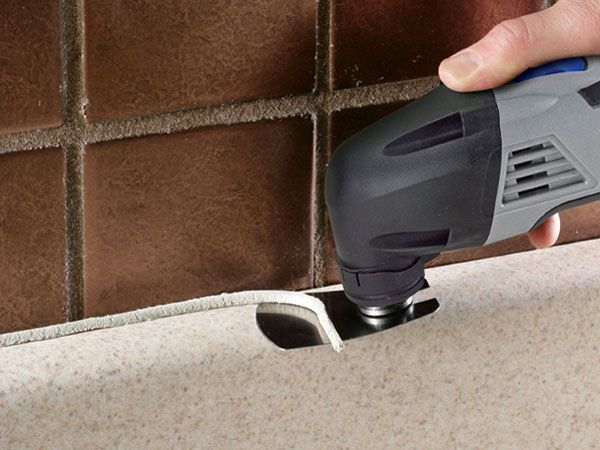 To remove the caulk, drop your putty knife and grab the oscillating multi-tool.
Attach a sharpened steel scraper blade to the tool and slice through the hardest caulk or sealant within a few seconds.
This is ideal for removing sealant or caulk around the sinks, tubs, doors, windows, counters, and backsplashes.
8 - Cutting Out Openings On Different Surfaces
Oscillating multi-tool offers a fast, precise and convenient way to cut rectangular or square holes in drywall or ceilings.
This provides a simpler way to install light fittings, switches, ceiling boxes, power outlets, or to remove the damaged patches of walls and ceilings.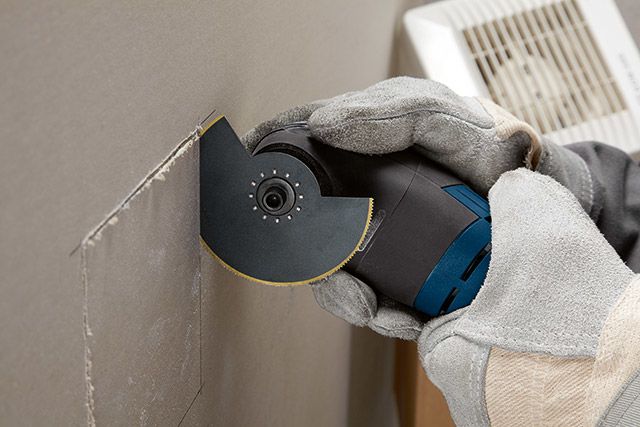 Mark the outline onto the surface of the wall or ceiling, attach a wood or metal cutting blade to the tool and plunge cut right through the surface of the wall or ceiling.
Make sure you check if there is any wire or pipe buried behind the wall surface, to avoid cutting into them.
See also:Best Power Tool To Cut Drywall
9 - Remove Rust On Metal Surface
With the help of an oscillating tool, you can easily remove and clean off the rust from mistreated metalwork.
This will help to restore your old rusting tool to its former glory.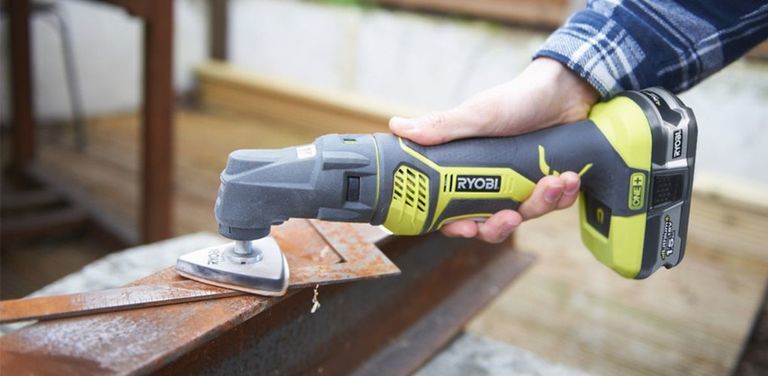 You can also use the tool to remove the rust on an old garden gate before applying a fresh coat of paint.
With the oscillating multi-tools speed (18000+ OPM), you will complete the task in no time and save yourself the stress of doing it by hand.
Simply attach the sanding pad to the tool and get down to business.
10 - Cut Nails And Screws
When fitted with a metal cutter blade, your oscillating tool can slice off excess nails, pins, screws, and another metallic object that would otherwise be dangerous if not unsightly.
This means that you can trim off the nails and screws under your floorboards, behind the walls, in your ceiling or cabinets.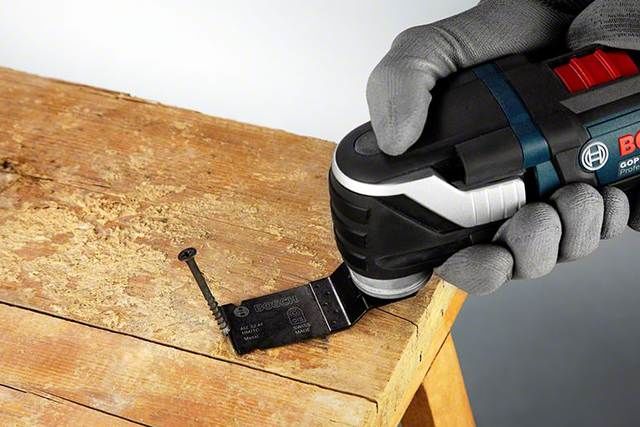 photo source: multitool.bosch-pt.com.au
The major problem you can encounter while cutting metals is the heat produced by the tool; you may even end up shortening your blade life.
You can solve this issue by applying lubricant to the blade. This will reduce the heat when blades are high on friction.
11 - Smoothen Wood Surfaces
You can easily smoothen the surface of the wood, curves, bodywork or clear topcoat finishes with a multi-tool.
Just attach the right sanding plates and sandpaper, and you are good to go.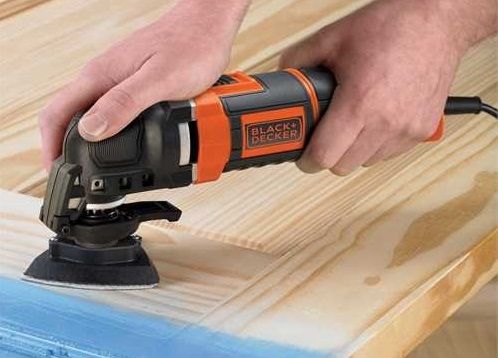 The most common sanding plate is a large triangular shaped pad that works effectively when smoothing broad flat surfaces.
Sanding pads are also available in different sizes that allow you to smooth tight corners and narrow crevices.
12 - Trim Your Furniture And Interior
Trimming your furniture and interior is one of the best ways to make them neat, and this is best carried out using a multi-tool.
When installing your chair rail, you can easily use the multi-tool to trim the corners or the joints to make them look tidy and neat.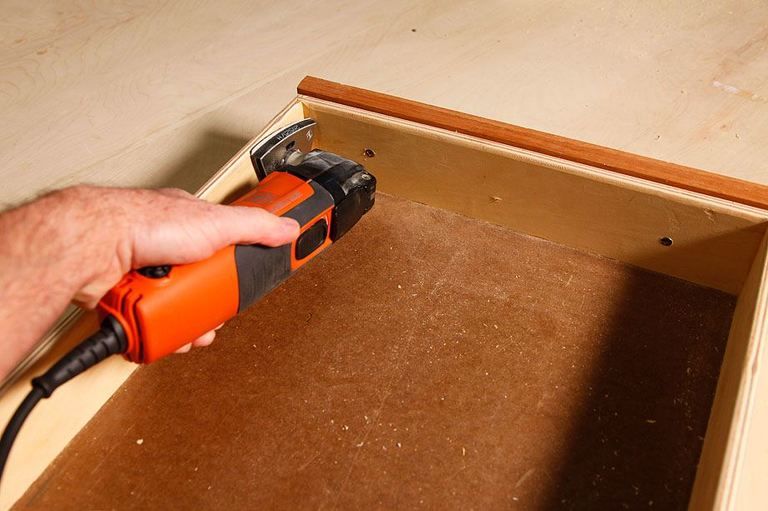 photo source: thisiscarpentry.com
The tool also comes with several blade types that come handy when you need to tidy up your interior decor or misaligned furniture.
Conclusion
Now that you have seen how endlessly useful an Oscillating Multi-tool can be, the next thing to do is to get yourself one if you had none.
Oscillating multi-tools remains one of the most versatile and reliable tools any contractor, or DIY enthusiast can ever own. It will not only help to handle the job perfectly and accurately but also helps to complete the task quickly and efficiently.
Above are some of the ways to use an oscillating tool, but its uses are not limited to this. If you have new ways and ideas of the jobs you can do with an oscillating tool, feel free to share, use the comment box below.