DEWALT DCS355D1 is the most powerful cordless oscillating tool I ever owned, and it's probably the most powerful cordless oscillating tool available in the market today.
It includes a variety of attachments and 20V Max battery to tackle specific jobs, making it your go-to solution when you need to get the job done quickly and efficiently.
DeWalt DCS355D1 20V Oscillating Tool Review Summary
DEWALT DCS355D1 20V XR Brushless Oscillating Multi-Tool
Review Summary
Accessories Included: 28 Pieces
Battery Type: 20V MAX
Oscillation Per Minute: 0 - 20,000
Oscillating Angle: 1.6 ° x 2
Blade Change: Tool-free
LED Light: Yes
Variable Speed: Yes
Tool Weight: 3.22 lbs
Warranty: Limited 3 Years, 90-day money back, 1-year free service
Top Features: Quick blade change, long battery life, powerful performance
Pros & Cons
Pros
Comes with LED light to brighten your workspace for a precise cut
Cordless with a long battery life
Variable speed trigger with dual grip for ultimate speed and control
Quick accessory change system with outstanding warranty
Comes with 28 accessories to make this your one-stop complete tool kit for home repair
Cons
Loud noise when in operation
DeWalt DCS355D1 20V Oscillating Multi-Tool Review
The DEWALT DCS355D1 comes with all the top of the line features that made it outshine its counterparts and keeps it ahead of the competition.
Here are some of the reasons why this tool is arguably the best cordless oscillating tool:
Long Battery Life
My old cordless oscillating tool would not stay longer than 45 minutes on a job.
At times, the battery run dead while handling important projects and I have to keep charging or changing the battery, this is frustrating and time-consuming, isn't it?
Luckily, I found the DEWALT DCS355D1 oscillating tool, and it changed my impression about cordless oscillating tools.
This tool's battery lasts forever!
I challenge the tool on a daily basis, and it lasts for many hours on a single charge, even after performing several plunge cuttings, cutting through drywall, and slicing through nails.
The tool saves time and money. No need to keep charging the device, buy another battery or go through the hassles of constantly changing the battery to get the job done.
Plenty Of Accessories With Easy Change Accessory System
This DeWalt 20V oscillating tool comes with a set of 28 accessories which made it perfect for multi-purpose use.
The blades are designed to handle specific jobs like sanding, scraping, cutting, and mortal and grout removal.
Another cool feature is the Quick Change Accessory System which offers the fastest changing of accessories in the industry.
This feature ensures I have an oscillating tool that does support not only multi-purpose use but also saves massive amounts of time when I need to change the blade angle or accessory frequently.
Universal Adaptor (Endless Accessory Options)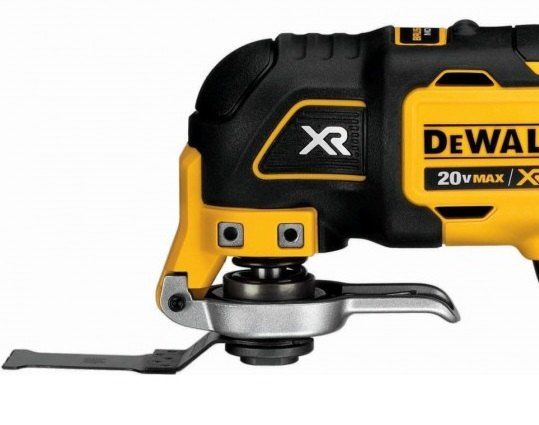 DeWalt Quick-Change™ accessory system
In addition to the tool's efficient, quick blade changing system and the variety of attachments that accompany the tool, it also comes with a universal adaptor.
This adaptor allows you to use the blades and accessories of other oscillating tool brands.
I can use the blades of my old tool on this device by screwing it down with the included hex screw. I must say I am very excited about the endless options of attachment the tool offers.
Dual Grip Variable Speed Trigger
This feature allows you to control and handle the speed of the tool by gripping its handle.
I love the comfortable rubber grip and the variable speed control that allow me to adjust the speed from 0 to 20,000 RPM to suit different applications just with the strength of my grip.
This feature is also helpful when making a straight cut.
See also: Best Tools To Cut Tile
Brushless Motor
At first, I was not sure of the brushless motor, but this monster does not vibrate or rattle like my old tool.
The brushless motor reduces friction and wears on gears. It also improves the tool's efficiency and run time by 57% and delivers better capacities.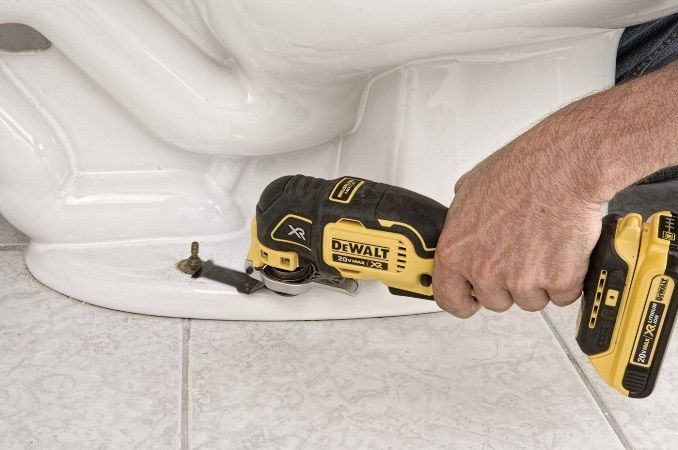 Powerful Brushless Motor delivers up to 57% more run time
LED Light
Nothing can be as frustrating as having an insufficient amount of light when working on a project. Not only can this yield poor results, but it could also lead to an accident.
DeWalt understood this and included LED light to the tool to provide extra illumination when needed.
So when you need more illumination, you can have it with just the flick of a finger without hauling large flood-lamps or flashlights.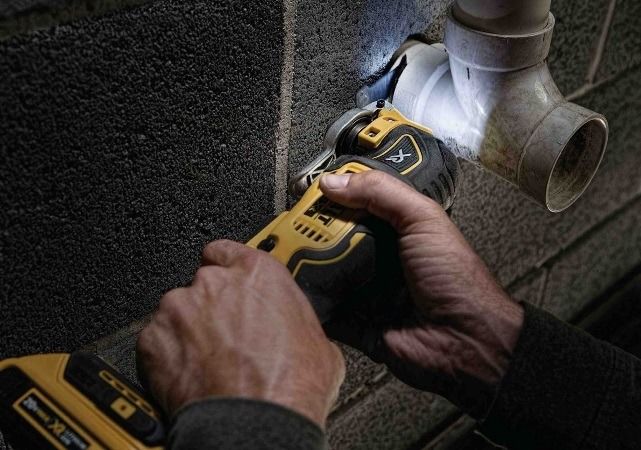 Bright LED light for accurate cutting
The tool also comes with a 90-day money back guarantee, 1-year free service, 3-year warranty, fast battery charger and a storage bag to hold the unit and its accessories.
Some Drawbacks
Some of the drawback I figured out while using the tool includes:
Heaviness: the tool weighs about 3.2 lbs, which is slightly heavy and can cause muscle cringe when you handle the tool for a long period. However, this weight is attributed to its battery
The tool has quick blade and accessory changing system, but you can only attain this feature by using Porter Cable or Dewalt accessories
The blades are limited and expensive. However, the universal adaptor offers more options for blade selection
The tool is a bit expensive, but with the amazing features you'll get, you know you are in for quality.
See also:Best Multimeters For Electronics Hobbyist
Frequently Asked Questions About DeWalt DCS355D1
Can I push the tool harder to make it work faster?
No, you shouldn't! Pushing the tool and its accessories harder on the material will not make it work faster. It will slow down the tool and reduce its efficiency.
It will also generate more heat than necessary, rapidly wear the accessories out and create more fatigue for the user.
So if you want a faster result, push the tool slowly while going hand-in-hand, guiding more.
It seems like the tool only vibrating, how can I control the cut?
This unit works on oscillation. So, you need to stabilize your work project to have a controlled cut.
If your workpiece moves or vibrates along with the tool, you will attain no good result, stabilize your work!
What is the trick to get a cut started?
There is no trick. I recommend slowing down the tool to start with.
It is better and easier to start the cut or application at a lower speed and increase it after you have made a path in the material.
Verdict
With the excellent features and the smooth operation you get out of the tool, I would say Dewalt really nailed it with this DCS355D1 model.
I love the cordless convenience, the LED light, long battery life and the powerful brushless motor that deliver a precise and smooth operation.
This is a go-to tool when you need to complete your project on time, and a must-have for every serious and professional DIYer.
Stop wasting time, get yours now and come back with your testimony!