Bosch has a reputation for manufacturing high-quality and high-performance tools.
The GOP40-30C is a strong and high-quality Bosch offering that certainly gives other high-end oscillating tools a run for their money.
It comes with an array of features that flexes the company's muscle on performance and quality of craftsmanship.
Bosch GOP40-30C StarlockPlus Oscillating Multi-Tool Kit
Bosch GOP40-30C Oscillating Tool Review Summary
Bosch GOP40-30C StarlockPlus Oscillating Multi-Tool
Review Summary
Accessories Included: 32 Pieces
Motor Power: 4.0 AMPS
Oscillation Per Minute: 8,000 - 20,000
Oscillating Angle: 3.0 °
Blade Change: Starlock Plus
LED Light: Yes
Variable Speed: Yes
Cord Length: 13 feet
Weight: 3.3 lbs
Warranty: Limited 1 Year, 30-day money back, 1-year service
Top Features: High performance, super long cord, good customer service
Pros & Cons
Pros
Powerful 4.0 amp motor
32 accessories with no-touch accessory change
It has a long cord, and it's compatible with all Starlock attachments
Variable speed with LED light illumination to brighten up dark working surfaces
Bosch GOP40-30C Review
If you are looking for a fast and powerful multi-tool that will last very long and not let you down when you need it most, the Bosch GOP40-30C make a great choice.
Let me explain why this tool is perfect for every avid DIYer and professional builders.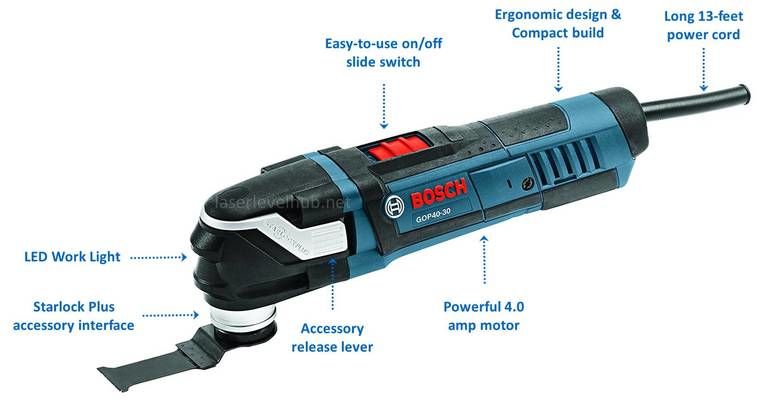 Features of Bosch Oscillating Tool GOP40-30C
Fast And Powerful
I give it up to Bosch on this one. At first, I wasn't sure if this tool would challenge my older tool.
But the moment I got the GOP40-30C out of the box, I knew it is going to send my older multi-tool to the island of unsuitability.
The Bosch GOP40-30C beats the pants off the tool by a long shot.
The heavy-duty 4.0 amp motor along with the 3.0ᵒ oscillating arc provides plenty of power to get any cutting, sanding or scrapping done with ease.
Cut metal using a Bosch GOP40-30C Oscillating Tool
During my last routine home improvement exercise, I found the tool very efficient at making different types of cuttings without wasting time.
The 1-1/4 inch all-purpose bi-metal blade worked perfectly in making plunge cutting in solid wood, as well as cutting nails and other non-ferrous metals within a very short period of time.
The tool also fared well on different flush cutting and sanding operations, making it an ideal tool for serious crafters.
Versatility
The Bosch multi tool comes with 32 accessories to carry out different operations like grout removal and many other tasks with ease.
It also has a gentle, soft start feature to start and handle difficult cut without any trouble.
This feature helps me to begin my operation at a slow speed thus allowing me to maintain control, especially when working at awkward angle/position.
Ergonomic design for better grip
Snap-In Tool Feature
This feature is one of the best parts of this product. With this feature, you can snap in the blade or the attachment you want to use without using any tool.
You can also detach the blade by using the release lever.
And since you can remove or snap in an accessory with the speed light, it saves a massive amount of time when you need to change your accessory frequently.
You can now say goodbye to burnt fingers, and when I say no more burnt fingers, contractors and DIYers will understand.
Long Power Cord And Variable Speed Dial
The Bosch GOP40-30C has a 13-foot power cord which is one of the longest I've seen on a multi-tool. This feature provides lots of maneuverability to handle your projects with ease.
The tool also has a variable speed dial that allows you to tailor the tool's speed according to your application.
Bosch did not stop there. They included two cool features in the tool.
On the back, you will notice the swivel that helps to protect the cord and maneuver the tool easily. While on the front, the cord has a no-mar pad that helps to protect delicate work.
LED Light And More Accessory Option
Bosch recognizes the frustration that goes along with working in the dark and includes LED light on this model to provide extra illumination when you need it most.
The unit is also compatible with Starlock and Starlock Plus accessories for more accessory options and high torque transfer.
I also liked the way this oscillating tool handles in my hand; it feels solid during operation.
Lastly, the tool includes a storage bag to house the tool and its attachments.
It also comes with 30 days money back, a year of service protection plan and a year warranty.
Some Drawbacks
Even though this tool comes with an array of features, it also comes with a few drawbacks. Some of the drawbacks I figure out while using the tool are:
Weight: the unit weight 3.3 lbs which slightly heavier than most the tools I operated. Handling the tool for longer periods can make you feel like you just left the gym or result in muscle cramps
The Starlock accessories do not provide a universal fit system for other manufacturers. They are proprietary to Fein® and Bosch® and their licensees
Just like the tool, the blades are expensive and more expensive than the OIS and are unavailable in some parts of the states.
Read more:Best Oscillating Tool Blades & Accessories
Useful Tips
Hold the tool carefully during operation, avoid dropping it accidentally on the floor to prevent damages.
Do not use in wet environment to avoid the risk of electric shock
If you plan to use the tool or the blades frequently, it is more economical to buy them in bulk.
Use the right accessory for the right operation. If you have troubles in identifying the right tool for your project, Bosch's color coding will help you find the blade you need for the job. See the picture below.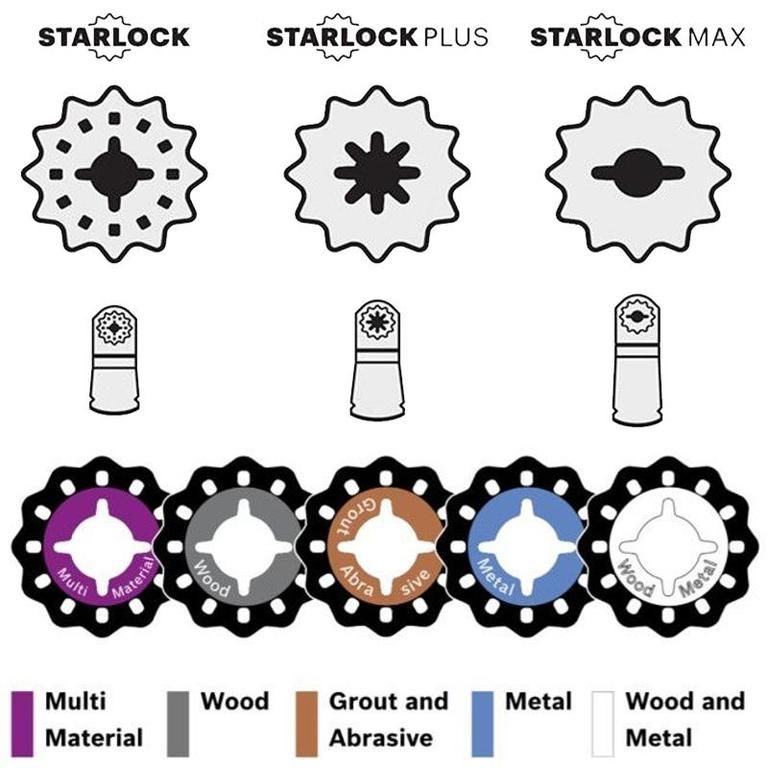 Starlock Accessory Interface - source: canadianwoodworking.com
Conclusion
If you are in the market for a multi-purpose oscillating tool, you need to consider the Bosch GOP40-30C StarlockPlus Oscillating Multi-Tool.
This tool and its accessories are exactly what you would expect from a heavy-duty or professional oscillating tool.
This Bosch oscillating tool is not only reliable; it offers a variety of solutions to tackle your jobs quickly and efficiently. So, make your order today and start getting stuff done with ease.