The DEWALT DWE315K Corded Oscillating Tool Kit features a powerful 3.0-amp motor that provides strong performance for niche sanding and cutting.
The tool can be a great investment towards nurturing your hobby as a professional DIYer or an occasional home builder. It is an all-rounder tool for doing multiple works in a project.
The first thing you notice when you lift this tool is the distinctive black and yellow color that depicts the DEWALT brand. A brand that has won the hearts of many users due to the quality workmanship of its tools.
DEWALT DWE315K Review Summary
DEWALT DWE315K Corded Oscillating Tool Kit
Review Summary
Accessories Included: 29 Pieces
Motor Power: 3.0 AMPS
Oscillation Per Minute: 0 - 22,000
Oscillating Angle: 1.6 ° x 2
Blade Change: Tool-free
LED Light: Yes
Variable Speed: Yes
Cord Length: 8 feet
Weight: 3.1 lbs
Warranty: 3-Year Limited Warranty, 1 Year Free Service, 90-day Money Back Guarantee
Top Features: Quick-change accessory system, Dual-grip variable speed
Pros & Cons
Pros
Easy of change of accessories
LED light for darker or tighter areas
Comes with a tool guide system
Powerful 3.0-amp motor that allows for precise cutting and sanding
Cons
Expensive blades and accessories
Quite noisy when operating
DEWALT DWE315K - One of The Best Tool That Handyman Must Have
DEWALT DWE315K features a bullet-like shape just like most oscillating tools in the market. It has plenty of power and very easy to use.
Here are some reasons that I love this tool:
Perfect For Multi-purposed Uses
The tool is definitely a time saver when doing multiple tasks like renovations.
During my kitchen cabinet doors makeovers, I could easily use the fast-cut wood blade when cutting into the door board and quickly change to a sandpaper when fine sanding the edges.
The process was simple and easy with a quick detach of the blades and attaching the sanding pad and sandpaper.
Unlike other tools, I didn't need a holding tool like a wrench to grip-hold in the process. I found it really nice when making angle adjustments to cut door knob areas.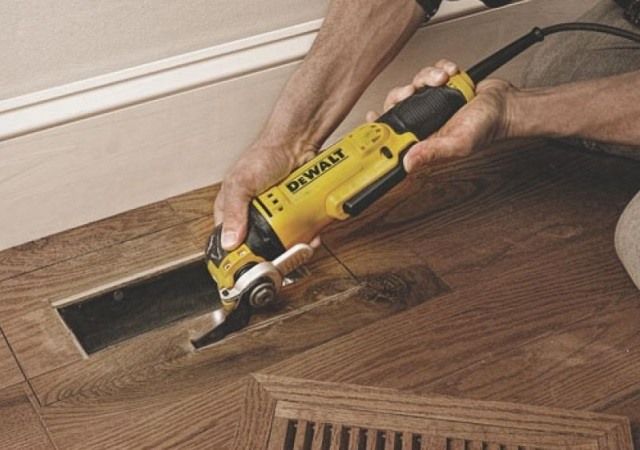 A Wider Range of Attachments
I have owned several oscillating tools before, but this DEWALT Oscillating Tool stood out from the rest.
As a DIYer who jumbles from building to remodeling tasks, I found it thrilling when working with the various assortment of accessories that comes with this tool.
In a simple remodeling task, I might find myself using the semi-circle blade to make a cutting guide on wooden board edges.
Then, I will go for the fast-cut wood blade to make the actual cutting, before finishing with a sandpaper on the same area.
See also:15 Easy Bathroom Renovation Ideas For DIYers
Endless Options with an Adapter
I hadn't thought that having the ability to create a universal fit system with the help of an adapter would serve as a benefit when I first bought this tool. Not until when I did a makeover on my son's playing field!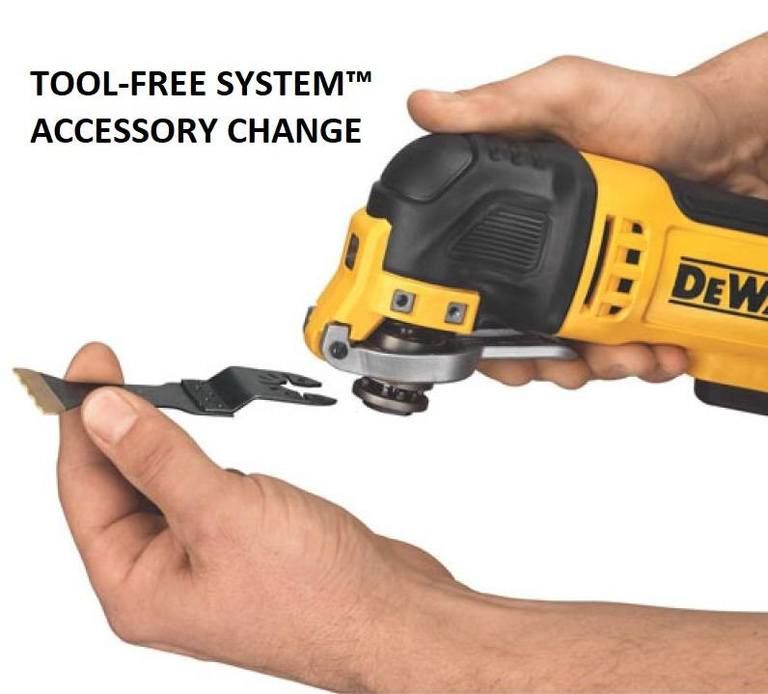 The adapter gave me the option to use a Grout Removal Blade when I worked on seesaw logs and swings set posts. I could still perfectly use the Platinum Bi-metal Saw Blade to cut metal rods in the process.
The adapter gives users the ability to use endless options of attachments with the tool.
Powerful Performance
Apart from the ease of working around with this tool, it proved to be very powerful. With its 3.0-amp motor, you will manage to do a lot within a few minutes.
During my occasional home improvement exercises, I find myself cutting rafters in tight spots close the ceiling, plastic and PVC pipes, and other rough surfaces within a short duration with this tool.
Also thanks to the LED light and guide system, you can make more accurate cutting in tight spots.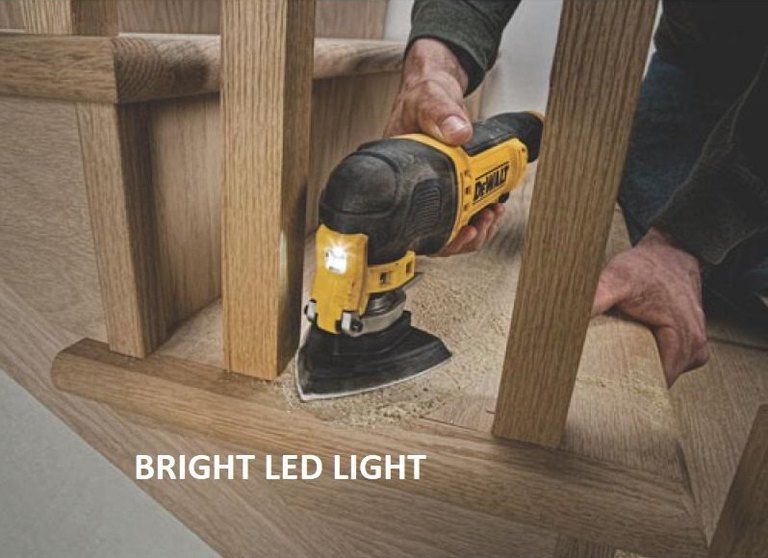 Solid-Built and Durable
DEWALT DWE315K Corded Oscillating Tool feels solid when working. Even with the noise that it makes while vibrating, you will still make accurate cuttings with it.
The ease of control allows for its use from any angle while operating it with just the trigger. I find it best when using both hands on this tool while sanding or cutting. This way, it's much comfortable and accurate.
With just one hand, the vibration might drag you away from the cutting line or sanding area.
Special Features of DEWALT DWE315K
Powerful 3.0-amp motor that provides a strong performance for sanding and cutting
Dual-grip variable speed trigger for ultimate speed control
The quick-change accessory system that allows for quick change of blades and attachments without wrenches
Bright LED light that helps illuminate dark work surfaces for accuracy when cutting
29-piece DEWALT accessory kit that includes cutting and sanding attachments
Themulti-brand accessory adapter allows for its use with accessories from other major brands
An adjustable tool guide for depth and height control
13-inches length and 3.1 lbs weight
10 feet power cord, large enough to use around the work area
Some Drawbacks
Unfortunately, although this tool comes with an array of features that sets it apart, I have discovered some few drawbacks of having one. They include:
The blade selection is limited since the tools are somewhat new in the market
The blades are expensive compared to the other oscillating tools
Quite noisy with vibrations, but users can avoid this by wearing ear protection gear
Like most oscillating tools, it gets warm after about half an hour of its use
Useful Tips When Using the Tool Kit
The following tips will help you in bettering your work experience and improve your safety when working with this tool.
Always use the trigger lock while working. It helps ensure you never use it accidentally on surfaces or yourself
Whereas you should never use it on nails or hard metallic materials, you can perfectly use the tool when cutting door jambs from any angle
When it comes to sanding, the tool can be best used as niche sander. I discovered that it worked perfectly on small surfaces with fine details rather than large areas
Verdict
Once you get used to the DEWALT DWE315K Oscillating Tool, I guarantee that you will never turn back to your old ways of sanding and cutting.
The ability to incorporate attachments from other brands with its universal fit adapter makes it a "must-have" tool for any DIYer or home builder.
Even with the few drawbacks, I am still convinced that what the tool can offer is incomparable with what other oscillating tools in the market will.
See also:DeWalt DCS355D1 Cordless Oscillating Multi-Tool Review