We are already two decades into the 21st century and we'd like to take this time to celebrate the technology that has made our lives easier and better.
That's right, we are going to talk about the best cordless hammer drills that money can buy.
Top 9 Best Cordless Hammer Drills for The Money: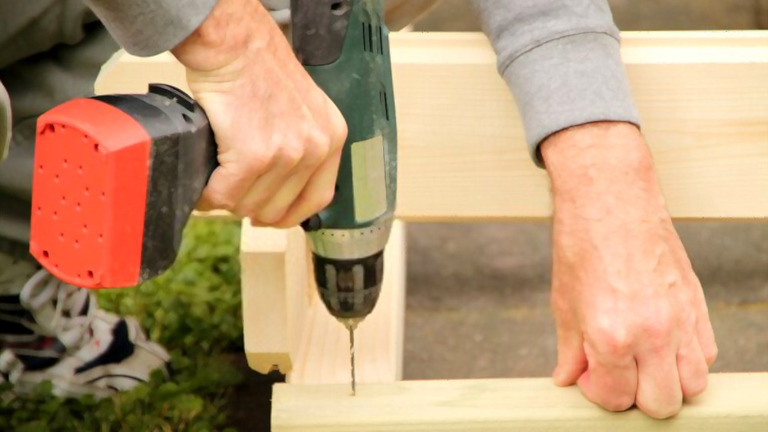 Here are crisp summaries of the top nine cordless hammer drills that we selected from over hundreds of models and dozens of brands.
Best Cordless Hammer Drills 2023

Best Overall

Makita XPH07Z

Extremely lightweight at less than 6 lbs. (without batteries)
High torque of 1090 in-lbs. for advanced applications
Metal body that can withstand heavy wear and tear

Read My Review

Runner-Up

DEWALT DCD996B

Highest speed of 2250 RPM with 3-speed transmission
Best-in-class LED light for applications involving dark areas
Powerful, brushless motor with great power dissipation

Read My Review

Powerful

Milwaukee 2704-20 M18

Peak torque of 1200 in-lbs.
Lightest in this type of models at 4.5 lbs.
Good quality chuck for drilling on harder materials

Read My Review

Most Advanced

DEWALT DCD997B

Bluetooth connectivity for remote operation
Brushless motor for higher durability
Variable speed (up to 3 different speed cycles)

Read My Review

Great Value

Bosch GSB18V-535CB15

Bluetooth connectivity for customized tool settings
Dual speed settings, motor with long life
Long-life CORE18V Li-ion battery

Read My Review

Super Lightweight

DEWALT DCD785C2

Extremely compact and lightweight at 1.5 lbs.
30-minute fast charging Li-ion batteries
Built-in LED light with a 20-second delay

Read My Review

Ultra-Compact

Bosch PS130-2A

Sheer compact body with the shortest head in the market
2-speed transmission
60-minute charging

Read My Review

Best Budget

SKIL HD527802

Versatile operation with drilling, hammer drilling, and screwdriver
LED light with a 10-second delay
Dual-speed transmission

Read My Review

For DIYers

Ryobi P214 One+

18V motor for all types of applications
Clever body with a side handle to keep the torque from spinning
Low price under $60

Read My Review
In comparison with their corded cousins, cordless hammer drills are extremely portable, sometimes lighter, and are more versatile. All of this makes them the first choice of modern technicians and masons.
Our experts have developed extensive cordless hammer drill reviews below to aid in your hunt. Make sure you go through them one by one to understand the status quo in the power drill market.
For your convenience, we have classified these top cordless hammer drills into four types based on their power, advanced features, compactness, and affordability, they are:
Most powerful cordless hammer drills
Most advanced cordless hammer drills
Most compact cordless hammer drills
Best cheap cordless hammer drills
Navigate through the reviews of those models that you think will fit your requirements the best. This will help if you are particular about your tools because our experts have taken every angle into consideration. The daily use, cost, durability, and features…
Best Cordless Hammer Drills in 2023
Here are detailed cordless hammer drill reviews that will aid you in understanding the nitty-gritty of each model.
Most Powerful Cordless Hammer Drills
#1. Makita XPH07Z 1/2" Cordless Hammer Driver-Drill, Tool Only
Imagine a cordless hammer drill that is an epitome of everything you would desire in your ideal power tool. And then take a look at the Makita XPH07Z. You will start seeing similarities.
Product Review
An epitome of everything means it has to shine in all the departments. Makita, in an attempt to do this, added every possible feature in its XPH07Z model that it could.
Starting with its light, metal frame that makes it the go-to tool for all hard drilling. It's just a bit more than 6 pounds in weight with the batteries, which makes it not only easier to hold but also convenient to put pressure on during a job.
Its high torque of 1090 inch-pounds (in-lbs.). further elevates its stand amongst competitors by DeWALT and Bosch.
We especially dig the 3-gauge LED battery level indicator that is missing in most high-end models. While most of us do keep a spare battery handy, it is good to know when the current one is getting low on juice because it also affects the torque. This is important if you are going to start a new task that requires all the might of the drill.
It has dual speed modes (0 to 550 and o to 2100), has an ergonomic extra handle to keep the drill in control, and has a brushless motor that never cackles. Push the bit into the hardest material you and the motor will never give in. That is the power of this Makita beast, the all-cool-everything model on our list.
#2. DEWALT 20V MAX XR Cordless Hammer Drill Kit, Tool Only (DCD996B)
Best DEWALT cordless hammer drill: DEWALT DCD996B
The thing with DeWALT is that it has a band of loyalists across the globe. They think of a powerhouse of a drill and they choose this American brand.
If you identify as a loyalist, then you need to check out their DCD996B model, absolute beast for a long-term investment.
Product Review
Most of us already know that DeWALT's reputation precedes itself. And with this latest model, they have proved themselves as the maker of products for the long run.
That is the power and reliability of the DCD996B, a might cordless hammer drill with a 20V brushless motor that will work for generations to come. It consumes low power and increases runtime by at least 57% according to the brand. Perfect for first-time hammer drill buyers.
A classic professional tool with a solid built and ergonomic handles, the DCD996B has a 3-mode LED spotlight for working in dark areas, 3-speed transmission for different applications, and nitro-carburized metal ratcheting chucks and comfortable handle grips for use in applications that involve hard materials like steel and stone.
The torque is so effective in all three speeds (2250 RPM highest) that you will start using it for all your applications.
Such is the power and charm of this DeWALT model that can be sometimes so loud you will need ear muffs. While the switch buttons are dust- and moisture-proof, we found them to be made of low quality plastic.
#3. Milwaukee 2704-20 M18 FUEL Cordless Hammer Drill/Driver (Bare Tool)
Heavy duty cordless hammer drill: Milwaukee 2704-20 M18
This is the lightest model of this type of top-rated cordless hammer drills and yet boasts of the highest torque. Milwaukee does that to its models where it does not trade between anything. Everything is high on its models, and the 2704 M18 is no different.
Product Review
This 18V cordless hammer drill is known for its absolutely fantastic supply of torque in the 550-RPM range. Because the drill moves slower, maximum torque is applied to the job in hand. This has a two-fold impact: the brushless motor stays for longer and the batteries have improved shelf life.
Since Milwaukee also supports its models with proprietary technology like the REDLINK Plus and REDLITHIUM batteries, its models tend to have higher shelf life than others. Which is true for the 2704 model too.
We tested it over a period of three weeks with continuous use and found that at the end it was still as reliable, precise, and powerful as it was when unboxed it.
Although in comparison with its advanced model – the 2706 – it lacks the Bluetooth connectivity, we are especially in awe with its light built. Take it anywhere you want and use it where there may not be an outlet in sight.
Milwaukee will never disappoint, save for power transmission at higher speeds when compared with corded models. Its own Magnum series is what we compared it with.
Most Advanced Cordless Hammer Drills
#4. DEWALT 20V MAX XR Cordless Hammer Drill Kit with Bluetooth (DCD997B)
New problems sometimes require new solutions. And that is where DeWALT always shines with its range of power tools that have features to live for.
This model here will be a great addition to your toolkit if you are a project manager and have a team of assistant mechanics working for you across different sites.
Product Review
We recommend this DeWalt cordless hammer drill to a professional project manager solely because of its Bluetooth connectivity through DeWALT's proprietary app called Tool-Connect.
With it you can keep a track of tool remotely, disable it when not in range, and check the batteries before an operation.
Perfect for managers because you don't have to micromanage anymore; just take a gander every now and then on the smartphone app and you are sorted.
Add to that the presence of a brushless motor that will hum for years, 3 customized speed settings with a maximum RPM of 2000, automatic disabling feature when not in range, and a solid frame.
It is also a supremely ergonomic device that is easy to handle and operate regardless of the severity of the application. The sturdy extended handle will prevent wrist twists and will keep the drilling on point.
We like how advanced features means increased accountability, which is the need of the hour in the power tool industry. As always, safety comes first and DCD997B ensures that.
#5. Bosch GSB18V-535CB15 18V EC Brushless Cordless Hammer Drill/Driver
Most advanced Bosch cordless hammer drill: Bosch GSB18V-535CB15
Equally advanced as the DeWALT model above is this tiny beast from Bosch. The GSB18V has all the characteristics that you would expect in an advanced cordless hammer drill and some more. Check it out below.
Product Review
When it comes to Bosch, DeWALT sometimes lags behind. Because the German manufacturer comes up with some of the most obscure features as you will see in this GSB18V model.
The Module app, for instance, is a well-reviewed smartphone tool that engineers can use to customize the settings of the tool remotely. This means the tool can be used in a single setting without adjustments remotely. A true savior if you ask a project manager out there who has associates who tinker with high-end tools. No more!
Add to that the support of CORE18V Li-ion batteries that last longer than most batteries in the market, and this Bosch model makes for the ideal portable hammer tool.
We found the low torque a little problematic especially on harder materials like concrete but reducing the speed (500 RPM) got us the desired cavity. This makes us point out that this model is for professionals only as beginners may find it difficult to manage the settings.
The performance of the motor is another highlight of this handy drill that comes with a charging pod as well as a travel bag. Bosch really knows how to take care of its users, and this one here is a testament to that.
Most Compact Cordless Hammer Drills
#6. DEWALT 20V MAX Cordless Hammer Drill (DCD785C2)
DeWalt Compact Cordless Hammer Drill: DeWalt DCD785C2
Imagine the lightest cordless hammer drill that you can imagine and then remove some more weight from it. You will have this DeWALT machine in your hand.
Product Review
One of the main reasons we added the DeWALT DCD785C2 into this list of the best cordless hammer drills is because of its unbelievable form factor and weight. Holding it – at 1.5 pounds – is a delight.
The right balance with convenient feel, you will be amazed that such a small body can pack so much energy. Without compromising on the power, delivered by 20V max Li-ion batteries, it is ideal for all types of masonry work. DeWALT itself markets it as a handy tool for carpenters, plumbers, and woodworkers.
The built-in light is a great addition despite its inclusion in intermediate models. As someone who might work in all types of areas – both indoors and outdoors and sometimes after the sun has gone down – the light will do wonders.
The two-speed transmission is another unique feature of the DCD785C2 cordless hammer drill, which is enough for applications that require more speed and less torque. We are talking a maximum speed of 2000 RPM.
Although it uses a brushed motor infamous for heavy maintenance and huge power consumption, we think the 3-year warranty that DeWALT provides will be useful in case of early retirement. But you and I both know that DeWALT drills never die.
#7. Bosch PS130-2A 12-Volt Ultra-Compact Cordless Hammer Drill/Driver
This Bosch tool really tries to give a tough competition to the above DeWALT model and we are sincerely impressed by its sheer compactness, which is where it beats it.
Product Review
We are extremely impressed by Bosch's ability to shorten its bit head so much that we are convinced it is the shortest in the market.
If you are an experienced mason, you will understand what a short head does to the balance of the drill. It not only adds precision to drills but also allows for seamless drilling without kickback and twists. The low weight of 2.3 pounds further complements this function.
The LED light below the bit is useful and so is the two-speed transmission. The highest speed (1300 RPM) might be low but Bosch is famous for being actually fast at lower speeds than its competitors who boasts of 2000+ RPM. This is true in the case of the PS130 because it is really fast at 1300, suitable for applications like carpentry and fencing.
The low torque might be problematic for heavy-duty work, which is why we do not recommend it for residential builders and heavy concrete applications.
The use of carbide bits may help but you won't get the desired output even with slightly more pressure.
Best Cheap Cordless Hammer Drills
#8. SKIL 20V 1/2 Inch Cordless Hammer Drill HD527802
Best cordless hammer drill under $100: SKIL HD527802
Despite its affordable price tag, this Skil model is one of the most versatile cordless hammer drills on this list. It has everything a professional and a DIYer will look for.
Product Review
Skil used to be an underdog in the power tools market. Today it is one of the most popular brands when it comes to versatility in power tools.
Take this HD527802 model itself which boasts of dual-speed transmission, three modes of operation with an easy trigger switch, built-in LED light, and a superior Lithium-ion battery that includes a temperature management system to keep the heat in check for longer life.
If that sounds basic, consider this: its versatility means the tool is suited for both professionals and DIYers who are looking to get some heavy drilling done.
While professionals might see the low torque of 350 inch-pounds as a disadvantage, it is still perfect for applications that require high-speed drilling (maximum of 1450 RPM). When it comes to speed, Skil compares with Bosch – and both of them are probably the only manufacturers who focus on actual speed ratings.
The PWRCore 20V battery is another highlight because it sets itself apart from others through its durability.
Fast charging aside, it is really capable of powering your tool for years because of its temperature control system that keeps it cool for longer, especially if you are using it for hours at a stretch.
All of this at a price like this makes it a worthwhile investment for anyone interested in owning a cordless hammer drill.
#9. Ryobi P214 One+ 18 Volt Cordless Hammer Drill/Driver (Tool Only)
Best cheap cordless hammer drill: Ryobi P214 One+
This Japanese piece of technology fares high on speed, durability, versatility, and torque capacity – sort of like an all-rounder if you will.
Product Review
We love Ryobi, not because it produces all-rounder drill models but rather because it adds all its might to each and every feature.
Take the dual mode in this P214 One+ model: it has both hammer drilling and screwdriver mode, which can be triggered with a light press of a switch in between applications. Amazing for a quick job transition, and therefore, ideal for professionals.
Its highest speed of 1600 RPM is apt for applications that require low torque and speedy rotation.
The 24-clutch settings will come in handy in case you are a worker who deals with a variety of applications. Keep those bits ready because this Ryobi cordless hammer drill can take anything and everything.
The battery is not too great on this model, despite the missing LED light, but let's not complain when Ryobi packs all of this in such a good price. The side handle itself is worth every penny you spend on this inexpensive machine.
Conclusion
It was not easy to round up these top-rated cordless hammer drills out of the hundreds of machines that are available in the online market. But our experts took the time and energy to test a dozen of the popular and not-so-popular ones to finally cherry-pick these nine models.
A lot of further testing went on these models as we want to be fully sure that these are the best indeed. While the Makita, DeWALT, and Milwaukee models top the list with their high-end, powerful models, we would also like to turn your focus on the Bosch GSB18V and the DeWALT DCD785C2 models if you are looking for advanced features and compact build respectively.
Then there is, of course, the two cheaper models that will not burn a hole in your pocket and still serve you with all their might. The Skil model is hands down the better one, not only because of the price but also because it packs a real punch.
We hope this detailed guide has helped you in your quest to own the best cordless hammer drill. Not just the best in terms of industry standards and brand quality but in terms of your own requirements and dispositions.
If you did choose any of these drills as your buy option, then let us know what attracted you specifically. So that our other readers can take guidance from their fellow power drill professionals.