Automatic levels, also known as optical levels or auto levels, are essential tools in the construction industry. Surveyors, builders and civil engineers use these critically important instruments every day for large and small construction projects.
We have compiled a shortlist of the best automatic optical levels, based on a comparison of features, prices and customer reviews.
Here is everything you need to know.
Top 7 Automatic Levels For Construction: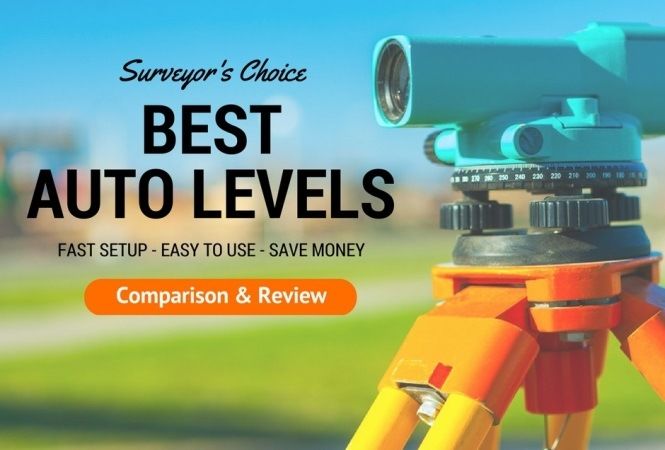 Careful research has allowed us to determine that the following 7 auto levels are among the best optical levels available today at walk-in stores or from online retailers.
Top-rated Automatic Optical Levels 2023

Professional Choice

Leica Geosystems NA532

32x Magnification
Highly accurate, quick and easy measurements
Rugged design to withstand harshest conditions
Top-notch lifetime warranty

Read My Review

Top Quality

Topcon AT-B4A

24x Magnification
Accurate and reliable, simple to setup and use
Facilitates work in extremely narrow areas
5-year warranty

Read My Review

Best Budget

David White AL8-32

32x Magnification
High accuracy up to 1/32-inch at 100-ft
Working range up to 400 feet
Good price

Read My Review

Best Value Kit

Bosch GOL32CK

32x Magnification
Automatic self-leveling
Durable design, all metal housing
Good value accessories included

Read My Review

Easy to Use

CST/berger 55-SLVP28ND

28x Magnification
Large effective aperture for long working range
Quick setup, easy to use
Affordable price

Read My Review

Well-Built

Nikon AL-NIKON-AX-2S

20x Magnification
Easy operation with unlimited range knob
Water-resistant, rugged design
Affordable price

Read My Review

Compact

Sokkia B40

24x Magnification
Ultra-short focusing distance of 20 cm (7.9in.)
Lightweight, water-resistance
5-year warranty

Read My Review
Best Automatic Levels For Surveyors in 2023
The optical level review below gives you a detailed, easy-to-read-and-understand breakdown of the best automatic levels currently available.
#1 - Leica NA532 32x Automatic Level
It is no secret that construction sites provide leveling challenges because they are never perfect. Civil engineers and builders have to contend with obstructions and uneven surfaces.
This device from Leica Geosystems has been crafted to provide you, the user, with consistently reliable and accurate measurements so that you can get access to the straightest and safest construction environment.
The Leica NA532 optical level is packed with quality features including exceptionally powerful 32x magnification. Perfect for use on big construction projects, it also includes a hard carrying case for protection during transport and an easy-to-understand Owner's Manual CD.
It operates without batteries. Leica Geosystems products are popular with construction professionals which may be reason enough for any surveyor to consider it.
#2 - Topcon 24x Automatic Level AT-B4A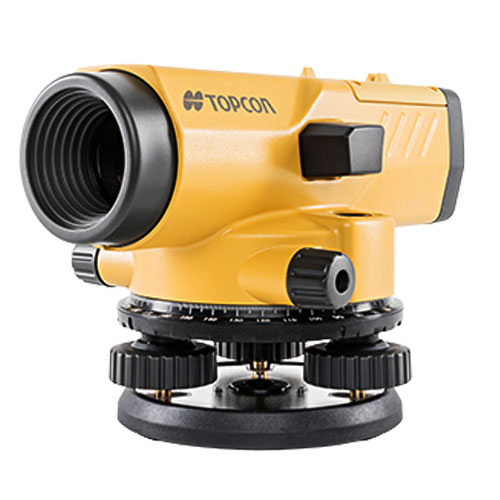 Topcon 24x Automatic Level AT-B4A
Topcon has a reputation for top quality products. This model does nothing to dispel that belief. The Topcon AT-B4A Automatic Level enables civil engineers, surveyors and builders to take extremely accurate horizontal plane and angle measurements.
This Topcon level features powerful 24x magnification and superior telescope design that provides its user with clear and bright views.
This is also a versatile product that ensures precise leveling when work takes place near heavy equipment or busy, overcrowded roads and highways.
And its short focus (1.6 ft. min.) makes it perfect for smaller jobs like landscaping, fence building and pipe-laying.
Ruggedly constructed, this practical auto level provides protection against powerful water jets from all directions and can even withstand a sudden shower or a torrential downpour.
#3 - David White AL8-32 32x Power Automatic Optical Level
Best Budget Automatic Optical Level: David White AL8-32
Specifically designed to make every leveling job easier and more accurate, this David White auto level has an excellent sighting scope and bubble vial built right into the rugged housing for greater durability.
Its wire-hung magnetically-damped compensator effectively holds the "level line of sight" within 15 arc seconds of level. That means this device will consistently enable you to get accurate readings which will aid in your construction project.
Importantly, the machine's larger aperture results in more light to filter through so that you always get a sharper image. A horizontal circle with easy-to-recognize-and-read white on black graduations is another superior feature.
Clearly, the David White AL8-32 auto level is packed with the kinds of features that will help you "get the job done."
#4 - Bosch 32x Automatic Optical Level Kit GOL32CK
Best Value Kit: Bosch GOL32CK 32x Optical Level
This Bosch device is loaded with a broad range of superb features. For example, it has an automatic self-leveling compensator with both horizontal and vertical crosshairs and stadia lines.
The Bosch 32CK Optical Level features a powerful 32x magnification and a large aperture that provides bright and clear images. It provides superb accuracy at 1/16 inch at 100 feet.
And if that is not enough, this kit also includes a tripod, a rod, a hard case for easy portability, a lens cap, a plumb bob and a variety of useful adjustment tools.
The perfect leveling device for big, outdoor job, this Bosch auto level is, like the company's many other products, highly regarded and coveted.
The Bosch Optical Level GOL 32CK has gained a lot of positive feedbacks from its users. Many found that the tool is sturdy, easy to use and valuable for the money.
#5 - CST/berger 55-SLVP28ND 28X Magnification Automatic Level Kit
CST/berger 55-SLVP28ND 28X Magnification Automatic Level Kit
This practical kit has been designed to give you the benefit of fast, easy set-ups and accurate leveling readings. And it succeeds. It provides features that make your job easier. For instance, it has 28x magnification that gives you access to an effective range of 350 feet.
This CST/berger Automatic Level includes a sunshade that you can use in a variety of difficult weather conditions. And it provides 1/16 inch accuracy at 200 feet.
Importantly, this automatic level is water-resistant. It can get wet and still function perfectly.
Packed with a broad range of outstanding built-in features, this device is ideally suited to handling big, tough assignments. Highly rated, it has the reputation of a leveler that can help you to get the job done, no matter how difficult.
#6 - Nikon AL-NIKON-AX-2S Automatic Level with Circle, 360 Degree
Nikon AL-NIKON-AX-2S Automatic Level
Nikon has always been famous for its cameras. It may now be building a reputation for its manufacturing expertise when it comes to automatic optical levels. Consider the device named above.
The Nikon AL-NIKON-AX-2S Automatic Level delivers a high level of accuracy and it is remarkably easy to use for a variety of civil engineering and construction projects.
Additionally, it is lightweight, compact, rugged, durable and, importantly, water-resistant, as well. In fact, this auto level is able to withstand light rain and dusty conditions with equal effectiveness.
What's more, Nikon's famed, high-quality optics provide you with brighter, clearer images and superior minimum focusing when working in confined spaces.
It also has a magnetic built-in compensator. Clearly, this is a device that can tackle important jobs, both big and small.
#7 - Sokkia B40A 24X Automatic Optical Level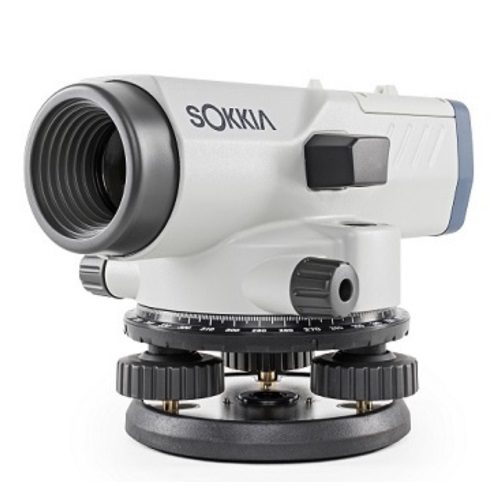 Best Cheap Automatic Level: Sokkia B40 24X Automatic Level
This auto level features powerful and effective 24x magnification and is ideally suited for taking highly accurate horizontal plane, angle and distance measurements.
In truth, it has been designed for landscaping, fence building, setting foundations and other similar, small projects.
Its many features include 1/16 inch accuracy, a built-in compensator and a high-performance telescope that consistently delivers bright and sharp images.
Its ultra-short focusing distance of just 7.9 inches from the end of the telescope makes it easy to use in tight or confined locations.
The Sokkia automatic level includes an optional diagonal eyepiece that can be used in extremely tight spaces, a plumb bob, a lens cap, a vinyl cover, a hard carrying case that's been designed to keep your device safe during transport and a cleaning cloth.
Best Automatic Levels Comparison
Nowadays, the market is flooded with auto levels from many major manufacturers. Prices and quality vary. The question you may be asking yourself is this: "How do I choose the right auto level?"
The below comparison table clearly indicates the key features of each product. All you have to do is decide which features are most important to you for the work you do.
Why Use Auto Levels In Surveying?
Automatic optical levels enable construction professionals to erect high-rise buildings, construct roads and highways and complete all sorts of huge projects.
The auto levels used for these massive projects are often surprisingly small, compact and portable.
They are also packed with the kind of technology that enables a builder to clearly and effectively determine contours in the land upon which construction will take place.
Yes, these instruments are, in essence, "leveling tools" which provide builders with the vital information they need to "level the ground" before construction begins.
Of course, manufacturers long ago realized that automatic optical levels could also be useful for small projects.
So it should come as no surprise that many automatic levels have been designed as surveyors' equipment that is best suited for smaller projects such as landscaping, fence building and pipe-laying.
Big or small project, surveyors, construction professionals and civil engineers all readily admit that the work they do is helped immensely by automatic optical levels.
Conclusion
That's it. You have now had an opportunity to learn about the finest automatic optical levels available today. They are all excellent devices and one may be perfect for you.
When you're satisfied that you know enough to make a decision there will be only one thing left to do. Buy the device of your choice and "start working."