If you're a builder, a civil engineer, a construction professional or even a handy do-it-yourself kind of man or women, you probably already know a little about transit levels.
Surveyors and building contractors use them to discover contours in the land they plan to use for their construction projects. The levels locate the spots where land has to be "leveled off" before a building, a bridge or anything else can be erected.
Top 5 Picks for Best Builder's Transit Levels: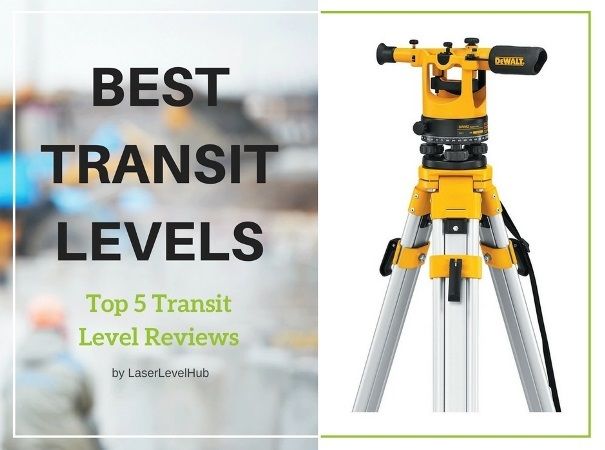 It should come as no surprise that there is a broad range of transit levels for sale at online retailers and in the brick-and-mortar walk-in store at your local mall or shopping center.
So, how do you choose the best transit level for your needs?
The below table provides you with a quick overview of the best transit levels for construction and land surveying projects.
Best Builder's Level & Transit Levels 2020

Best Builder Level

DEWALT DW090PK 20X

20x magnification, range of 200+ feet
360-degree horizontal circle for precise measuring
Durable and rugged design
Reasonable price

Read My Review

Best Transit Level

SitePro 25–TL20X

20-power magnification
Long range up to 200 feet (60m)
Includes adjustment tools and a rugged carrying case
Inexpensive

Read My Review

Good Value

NWI NSLP500B Siteline

20x magnification, 200-feet range
Both horizontal and vertical use
Good value package with tripod, grade rod
Dust and water resistance

Read My Review

Easy to Use

DEWALT DW092PK 20X

20x magnification for 200 feet range
Quick set up and very user-friendly
Well-built

Read My Review

Versatile

CST/Berger 54-200B

Both leveling and plumb operation
Working range up to 200 feet (60m)
Lightweight and portable
Convenient hard-shell carrying case

Read My Review
Take the next few minutes to read the remainder of this article and you will discover the top transit level reviews currently available for purchase.
Best Transit Level Reviews 2020
Take a long, hard look at the 4 survey transit levels described below for the help you need in determining which one is best for you.
#1 - SitePro 25–TL20X Power Transit Level
This transit level is simple to set up and easy to use for leveling and vertical applications.
Best Transit Level: SitePro 25 –TL20X 20-Power Transit Level
The SitePro 25-TL20X comes complete with clamps and tangents that bring your instrument – and you – quickly and effectively on target.
Its 20X magnification enables a user to get clear images as far downfield as 200 feet or more. Its three-screw leveling base has a 5/8" x 11" thread for quick and easy mounting on a tripod.
There is a built-in sunshade with a rubber eyepiece that assures you'll be able to complete surveys accurately even when the sun is high in the sky.
A user manual and a rugged carrying case that protects your level while you're in transit help to make this a "good buy." The truth is that this level may be worthy of consideration if it has the features that meet your specific needs.
Pros
Long distance visibility features effective range up to 200 feet
Powerful 20X magnification
Includes adjustment tools and a rugged and durable carrying case
Weighs just 7.5 lbs and is easy to use and portable, too
Cons
Questionable durability
Limited applications
Verdict
Users looking for the best transit level love this rugged instrument because of its sturdy design, its durability and its reasonable price. If it has the features you want, the SitePro 25-TL20X transit level may be the right instrument for you.
#2 - Northwest Instrument Transit Level NSLP500B Package
The NWS Siteline transit level, like most of its competitors, includes the kinds of features that make it practical for big construction and agricultural jobs.
For instance, it includes 20X magnification which means you can get clear, precise images at long distances up to 200 feet away, often more than that.
Its leveling accuracy stands at a commendable ¼" per every 100 feet of range. It is relatively lightweight at just 13 pounds and, as a result, is easily portable. You can take it with you wherever you go.
In fact, its dimensions are just 11" x 5.5" x 7.5" and that means you can tote it easily while it's tucked conveniently under your arm.
The bottom line is that this survey transit level kit seems to fit basic needs. And that may mean that it is the right choice for you.
Pros
Includes rugged tripod and a 9-foot grade rod
Packs powerful 20x (twenty power) magnification
The effective working range is 200 feet
Includes plumb bob, carrying case and User's Manual
Verdict
Many builders believe that the NWI NSLP500B Siteline Transit Level has all one needs to effectively complete simple surveys. Those who own this instrument also like its rugged and durable tripod. If you are looking for an easy-to-use surveyors transit, this may be your best bet.
#3 - DEWALT DW092PK 20X Transit Level Package
DEWALT is famous for its high-quality products and this Dewalt transit level may be no exception. It is ideally suited for virtually all construction, civil and agricultural applications.
The DEWALT DW092PK transit level is packed with many useful features, including 20X magnification capability for an effective range of over 200 feet, an accuracy of ¼" per 100 feet of range, a 360-degree horizontal circle with a Vernier scale that enables this versatile instrument to measure horizontal angles as well as vertical angles.
It also has a rugged aluminum tripod with a heavy-duty leveling base that can be set up quickly and easily.
This is one of the best transit levels from a major manufacturer that serves many purposes because it is versatile enough to handle a variety of big, medium and small projects.
Pros
Powerful 20X magnification that extends up to 200 feet
Highly effective ¼" accuracy per 100 feet
Transit capability enables you to determine vertical angles
360-degree horizontal circle with Vernier base lets you measure precise horizontal angles
Includes protected leveling vial for jobsite durability
Cons
Weighs more than 22 lbs., is bulky and hard to handle
Lacks portability
Verdict
DEWALT has been in business for a long time and has a solid reputation. The company is known for producing quality products.
Despite some drawbacks, this DEWALT DW092PK surveying transit level includes a broad range of features that enable users to produce consistently accurate measurements.
#4 - CST/Berger 54-200B 20X Speed Line Transit Level Package
Incredible versatility makes the CST/Berger transit level extremely popular with builders, civil engineers and construction professionals.
Unlike most of the other Transit Levels described in this article, this instrument can produce horizontal (level) measurements and vertical (plumb) measurements. Its effective range is 200 feet and its accuracy stands at ¼" per 100 feet.
You can use the CST/Berger 54-200B transit level to level the ground (always its primary function), establish pitch and then set up your posts using the vertical application.
It also includes a built-in 15-minute horizontal circle that enables you to set and establish rough angles.
Additionally, its brass leveling screws assure fast, easy set-ups and durability. This instrument has been built to last which means it will serve your needs for many years.
Pros
Features both horizontal and vertical application capability
Performs vertical (plumb) and horizontal (level) applications up to a distance of 200 feet
Includes hard-shell carrying case for protection during transport
Weighs just four pounds so it's lightweight and portable
Cons
Settings are difficult to operate
Minutes and seconds do not function well
Verdict
Users like this CST/Berger 54-200B survey transit because it provides good value for the price and it is an effective tool for producing precise and accurate measurements.
The fact that it can be used for vertical and horizontal applications makes it a good investment for your surveying projects.
Best Builder's Level of 2020
Here is our top choice for best quality builder's level:
DEWALT DW090PK 20X Builder's Level
Best Builder's Level
DEWALT DW090PK 20X Builder's Level
Best Builder's Level For Construction
If the product name seems familiar to you it's because it is almost identical to one of the transit levels described earlier in this article.
Yes, it's the cousin of the DEWALT transit level.
And, not surprisingly, it includes many of the same quality features. That means it has 20X magnification to a range of at least 200 feet.
Its primary difference is that it measures level or horizontal lines while the Transit Level measures vertical lines. That's it.
In fact, as is true for the DEWALT transit level, this builder's level's accuracy is measured at ¼" per every 100 feet and its 360-degree horizontal circle with Vernier scale produces precise measurements of horizontal or level angles.
It has an aluminum tripod with quick-adjust legs for easy setup and an 8-foot rod.
The DEWALT DW090PK Builder's Level Kit features a protected leveling vial for jobsite durability. And it has a plumb bob and a rugged and durable kit box for protection during transport.
Verdict
If you determine that you need a Builder's Level, you may wish to consider this instrument from DEWALT. Those who own it, like it.
Builder's Level versus Transit Level
You now have reviews of what we believe are four of the very best transit levels for sale. But, do you really know if you need a Transit Level for the work you do or a Builder's Level?
To begin, a transit level is basically a telescope with a built-in level that is mounted on a tripod. Its main uses are for surveying and building or construction.
Transit levels differ from their more commonly-used cousins, builder's levels because they enable you to take accurate vertical measurements.
CST/berger 54-200B 20X Speed Line Transit Level
Whereas, a builder's level is perfect for establishing horizontal measurements. A builder's level is ideally suited for a broad range of construction projects, some large, others small.
In a comparison between a Transit Level and a Builder's Level, they both include many of the same features.
The key difference is simple: A builder's level can be used to establish horizontal angles. It features a 360-degree circle and is more flexible than a transit level. But it still only produces horizontal or level angles.
A transit level is less flexible and can only produce vertical or plumb angles.
That's it. Once you determine whether you need to establish vertical or horizontal angles in the work you do, you'll know which level is right for you.
And if you should decide you need a Builder's Level, here is one of the best Builder's Levels currently available in stores or online.
Builder's Level vs Transit Level: Which one to choose?
The question for you now is "Do you need a Builder's Level or a Transit Level?". Each level has its limitations. And your decision needs to be based on your specific needs.
If you need a level to establish horizontal or level angles, consider buying a Builder's Level.
If plumb or vertical angles are what you need to establish every day at work, you need a Transit Level. It really is that simple.
Remember. The Transit Levels and the Builder's Level described in this article are all packed with great features. In fact, the DEWALT Builder's Level and Transit Level are nearly identical.
The only real difference is that one excels at measuring vertical angles while the other is best used to establish horizontal or level angles.
Conclusion
All levels, whether Builder's models or Transit models are easy to set up, easy to read and easy to use.
Most levels, in fact, come with an easy-to-understand user manual that will explain in detail (and often with diagrams) what you need to know and what you need to do.
Take your time to read the manual slowly and carefully until you fully understand the instructions and the information it provides. The rest is easy.
Keep in mind that the level you buy has been designed to help you do your job. Once you put it to work, it will become an invaluable tool that makes your job easier.
Take this last step now.
Consider the best transit levels as well as the best builder's level described in this article as they relate to you and your specific needs. Then, when you have an idea about which product most interests you, all that's left to do is "make the purchase."