Want to find a laser level that helps improve efficiency on your construction projects?
So the Dewalt DW088LG Cross Line Green Laser Level can be the best choice for you.
With the green laser diodes, you will get a greater visible range of about 100 feet, which is more visible compared to red laser diodes.
Furthermore, with the 12V lithium-ion battery compatibility, you will have long lasting battery time.
The rechargeable power tool batteries offer you with convenience.
The device features self leveling cross lines, which projects bright crossing vertical and horizontal lines for different layout and leveling applications.
Dewalt DW088LG also features an incorporated magnetic bracket, which are magnets mounted on the rear part of the tool that allows flush attachment to steel and metal tracks.
The Dewalt green line laser level also has a full-time pulse mode that offers for use with a detector. IP65 water/debris resistance assist in preventing the internal components from being damaged.
These special features make Dewalt DW088LG one of the best green laser levels on the market.
Dewalt DW088LG Green Laser Review Summary
Dewalt DW088LG 12V Cross Line Laser, Green
Review Summary
Laser Color:

Green

Leveling Type & Range: Self-Leveling, +/- 5 degrees
Accuracy: +/- 1/8 inch @ 30 ft
Indoor Visibility Range: Up to 100 ft
IP Rating: IP65
Power Supply: 12V lithium-ion rechargeable batteries
Warranty: 3 Year Limited Warranty
Top Features: Self leveling cross lines, 4x brighter green laser, integrated magnetic bracket, a locking pendulum
Package included: Green Cross Line Laser, Charger, 12V Battery, Extended Ceiling Bracket, and Blow Mold Case.
Special Features of Dewalt DW088LG Green Laser
As a member of Dewalt 12V laser family, the Dewalt DW088LG Cross Line Green Laser offers you with advanced features that double as its benefits:
The vital characteristic of this tool is its Green Beam Laser Technology that is four times brighter when compared to red beam laser. It offers brighter long range visibility for exterior and interior applications that enhancing accuracy while leveling.
The green laser projects bright crossing vertical and horizontal lines. The cross lines are very helpful for various layout and leveling applications.
With its full-time pulse mode, you will be provided with the ability to use the tool with a laser detector and maintain full brightness for extended range and visibility.
The integrated magnetic brackets provide for flush attachment to steel and metal brackets. The Dewalt DW088LG provides 5/8 inch and 1/4 inch support thread for rear mounted magnets for the flush attachment. With this kind of aid, you can handle your horizontal or vertical leveling activities with much ease.
The incorporated IP65 debris/water resistance and over-molded housing prevent the internal components from being damaged. This feature enhances its durability apart from easing its maintenance. Furthermore, the locking pendulum feature assists in preventing the internal parts from being damaged.
To strengthen its effectiveness while working, Dewalt DW088LG has a 12V lithium-ion power tool battery platform that is rechargeable for an extra-long run time. It is also very convenient while recharging the batteries.
Pros and Cons
To assist you in deciding on whether to buy the Dewalt DW088LG Self Leveling Green Laser, we will provide you with the list of its advantages and disadvantages below:
Pros
The green beam laser technology offers 4-times brighter visibility
High accuracy and precision (+/- 1/8 at 100 feet)
Extended visibility range of 100 feet compared to the red laser (50 feet)
Debris and water resistant
Inbuilt magnetic brackets with 5/8 and 1/4 inch threads
A full-time pulse mode to be used with a detector.
Three years limited warranty.
Cons
The green beam laser technology makes the tool very expensive compared to a similar red beam laser.
Use and Maintenance Dewalt DW088LG
The Dewalt DW088LG Green Laser can be used for multiple leveling and layout construction projects efficiently.
The best part of this line laser level is the fact that it's self leveling. You will just need to put it where you need to carry out your layout or leveling activity and then perform the operation with just a press of a button.
Furthermore, if you want to use the green laser level for long-range leveling (over 100 feet), you should consider incorporating a laser detector.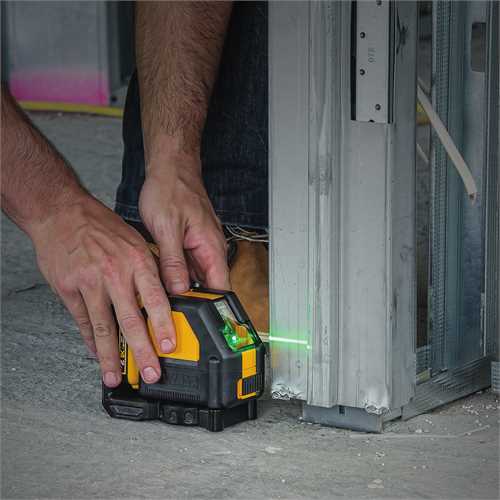 When it comes to maintenance, the over-molded casing, a locking pendulum, and IP65 water and dust resistance feature, prevent the damaging of internal components.
The only maintenance that you will need is wiping the tool with a dampened cloth after using it. This act will enhance its durability. Other maintenance routines are in the included manual.
See also:Best Transit Levels For Construction Surveying
Conclusion
The Dewalt DW088LG 12V Green Cross Line Laser is one of the most powerful green beam laser levels on the market.
This Dewalt line laser not only offers you with long-range leveling accuracy but also a 4-times more visible green beam for enhanced layout precision.
When looking for a cross line laser level that will provide you with high leveling accuracy and efficiency, then this is the way to go.
The green beam laser technology means that you will add some additional cost compared to a similar red beam laser technology but it is worth making the extra investment in a top of the line model like the Dewalt DW088LG Laser Level.