Laser leveling tool is said to be the most important accessory used for various purposes, especially on construction sites in recent days.
This is one of the interesting inventions that help construction workers to do their job more easily as well as accurately.
It has a built-in laser light system which makes the alignment procedure perfect when you are about to install something.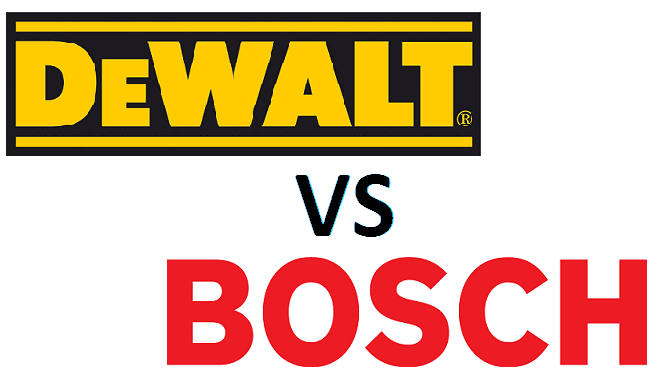 Bringing DeWalt Laser Level & Bosch Laser Level Into The Action
[toc] There are some companies who are solely producing these laser leveling tools and shortening the time by helping the workers in a more efficient & effective way. Among them, some of the companies are Bosch, DeWalt, Leica, etc.
Here two products from the two companies will be compared. One is DeWalt, and another is Bosch.
We will take the best product from these two companies, which are, DeWalt DW089K Laser Level and Bosch GLL3-80 Laser Level.
Features and Specifications Comparison
| | | |
| --- | --- | --- |
| | | |
| | DeWalt DW089K | Bosch GLL3-80 |
| Editor's Rate | :-) :-) :-) :-) | :-) :-) :-) |
| Accuracy | ±1/8 inch at 30 feet | ±1/4 inch at 100 feet |
| Visibility | 50 feet | 65 feet |
| Self-Leveling Range | ± 4 degrees | ± 4 degrees |
| Range with Detector | 165 feet | 165 feet |
| Laser Beam Color | Red | Red |
| Laser Class | Class II | Class II |
| IP Rating | IP54 | IP54 |
| Power Supply | 4 AA batteries | 4 AA batteries |
| Dimension | 11.3 x 10.6 x 4.8 inches | 16.9 x 13.1 x 6.3 inches |
| Weight | 4.6 pounds | 7.8 pounds |
| Color | Black | Blue |
| Warranty | 3 Years Warranty | 1 Year Warranty |
| My Review | Dewalt DW089K Review | Bosch GLL3-80 Review |
Unique Features of DeWalt and Bosch Laser Level
Every company has their own style of producing their products. Every product is designed with the latest technologies to get their desired consumers.
When you are in the construction business or you are an engineer who has the tough job to fix things with proper alignment, you will need a laser leveling tool.
Both the DeWalt DW089K and Bosch GLL-380 have their own special features that make them different from each other.
Their exclusive features are given below what will surely help the people to choose the right one for them:
DeWalt DW089K Self-Leveling 3-Beam Line Laser
It has 3 red colored bright beams
2x brighter diode is used for increasing visibility in bright lights and other job sites during all conditions.
Comes with a built-in magnetic pivot bracket mounts & that is why it can be easily stickable with a metal body.
Higher accuracy. Almost ±1/8 inches
Works in a long range of 165 feet with a laser detector
Self-leveling feature is accessible.
Can level up to around +/- 4 degrees.
Battery powered. No botheration for charging the device.
4 AA batteries are required to use DeWalt DW089K laser level. Battery works for 30 hours.
Easy to operate, 1 button operation and control panel available.
See full review of DeWalt DW089K Self-leveling Line Laser here!
Bosch GLL3-80 3 Plane Leveling-Alignment Laser
Horizontal and vertical 90 degree bright laser layout.
Red bright led is used for brighter light in all conditions.
Three 360 degree full plane coverage
Both ¼ to 20 inch and 5/8 to 11-inch tripod mounting.
Smart pendulum leveling system
Indicates when out of level condition
Freestanding base with magnets to get attached to the metal track.
630-670 nm class two laser diode is used for bright lights.
Weighs 7.8 pounds while shipping.
Can be operated in 14 degrees F/ -10 degrees C to 113 degrees F/ 45 degrees C.
Batteries are required to use the tool
Read full review of Bosch GLL3-80 3-Plane laser level
Price Comparison
It is a business strategy for any company to make the market all their own by keeping the product price as low as possible. But the assembly of the latest technology and labor costs, demands a reasonable price.
Considering everything, we find that, Bosch GLL3-80 has a higher market price than DeWalt DW089K.
But, the price is way too high for general people who need this tool for their home purpose or for a small farm.
So, it is obviously preferable for anyone to buy the laser level tool from DeWalt as it serves all the same and can be bought really at a very affordable price.
See also:Cheap Laser Levels For Home Use
From the Customers Point of View
Mixed Reactions
According to customer reviews, both the products have some good and some bad reviews.
The study shows that the users of DeWalt laser level are more satisfied than the user of Bosch laser level.
The service of DeWalt laser tool is worth its price.
Dewalt DW089K Self-Leveling Laser Level
Most of Customers Went For DeWalt
The DeWalt DW089K weighs almost 2 pounds less than Bosch GLL3-80 when it comes to the comparison.
So the DeWalt laser level is lighter than a Bosch laser level, as a result, it is easier to carry from one place to another very easily.
Moreover, there is one switch on/off option in the DeWalt laser which makes it handy to operate for all.
Coming to The End
In a nutshell, from DeWalt and Bosch laser level reviews, we have found out that both the products have pros and cons.
Though the Bosch tool is special for its 360-degree laser leveling system, DW089K is lighter than the GLL3-80 which makes it easy to carry from one place to another.
The built-in magnetic holder makes this DeWalt laser level more dissimilar from the other, as it holds the tool on any metal body without mounting.
Final Verdict
On top of that, the price of the Bosch laser tool is quite high, which is quite impossible for the freelance worker to own one.
In contrary, DeWalt laser level tool has comparatively a reasonable price.
Considering all these facts, when you need one to select for your company or for yourself, you can easily choose DeWalt DW089K self-leveling 3-beam line laser tool.
If you need more DeWalt products to compare, you can read our laser level reviews at the homepage
See also: Dewalt DW088LG Green Laser Level Review