Tripods have become essential tools for most people in the construction and surveying industry.
This is because they always need somewhere to mount their laser levels for better reading and guiding when working on complex designs or simply need better accuracy.
Having the best laser level tripod means a lot to anyone looking for an easy time using the laser level indoors or outdoors.
Top 5 Picks for Best Laser Level Tripods: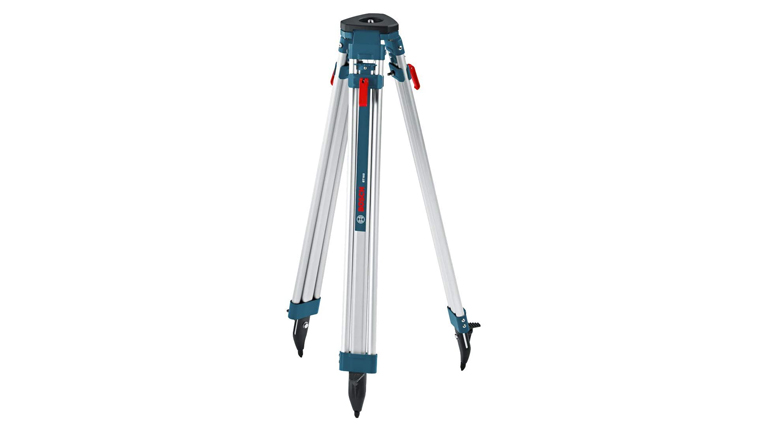 The tripods have proven to be great for different applications such as installing cabinets, land surveying, grading and many others that require the use of a laser level.
Best Laser Level Tripods 2023

Best Overall

PLS Elevator Tripod

Adjustable height up to 9 ft 6 in
Rubber feet to protect the interior surface
Comes with a convenient carry case

Read My Review

Best Value

Bosch BT160

Suitable for both indoor and outdoor use
Easy to adjust height, easy to carry and store
Comes with heavy duty poly webbing shoulder strap

Read My Review

Easy to Use

DEWALT DW0737

Lightweight, durable construction
Very stable with pointed steel feet
Quick-release legs for fast and easy setup

Read My Review

Lightweight

Johnson 40-6340

Strong legs that offer impressive support
Quick clamp lock for secure clamping
Suitable for both indoor and outdoor use

Read My Review

Compact

DEWALT DW0881

Flat rotating head for easy laser alignment
Lightweight construction
Quick release legs for fast and easy set up

Read My Review

Durable

CST/Berger 60-ALQRI20-O

Heavy duty, well-built tripod
Comes with positive locking clamps
Durable and long-lasting casting

Read My Review
Best Laser Level Tripod Reviews 2023
#1 - Best Overall: PLS Elevator Tripod with Adjustable Height
Pros
Adjustable height from 26 inches to 114 inches
Rubber feet to protect the interior surface from any scratching
Comes with a carrying case for easy transportation
PLS Elevator Tripod Review
This Pacific Laser Systems tripod for laser level is made to work not only with all types of PLS lasers but also with other laser levels, optical levels thanks to its ability to mount with both 5/8-in by 11 and 1/4-in by 20 lasers.
This has helped many people to save money and spend it on working on other projects.
Its great height adjustment from 26 inches to 114 inches has made the PLS elevator tripod possible for it to have many applications around a construction or survey site.
The system is perfect for tall ceilings that can go up to 10 feet with the laser level attached.
It comes with rubber feet, making it great for interior work. You do not have to worry about it scratching your slick surface indoors as the rubber on the feet does deliver a great job.
#2 - Best Value: Bosch BT160 Alum Quick Clamp Tripod
Pros
It can be used for both indoor and outdoor use
Wide feet for impressive support for the laser level
Strong aluminum frame
Cons
The plastic clamps that secure the legs may cause concern about its durability, but for the price this Bosch tripod is one of the best deal
Bosch BT160 Alum Quick Clamp Tripod Review
Coming from a company such as Bosch, you can expect that it is the right product you need when it comes to choosing the best tripod for laser levels.
The manufacturer made sure that you can use the Bosch BT160 tripod for both outdoor and indoor conditions. This can save you some money that would have been used to buy tripods for each condition.
You simply have to deploy the sharp metal feet if you are looking to use the product outdoors. They can also be retracted if you need to switch to interior working with your laser.
The use of electrostatic powder painting will keep this Bosch tripod looking great for a long time, even with continuous in extreme conditions.
Stability is nothing to worry about when using the Bosch BT160 Alum Quick Clamp Tripod. This tripod can spread its wide legs so that it does handle the weight of the laser easily.
The use of positive locking quick clamp makes it easy to lock the tripod in position to avoid any cases of sliding most of the time.
#3 - Easy to Use: DEWALT DW0737 Heavy-Duty Tripod
Pros
Lightweight with its aluminum frame
Fast and easy setup, even for newbies
Compact size, portable
The feet work well to provide impressive stability
Cons
Some might take the lightweight construction feels flimsy
It has some plastic parts that reduce toughness
DEWALT DW0737 Heavy-Duty Tripod Review
The DEWALT DW0737 Heavy-Duty Tripod presents you with a lightweight construction of only 8.1 pounds because of the aluminum frame.
Such a lightweight product makes it easily portable to different work sites whenever you want. Also, setting up should be easier as it is lightweight, making it easy to set up by one person.
Overall, it is an easy laser level tripod to use for different activities around a job site.
The Dewalt laser level tripod can open from a height of 38 to 60 inches. You can adjust to whichever height you feel is great for your application. Since it can be adjusted to a low height, it should be easy to fit in your car without taking up a lot of space.
The product comes with quick release legs that will save you a lot of time when folding it down to the default size. You can use an additional latch for extending or retracting the feet quickly.
#4 - Johnson 40-6340 5/8-Inch by 11 Threaded Flat Head Tripod
Pros
Sharp metal points on the feet delivers stability for uneven surfaces
Strong legs that offer impressive support
Easy height adjustment
Lightweight of only 2.4 pounds
Johnson Level & Tool 40-6340 Tripod Review
If you are always in the market for a great tripod for laser level or optical laser, then opt to choose this one. It has been designed to deliver on quality and durability on so many levels.
The first feature making the Johnson laser level tripod to be durable is the aluminum construction. With its lightweight frame, the product can still be able to deliver on handling a lot of weight on it.
The manufacturer also included a thread that makes it easy for connecting to a laser level. Simply mount it and fasten it using the thread.
The legs of Johnson 40-6340 Tripod can stretch outside enough to provide the best stability that you need for the laser to deliver on stable lines. There is also an inclusion of chains that prevent any further sliding of legs once they are all locked.
The additional heavy-duty carrying strap makes it easy for transport of your tripod to different work sites that require it.
The feet have sharp metal points that are quite useful in cases of uneven outdoor conditions. They can be retracted to give way for rubber covers for concrete or other slick surfaces.
#5 - Best Compact: DEWALT DW0881 1/4-Inch Laser Tripod
Pros
Extendable height range perfect for various applications
The rotating head is compatible with different types of laser levels
Lightweight construction, easy for transportation
Cons
Does not have a shoulder strap for easy carrying
Central column does not have a lock to keep it in position
DEWALT DW0881 1/4-Inch Laser Tripod Review
This tripod is made to be ideal to work with different DEWALT laser levels to help you achieve leveling structures in various job sites you might have. Some people are now even using the tripod to prepare farmlands.
The extendable height of the Dewalt DW0881 tripod ranges from 24 to 69 inches so that you can use it for different purposes based on the height needs.
The tripod still features quick-release legs for an easier and faster setup and take down too.
This Dewalt tripod is compatible with various line laser levels and laser distance measurers from DEWALT with 1/4-inch x 20 mounting threads. Now you can only use the Dewalt DW0881 tripod to handle multiple applications and lasers.
The tripod is made of high-grade aluminum material which makes it more durable. The aluminum construction also makes it lightweight and easier for transportation. The head can rotate 360 degrees, making it easy to align the laser.
#6 - CST/Berger 60-ALQRI20-O Heavy Duty Contractor Aluminum Tripod
Pros
It comes with positive locking clamps that will hold in position at all times
The electrostatically powder paint on the product is durable thus long lasting finish
Presence of a heavy duty poly webbing shoulder strap
Cons
Some people felt the manual was not easy to use for setting up and using the product
CST/Berger 60-ALQRI20-O Tripod Review
The aluminum metal seems to be the ultimate choice for most laser level tripod manufacturers. The aluminum tripod you get when buying CST/Berger 60-ALQRI20-O offers a lot more than just being lightweight.
It offers rigidity and strength, making it among the best tools that contractors, surveyors and engineers would want today.
The CST/Berger 60-ALQRI20-O Heavy Duty Tripod comes with a poly webbing shoulder strap that is meant to help have additional strength. The work of the strap is to spread the weight of the mounted tool to the feet for better stability.
The extension legs and side struts of the CST/Berger 60-ALQRI20-O Tripod are made of anodized silver, which is still a strong material that can deliver on durability that many people will want.
This CST/Berger tripod is relatively lightweight with an overall weight of 13 pounds.
Top 6 Laser Level Tripod Comparison 2023
Below are top 6 laser level tripods available on the market which are highly recommended by customers thanks to their good quality and durability.
How To Choose The Best Laser Level Tripod?
To choose the best tripod for laser level, here are some factors to consider:
Load Bearing Capacity
Not all the laser levels will have the same weight. Some will be heavy while others are lightweight.
The weight of the laser level will affect the type of tripod to choose. Not all of them will have a large load-bearing capacity.
The product description should be a great place for you to start. Here you will get to learn more about the maximum weight you can load on the tripod before it can start to slide or break.
Always work within the limits of the tripod to ensure that you do not break it.
Material Of The Tripod
The material of the tripod is going to determine the durability and application of where the tripod can be used.
Most of the time, you will get them being made of wood, aluminum or fiberglass.
The aluminum tripods for laser levels are the most common today. This is because the aluminum material has proven to be great when it comes to durability for both outdoor and indoor use. The common con of using aluminum is that sometimes the product feels flimsy and not sturdy enough.
The other common material would be wood that is used to make the tripods. Wood is great as it is easily available and can make tripods for all-round use in whichever conditions you might think about. The problem with wood is that it can be quite heavy in most cases making it hard for tripod portability.
If you choose to use the fiberglass tripods, you need to be extra careful with them. They can require a bit of maintenance to avoid breaking them. The fiberglass tripods are also known to be quite expensive for most contractors.
DEWALT DW079KD Rotary Laser Level With TripodDEWALT DW079KD Rotary Laser Level With Tripod
Height/Adjustability of The Tripod
Adjusting the height is important for accuracy and getting the laser to reach different parts of the room. Most tripods will have a range of height you can adjust to when using them.
Choose one that has a wide range of height you can use in such a case.
Tripod Head: Dome or Flat?
The tripod head has always been seen as another major factor to keep in mind when buying the tripod. It is common to find the heads of most tripods to be flat.
The flat head has proven to be easier to mount because of the many laser level mounting options.
As much as the dome head can be great for high accuracy changes, most people would prefer to use the flat head for easy mounting of their lasers.
How To Set Up a Laser Level With Tripod?
Here are simple steps to set up a laser level with tripod:
Open the tripod strap and loosen the screws
Extend all legs evenly to approximately head height, re-tighten the screws
Spread the tripod legs. Press the feet firmly on the ground, try to keep the top of the tripod level
Remove the laser level from the case and place it on the top of the tripod
Fix the laser level into the tripod head by tightening a screw underneath
Adjust the tripod screw until the bubble is in the middle of the circle to ensure the laser tool is leveled
Tripod Care Tips
It is always great if you get to know more about the product maintenance before buying it in the first place. As for the laser level tripods or surveying tripods, they are often easy to use and maintain.
You do not need any additional fancy equipment to help with cleaning or maintaining it. Most manufacturers would advise cleaning the tripod before storing it. This helps to avoid cases of damage or corrosion.
Having corrosion is not easy, but when it happens, it can end up damaging the expensive equipment you have. If you are in doubt on the best way to proceed with cleaning, always consider checking out the manual for additional information on the tripod care tips from the manufacturer.
Conclusion
Working with your laser level has been made easier when using a tripod. This means that you get to enjoy working faster and more accurately when having the laser level mounted on a tripod.
Different manufacturers will always have features that make them deliver the best tripods. Ensure that you take the time to learn more about the tripod before paying for it.
It is always fulfilling when you get to end up with the best tripod for laser level.