The use of laser level in construction projects is well documented. Whether it is building a new deck or installing wall cabinets, the laser levels have proved to be invaluable.
However, you can also use a laser level for calligraphy, writing or creating other decorative patterns on the walls.
The straight line laser can help you ensure that your writing is perfectly symmetrical and at its aesthetic best. You can also use the cross line laser level to map out phrases on the wall.
Top 5 Best Laser Levels For Calligraphy: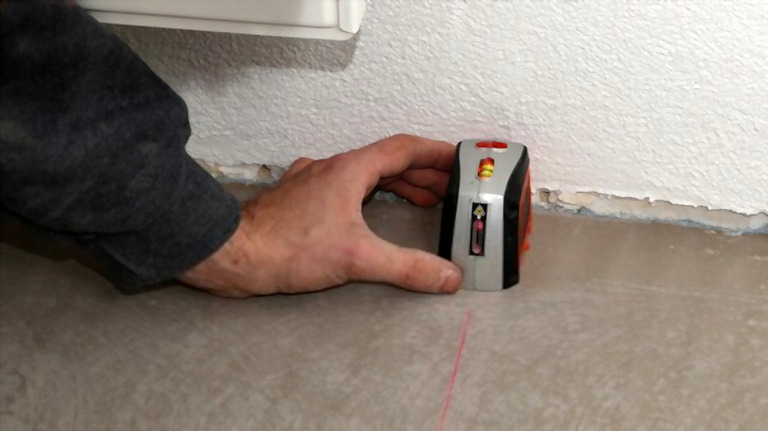 Here are some of the best laser levels that will make calligraphy easy for you.
Why Should You Use A Laser Level For Calligraphy?
The benefits of using a laser level for writing or calligraphy are manifold.
First of all, you are completely sure that you are writing in a straight line.
You won't have to face the disappointment of having spent hours on writing beautiful lines and realizing that your written lines are crooked or slanting.
Another benefit is that it saves a lot of time. You don't have to measure the height from the floor for various points and do other measurements.
Best Laser Level For Calligraphy 2023
#1 - BLACK+DECKER BDL220S Laser Level
Best Laser Level For Calligraphy BLACK+DECKER BDL220S
This wonderful laser level from Black & Decker is a perfect product for homeowners who occasionally indulge in home improvement and decoration projects.
It is a lot cheaper than usual laser levels available in the market. And, it is perfect for basic and regular tasks.
If you are going to use it for construction or installing wall cabinets, this device is not for you.
It doesn't come with self-leveling capability, so you will have to spend time adjusting bubble vials to ensure the best results. Also, the range of visibility of the unit is far less to be used outdoors or large halls.
However, if you like to undertake small DIY projects such as hanging a collage of pictures, paint patterns on the wall, or when you need laser lines for writing straight, this simple laser level is perfect for you.
The unit powered by Class 3R laser projects horizontal as well as vertical laser lines.
It also comes with a 360-degree rotating wall attachment, which further enhances convenience and ease of use. The attachment allows you to project laser lines at any level.
#2 - BLACK+DECKER BDL190S BullsEye Auto-Leveling Interior Line Laser
BLACK+DECKER BDL190S Interior Line Laser with Stud Sensor
Black & Decker BDL190S is another great Black & Decker straight line laser that we have in our list.
This one is a lot expensive than the one mentioned above but it also comes loaded with features that make it perfect for several different projects. You can even use it for large-scale projects.
Apart from working as a line laser, it also works as a stud sensor. It can easily detect metal, wood, and studs. You can also use it to find live A/C wires.
These features coupled with patented auto-leveling technology make it a perfect tool for the professionals. The auto-leveling finds level automatically within a few seconds.
It also comes with an easy to read LCD display. Plus, the presence of single button further adds to the ease of operation.
It has an ergonomic design with overmolded housing providing a decent grip over the unit. Also, as it has a small and compact design, you can easily carry it around in your pocket.
#3 - Qooltek Multipurpose Laser Level With Measuring Tape
Qooltek Multipurpose Laser Level
This is another unique straight line laser level for calligraphy in our list.
Along with a laser projector, it also has a fine-tuned tape measure. It doesn't have self or auto-leveling feature so you will have to use triple-positioned leveling bubble to get the level right.
The tape measure can be used to measure up to 8-foot. It includes imperial and metric linear measures and comes with graduations down to 1/32" and 1 mm.
To pull out measuring tape, you will have to press the key button. The same button has to be loosened to lock the reel after the needed measuring tape has been pulled out.
However, this unit isn't for heavy-duty projects. The visibility and range of the laser beam are limited. It isn't easy to spot in sunlight. But it is a perfect laser level for writing, calligraphy, and other wall decoration DIY projects.
The accuracy of the laser stands is +/-2mm at 10m. Because of the small size, you can carry it around in the pocket. And, it is very simple and easy to use.
#4 - Johnson Level and Tool 9250 Laser Line Level (Mouse)
Calligraphy laser guide Johnson Level and Tool 9250
Johnson Level and Tool 9250 is a unique laser from the prestigious and trusted home tools brand. It comes in the shape and design of the computer mouse and works in the way very similar to it.
The horizontal laser line is projected from the front of the tool. It has push buttons placed on the side, front top, and the rear.
Like the first line laser for calligraphy mentioned in the list, this unit also doesn't have self leveling feature.
The horizontal level vial, as well as vertical level vial, are placed on the top of the unit. You will have to use these two to make sure that the device is perfectly level.
The way of operation of this unit is also peculiar. You have to secure it to any surface with the adhesive base of the unit before starting the project. It's SuperStick adhesive system is reusable and sticks to any surface.
Also, it doesn't leave marks or holes. Because of the unique design of the unit, you might have to refer to the user manual to learn how to write straight with this Johnson device.
#5 - Ryobi ELL1002 Air Grip Compact Laser Level
Ryobi ELL1002 Air Grip Compact Laser Level
Ryobi ELL1002 is a great little laser level for DIY and decoration projects including calligraphy.
This straight line laser level uses air compression for attachment purposes. The vacuum suction helps in sealing the unit to the smooth and non-textured walls with perfect ease. You won't have to use nails, tack, or any adhesives that will residue on the wall.
This unit projects laser beam around the corner, which makes it a perfect choice when you are working in tricky corners. The laser projects beam straight ahead and cut it at a perfect 90-degree angle. So, if you are working on jazzing up an unused corner with calligraphy, Ryobi ELL1002 is perfect for you.
The working range of this laser level stands at 30 feet. So, you can set it up away from your project, which will help you avoid clutter. Also, the accuracy of the unit is up to 1/2 of an inch at 16 feet.
Apart from securing it on the wall, you also have an option to mount it on a tripod. This boosts the versatility of the unit when it comes to application and use.
Plus, it has a small and compact design. You can carry it in the palm of your hand.
Want to learn how to use a laser guide for calligraphy, check this video:
Conclusion
Overall, it is difficult to pick the best laser level for calligraphy out of the five mentioned above. It all comes down to your preferences and how you go about your work.
All of the above straight line laser levels are great for calligraphy. So, you need to think about other tasks that you would want to use laser level before making a choice.