These days when you visit a tools shop, you will find a plethora of powerful power drills in various shapes and sizes. Making you gasp at your own inability to choose the best.
Today we are going to get into the depths of the best power drills, their different types and features, along with a basic buying guide.
Top 6 Picks for Best Power Drills: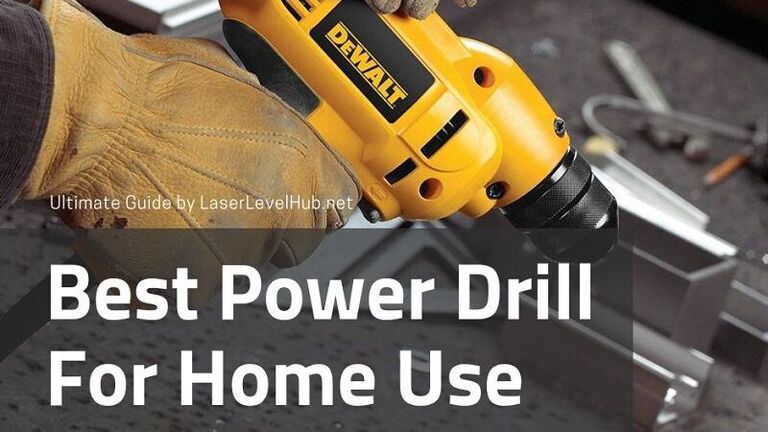 This easy guide – intended for home users – will take you through six of the best drill brands for home use, along with quick expert power drill reviews each containing a list of pros and cons.
To start off, here's a list of the top rated power drills available in the market today. We have selected these six from across several hundred models of different types and brands.
If any of these has got your fancy, go ahead and read their detailed power drill review below.
Best Power Drills For Home Use

Best cordless drill

DeWALT DCD777C2

Brushless motor with high torque for heavy tasks
Built-in LED to aid in dark work areas
Compact, lightweight, easy to use

Read My Review

Best corded drill

DeWALT DWD115K

8-amps motor for heavy-duty applications
Variable speed with a sensitive trigger for easy handling
Exceptionally portable

Read My Review

Best impact driver

DeWALT DCF787C1

Compact size (2.8 lbs.) makes it apt for operation in tight areas
Maximum 20V-motor for heavy-duty activities
Single-LED bulb for visibility in dark areas

Read My Review

Best hammer drill

Makita XPH07Z

3-stage LED bulb on both sides of the drill for better visibility
2-speed transmission for various applications
Large side gripe for more control

Read My Review

Best rotary hammer

Bosch RH328VC

Active vibration control for easier handling
3 different modes and 12 different positions
Supports SDS+ bits

Read My Review

Best Right-Angle Drill

Makita DA3010F

Good speed option at 2400 RPM
Slender built to aid operation in the tightest areas
Paddle switch to prevent overtightening of screws

Read My Review
Now that you know our picks for the top power drills, here's a little bit more information about them.
Our in-house experts have vigorously tested the aforementioned six models in the harshest of conditions to find out their pros and cons. Don't forget to read the final verdict after each power drill review.
These reviews will give you a closer look into the power drills and tell you what's behind those shiny packaging that they usually come with.
Best Power Drill Reviews 2023
Here are the detailed reviews of best power drills to buy:
#1 - Best Cordless Drill: DEWALT DCD777C2 20V Max Drill Driver
Best Cordless Drill: DEWALT DCD777C2 20V Max Cordless Drill Driver
Product Overview
This mid-priced model from DeWalt is the best cordless drill in the market right now. We say that because it comes with all the kinks of a high-end power drill without the issues that usually accompany one.
We are talking a high-powered brushless driver that supplies enough torque (at 110 volts) for all your home-based drilling, driving, and impact driving activities; a built-in white LED that makes it easier to work in dark areas; and an extra fast-charging Lithium-ion (Li-ion) battery for use in emergency situations.
Brushless motors are power efficient, which means it will be a while before you run out of juice with this model as well as other cordless ones on this list. But if you still do, the high-speed charger will come to your rescue.
Our tests concluded that the charger takes just about an hour to charge a single Li-ion unit completely.
The DeWalt DCD777C2 is designed for a home user. With its ergonomic design (check out the handle) and a compact built, beginners can get used to it no time. Because it is only 2.5 pounds in weight, it is easier to carry it around from your garage to your backyard.
However, for all its good points, we observed that the chuck (cylindrical clamp) sometimes releases automatically in the middle of the job. And that is perhaps the only real downside we see in this well-built model.
#2 - Best Corded Drill: DEWALT DWD115K Mid-Handle Grip Drill
Best Corded Drill: DEWALT DWD115K VSR Mid-Handle Grip Drill Kit
Product Overview
For some people, the need to charge the batteries of their power tool in the middle of a task can be quite annoying. And it can get worse if there is no auxiliary battery with full charge ready.
For such people, let us introduce the corded alternative for the above model – the fantastic DeWalt DWD115K that comes with a host of more exceptional features.
Starting with its awesome ultra-sensitive trigger response (that ironically and incorrectly makes some users assume it to be badly designed), this handheld power drill works on a motor with an amperage of 8.0. It is enough to carry out most of the tasks at hand in a household or even in a small-scale shop.
The middle-handle further makes it a great fit for a seasoned user. Because working with this corded DeWalt model feels like you are pounding some raw energy to the work, it is preferred by most professional handymen.
With a maximum speed of up to 2500 RPM, horizontal and vertical level support, variable-speed trigger, and a lightweight frame of just 4.1 pounds, it is inarguably the best power drill for small- and medium-sized repair works.
#3 - Best Impact Driver: DEWALT DCF787C1 Cordless Impact Driver
Best Impact Driver: DEWALT DCF787C1 Cordless Impact Driver
Product Overview
This cordless impact power drill is best for people who deal with a variety of jobs. Want to get the fence around your house fixed? This will do it. Want to redo your sofa-cum-bed and get rid of those old nuts and bolts using the impact function? This will do it.
Consider it as a distant cousin of the first DeWalt model on this list, and add the features of an LED bulb, 20V max power output, and brushless motor with a power efficiency of 57% (claimed by the manufacturer). And you get this model.
During our tests, we also found that this model has better battery charge retention than the first model, but that's a feature of the quality battery. When it comes to torque, the DCD777C2 wins hands down.
This DeWalt power drill driver also comes with a soft case and a really good charger (no extra battery) to take care of your needs on the go. There is no variable speed switch but for the seasoned repairman that you are it shouldn't be a problem.
#4 - Best Hammer Drill: Makita XPH07Z Cordless 1/2" Hammer Driver-Drill
Best Hammer Drill: Makita XPH07Z Cordless 1/2" Hammer Driver-Drill
Product Overview
If you are looking for a hybrid of a general-purpose drill and a hammer, then you are going to be content with this Makita model.
Although slightly heavier than the three models reviewed above – at about 6 pounds per unit without the battery – the Makita XPH07Z hammer drill boasts of a 3-stage, two-way LED bulb, a 2-speed transmission, a strong side gripe, and a near noiseless motor.
For anyone who has even a modicum of doubt about this monster of a power drill, they can imagine why Makita had to attach a mighty side gripe to it. There is no way you can charge this drill at the maximum speed of 2100 (max.) without holding the gripe. And that there is Makita for you.
It has incredible power and is perhaps the most strapping power drill on this list. Despite being run on batteries, it still outpaces the second DeWalt model (the DEWALT DWD115K).
We are especially in love with the two-way light because sometimes you need to see the work area more clearly to get a better output.
#5 - Best Rotary Hammer: Bosch Rotary Hammer RH328VC
Best Rotary Hammer: Bosch Rotary Hammer RH328VC
Product Overview
Also called a Bosch hammer, this little beast provides full value to your money. It is one of the strongest power drills we have ever tested that can drill through very hard materials like concrete, hard rock, stones, and even bricks. So, if you have jobs that involve such materials, there is nothing more to think about.
This corded Bosch model comes with three modes – hammer only, rotary hammer, and rotation only. This, along with 12 different positions, makes it the best versatile model for the home user as well as the advanced handyman.
There is no job that this hammer drill cannot complete except for drilling through wood. According to the manufacturer, this drill is "just too powerful for wood". And we concur.
However, the best feature that our testers found in this Bosch power drill is the support for Slotted Drive System (SDS+) bits that are a modern, better alternative to old metal chuck bits.
If you are someone who strives to own the best and most modern piece of equipment, then this is the one to take home today.
#6 - Best Right-Angle Drill: Makita DA3010F Right Angle Drill
Best Right-Angle Drill: Makita DA3010F Right Angle Drill
Product Overview
Most right-angle drills that we tested had some or the other shortcomings that prevented us from adding them to this list. But not this Makita model that has been designed keeping everything – EVERYTHING – in mind. See how…
Its maximum speed is the second-highest on this list at 2400 RPM, which will have some takers we are sure. But, don't worry – because while you are working on a job and want to limit the throttle, there's the paddle switch that will come pretty handy.
It also does not jerk while operating, making you feel that you are not even holding anything. While the slightly heavier frame (3.1 lbs.) might remind you that, we are definitely not complaining.
It has trigger pressure control, has the option to reverse the rotation, and has a shock-proof LED bulb below the drill for convenient lighting. Apart from the motor with 4.0 amps and the keyed chuck, there is absolutely nothing we found short in this brilliant piece of Makita technology.
Power Drill Features You Should Know
Just like the types of power drills, there are various features that manufacturers add to their models to attract users.
In most cases, these features are added because of community demand. For example, the built-in LED became a common feature because of the need for mechanics to work in dark areas and nooks. Slowly, as technology evolved so did the consumer requirements.
And today we have some of the hottest features on a regular tool like a power drill. Here's a closer look at what the market has in store for us when it comes to drilling and driving. You may be surprised to read about some of the most abstract features here.
A list of some of the most coveted features in a power drill (in no specific order):
Built-in Light – A basic light system to aid in operation in darker areas is a default feature these days. This is usually a bunch of small white LEDs fixed under the chuck panel
Built-in Level – This is a nifty feature because it does two jobs using a single tool. Never will you mess up your levels during work especially in carpentry and masonry
Reverse Mode – A switch to trigger the motor in both clockwise and anti-clockwise directions. Most modern power drills have this feature
Speed Range – While most drills have trigger-response speed control, the toggle switch is better
Clutch – This is a switch button adjacent to the chuck that allows you to disengage the chuck/bit from the motor. Very helpful when you are done with drilling a hole or screwing a nut and want to stop the bit/driver from revolving
Charging Platform – If you are a loyalist of a brand, consider investing in a charging dock for all your tools. If you prefer a cordless power drill, this is a must-have
Accessories and Attachments – Depending upon the applications, there are various types of attachments that one can complement their power drill. This can range from a simple pointer tool to a full-blown chisel for chafing purposes.
While the ones listed above are found in most modern power drills, it is a good idea to aim higher and look for exclusive features offered by certain brands.
When it comes to power tools, there are some manufacturers who invest in R&D and put out quite interesting features. For instance, DeWALT is an American brand that always questions the status quo and comes up with inventive features like the ones we discussed above: LED bulb, cushion support in the handle, self-leveling support to name a few.
How to Buy the Best Power Drill?
Now that you have a pretty good idea about some of the features to have in your ideal power drill as well as the top brands that manufacture it, here's a short buying guide.
This will highlight a few points that are essential to be considered while you make your online purchase. Even if you decide to skip one or two feature, we recommend you to consider these pointers carefully.
Power Supply – While corded drills are more powerful and efficient, their cordless contemporaries beat them out in the convenience and portability departments
Chuck Capacity – It varies depending upon the usage. Most common chuck size is 3/8th of an inch (diameter). While small and lightweight models go for 1/4th of an inch, heavy-duty ones can go up to half an inch. It is also known as drill size. Modern power drills have keyless chucks
Built – A T-shaped body is considered the best built for a power drill as it balances the tool and adds precision to your work

Handle – Pistol grip or T-handle, you must opt for the tool that you are most comfortable with. While both these types have their own advantages, it is up to the end user – you – to make the final choice. Most modern cordless power drills have T-shaped handles
Grips – Cushions and contoured grips are most ideal

Speed – Calculated in revolutions per minute (RPM), the speed of a power drill is a core deciding factor in both drilling and driving. Higher the speed the lower the tool's ability to deliver the torque. This is one of the reasons why mechanics look for speed when it comes to power drivers. There are also models that provide variable speeds to match to specific applications. One of the Makita models on our list has the super-high speed of 2400 RPM

Variable Speed – This option is especially useful if you intend to work on different types of surfaces (wood, concrete, etc.)

Power – Compare this with speed. Advanced users will prefer high power drills as compared to homeowners for whom drills with low power will be enough for routine home tasks and shop use

Corded/Cordless – When opting for cordless power drills, make sure you check the type of batteries. These days, Nickel-Metal-Hydride (NiMH) batteries are preferred over Nickel-Cadmium (NiCad) and Lithium-ion (Li-ion) ones because of their longevity and capacity

Chargers – When looking for chargers, don't get swayed over by claims such as "quick charge" or "charges in 30 minutes" because these scenarios are not idle. Instead look for temperature sensors and feedback circuitry that aid in extending the life of batteries.
These parameters are essential in your quest to getting the best power drill. Use the power drill reviews above to make your final choice. And then let us know what you think about your purchase in the comments section below.
Which Is The Best Power Drill For Home Use?
The key to find the most suitable power drill to buy is matching your tool with the job.
Here's a quick description of what you should aim for depending upon your requirement.
Basic activities like hanging pictures on a wall, removing door hinges, and woodwork.
You can opt for entry-level cordless power drills but make sure they have keyless chucks and variable speed - Check the DeWalt DCD777C2 20V Max Drill Driver
Intermediate activities like building railings/fence, making furniture, installing drywall.
You can opt for tools that have at least 10V power and a slightly heavier built. Go for T-handle, variable speed, and if possible, electric corded models
Heavy-duty activities like masonry, deck installation, and landscaping.
You should opt for drills with at least 12V power and which has a heavier built with good handle support. The Bosch RH328VC and Makita XPH07Z hammer drills are apt for this type of jobs.
Note: Make sure you use the right type of drill bit or driver before starting the work.
Power Drill FAQs
A list of frequently asked questions and answers about power drills to help you make a wiser purchase.
Verdict
Since there are different variations of a power drill, it becomes challenging to choose the best one that will cater to all your needs. Which is why we came up with these six great models that you can choose from depending upon your specific requirements.
Nonetheless, if we had to choose one best power drill for home use out of this list it would be the DeWalt DCD777C2. For a home user who does occasional jobs and repair work, it comes across as a sufficient hand tool that keeps up its reputation.
If in the future there comes a need for more versatility, you can always get some attachments. Because that's the best part about DeWalt and the other brands featured on this list. You can customize them according to your needs.
We hope this guide has given you enough information before you finalize your power drill purchase. In the rare case we missed any point that you might be looking for, just let us know in the comments. Our in-house experts will address your concerns immediately.