Nowadays, laser level comes in different prices, types, and sizes allowing contractors and DIY enthusiasts to benefit from its great leveling accuracy for their renovation and home improvement projects.
Selecting the right laser level for you can be a little challenging since there are various types and brands of laser level to choose from.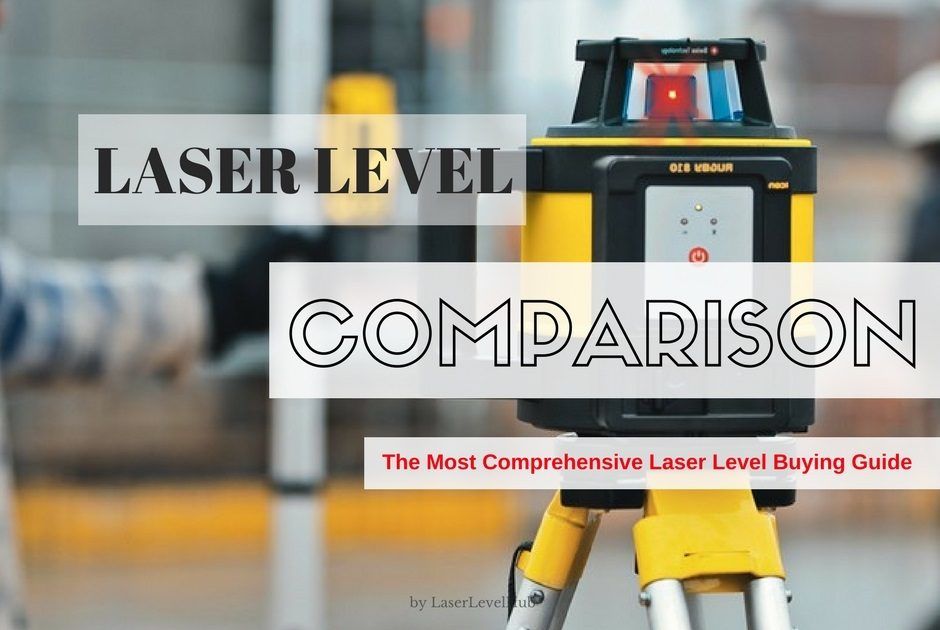 That's why we have come up with the following best laser level comparison charts to help you quickly get the best one.
Let's start!
Best Cross Line Laser Level Comparison 2023
Line lasers shoot laser beams point-to-point using its diode LEDs. The line (laser beam) generated can be directed vertically and horizontally. It can shoot a laser line up to a distance of 100 feet.
The cost of a cross line laser level ranges between $40 to $650.
Below are top 6 cross line laser levels for construction:
Usage: These types of level are used most of the time when leveling the floor fitting multiple countertops, and mounting the ceiling. You can use it outdoor to frame deck floor or on a tripod stand for other leveling task.
Best Rotary Laser Level Comparison 2023
Rotary level produces and projects a 360-degree laser line over a long distance. You can detect the projected laser beam at about 200 ft away with a laser detector when you are working with it on a large jobsite.
Typically, rotary laser levels are intended for outdoor use. They are the most accurate laser levels and are mostly used to handle important aspect of a construction project.
Here are best rated rotary laser levels for construction use:




Topcon
RL-H5A
Spectra Precision
LL300
CST/berger
RL25HVCK
Johnson
99-027K
Johnson
99-006K


Best Overall
Most Durable


Best Value


Multiple Uses
Best Budget
Accuracy
±1/16-in
@ 100ft
±3/32-in
@ 100ft
±3/32-in
@ 100ft
±1/8-in
@ 100ft
±1/8-in
@ 50ft
Self-Leveling
±5°
±5°
±5°
±3.5°
±3°
Range
2,600 ft
(800 m)
1,650 ft
(500 m)
2,000 ft
(600 m)
2,000 ft
(600 m)
800 ft
(240 m)
Rotation Speed
600 RPM
600 RPM
150, 300, 600
RPM
150, 200, 250, 300 RPM
200, 400, 600 RPM
Protection
IP66
IP66
IP56
IP66
IP54
Battery Life
100 hrs
90 hrs
85 hrs
15 hrs
20 hrs
Warranty
5 years
5 years
2 years
3 years
3 years


Check Price at Amazon
Check Price at Amazon
Check Price at Amazon
Check Price at Amazon
Check Price at Amazon
Usage: Rotary laser levels are designed for outdoor applications such as laying of pipes and foundation as well as grading the road.
Best Outdoor Laser Level Comparison 2023
Best Laser Square/Best Tile Laser Levels Comparison
The laser square has proven to be a great asset for people who work indoor on remodeling activities. If you are looking to install tiles on a floor, the guidance of a laser square will make it all easy.
Other than just tiles, you can use it to make layouts for mounting mirrors, lights, windows, cabinetry fixtures and many more applications.
Below are top 3 best laser levels for tile installation and other DIY projects:
Best 3-Point Laser Level Comparison
Dot laser helps to project a point according to your construction or application needs.
There are various types of dot laser, and are available at different prices ranging from $20 to $500. The expensive ones are usually of a better quality compare to the cheaper ones. However, the cheaper ones are more suitable for indoor use while the more expensive ones are good for outdoor use.
There are two main types of dot lasers, namely 3-point and 5-point. Below are best 3-point laser level comparison chart:
Best 5-Point Laser Level Comparison
Laser levels are great leveling tools that help to take accurate leveling point while saving time and money on a large job.
Now that you have known the best laser level brands available today, you can now avoid the mistake of selecting a wrong tool for the job. You can also explore our website to read the reviews and buying guides of different laser level products to assist you in making the right choice.
Good luck!