Choosing the best rotary tool is an activity that even professional and hobbyist builders find challenging.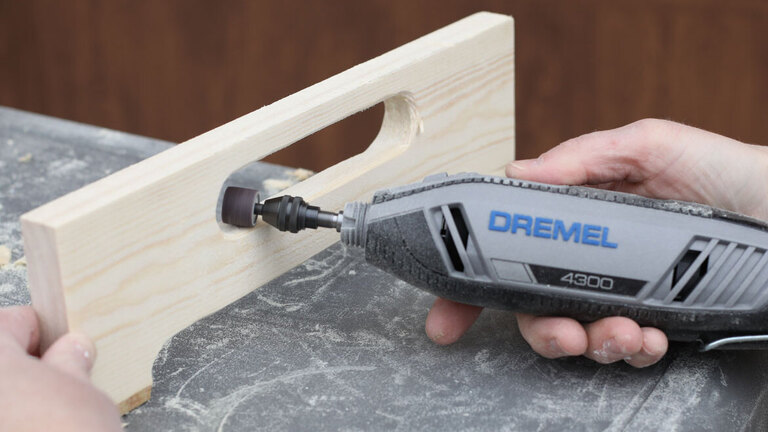 How to Choose The Best Rotary Tool?
With hundreds of these tools in the market, selecting the most expensive tool, or buying those with most accessories, or opting for a branded one will not always guarantee a good purchase.
The trick is to choose a tool that suits your need and not just an expensively priced, branded tool that will end up lying useless in your workshop.
What Is A Rotary Tool?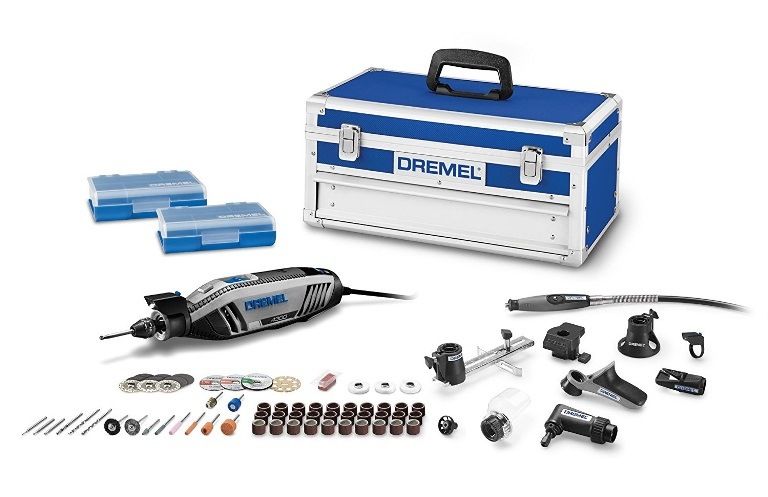 Rotary Tool Kit - source: dremel.com
A rotary tool is a handheld power tool with a rotary tip that accepts a myriad of attachments.
The tool comes in a compact size that makes it light and efficient when put into use. Its high speed and versatility have rendered it a great alternative to large, bulky power tools.
To get both the value of the tool and that of your money, you need to be well guided and informed about these tools.
In this guide, I will take you through every detail about rotary tools and their accessories.
Why Rotary Tools are the New Swiss Army Knives
A rotary tool might just be the most versatile piece in the workshop.
With this high-speed hand-held tool, you can accomplish activities like sanding, engraving, shaping, polishing, grinding, and cutting with much ease.
It is a "many-in-one" kind of tool. I tend to believe that it is the Swiss Army Knife of the construction industry.
Rotary tools come either cordless or corded, their numerous attachments let you perform detail work on metal, wood, glass, ceramic, and even plastic.
Various Uses of a Rotary Tool
These tools can work as perfect replacements for most tools in your workshop. They are powerful and can-do hundreds of jobs that can't be done by large tools.
Their versatility makes them a must-have tool for contractors, professionals, and ultra-crafty individuals.
If you are looking to spruce up your workshop or express your creative flair in a new way, then having the best rotary tool is a must for you!
It is an essential for anyone who carries out home improvements.
As an assertive DIYer, I have invested in a rotary tool for my remodeling and home building tasks. Since I don't have a full workshop, I tend to go for lightweight and compact tools that can fit in my garage toolbox.
A rotary tool is such an example and has come handy when I need to sand surfaces or cut ceramic tiles.
The Science Behind Rotary Tools Working Mechanism
Rotary tools work by spinning an attachment at a high rate of speed.
Most of these tools feature variable-speeds that may cover a range of 5,000 to 35,000 rotations per minute (RPM). Others come with fixed speeds of about 30,000 RPM.
The variable-speed versions are controlled by a switch that can be pushed/pulled from a few thousand rotations per minute to over 30,000 RPM.
The mechanism behind this tool is a strong electric motor that rotates the attachments around a fixed axis.
Since the motors used have high strength, users will experience consistent performance when cutting, sanding, polishing, or grinding.
It is due to such strong performance and durability that the tool has ended up being an essential for carpenters, drywallers, and electricians.
NOTE:
High rate of speed doesn't necessarily guarantee that the tool will handle the job efficiently.
For example, a rotary tool with a 3 Amp motor at 20,000 RPM will work efficiently on tasking projects like cutting hardwoods, compared to that with 1.2 Amp motor at 30,000 RPM.
When purchasing, you will need to consider the strength of the motor along with the maximum number of rotations that the rotary tool can make per minute.
Read more: Rotary Tool Reviews
Various Types of Rotary Tools
Rotary tools in the market today vary in terms of the intended use and operating mechanism.
The main two types of rotary tools are the core and cut-out models, that can come either corded and cordless.
In order to purchase the best rotary tool, you need to understand what these models mean and whether they can cater for the intended applications.
Basic Rotary Tools
These are the core models that come in compact sizes. It is due to their compact size that they are considered the best option for home users and starters in the field of rotary tools.
If you are a self-confessed DIYer or a professional who does seasonal engraving and cutting tasks, the compact models are the finest choice for you. You get detailed works done like artistic designs in woodworking.
In overall, a basic rotary tool is ideal for smoothing, cutting, shaping, and engraving.
Since such tools have a small motor of about 1.2 to 1.8 Amp, its basic pace might be slow for you.
Whereas this might sound like a drawback, it is actually a plus. This kind of capacity allows for maximum control and flexibility when using the tool, unlike the cut-out models with large motors.
Cut-Out Rotary Tools
Unlike compact models, cut-out rotary tools are large and cumbersome, since they have large motors.
In most cases, these tools are used in professional and commercial applications.
For example, cut-out rotary tools have been the best alternatives for contractors who remove dry-walls in large scale in home-remodeling projects.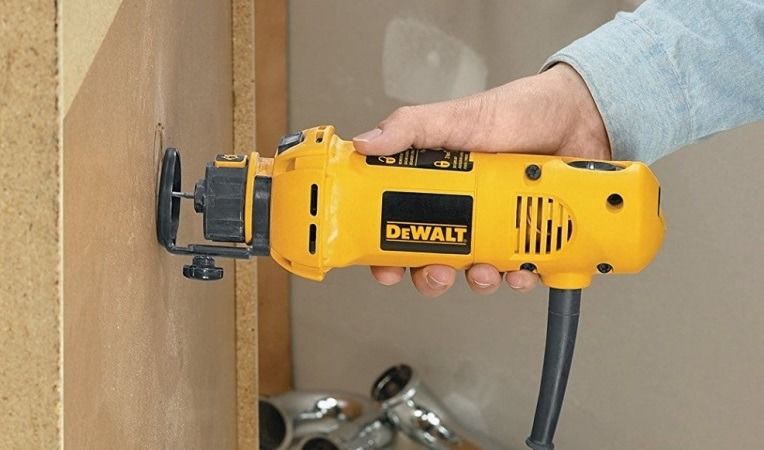 Cut-Out Rotary Tool
Due to their sizes, controlling a cut-out tool might prove to be a challenging task for amateurs.
The motor of standard cut-out models ranges from 3 to 5 Amps. The strong power of these motors allows the tools to handle tasking activities like cutting hard metals and hardwoods.
Nevertheless, cut-out tools come with various features like adjustability options and a wider array of attachments.
Corded and Cordless
There is a never-ending debate between those who prefer corded rotary tools and those who prefer the cordless models.
To put that debate behind for you, I will explain where these power options best excel when the tool is put into use.
When you understand the specific application of a rotary tool, you get to know whether it will suit your needs before even making the purchase.
Corded or Electric Rotary Tools
Corded rotary tools are the most preferred in the field since they provide unlimited power options.
As a user, all you need is to plug the tool into a reliable energy source, and it will run for as long as you want.
A corded tool is ideal for those who deal with incredibly detailed and tedious work.
Their only drawback is limited mobility and the fact that you can't use them outdoors where there is no mains electricity supply unless you have a generator.
Most cut-out rotary tools come in corded models.
Cordless rotary tools have a number of advantages including being very convenient and mobile when using.
If you are the DIYer or professional who is looking for a rotary tool to handle small, quick activities then the cordless option is best for you.
You can use the tool outdoors without the annoyance of a long electric cord.
However, they are a little bit heavier than electric tools and you might need to charge them frequently if you are a busy user.
Typically, cordless tools have power output range of 4.8 to 18 volts that is equivalent to 1 to 5.5 Amps of the corded models.
Moreover, cordless tools have a range of 5,000 to 16,000 RPM, compared to the cordless that can go to as high as 35,000 RPM.
Fixed and Variable Speed
Whereas there are models that come with fixed speed, the best rotary tools have variable speed settings.
I believe that these power tools are meaningless if you cannot adjust their speed to suit the specific application.
For example, applying a high speed on sensitive materials like silver jewelry is a bit overboard. Variable speed means that you can accomplish various tasks heedless of their nature.
Smaller and Bigger Bit Size
The bit shank of a rotary tool is determined by its size.
Larger tools like those bearing over 3 Amp motors can accommodate both the smaller and larger bit limbs.
As such, larger tools are more versatile in bits options. Smaller tools cannot accommodate bits that are larger than them.
In the power multi-tools field today, rotary tools have a standard of 1/8-inch to 1/4-inch shank compatibility.
Best Rotary Tool Brands
Just like most construction tools, you will find that there are dozens of manufacturers of rotary tools.
Although, you will find that some brands like Dremel and Dewalt are more prominent. These two premium brands are known for their ability to manufacture quality power multi-tools.
Other notable brands include Milwaukee, Makita, Ridgid, Hitachi, and Bosch.
The 7 Surefire Steps of Choosing the Right Rotary Tool
There are some cheaply priced rotary tools in the market, but their durability and quality mostly come into question.
However, you don't have to spend a fortune to get the best rotary tool for the specific applications you are looking forth to undertake with it.
In order to find the tool that suits you, you need to consider the following factor before committing yourself and budget to a specific rotary tool.
1 - Type of Work
The first step you want to undertake when choosing a rotary tool is to consider the type of work that you want to do with the tool.
For example, electric rotary tools best suit professionals who need to use rotary tools every day.
Corded tools come with unlimited power and are also powerful for a wide array of applications like cleaning, sanding, and cutting.
On the other hand, a cordless tool is worth considering for those who want to handle odd DIY projects around the house. Cordless tools are often less powerful than their corded counterparts.
2 - Ease of Use
Your rotary tool of choice should be relatively easy to use. You shouldn't experience any challenges when changing attachments and accessories.
When narrowing down your options, look at how easily you can change the accessories of the tools. You don't want the models that will need a wrench in the process.
Moreover, I have found that while the cordless models aren't hindered by long cables, the corded rotary tools are lighter.
Also, find out how the tool vibrates since constant vibrations might cause hand fatigue.
3 - Weight & Handling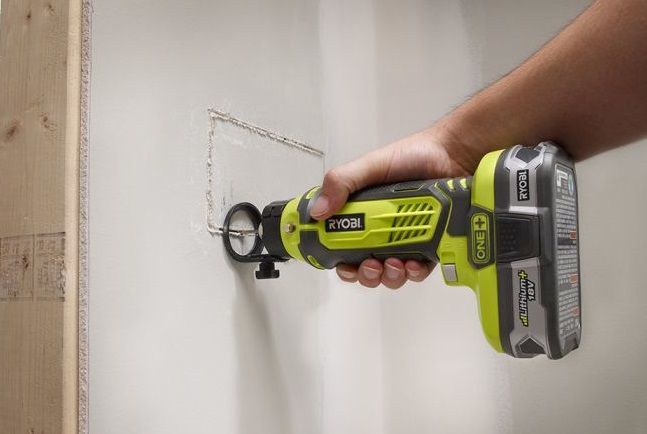 Cutting drywall with a Rotary Tool
A cordless rotary tool is a perfect choice if portability is an important factor to you. However, you need to be prepared to charge the cordless tool occasionally.
Still, you might find yourself sacrificing power when going with the cordless versions.
Another factor you want to consider is a tool with an ergonomic design for comfortable grip-handling. Such a small factor makes a lot of difference when you are working with the tool for long hours.
You should opt for more powerful, light electric tools if portability is not among the essentials for you.
4 - Power & Speeds
The importance of power output will depend on what you plan to do with the tool.
For long working hours, go with the electric versions.
Moreover, the electric rotary tools have more flexibility when it comes to speed.
Their adjustable speeds range from 5,000 to 35,000 RPM. Faster speeds will be necessary for simple and easy jobs, while slower speeds will come handy when you need more accuracy.
5 - Features & Performance
Whereas some manufacturers offer additional features to make their models stand out, most rotary tools are basic in concept.
You need to go through the tool's product details and specification columns on the manufacturer's manuals.
That way, you will learn about the extra features that have been incorporated into the tool and whether they are of value to its performance.
6 - Accessories and Attachments
Rotary Tool with Accessories
Most rotary tool manufacturers include a variety of attachments with the tool. Some include as many as 100 attachments and accessories.
It is wise to consider where you will mostly apply the tool and, therefore, find whether the appropriate attachments are included in the package.
You can still purchase attachment kits separately in the event that you don't find everything you need in the package.
Ideal kits will include saw attachments, sanding pads, and cutting wheels among others.
I always advise that you check the previous customer's reviews or comments about the quality of the attachments. Also, find whether they are reliable!
See also:Rotary Tool Accessory Guide For Beginners
7 - Affordability
Cost is a significant factor with such a wide range of kit contents and product specification.
You first need to consider how much you are willing to pay. You will find that models from the notable brands like Bosch, Dremel, and Dewalt are somewhat pricey than those from other brands.
If you are on a budget, you might want to consider foregoing those prominent brands for a lesser known international name.
Nonetheless, some tools might be highly priced but are equipped with numerous attachments and accessories.
Bottom Line
As you will have gathered, there's a lot to consider when choosing the best rotary tool. What a professional etcher considers as the best isn't necessarily the best for a carpenter.
Since I discovered the "magic" that I can accomplish with this power multi-tool, my DIY game has improved.
I can remove grout, cut tiles, fix drawers, and clean metallic surfaces with the same tool.
As you get used to your tool of choice, you will discover many other tasks that you can do with it around your home or workshop.