As anyone who has done some painting can tell you; when it comes to painting furniture, there are tons of options. However, despite these options, I would choose paint sprayers again and again.
Not only are they easy to use but they also ensure even coverage, especially when it comes to furniture.
In this article, I intend to highlight the best paint sprayer for cabinets and furniture as a whole.
Top 8 Best Paint Sprayers For Cabinets: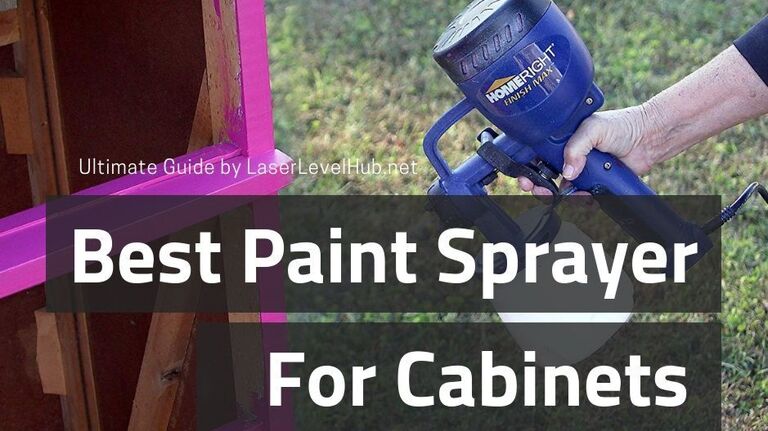 Take a quick look at top rated paint sprayers for cabinets and furniture painting below.
Why Should You Use A Sprayer For Painting Kitchen Cabinets?
Before we get into the nitty gritty, it is important to get a deeper insight into the world of spray painting. Needless to say, this kind of painting requires spray guns; gadgets that are incredibly easy to use and require little effort to master.
A noticeable advantage of using spray guns is that they eliminate the occurrence of multiple layers; something that makes the paint last longer while ensuring it reaches all the crevices of your furniture, doors, windows and even fences.
While there are those that swear by rollers as a good alternative to sprayers, it is difficult to ignore the fact that they can never reach those odd angles no matter how hard you try. They also can't give you that professional finish sprayers can.
So whether you are a woodworking hobbyist or a professional cabinet maker, rest assured that paint sprayers are your best bet. That being said, you have come to the right place. This article is your one shop stop for the best paint sprayers for cabinets.
Best Paint Sprayer For Cabinets Reviews
1 - Fuji 3004-T70 Q4 PLATINUM - T70 Quiet HVLP Spray System
Best Overall
Fuji 3004-T70 Q4 PLATINUM - T70 Quiet HVLP Spray System
Best Paint Sprayer For Cabinets
When it comes to versatility, there is nothing quite like the Fuji 3004-T70 Q4 PLATINUM Spray System. Not only is it perfect for the fine finishing of furniture and automobiles but it is also great for heavy-duty painting projects.
One of its coolest features is the Heat Dissipation Box (HDB) incorporated into its design; a feature that creates a cooling effect by expelling excess heat from the turbine. This highly contributes to long motor life.
It is also important to note that the Fuji 3004-T70 Q4 PLATINUM has the most silent 4-stage HVLP turbine available on the market today, with a noise reduction ability of up to 50%.
This system also comes with the new Fuji T-70 Non-bleed Spray Gun that boasts of a patterned control knob. The major advantage of this feature is that it ensures air is channeled through the Spray Gun only when the trigger is pulled. This allows for less paint build up on the tip of the fluid nozzle.
However, it would have been great if the manufacturer had included some sort of clamp to hold the hose on the metal nipple. This would have kept the hose from slipping out of the metal nipple when working under high pressure.
Pros
Easy to maintain
It is an industrial-rated machine at an unbeatable price
The gun is easy to adjust and clean
It is quiet
Cons
The hose is loosely held on the metal nipple
Verdict
It goes without saying that the Fuji 3004-T70 is a powerful portable machine that truly doesn't disappoint. In fact, many woodworkers consider this device to be the best HVLP paint sprayer for furniture and cabinets.
2 - Fuji 2903-T70 Mini-Mite 3 PLATINUM - T70 HVLP Spray System
Fuji 2903-T70 Mini-Mite 3 PLATINUM
Particularly beloved by homeowners and serious DIYers, the Fuji 2903-T70 PLATINUM eliminates the risk of users inhaling harmful chemicals by emitting them in the opposite direction.
Moreover, this sprayer has an adjustment knob that controls the quantity of paint material used. Needless to say, this goes a long way in reducing wastage.
It is also worth noting that the Fuji 2903 comes with a durable metal turbine that sits on 4 Ft. rubber, with extra bottom feed up parts and extra turbine filters.
It also sports convenient accessories like a power cord, viscosity cup and a cleaning brush. Its major low point is its high price.
Pros
Heavy-duty metal case
Stainless Steel needle and nozzle
25 ft. hose and air control valve
Easy-to-hold gun holder
Cons
Unsuitable for beginners
A bit too costly
Verdict
With its robust functionality and advanced features, it is not surprising that this Fuji 2903-T70 Mini-Mite 3 PLATINUM spray system is quite popular, with many users viewing it as the best paint sprayer for furniture. This is evidenced by this device's high ratings and tons of positive customer reviews.
3 - Graco 16Y385 TrueCoat 360 Paint Sprayer
Graco 16Y385 TrueCoat 360 - Best Airless Paint Sprayer For Cabinets
When it comes to innovation and convenience, there is no sprayer quite like the Graco 16Y385. In fact, it is known by many as the best airless paint sprayer for cabinets.
With its innovative FlexLiner paint bag system, this system works best with smaller devices such as furniture, garage doors, and windows.
Additionally, instead of using the usual tubes and pipes like other units, this device uses a vacuum system. Users also appreciate the fact that it comes with a reversible nozzle tip that reduces the chances of clogging.
While other paint sprayers have containers made of solid materials, this unit comes with disposable and reusable cups. However, the small capacity of the container might be a problem. On the flip side, users will appreciate that this device offers a lot of flexibility in regards of spray patterns, making it extremely easy to use.
While you can comfortably use this sprayer with thick materials, it is not advisable to use materials thicker than Latex paint.
Due to its low container capacity and turbine power, this paint sprayer is best suited for small-sized projects. So if you're thinking of spraying your whole house, this is not the device for you. Another major setback is that the Graco 16Y385 is quite noisy.
Pros
Offers a professional paint job
Durability and quality of production
Compact and easy to store
Affordable
Cons
Short power cord and small capacity of the container
Can get jammed without prior notice
Verdict
If you are looking for something you can do small projects with, then the Graco 16Y385 is the device for you. That being said, it is a perfect gift for DIY enthusiasts. Undoubtedly, the Graco 16Y385 is easily the best handheld paint sprayer for cabinets that I have come across so far!
4 - Wagner 0529033 Home Decor Sprayer
Wagner Home Decor Paint Sprayer
If you are constantly working with milk, chalk type and a substantial number of other decorative paints, the Wagner Home Decor Sprayer 0529033 is a great option for you.
If you use the Wagner 0529033, you can cut your painting time to half the time it would have taken by hand. This HVLP sprayer creates a smooth and even finish with very few coats.
It comes equipped with paint saving controls that are easy to set up, clean and use. It also offers a narrow spray pattern that makes painting spindles and chair legs a breeze.
On the other hand, its vertical and horizontal options are useful for paint dressing and buffets. As users everywhere will attest to, the Wagner home decor paint sprayer will allow you to spray like a professional and achieve a flawless finish; something every crafter hopes to achieve.
However, it would not be right if I didn't mention the fact that this sprayer is noisy. In fact, some would say it is as noisy as a vacuum cleaner.
Pros
Flexible Spray Patterns
Good quality hose
Easy to set up and clean
Cons
Significant sanding is required between coats
Noisy
Verdict
While there are sprayers that are suitable for both outdoor and indoor painting jobs, the Wagner Home Decor Sprayer is not one of them.
It works best for small jobs like painting cabinets, furniture tables and other related kinds of projects. It is therefore not surprising that it is considered by many to be the best paint sprayer for kitchen cabinets.
5 - HomeRight Finish Max C800766, C900076 Paint Sprayer Power Painter
HomeRight Finish Max Paint Sprayer
Interestingly, the HomeRight Finish Max Paint Sprayer runs on a 400W motor that is quite similar to that of a vacuum cleaner. Due to its low operating pressure, the sprayer has less overspray and a significantly higher transfer rate.
Another thing you will love about this device is the fact that it comes with nearly everything you'll need while using it. You will also get additional accessories that allow you to change the nozzle.
While this device's cool viscosity cup determines the viscosity of the material being used, its adjustable brass nozzle ensures durability. It is also worth noting that this nozzle rotates allowing you to control the spray pattern in case you want to spray vertically to achieve a V-pattern.
You will also love that this sprayer comes with a convenient control knob; a crucial feature when it comes to regulating the air flow. The principle is simple, the further you pull the trigger the more power you will get from the motor, which delivers more material on the surface.
However, by far one of the best things about this sprayer is its ease of use. It is a lightweight sprayer that will enable you to work for longer hours without getting tired.
Rosy things aside, it is also important to mention that this sprayer might produce weird sounds.
Pros
Easy to use and maintain
Light and compact
Good price
Cons
Unsuitable for big projects and large surfaces
Can be noisy
Verdict
After reviewing other available sprayers in the market, I can confidently say that the HomeRight Finish Max Paint Sprayer is the best HVLP paint sprayer for furniture under $100.
Due to its simplicity, more people are put their trust in it. The sprayer has high ratings in many popular merchandise websites since it is also one of the best budget-friendly gadgets available.
6 - Critter Spray Products 22032 118SG Siphon Gun
Critter Spray Products 22032 118SG Siphon Gun
Are you a beginner or a serious woodworker? Do you want to develop your furniture or cabinets, but at the same time achieve a professional finish? Then the Critter Spray Products 22032 118SG Siphon Gun is the best option for you.
It is a simple paint gun made up of two adjustment knobs, one for regulating the height of the liquid nozzle while the other to regulate the air supply. It is easy to use and clean. The user only has to connect the sealer jar with thinners to the gun splash to use it.
Once you are finished with the project, the sealer jar is capped off with a sealer jar lid and the materials are stored airtight waiting for the next project. The sealer jar can be used to store a variety of stains and paints.
The 118 Siphon Gun is powered with a ¾ tankless compressor, which to be honest, is not ideal for large projects. Sometimes an additional air compressor is required. Therefore, the product is only ideal for medium to small projects.
The fact that there are no extra nozzles required when spraying different types of materials and it can spray circular patterns of between 1/2- to 2-1/2-inch, makes it the best paint gun for cabinets.
Pros
Lightweight
Utilizes a Mason jar
Easy to use
Low-cost
Cons
Requires the use of an additional air compressor
Not as many options as other spray guns
Verdict
Compared to other spray guns, the Critter spray gun is somehow reasonably priced. Due to its straight forward design, it is a terrific addition to any toolbox. Whether you are a hobbyist or an experienced user, this sprayer will work for you.
It offers a perfect finish on smaller to medium sized projects. I would suggest that you keep bigger spray guns just in case you will need to work on larger projects.
Which Type of Paint Sprayer is Best for Painting Furniture?
We can all agree that brushes and rollers have been the traditional way of painting furniture and walls. However, they are not ideal when it comes to painting wide spaces like fences, cabinets or a house. It is tiresome and time-consuming.
Using a paint sprayer is the only way to paint in a precise and timely manner, especially when dealing with a vast area. Other than saving you to a ton of time, it also allows you to get you a professional looking finish without incurring an extra cost.
The three main categories of paint sprayers include; airless, compressed air, and the high volume low-pressure paint guns (HVLP). It is important that to know the features of each type so as to understand how to use each one optimally.
Airless Paint Sprayer
The principle used by the airless paint sprayer is simple; paint is pimped out at very high pressure which comes out through a small hole on the spray gun.
If you look keenly, you will realize the hole is covered with a nozzle whose function is to break the color squarely to get a high-quality finish.
Use an airless paint sprayer for exterior painting
In addition, it fans out droplets to achieve an even coat on the surface. The sprayer is ideal when painting exterior surfaces like lattice, shutters, fences, and decks.
Sometimes you can use it to paint ceilings or interior walls as well. Compared to the compressed air and High Volume Low-Pressure sprayers, this sprayer can handle thicker paints.
Compressed Air Sprayer
This is another general type of sprayer that basically uses compressed air to apply paint on surfaces. This sprayer is commonly used on furniture and cabinets as it is capable of providing smooth and even finishes on surfaces.
Paint furniture using a paint gun and an air compressor
On the other hand, the compressed air sprayer can be messy when not handled carefully. Also, since it uses most paint, there is a high risk of emitting more overspray than other types of sprayers.
The compressed air sprayer costs less compared to the airless sprayers or the HVLP machines. Since you already have a compressor, you will only need a good hose and a paint gun to get a good experience while painting.
High Volume Low Pressure (HVLP) Sprayer
It is a general type of paint machine that carries droplets of paint on steady but large volumes of air compared to the compressed and airless types.
The color drips slower when using the HVLP, therefore, more droplets get stuck to the surface to create a smooth finish.
Compared to the two types of sprayers discussed earlier, the HLVPs are quite expensive.
The HVLPs are the best when you want to use less amount of paint on your projects. It wastes less paint because overspray is minimized. These features make HLVP great when handling interior projects. This makes it the best for painting furniture.
Conclusion
Considering the fact that we have all admired the flawless paint of store-bought furniture, for most of us, it has been our dream to achieve the same professional outlook when painting our furniture at home. Obviously, spray painting is the next step as it guarantees a professional finish.
However, spray painting requires more than just having the right tools. It still remains a skill that requires patience and constant practice. Other than spraying more intricate items such as furniture with decorative woodwork, it can also be used to spray even surfaces like walls and doors.
Anyone can use a spray gun comfortably (DIYer and serious woodworkers) to achieve a professional finish on their work. They are designed for people who prefer simple gadgets that they can use and easily dismantle when cleaning.
Best Overall
Fuji 3004-T70 Q4 PLATINUM - T70 Quiet HVLP Spray System
Best Paint Sprayer For Cabinets
Of all the sprayers featured in this review, the Fuji 3004-T70 Q4 PLATINUM - T70 Quiet HVLP Spray System is the best overall. It is however not recommended for beginners. Only professional painters can use the spray with ease.
On the other hand, the Graco 16Y385 TrueCoat 360 Paint Sprayer is best handheld sprayer for painting furniture and cabinets. Luckily, it can be used by both professionals and beginners.
Lastly, the HomeRight Finish Max Paint Sprayer is the most budget-friendly sprayer available in the market. It is convenient for those who want to paint their furniture or cabinet on a tight budget.
It is important to note that you have to strain the paint first before filling the jar, otherwise the trigger can become sticky or gummed up. You should also run the spray gun underwater in case you used water-based paint, just to make sure it is extra clean.