We know how important it is for electronics technicians such as yourself to have the most accurate multimeter that you can get, as well as keep you safe during your jobs or projects.
That's why we've created this ultimate guide to the best multimeter for electronics technician.
Top 7 Best Multimeters For Electronics: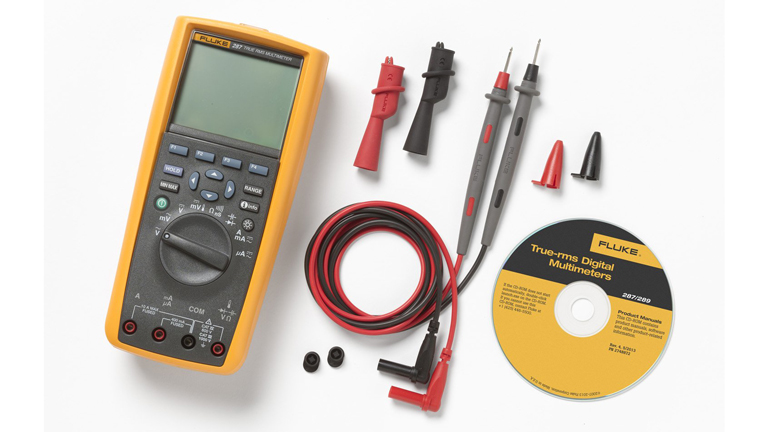 We picked the top quality multimeters for electronics that are designed for professional, industrial electronic applications as well as everyday use and electrical troubleshooting.
Check it out and pick your favorite meter!
Best Multimeter For Electronics 2023

Best Quality

Fluke 287

Best for advanced electronics applications
Very accurate and reliable
Lots of useful features and functions
Lifetime warranty

Runner-Up

Fluke 179

For general uses and troubleshooting
Fast and accurate measurements
Well-built, easy to use
Lifetime warranty

Best Compact

Fluke 115

For general purpose electrical and electronic test requirements
Simple operation, compact design
Affordable price
3-year warranty

Best Value

Klein Tools MM700

Good for both DIY and professional use
Rugged and well-built
Good quality accessories included
2-year warranty

Best Budget

Amprobe 30XR-A

For DIY and professional use
Durable and reliable
Low price
1-year warranty

Easy to Use

Extech EX330

For home use, beginners
Nice large display
Auto power off
1-year warranty

For DIYers

TekPower TP9605BT

For home use, beginners, DIYers
Bluetooth & USB Connection
30-day warranty
How We Picked
Our electronics multimeter reviews were selected based on a number of factors, including quality, features, customer satisfaction, and best value.
Most professional multimeters have some additional functions that basic multimeters don't have, as they are specifically designed for industrial use. The majority of them are also digital multimeters, as those are the ones that can offer some of the most precise and detailed results.
For readers' convenience, the review products below are divided according to the features (hi-end to basic models) and price range.
Best Multimeter For Electronics Technician 2023
1 - Best Overall: Fluke 287 Digital Multimeter For Electronics
This Fluke electronics multimeter is one of the best out there for professionals in the industrial field due to its high-performance capabilities.
It's definitely one of the more loved models, and people are just amazed at how durable it is.
Fluke 287 - Best Fluke Multimeter For Electronics
Pros
Reliable, high accuracy
Good built quality, durable
Many advanced functions and features
Cons
Expensive but it is worth the money
This advanced multimeter has to connect enabled wireless test tools that allow the user to be up to 20 feet away while testing, which increases your personal safety without sacrificing efficiency on the job.
In addition to that, this item works with the Fluke Connect mobile app, and users can graphically review up to 10,000 recorded and logged readings with on-board TrendCapture.
This model Fluke 287 is designed to figure out very difficult issues in electronics, plant automation, power distribution, and electro-mechanical equipment. It is one of the most highly rated tools of its kind out there based on customer reviews and satisfaction.
One of the only downfalls to this multimeter is the fact that it's extremely expensive compared to some of the other models out there.
2 - Fluke 179 Industrial Electronics Multimeter
Fluke 179 - Best Fluke Multimeter For General Purpose Uses
Pros
Easy to use
Well-built, fast and accurate measurements
The combo kit is value for the money
Cons
No case or hanging strap included
This Fluke 179 multimeter is one of the best general purpose meters for everyday use, and you will find it to be a favorite design among its competitors. It has a ton of desirable features that make it an easy tool to spend some cash on, even if it's up on the pricier end of things.
Not only is it built to thrive in tough, industrial environments, but it also comes with a combo kit that includes a soft carry case, installed 9V battery, temperature probe, test probes, hook clips, user's' manual, magnetic meter hanger and more.
This meter's advanced electronic troubleshooting functions are up to date with the latest safety standards as well, so you don't have to worry as much about getting injured while on the job.
Price-wise, this Fluke multimeter 179 is very comparable to its competitors but has a slightly better value due to being cheaper and coming with more accessories.
However, it does not come with a case or a hanging strap, which many other customers wished it had.
3 - Fluke 115 Compact True-RMS Digital Multimeter
Here's another tool that has hit a homerun with professional and advanced casual users. This Fluke digital multimeter is a fantastic compact meter for electronics and field service applications.
Fluke 115 - Best Fluke Compact Multimeter For Electricians
Pros
Compact and portable
Large and clear backlit display
Affordable price
Cons
Holding readings may be a little tough
Compared to two Fluke models above, this Fluke 115 is the cheapest Fluke branded tool in this list, but it is still a wonderful and high rated product when it comes to being worked in an industrial field.
Not only does it have True-RMS for accurate measurements on non-linear loads, but it is CAT III 600 V safety rated and can check continuity, frequency, diode test, and capacitance as well.
This particular professional multimeter also has a wide variety of field service applications, including more than one kind of electronic troubleshooting. The Fluke 115 multimeter comes with a 9-volt battery, holster, user manual, and a 4mm silicone test lead set.
The downfall to this product is that some customers claim that it doesn't last very long, however, others do. Also, holding readings on this Fluke is a little tougher than with some of the other models.
Best Electronics Multimeters Under $100
Not everyone wants to spend hundreds of dollars on a multimeter, or maybe new employees to the industry can't afford to buy a Fluke brand tool. That's ok!
There are plenty of other great options for multimeters on the market that cost less than $100. These models below are all cheaper than Fluke models but also have great qualities to perform in the industrial work environments.
4 - Klein Tools MM700 Auto-Ranging Digital Multimeter
When it comes to tools, Klein is one of the brands that users trust the most.
This particular auto-ranging digital multimeter comes with true root mean square technology (True RMS) which increases the accuracy of its readings.
Best Multimeter For Electronics Technician: Klein Tools MM700 Review
Pros
Easy to use
Rugged and well-built
Accessories included
Cons
Reading speed should be improved
Compared to other similar multimeters, this Klein model is built even tougher to withstand a drop over six feet high and continuous daily use. This product measures up to 1000V, 10A AC/DC current and 40MΩ resistance plus temperature, diodes, continuity, frequency, and capacitance.
The Klein Tools multimeter MM700 also comes with a set of alligator clip extensions and probes, which makes it a better value than others out there on the market. Previous and current customers are especially fond of this multimeter due to how well it's built and accurate it is.
However, one of the things that could use some improvement on this model is increasing the speed of its readings.
The Klein Tools MM700 is a well-designed tool that serves anyone in the construction or industrial field very well.
5 - Amprobe 30XR-A Good Cheap Digital Multimeter For Electronics Repair
This Amprobe multimeter is also in the under $100 price range, and even comes with a non-contact voltage tester for up to 600V AC.
Amprobe 30XR-A Multimeter with Non-Contact Volt Tester
Pros
Easy to use, helpful instruction manual
Useful magnetic strap
Good value for the money
Cons
Continuity feature is a bit slow
Previous and current customers are super happy with their purchase of their Amprobe, as it's been found to be reliable, sturdy, and a breeze to learn to use.
In addition to that, some of the other features on this Amprobe 30XR-A include a magnet-grip holster with magnetic hanging strap, a continuity beeper, and is fully safety fused to the latest standards.
This affordable multimeter for electronics repairis designed to even work on large household appliances and devices such as refrigerators and air conditioners.
It can also help with installations of major items too, as this multimeter is capable of performing functions like service panel parts and branch circuits. A small bonus with this product is that it comes with a magnetic strap for hanging the meter on metal doors.
One thing that customers have commented on that could be better is that the continuity feature is a bit slow.
Best Budget Multimeters for Electronics
We understand that money doesn't grow on trees, and the great news is that you don't need to have deep pockets to get a reliable tool for work.
The following multimeters are best for the serious hobbyist and homeowner with advanced electronics skills. They aren't as expensive as some of the name brands, however, they are perfect for getting tough jobs done.
6 - Extech EX330 Autoranging Mini Multimeter
Best Budget Multimeter For Electronics: Extech EX330
Pros
Nice large display
Simple, easy to use
Good price
This Extech multimeter is one of the best budget meters out there, as its 4000 count auto-ranging features measures AC/DC voltage and current, duty cycle, resistance, temperature, and frequency. It also includes a Type K temperature probe and comes with a rubber holster to protect the tool.
The Extech EX330 Autoranging Multimeter is ideal for electrical troubleshooting and is a fully featured digital multimeter. Itis less bulky than other models, but it still has a very easy to read LED display with one-inch digits, an audible beeper, red LED indicator and low battery indicator.
Also, a handy feature includes the auto power off function that automatically shuts the meter down after being idle for 15 minutes.
The only downfall that users have found with this Extech multimeter is the fact that you have to be extremely close to a 110V to get any response, due to it being a non-contact voltage detector.
7 - TekPower TP9605BT Auto Ranging Digital True RMS Smart Multimeter
Another great budget model is the TekPower Digital meter. It is a good cheap multimeter for serious DIYers, homeowners, and electronics workers.
Not only that, but it happens to be the world's first cellphone connected multimeter that comes with an array of exciting features, including a wired USB connection.
Smart Multimeter with Bluetooth & USB ConnectionSmart Multimeter with Bluetooth & USB Connection
Pros
Convenient Bluetooth connection to phone
It has lots of advanced features
Good value for the money
This particular model comes with a K-Type thermo probe, test leads, user manual, and PC software and smartphone apps. This allows you to share measurement results with anyone via Facebook, Twitter, or email.
In addition to that, it has a backlit screen which makes it easy to use in the dark, along with data hold for easy reading. Compared to other multimeters in this range, this auto ranging Bluetooth multimeter works fantastic for troubleshooting automobiles as well.
The one thing that users have found unappealing about this model is the fact that it does not store minimum and maximum values.
Best Fluke Multimeters for Electronics Professionals
Here are some of the best Fluke multimeters for electronics:
Fluke 287 Digital Multimeter For Electronics
Fluke 179 Industrial Electronics Multimeter
Fluke 115 Compact True-RMS Digital Multimeter
This section will feature high-quality multimeters that are very popular in the electronics technician community. The Fluke brand is one of the most well-liked brands on the market, thanks to its reliable and accurate reads.
| | | | |
| --- | --- | --- | --- |
| | | | |
| | Fluke 287 | Fluke 179 | Fluke 115 |
| Best for | Advanced electronics applications | Every day use, industrial troubleshooting | Electronic and field service applications |
| Basic features | | | |
| Count | 50,000 | 6,000 | 6,000 |
| True RMS-reading | AC + DC | AC | AC |
| Measurements | | | |
| Voltage AC/DC | 1000 V | 1000 V | 600 V |
| Current AC/DC | 10 A | 10 A | 10 A |
| Resistance | 500 MΩ | 50 MΩ | 40 MΩ |
| Frequency | 1 MHz | 100 kHz | 50 kHz |
| Temperature | (+) 1350 °C | (+) 400 °C | n/a |
| Warranty | Lifetime | Lifetime | 3 years |
| | See price at Amazon | See price at Amazon | See price at Amazon |
Overview Of Fluke Electronics Multimeters
The above Fluke multimeters are the most popular models that workers in the industrial field turn to when tackling some of the most demanding jobs, thanks to their top-notch functions.
These multimeters are also built to withstand rugged situations in which they really prove to be incredibly durable. Even though they are on the more expensive end of choices, customers seem to think that they are worth it.
Conclusion
Based on our selections, we believe that we have found the best multimeter for electronics technician.
From the highest top end Fluke models to our best budget multimeters for electronics, there is surely something here for everyone, no matter what field you work in or what type of job you're planning.
Hopefully, these electronics multimeter reviews will help you select the right one for your needs, job, and future projects.
And don't hesitate to share us your thoughts on "What are some things that you look for in a multimeter?" in the comment section below.
Want to find a good multimeter for HVAC or automotive use?
Choose the best models with our ultimate multimeter reviews.